Can you believe that we're already in the last week of the 2013 regular season? It means that it's the end of the road for 20 teams, but it also means the end of power rankings. So for the last time of 2013, here is a complete breakdown of the NFL landscape, ranking the teams in terms of how well they are playing right now.
1. Denver Broncos (12-3)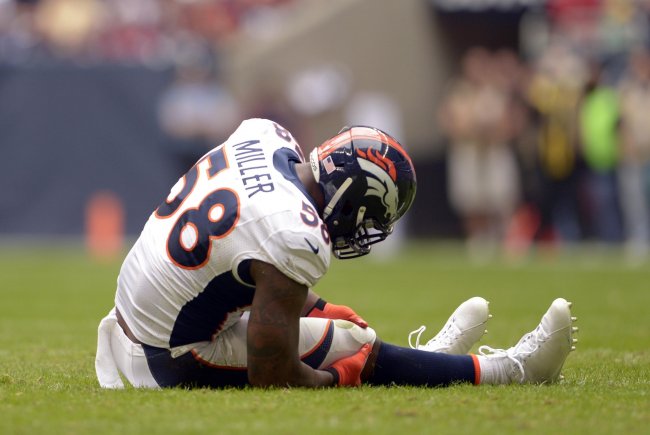 Thomas Campbell-USA TODAY Sports
Peyton Manning broke Tom Brady's single-season touchdown record with a game to spare, and the Denver Broncos have the chance to go down as the most prolific offense in NFL history.
What else is new?
We knew that the Broncos offense can be unstoppable and that Manning's arm can carry them to the Promised Land. They'll have to do that, however, without superstar linebacker Von Miller:
Major blow to Broncos, losing their top pass rusher, Von Miller, to a season-ending torn ACL.

— Adam Schefter (@AdamSchefter) December 23, 2013
Denver went 6-0 without Miller to start the year, and Miller's production wasn't up to his normal elite standards. Nevertheless, pass-rushing is a necessity in the playoffs, and somebody will need to step up and make plays on defense.
Can anybody do it consistently?
2. New England Patriots (11-4)
Coming off a disappointing Week 15 loss to the Miami Dolphins, the New England Patriots played their best game of the season by handing the Baltimore Ravens their worst home loss in franchise history (41-7).
Tom Brady continues to make it work regardless of who he's throwing to, and the Patriots could very easily be the AFC's representative in Super Bowl if they continue to play this way.
3. Carolina Panthers (11-4)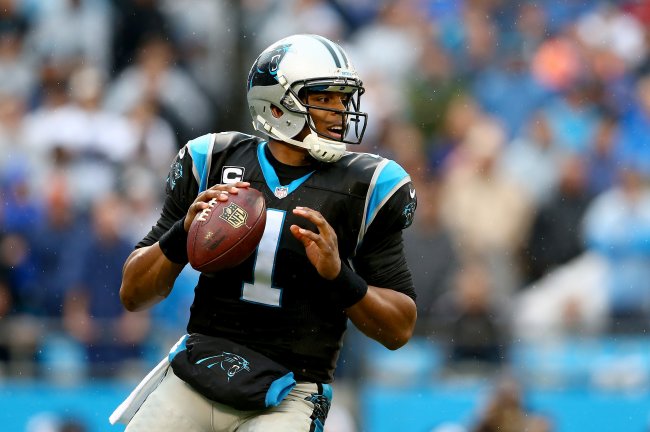 Streeter Lecka/Getty Images
It wasn't a shock to see Drew Brees performing poorly on the road, but the Carolina Panthers still deserve credit for harassing him and sacking him six times in Week 16.
The Panthers are one win away from a first-round bye, and they're playing as well as any team in the NFL. The defense is right up there with the Seattle Seahawks defense as the best unit in the league, and other NFC teams will endure sleepless nights trying to game plan against them.
Ultimately, however, the team will go as far as Cam Newton carries it. He's playing lights out at the moment, but can he continue to do so with the added pressure of playoff expectations?
4. Seattle Seahawks (12-3)
Despite the home loss against the Arizona Cardinals, you can be sure that no NFC team is excited about the prospect of having to face the Seattle Seahawks in Century Link Field.
The defense is top-notch, and the Seahawks leave their opponents battered and bruised. But losses against the San Francisco 49ers and Arizona (in addition to a narrow road win over Carolina) are cause for some concern.
If a team can match up physically with the Seahawks, it may be able to pull off the upset on the road. Seattle will still be the prohibitive favorites if they clinch home-field advantage for the playoffs, but a Super Bowl appearance won't be a lock with teams like Carolina and San Francisco in the bracket.
5. San Francisco 49ers (11-4)
The 49ers have the longest active winning streak in the NFL at five games, but their Week 16 win over the Atlanta Falcons wasn't very convincing. San Francisco overcame a halftime deficit and was in danger of falling behind if not for a Navarro Bowman pick-six.
The Niners are still a really good team, but they've gone 3-4 against teams still in the playoff race and don't look like the elite team they were in 2012.
6. Arizona Cardinals (10-5)
The Cardinals may not make the playoffs, but that's more indicative of their very competitive conference (and division). Arizona is playing its best football of the season, culminating in Seattle's first home loss in two years.
Head coach Bruce Arians deserves serious consideration for the Coach of the Year award, and it's been a tremendous season in Arizona even if the Cards don't qualify for the postseason.
7. Cincinnati Bengals (10-5)
The Cincinnati Bengals can beat just about anybody when they're playing well, but consistency has been their fatal flaw this season. That lack of consistency might prevent them from making a run to the Super Bowl, but they should be able to win their first playoff game since 1990.
The Bengals are unbeaten in Cincinnati this year, and they'll get a home playoff game no matter what.
8. New Orleans Saints (10-5)
The New Orleans Saints just aren't the same on the road, and their Week 16 loss to the Panthers means that Drew Brees and Co. will probably have to start the playoffs on the road (if they make it at all).
Saints visit Panthers w/ NFC South on line. Drew Brees has been un-Drew-Brees-like on road this year. (via @ESPNMag) pic.twitter.com/9b1sWM81By

— SportsCenter (@SportsCenter) December 22, 2013
New Orleans started the season looking like a Super Bowl contender, but that looks unlikely unless they can figure out how to turn around their road woes.
9. Philadelphia Eagles (9-6)
Peyton Manning has compiled a record-breaking season at the quarterback position, but he doesn't lead the NFL in passer rating. No, that title belongs to Nick Foles.
Foles has rejuvenated the Philadelphia Eagles, who bounced back from a disappointing loss to the Minnesota Vikings by terrorizing the Chicago Bears and putting up 54 points and over 500 yards of offense.
The defense is still prone to lapses, but it's much better than it was to start the season. This team can outscore anybody and has playmakers at every skill position. Chip Kelly's team could flame out in the playoffs, but it could just as easily catch fire and string some wins together.
10. Indianapolis Colts (10-5)
Andrew Luck and the Indianapolis Colts have beaten the Seahawks, Broncos, 49ers and Kansas City Chiefs, but they're still not getting much respect from the media.
That said, there's still something that doesn't seem right about the Colts. With Reggie Wayne, they would be a legitimate contender, but there isn't enough consistency on offense without him for them to be anything more than a long shot.
11. Kansas City Chiefs (11-4)
Remember at the start of the season, when everybody was talking about how the then-undefeated Kansas City Chiefs hadn't played anybody of note?
It's now Week 17, and the Chiefs are 2-4 against teams still in playoff contention with those two wins coming against the pre-Foles Eagles and a Dallas Cowboys team that blew a chance for a late win (surprise!).
Kansas City is still a tough out for any team, but it doesn't look like they can compete with the Broncos or Patriots in the AFC.
12. San Diego Chargers (8-7)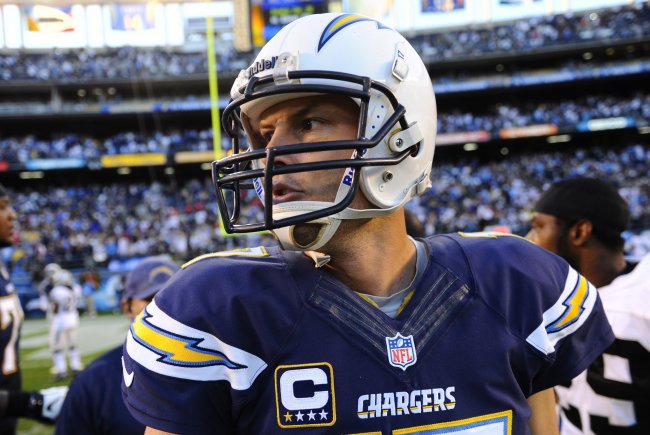 Christopher Hanewinckel-USA TODA
The San Diego Chargers could have a much more impressive record if they had managed to beat three of the worst teams in the league (Houston Texans, Washington Redskins and Oakland Raiders). With those three losses on their record, they have a small chance of making the playoffs, but the future looks bright for this team even if it doesn't secure a postseason berth.
Philip Rivers bounced back in a huge way, head coach Mike McCoy has done a great job in his first year as the lead man and rookies Keenan Allen and D.J. Fluker look like two of the best offensive rookies from the 2013 draft.
Not to mention that the Chargers are playing without their top two receivers, Danario Alexander and Malcolm Floyd.
13. Baltimore Ravens (8-7)
The Baltimore Ravens got absolutely demolished by the Patriots at home, but they still have a chance of making the playoffs. Even if they get there, however, it doesn't look as though a victory is in store.
Baltimore's defense is great, but the offense is pitiful. Poor offensive line play has prevented any kind of ground game from taking shape, and the Ravens can't convert on third downs or in the red zone.
Even if Joe Flacco repeats his Joe Montana impersonation from last year's playoff run, the Ravens will still have a tough time advancing.
14. Pittsburgh Steelers (7-8)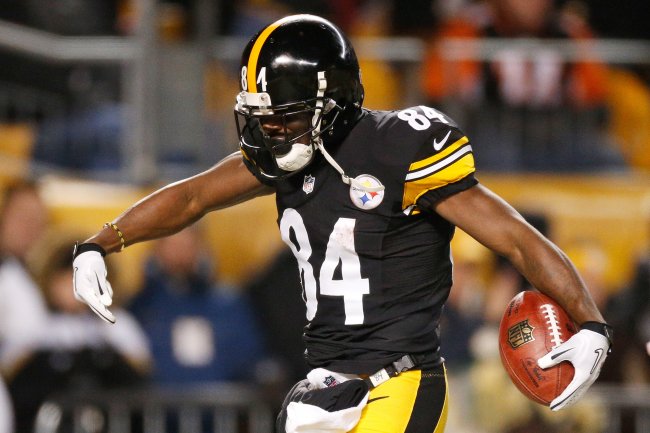 Gregory Shamus/Getty Images
Despite a horrendous start to the season, the Pittsburgh Steelers still have an outside chance of making the postseason. If they get there, the Steelers could actually do some damage.
Le'Veon Bell has emerged as a playmaker, Ben Roethlisberger is playing extremely well and Antonio Brown is the first receiver since 2001 to record five catches and 50 yards in the first 15 games of a season.
Head coach Mike Tomlin's team is below Baltimore and San Diego in these power rankings because there have still been lapses in recent weeks, but it has a better chance of making a playoff run than either of those teams.
15. Chicago Bears (8-7)
The Chicago Bears defense must not have made the trip to Philadelphia, as the Eagles dropped 54 points on them in Week 16. Unfortunately, that isn't a new trend for the Bears, who have struggled to stop anybody this season.
They have an NFC North title game against the Green Bay Packers in Week 17, with the winner headed to the playoffs. Might that be the last game in Jay Cutler's stay in the Windy City?
16. Dallas Cowboys (8-7)
Like the Bears, the Dallas Cowboys play a winner-takes-all game in Week 16 against the Eagles. A last-second win over the Kirk Cousins-led Washington Redskins doesn't inspire confidence, however, and the upcoming matchup won't be short for drama with the status of quarterback Tony Romo uncertain:
Uncomfortable Tony Romo still day-to-day for Cowboys. http://t.co/6oGf7KVEAB

— Eye on Football (@EyeOnNFL) December 25, 2013
Throw in the fact that Romo's performance (if he plays) will be scrutinized mercilessly and that head coach Jason Garrett is coaching for his job, and we have a soap opera on our hands. On the field, the matchup of Chip Kelly's offense against defensive coordinator Monte Kiffin's defense doesn't look promising.
17. Miami Dolphins (8-7)
After an important victory over the Patriots, the Miami Dolphins suffered a monumental letdown by getting shutout by the Buffalo Bills. Miami is still in playoff contention, but a postseason appearance would be short-lived.
18. Green Bay Packers (7-7-1)
For yet another week, we'll have to play the "will he, or won't he" game with regards to Aaron Rodgers. The extended absence implies that Rodgers' injury is more serious than we initially thought, and you have to wonder how effective he'll be if he does take the field.
If he resembles the Aaron Rodgers we know, it will be a long day for the Chicago defense. If he's rusty or not suited up, the Packers might be playing their last game of the year.
19. St. Louis Rams (7-8)
Head coach Jeff Fisher should be commended for having his team playing close to .500 ball without its starting quarterback. The St. Louis Rams play tough football each and every week, and their defense can win games for them.
A trip to Seattle looms large in Week 17, and the Rams will look to end their season on a high note to build some momentum for next season.
20. Detroit Lions (7-8)
The Detroit Lions managed to severely underachieve yet again. Looking at the depth chart, this team should be right up there as a Super Bowl contender, but it will miss the playoffs once again.
---> RT @NFL_ATL: Jim Schwartz unlikely to keep job if Lions miss playoffs, according to @RapSheet: http://t.co/0uxe6xc7LQ

— Ian Rapoport (@RapSheet) December 17, 2013
The Jim Schwartz era is likely over, but can the culture of losing be turned around quickly with a new head coach?
21. Tennessee Titans (6-9)
This was a disappointing season for the Tennessee Titans. After starting the year well and looking like a contender for a playoff spot, things fell apart in the second half of the season.
There are plenty of questions surrounding the upcoming offseason, like whether Jake Locker, Chris Johnson or head coach Mike Munchak will be working for the Titans in 2014.
22. New York Jets (7-8)
Amid rumors that Rex Ryan was going to be fired, the New York Jets handled the Cleveland Browns in Week 16. Now they have the chance to send Ryan out with a win (if he leaves at all).
Head coach Rex Ryan reportedly told the New York #Jets he expects to be fired. http://t.co/6iQ7SOUMQB pic.twitter.com/6nvt61aggw

— Yahoo Sports (@YahooSports) December 23, 2013
Considering the expectations for this team and the state of the roster on offense, Ryan has done a remarkable job squeezing seven wins out of this team, and he's sure to be a hot commodity if he makes it to the coaching market.
23. Buffalo Bills (6-9)
There are plenty of things that need to be fixed for the Buffalo Bills, but the Week 16 win was an example that shows they are headed in the right direction. First-year head coach Doug Marrone has been a good hire, and EJ Manuel looks like he might develop into something special.
Other rookies like Kiko Alonso and Robert Woods were other exceptional draft picks, so the Bills will be force in the AFC East within the next couple of years.
24. New York Giants (6-9)
The New York Giants won't finish the season with a winning record, but they might be able to string together some wins after their Week 16 victory over the Lions knocked Jim Schwartz's team out of playoff contention.
There is definitely work to be done, but with a Super Bowl-caliber quarterback (obviously not based on his 2013 performance) and plenty of playmakers, the Giants could easily be a powerhouse in the NFC East next year.
25. Minnesota Vikings (4-10-1)
The Minnesota Vikings crashed back down to Earth thanks to a humbling 42-14 defeat in Cincinnati. It's certainly nothing to be ashamed of considering how good the Bengals are at home, but it showed just how many changes need to be made to this team.
Leslie Frazier's prospects of remaining with Vikings are "grim," according to @RapSheet. Ponder also likely gone. http://t.co/yZpWxsdN2q

— NFL: AroundTheLeague (@NFL_ATL) December 15, 2013
Head coach Leslie Frazier may be the first one to go, but that won't solve everything. The defensive backfield is a mess, and the Vikings need to find stability at the quarterback position.
26. Tampa Bay Buccaneers (4-11)
The Tampa Bay Buccaneers have rebounded from their abysmal start to the season and there is actually hope for next season. With plenty of talent on both sides of the ball and Mike Glennon looking like a starting quarterback, things are looking up in Tampa Bay.
Whether Greg Schiano will be the man steering the Buccaneers ship is another question.
27. Atlanta Falcons (4-11)
The Atlanta Falcons were definitely motivated for their showdown in San Francisco on Monday Night Football. Unfortunately, they still came up short and lost their 11th game of the season.
The 2013 season was a disastrous one for the Falcons, and Atlanta will be trying to turn the page and come back as a contender in 2014.
For that to happen, however, the Falcons need to upgrade a defense that was one of the league's worst against the pass and the run.
28. Jacksonville Jaguars (4-11)
The Jacksonville Jaguars played the Titans close but came up short in Week 16. Nevertheless, the fact that they were close at all was impressive considering the sheer lack of talent on the roster.
With a high draft pick, the Jaguars will be hoping to land a franchise quarterback, but the entire depth chart could do with a face lift.
29. Cleveland Browns (4-11)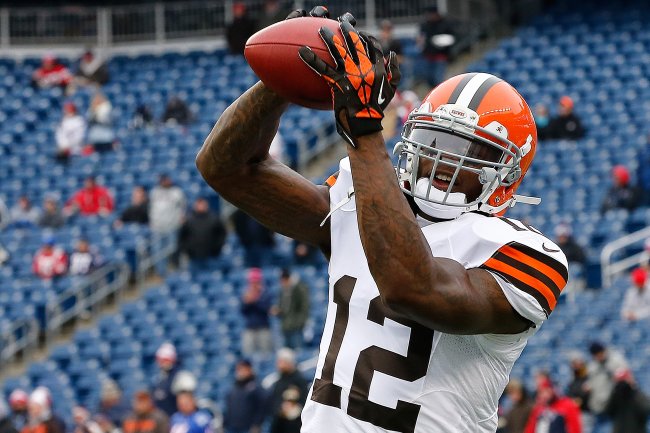 Jim Rogash/Getty Images
The Cleveland Browns defense has been phenomenal this season, but the Browns have lost nine of their last 10 games since their magical run with Brian Hoyer. That's actually a great thing for the Browns, as they'll get a high draft pick and have the Colts' first-round pick in this draft as well.
Cleveland will be a relevant team very shortly if the front office can nail the 2014 draft.
30. Oakland Raiders (4-11)
There was some optimism about the Oakland Raiders earlier in the season, but everything has quickly devolved in Raider nation. Both Matt McGloin and Terrelle Pryor have shown flashes, but it's still unclear whether either of them is starting material.
31. Washington Redskins (3-12)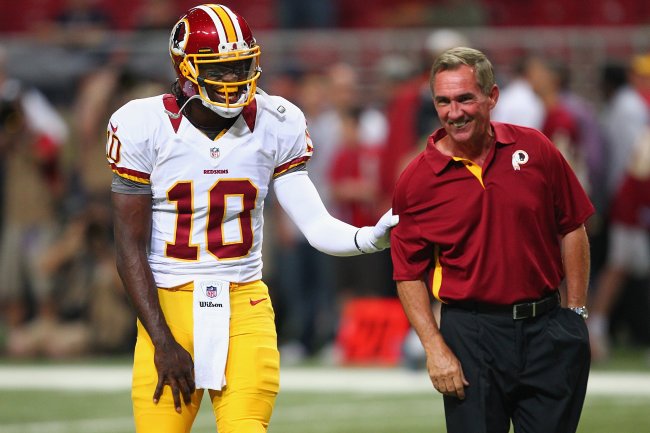 Dilip Vishwanat/Getty Images
What hasn't been said about the Washington Redskins? They have been the talk of the NFL since before the season even started, but it has all been for naught on the field. Robert Griffin III will attract a lot of criticism, and some of that is valid, but he's not responsible for the horrific pass protection or atrocious defense.
32. Houston Texans (2-13)
Reflecting on the first two weeks of the season that needed Matt Schaub-led comebacks to get two wins, the Houston Texans could very easily be staring at a winless season right now.
At the very least, they still have a ton of talent on the roster and can head into the draft with dreams of pairing J.J. Watt with Jadeveon Clowney/Anthony Barr or of drafting their quarterback of the future.