The Oklahoma City Thunder unwrapped the New York Knicks on Wednesday afternoon for a 123-94 victory. The second half became so lopsided that Chris Smith played the first NBA minutes of his lifetime. He accrued no stats beyond a minus-one rating, but it was a nice gift in an ugly Knicks loss.
Kevin Durant led all scorers with 29 points, and Serge Ibaka efficiently added 24. Russell Westbrook had a triple-double before the third quarter was over, and that sums up everything you need to know.
Tim Hardaway Jr. shined for the Knicks in his first professional game on Christmas, scoring 21 points on 8-of-19 shooting. His performance was one of the few bright spots for the team, though, Amar'e Stoudemire led all Knicks with 22 points, and J.R. Smith notched 20.
Carmelo Anthony sat out with a sprained left ankle after saying he would try to play on the holiday. Metta World Peace also missed the game with left knee soreness. Raymond Felton and Pablo Prigioni were also inactive due to injury, leaving the Knicks desperately short-handed.
Melo: I'm walking. I caught it before I rolled it all the way but it rolled pretty bad.'' Still not ruling out Christmas.

— Marc Berman (@NYPost_Berman) December 24, 2013
The Knicks were outscored in all four quarters, and after trailing by six points after 12 minutes, the game felt unwinnable for the hosts before the second quarter was over. The Knicks went 31-10 at home last season; they've begun this season 4-11 at Madison Square Garden. With the win, the Thunder briefly move into a tie for the best record in the NBA at 23-5, joining the Indiana Pacers and Portland Trail Blazers.
The Knicks are 14-12 (.538) in games Anthony has missed since joining the team in 2011 - they're 99-77 (.563) with him in the lineup.

— ESPN Stats & Info (@ESPNStatsInfo) December 25, 2013
Player grades start at a C+ for a decent overall performance. That increases by a full letter grade for certain extraordinary accomplishments (30 points, 15 rebounds, notable defense, et al.) and decreases by the same margin for the less than ordinary (worse than 25 percent shooting, six turnovers, awful defense, et al.). We'll put role players on the grading curve.
Instead of gold stars and frowny faces, here are grades for every player. I'm going to go easy on the poor Knicks because they had no Melo and no Felton. And because it's Christmas, and they've become the Tiny Tims of the NBA.
Key Player Grades
Kevin Durant, Small Forward
Kevin Durant joined elite company last year with a 40-50-90 season, shooting 40 percent from three-point range, 50 percent from the field and 90 percent from the foul line. He turned in a similarly sterling effort on Christmas and played only 32 minutes with the victory in hand early in the second half.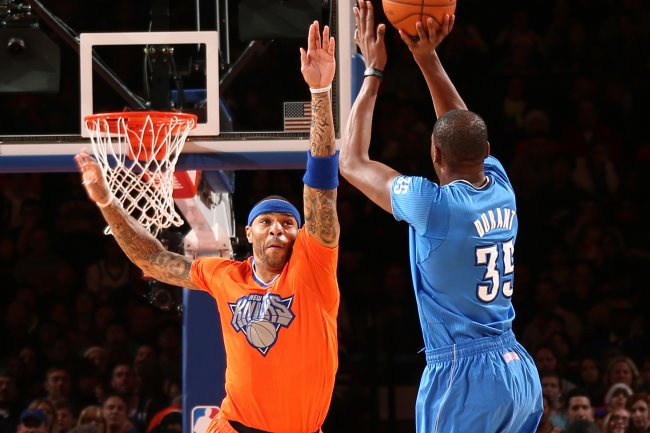 Nathaniel S. Butler/Getty Images
Durant led all scorers with 29 points on 10-of-16 shooting and 4-of-6 from downtown. He fell off the 90 percent mark from the charity stripe on just 5-of-6. As if that wasn't good enough, he added seven boards, six dimes and two steals. That certainly looks like an MVP-caliber performance.
Grade: A+
Russell Westbrook, Point Guard
Russell Westbrook notched a triple-double before the end of the third quarter. Even though he shot just 5-of-15, he still turned in a great effort ended with 14 points, 13 rebounds and 10 assists. Oh, and he had a steal and a block.
The Thunder have such impeccable floor spacing that multiple options seem open on every trip down the floor. This was especially evident against a weak Knicks defense missing multiple starters.
Grade: A
Serge Ibaka, Power Forward
Serge Ibaka had 17 points by halftime. Halftime! He finished up with 24 points on 10-of-14 shooting, and even though the potent power forward tallied only three rebounds, a steal and a block, his early offensive outburst helped stuff the Knicks down their own chimney.
Grade: A-
Kendrick Perkins, Center
Perkins made all of his shots and scored four points to match his four rebounds in 21 minutes. No word yet on whether or not he stopped Thabo Sefolosha from bringing Santa Claus into the OKC locker room. He did, however, pick up a technical foul.
Grade: B-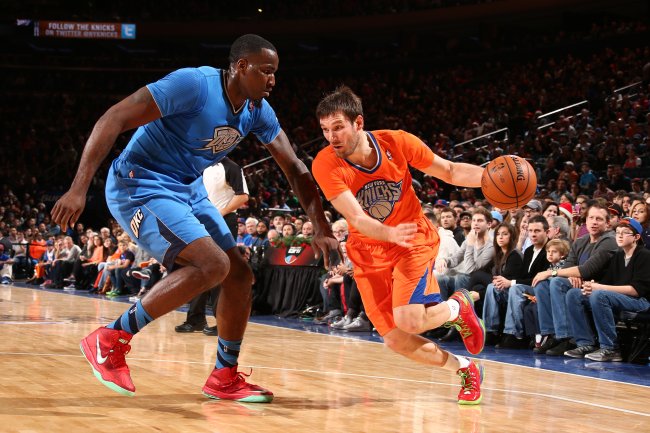 Nathaniel S. Butler/Getty Images
Thabo Sefolosha, Shooting Guard
Sefolosha continued to paddle along in the wake of his teammates, scoring three points and notching four rebounds with three dimes. His defense helped hold Beno Udrih and Iman Shumpert to 4-of-14 shooting, though, that was mainly Udrih's fault.
Grade: B
Rest of Bench
Nick Collison had five points, three offensive rebounds, three assists and a block. However, I have no idea how the official scorer was able to tell him apart from neophyte irritant Steven Adams.
Reggie Jackson had 18 points on 6-of-16 shooting but also had three turnovers to just two assists in his 25 minutes. It was a solid performance, but Jackson can do better than this. However, he also added a fine slam dunk and flew through the air like Blitzen.
Jeremy Lamb relished the national exposure and looked strong in a reserve role expanded by the large lead. Lamb scored 13 points on 5-of-8 shooting plus three dimes and two steals.
Steven Adams scored five points and somehow dished two assists, but he didn't get anyone kicked out of the game through his frustrating play. That was disappointing.
Derek Fisher continues to be in the league. He converted a three-pointer on his only field-goal attempt.
Grade: A-
Key Knicks Player Grades
Tyson Chandler, Center
It is becoming clearer and clearer that Tyson Chandler made a horrible mistake by coming to New York. He burns with a passion to compete with pride and win; many of his teammates do not play with that same evident emotion.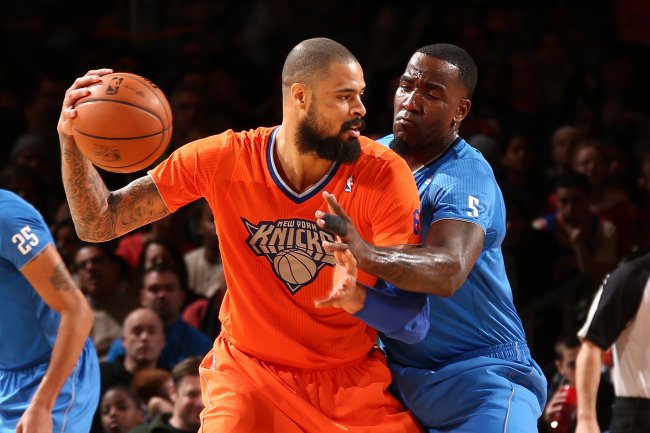 Nathaniel S. Butler/Getty Images
Chandler had nine boards, four of them offensive, three assists, two steals and five points. Were it not for him, OKC would have eclipsed 140.
Grade: B
J.R. Smith, Shooting Guard
J.R. Smith scored 20 points on 8-of-22 from the field. He added six rebounds, three assists and a steal. He also had the worst floor rating of any player at minus-32. He didn't care about any of that.
JR Smith was asked if the team still believes in Woodson: "I believe in him. Hopefully everyone else does." #Knicks

— Ian Begley (@IanBegley) December 25, 2013
By far the greatest thing that happened to J.R. was seeing his brother play for one minute and 21 seconds in an NBA game. With the Knicks ravaged by injury, Chris Smith has become an NBA player.
Sort of.
Congratulations to the Smith family.
Grade: B
Andrea Bargnani, Power Forward
Andrea Bargnani did not attempt a needlessly bone-headed three-pointer with the Knicks leading in the final seconds of the game. That was good!
He had nine points and two rebounds.
Grade: C+
Iman Shumpert, Small Forward
Shumpert played 27 minutes and scored eight points with seven boards, four dimes and two steals. He also posted a minus-eight floor rating, the best for any player who saw more than six minutes.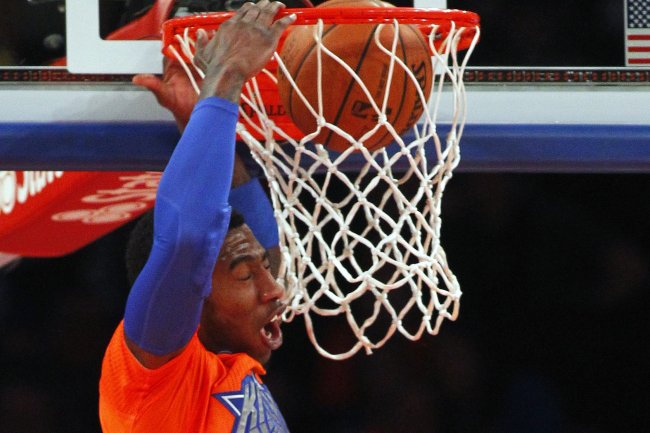 Rich Schultz/Getty Images
Sadly, it almost feels like any surge in Shumpert's play will be used as an excuse to "sell high" and trade him for assets as the Knicks persist with their brutal team play.
Grade: B
Beno Udrih, Point Guard
Beno Udrih started at point guard because what the heck else are the Knicks going to do? He scored two points on 1-of-6 shooting but did hand out six assists. Still, he might have had too much eggnog on Christmas Eve.
Udrih has been unable to find any consistency with his production, but seeing as he was brought in to replace Jason Kidd, who had become a shell of himself by last season's playoffs, the former Orlando Magic player is still an upgrade to the roster.
Grade: C
Rest of Bench
Tim Hardaway Jr. had 21 points to go with five boards and two assists. If the Knicks had three copies of this rookie and Tyson Chandler on the floor, they might have stood a fighting chance.
Amar'e Stoudemire scored 22 points, but his defense is to flag football as real defense is to NFL football.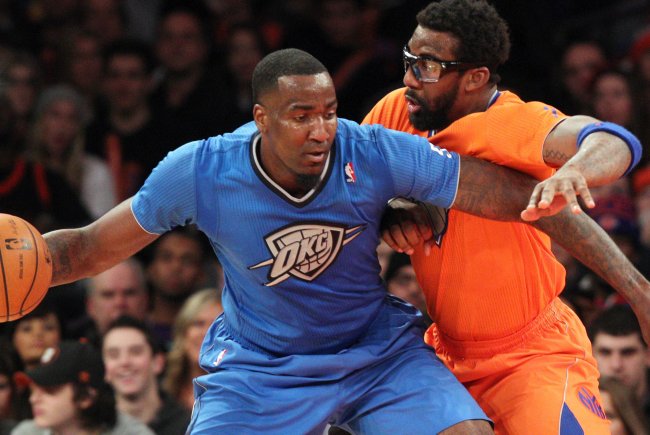 Brad Penner-USA TODAY Sports
Kenyon Martin was questionable before the game, and he turned in 13 questionable minutes with two rebounds and a missed shot.
Toure' Murry saw some early minutes when the game was still hypothetically in the balance and finished on a quarter-of-an-hour for the game. He scored six points and had four boards and three assists, but that was some nice time for the role player.
Chris Smith played! He did nothing.
Grade: B
What's Next?
The Knicks will have a day off to reflect on their disappointing season and to return a few unwanted Christmas gifts. After all, Metta World Peace already has a bunny costume! They play host to the division-rival Toronto Raptors on Friday, Dec. 27.
The Thunder also have Thursday off and play Friday when they visit the surprising Charlotte Bobcats, owners of the fourth-best record in the East.
Neither team will be wearing those ridiculous sleeves either.