Why Manchester City Must Stop Liverpool's Luis Suarez on Boxing Day
Use your ← → (arrow) keys to browse more stories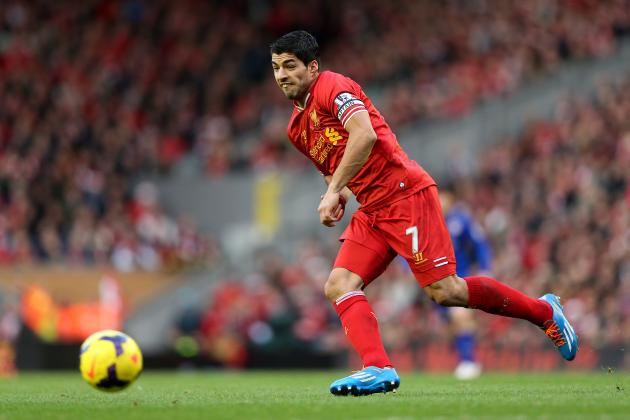 Clive Brunskill/Getty Images

There have been a number of players who have impressed in the Premier League this season. Aaron Ramsey, maligned by many of his own supporters only a year ago, has been the catalyst for Arsenal's title charge, and Manchester City's Sergio Aguero, who has 12 league goals already—19 in all competitions—is another who has shone.

However, it's Luis Suarez who so far stands above the rest. He has 19 league goals, despite missing the first five games of the season through the suspension he received for biting Branislav Ivanovic's arm back in April. It's a remarkable strike rate that, if maintained, will see him break the record for most goals scored in a Premier League season, which stands at 34.

It isn't just the sheer number of goals he's scored that have impressed—the quality of the goals and his all-round performances have been of such a high standard that it's difficult to remember a more impressive run of form by a player in English football.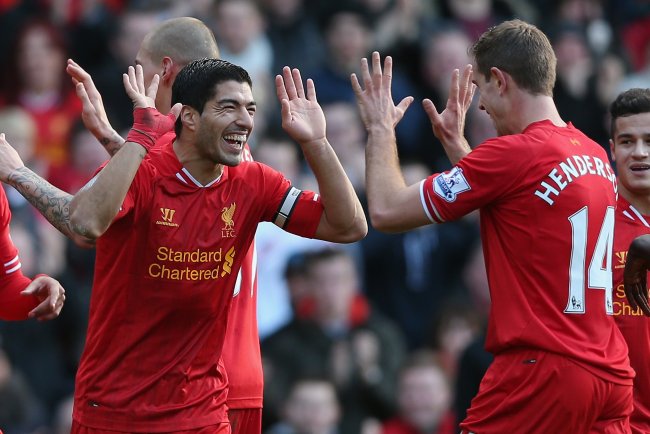 Clive Brunskill/Getty Images
Whether it's long-range volleys, beautiful free-kicks or neat close-range finishes after impressive build-up play, Suarez is capable of scoring all types of goals. It's difficult to know the best way to stop him. If you play a high line, his pace behind can be devastating; if you sit deep, he has enough skill to run at the heart of the defence and score.

He can destroy sides seemingly at will. Liverpool's recent 5-0 win at White Hart Lane was a classic example. His movement and pace meant the Tottenham defenders couldn't get near him. He pulled them in all directions, creating space for the likes of Jordan Henderson to exploit, and scored two himself—a truly magnificent display.

Suarez will be looking to make Manchester City's defence his next set of victims when Liverpool travel to the Etihad for the pick of the Boxing Day games. City's recent form is excellent—five wins and a draw in their last six league games—and they will be keen to continue that run in order to keep their solid title challenge on track.

City also have a 100 percent home record to maintain. They've been impervious on their own ground this season, winning all eight of their matches, scoring 35 goals. Big wins over Newcastle (4-0), Manchester United (4-1), Norwich (7-0), Tottenham (6-0) and Arsenal (6-3) really demonstrated City's capability to be champions once again.

Liverpool will be a huge threat to that record, though, given their recent form, and stopping Suarez will be key for the Blues. With former City academy graduate Daniel Sturridge out injured, Suarez is Liverpool's principle threat, and if they can minimise the damage he does, it will give them a great chance for victory.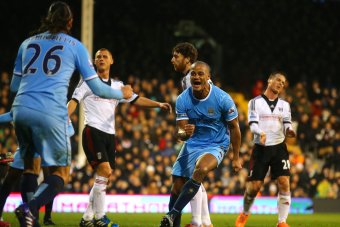 Clive Rose/Getty Images
Martin Demichelis is proving to be a sensible acquisition in terms of his experience, aerial ability and reading of the game, but his lack of pace is a concern, and Liverpool will no doubt pinpoint him as a weakness Suarez can exploit, which increases the pressure on Vincent Kompany, who will be vital in this game.
When he is at his best, there few better defenders in Europe, and he can dominate games from the back. His performance against Manchester United earlier in the season was near-perfect. United weren't given an opportunity to hurt City because of Kompany's proactive defending.
There are few players in world football with Suarez's ability, and he's the toughest opponent City will face in the league this season. It's clear he must be stopped if City are to make it nine home wins in nine.
Rob Pollard is Bleacher Report's lead Manchester City correspondent and will be following the club from a Manchester base throughout the 2013-14 season. Follow him on Twitter here @TypicalCity.