Best Potential Solutions for New York Knicks to Solve Point Guard Problem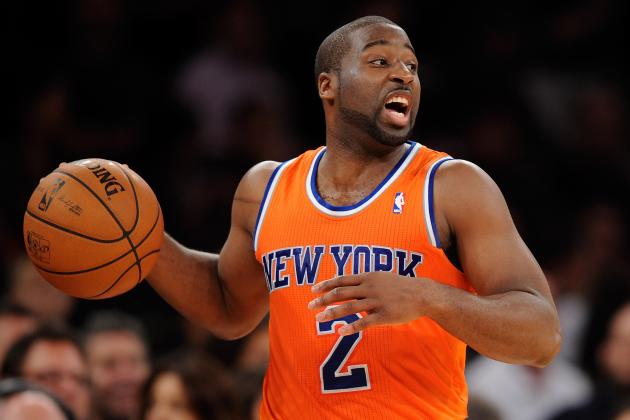 Maddie Meyer/Getty Images

The New York Knicks are having a lot of problems.
Duh. That's not exactly breaking news, as the Madison Square Garden residents have struggled immensely to remain even moderately competent during the 2013-14 season. There have been tons of problems, and the point guards provide no exception.
Though Raymond Felton, Pablo Prigioni and the rest of the rotation at the 1 haven't received as much media attention as other issues (James Dolan, Mike Woodson, J.R. Smith, late-game creativity, etc.), they're still at fault. None of them have been particularly effective, and now they're all hurt.
Felton recently told the New York Post's Marc Berman that he felt a pop in his groin, and J.R. Smith was nothing if not supportive: "For him personally to keep getting hurt, mentally we don't need that. He's our point guard, one of the leaders of our team. We can't have him second-guessing his health.''
It's just the latest injury to a New York point guard, as Prigioni is also out. With a hairline fracture to his right toe, the backup floor general still doesn't have a definitive return date, and his absence leaves the Knicks relying on Beno Udrih, Toure' Murry and Chris Smith.
Yikes.
It's time to look for some solutions. You can also call it "desperation time" if you so choose.
Begin Slideshow

»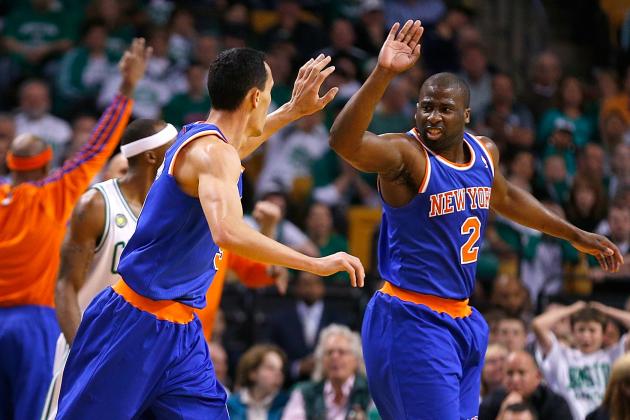 Jim Rogash/Getty Images

It's hard to remember sometimes, but Raymond Felton and Pablo Prigioni are actually a talented duo at the point guard position.
They just haven't played like it in 2013-14.
Felton has struggled mightily, especially on the defensive end, where he's seemingly decided that hemorrhaging points is something he really enjoys doing. Obviously it's not a particularly effective combination when your floor general can't stop the other team's point guard and also can't manage to top 40 percent from the field.
As for Prigioni, he's actually fared quite well when on the court, but he can't seem to remove his behind from the pine. You might want to check for splinters, as Mike Woodson shows a steady reluctance to let the Argentine point guard play more than 20 minutes per game.
Despite the struggles, the position is still salvageable without any external changes.
When Felton and Prigioni return from their respective injuries, all it would take is a couple changes from Woodson.
Make the former turn back into a scoring point guard, as he was last season. Remember, Felton averaged 13.9 points and 5.5 assists per game, shooting 42.7 percent from the field and 36 percent beyond the arc. If he's given free rein to create offense, he thrives, and it should be easier to grant him control now that Tyson Chandler is back and ready to set solid screens.
Last season, Chandler was on the court for four of Felton's five most-effective five-man offensive lineups, according to NBA.com's statistical databases (subscription required). This year, they've played together in only five games.
As for Prigioni, just give him more playing time. It's as simple as that.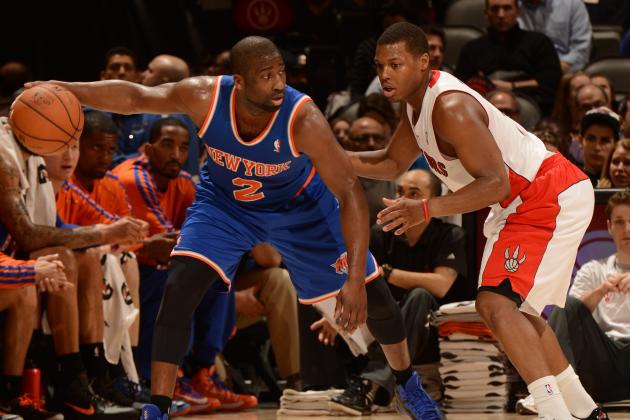 Ron Turenne/Getty Images

The New York Knicks came oh so close to actually pulling off this move earlier in the season. As the New York Daily News' Frank Isola reported, James Dolan blocked a trade because he had second thoughts and was furious that details of the potential move were leaked.
But let's say that Dolan becomes sane (big stretch, I know). Let's say that he lets the actual basketball minds make the actual basketball decisions (bigger stretch, I know).
At that point, trading for Kyle Lowry would become a possibility once more, and it would be a deal with the exact same structure as the one that was proposed earlier:
Toronto Raptors receive: Raymond Felton and Iman Shumpert
New York Knicks receive: Kyle Lowry
Based on the reception he's receiving from fans and the way he's performed during the 2013-14 campaign, Felton clearly doesn't have a long-term home in Madison Square Garden. And it's not like Shumpert does either, as he's struggled, been put on the trade block multiple times and failed to earn any semblance of trust from Woodson.
Both would do great things in Toronto, losing in the present and helping the team improve in the future (cheaper contract for Felton, high potential from Shumpert).
As for the Knicks, they'd be getting a better floor general than anyone on the current roster. Lowry may not be an All-Star, but he's a mid-level starter who can capably run an offense and provide across-the-board contributions.
Let me put it anther way: He's not Raymond Felton.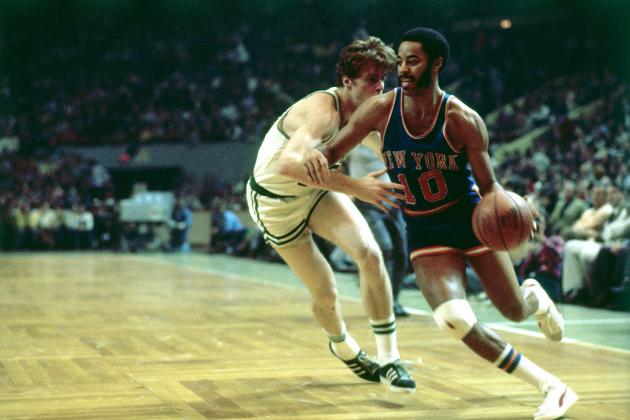 Dick Raphael/Getty Images

Believe it or not, there was once a point guard who made All-Star team after All-Star team for the New York Knicks.
Walt Frazier dominated the 1970s, earning all sorts of honors. No point guard has produced multiple All-Star selections since Clyde left the team, though Mark Jackson did make the squad in 1989. So obviously, the best solution would be to pull the stylish point guard out of retirement and allow him to suit up once more.
In a basketball jersey, not one of his notoriously flashy literal suits.
Better yet, let's just have Santa drop a vintage version of Frazier down the chimney at Madison Square Garden. And if the arena doesn't have a single one at the moment, just build one quickly and have Santa make a delayed delivery.
"This isn't possible!" you may be saying.
Au contraire.
As the Knicks have consistently proven during the 2013-14 season by continuing to find novel methods of losing basketball games, anything is possible in The City that Never Sleeps.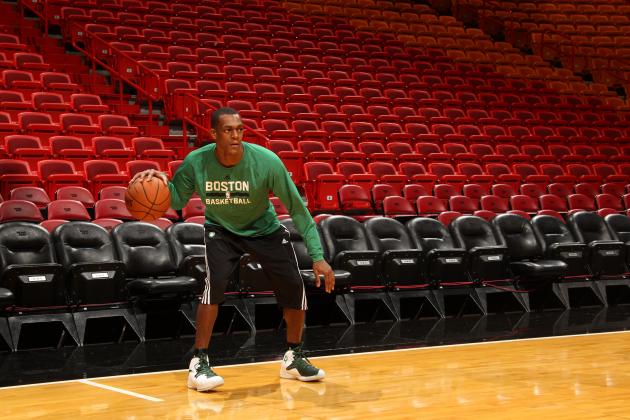 Issac Baldizon/Getty Images

Back to the serious solutions.
The Knicks can't exactly bank on a 68-year-old point guard coming out of retirement (even though that might still be an upgrade over Chris Smith), nor can they rely on time machines to solve their woes. But they could try to trade for a current All-Star.
Some guy named Rajon Rondo, perhaps. The same talented distributor who has been linked to the Knicks more than a few times.
Fortunately, two trades could certainly work in New York's quest to bring Rondo's talents to The Big Apple.
Trade No. 1
New York Knicks receive: Rajon Rondo, Courtney Lee, Keith Bogans
Boston Celtics receive: Amar'e Stoudemire, Iman Shumpert, Tim Hardaway, 2018 first-rounder
Obviously it would be difficult to saddle another team with STAT's ridiculous contract, but the Knicks are providing enough incentive here that Boston would have to seriously think about the move. Shumpert and Hardaway are both high-potential guards, and the latter has been particularly impressive during his rookie season.
Plus, there's the 2018 first-round pick. And given the way things have been going for New York, there's no telling whether or not it would fall in the lottery.
That said, there's one more way to make this work.
Trade No. 2
New York Knicks receive: Kris Humphries, Courtney Lee, Rajon Rondo, Gerald Wallace
Boston Celtics receive: Tyson Chandler, Kyle Lowry, Amar'e Stoudemire, 2018 first-rounder (from New York)
Toronto Raptors receive: Raymond Felton, Iman Shumpert
This is basically a combination of the two trades previously discussed in this article, and it's the brainchild of B/R's Dan Favale. As he writes:
Inhale, exhale. Inhale, exhale. That was a lot to take in, and Knicks fans are probably a mixture of happy and sad. Me? I hate this deal for New York—I'm being honest. But if they are in fact obsessed with pursuing Rondo, it's one they have to consider.
It's a lot for the Knicks to give up, but at least they'd be getting another All-Star who can create on offense alongside Carmelo Anthony. That alone trumps all costs, as this team desperately needs new ways to put up points.
The reasoning is a lot simpler for Toronto and Boston. The Raptors would get the same return they did in the previous Lowry trade, and the C's would get a nice combination of cap relief, talent and a draft pick.
Stranger things have happened.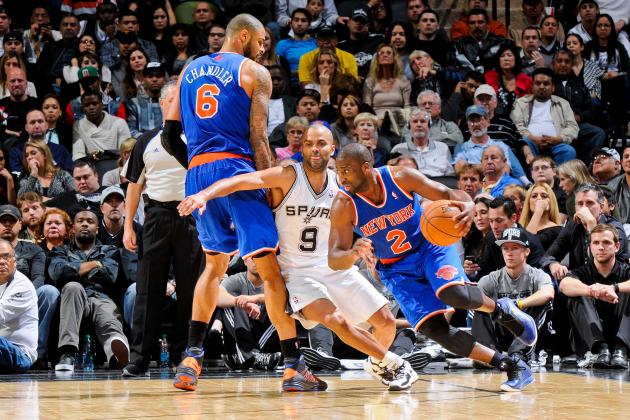 D. Clarke Evans/Getty Images

The New York Knicks just aren't using pick-and-roll sets very often.
According to Synergy Sports, Mike Woodson's squad has used them 19.1 percent of the time (the combined percentage of pick-and-roll ball-handlers and roll men). In those two situations, they rank Nos. 29 and 11, respectively, among all NBA teams in terms of effectiveness.
As an example, the Portland Trail Blazers use basketball's most popular play on 24.2 percent of their possessions. The Atlanta Hawks check in at 21.6, and they run a system that's based almost entirely on heavy ball movement.
New York simply needs to get back to the basics and use one of the best weapons it has: Tyson Chandler.
The big man might not be a premier offensive threat, but few players have ever been more dangerous when rolling to the basket. He sets solid screens, frees up plenty of space for his guards and sucks defenses down into the paint because they have to respect his finishing ability.
This year, Raymond Felton is scoring 0.63 points per possession when he finishes plays as a pick-and-roll ball-handler. That's down from last season's 0.8, which left him as the No. 70 player in the NBA when utilizing that situation.
He clearly has the talent to excel with such a style of play (a big decline over just one year isn't realistic for a 29-year-old point guard), and now that Chandler is back, he has the necessary personnel at his disposal as well. It's time for that to start happening with more frequency, and it's not like doing so would hurt anyone else on the roster either.
Changes are necessary, but they might not need to involve player movement.