Yankees Season in Review: The Biggest Stories from the First 50 Games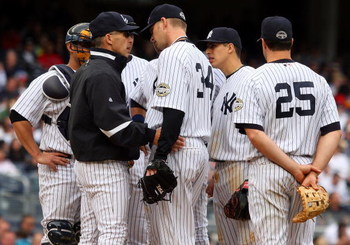 Hello friends; sorry it's taken so long for me to get back on the horse and write a new article. I've been hard at work on my music, and should be releasing my first solo EP, entitled Disparition, some time in mid-July.
You can hear rough mixes from the record at http://myspace.com/tomschecter.
The first 50 games of this season have been fraught with ups and downs, but on Friday night, the Yankees did something they'd never done before under Joe Girardi—in fact, something they hadn't done since the last day of 2006: they took sole possession of first place in the American League East. Things are looking up.
And so, full of piss, vinegar and optimism, I give you my review of the first 50 games of this 2009 season.
Chien-Ming Wang Spontaneously Combusts like a Drummer from Spinal Tap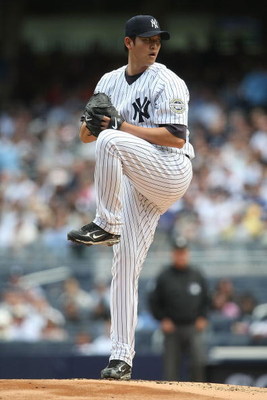 "He just was like a flash of green light, and that was it. Nothing was left. Well, there was a little green globule on his drum seat. It was a small stain, actually."
- Nigel Tufnel, describing the death of drummer Peter "James" Bond
The first big story of the season that didn't have to do with Alex Rodriguez came from the unspeakable collapse one of our steadiest contributors over the last three years.
Watching Chien-Ming Wang leave his first start in Baltimore after less than four innings was disconcerting, but nobody in their wildest dreams could have imagined that that start would be his high-water mark for the month of April.
Through three starts, all losses, he gave up 23 runs on 23 hits in only six innings pitched, throwing Yankee nation into a panic before someone finally decided to ask him if he was hurt.
Following a stint on the disabled list to rehab his hip, Wang has thrown eight strong innings in relief for the big club over the last two weeks, lowering his ERA for the season from 34.50 to 16.07 and giving Girardi options should someone in the current rotation get hurt or lose the strike zone for a start or two.
Nick Swisher, the New Face of Yankee Baseball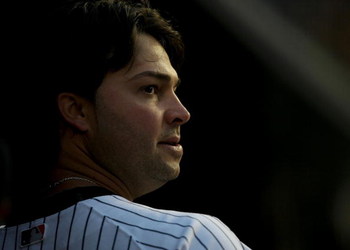 After an 0-2 start in Baltimore, Joe Girardi inserted Swisher into the starting lineup for the first time and saw the move pay instant dividends. Through the first 10 games of the season, Swisher hit .429 with four home runs and 11 RBI, and cemented his place in the starting lineup.
Swish even threw a scoreless inning of relief in Tampa Bay, pumping his fist in celebration after recording his first (and likely only) strikeout.
While his batting average has nose-dived over the month of May, Swisher's fun-loving attitude and boundless energy help keep spirits high in the clubhouse, and give a bit more of a blue-collar feel to this team of superstars that badly needs a glue guy or two to loosen them up.
The Kids Are Alright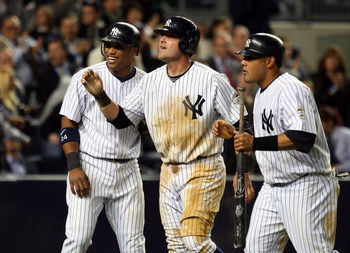 The younger, less-heralded Yankees have played inspired baseball to complement their big-name teammates efforts, or replace them in the lineup when they've gone down.
Last year, in the absence of Jorge Posada, Jose Molina did a yeoman's job as a full-time defensive catcher, but couldn't come close to replicating Posada's acuity with the bat.
This year, after both regular catchers went down to injury within one series, Francisco "Enzo" Cervelli hit .302 over a twenty-game stint with the big club. Cervelli will likely be sent back down to Scranton when Molina returns this week, but he's staked his claim to the title of Catcher of the Future.
Robinson Cano has answered all preseason questions about his bat. He's returned to form, hitting .314 over the first two months of the season and putting himself on pace to collect 200 hits in 2009. Look for his numbers to pick up even further with the return of Jorge Posada as his protection in the lineup.
After reclaiming his spot as the Yankees' full-time center fielder, Melky Cabrera has hit .323 through the first two months and become the most unlikely late-inning clutch performer since Derek Jeter was a rookie, delivering three game-winning walkoff hits in the early season—including two in one weekend against Minnesota.
(It's worth mentioning, because you all know how much I love him, that the first guy out of the dugout to congratulate Melky when he gets a big hit is almost always Brett Gardner.)
Speed Kills (But Beauty Lives Forever)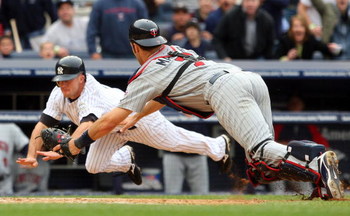 Speaking of young Mr. Gardner, I'm going to take a moment to address the single greatest defensive play I've seen all year...and the reason this play makes me feel good about our team.
Bottom of the ninth inning, in the third game of the Twins series. We're tied 2-2. Runners on first and second with one out. Cervelli hits a hard ground ball up the middle and the Minnesota pitcher, Mijares, knocks it down.
Mauer has to pick it up and sees that he's got no chance of getting Cervelli at first...wait a minute, hes turning around and sprinting back towards home plate because GARDNER'S COMING HOME...it's gonna be close...he got him. By a step. I don't believe what I just saw.
Two things: There's not a single other catcher in the major leagues who gets there in time to get Gardner, not from where Mauer was standing when he pumped to first.
This guy should win the Gold Glove at catcher every year, forever, until he retires, and he probably will.
Second, you can absolutely point to Gardner and say "rookie mistake." It was absolutely the wrong thing to do with the top of the lineup coming up. You always hold at third and take your chances with less than two outs...but seriously, you've got to love the balls on this kid, don't you?
The best Yankee teams we've seen over the last 10-15 years are the ones that play with the kind of arrogance that allows you to decide to take that chance. The Yankees are playing loose, confident ball, like they expect to win every day.
Gardner's baserunning error was an aggressive one, and he never slowed down. It's the kind of mistake you want your rookies to make. He expected to score. And he absolutely would have beaten any other catcher to the bag.
Kings of the Hill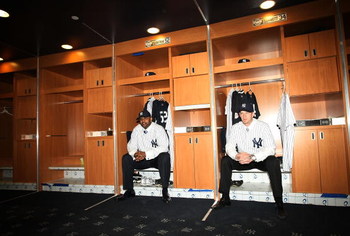 The biggest problem with last year's ballclub - really, every Yankee team since 2004 - was the starting pitchers' inability to get deep into games.
Length from the rotation is essential to keeping a team's bullpen fresh and effective, and also usually provides evidence that the starters are pitching well. You don't see a team leave its starters out on the mound if they're getting beaten up.
A.J. Burnett has thrown 64 innings in 10 starts, averaging 107 pitches per outing. His shortest start of the season thus far has been five innings. He's 3-2 with a 4.78 ERA, and the Yankees are 6-4 when he starts.
Pitching coach Dave Eiland apparently helped Burnett fix a mechanical flaw before his last start in Cleveland, and Burnett threw six shutout innings. I'd expect his numbers to get better as the season progresses.
Stalwart veteran Andy Pettitte has thrown 63.2 innings in 10 starts, averaging 105 pitches per start. He too has lasted at least five innings in every single game he's started.
His record is 5-1 with a 4.10 ERA, and the Yankees are 8-2 when he starts. He continues, year in and year out, to do exactly what the Yankees need him to do.
Most impressively, CC Sabathia has racked up a whopping 78 innings over 11 starts (7.14 IP per), averaging 110 pitches per start. Leaving out his disappointing performance on Opening Day (4.1 IP, 6 earned runs, 0 Ks), C.C. is 5-2 with a 2.93 ERA and is allowing only 1.03 baserunners per inning.
His strikeout numbers continue to be lower than his average (56 thus far in 78 IP), but as the weather heats up, he usually does too, so it's not a concern.
The performances of the Big Three are allowing youngsters Joba Chamberlain and Phil Hughes to work under less pressure, and making sure Girardi has a reasonably fresh group of arms in his bullpen from day to day.
The Return of the Big Bats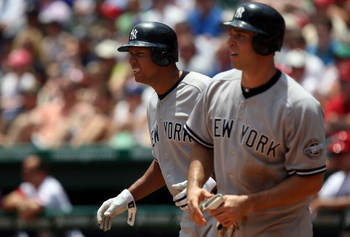 Everyone has seen this statistic already, but it gets more and more important with each day and each big hit, so here goes:
Before Alex Rodriguez returned to the lineup from his hip surgery, Mark Teixeira was hitting .196 with 5 HR and 15 RBI in 25 games.
In the 22 games since Rodriguez joined the team on May 8, Tex has hit .370 with 11 HR and 19 RBI.
Teixeira went 0-for-3 on May 8, too. So it stands to reason that the most important at-bat of the entire season was Alex's first, when he hit the first pitch he saw into the left-field seats at Camden Yards and served warning to every pitcher in the league that he was back.
Even at 90 percent of his full strength, Alex Rodriguez is scary enough to force pitchers to give the guy in front of him good pitches to hit. He's still at 90 percent, though, so don't expect too much from him.
But at the same time, don't be shocked if Teixeira ends up having the best season of his career.
Add to the mix a healthy Jorge Posada, who's already doubled his home run total and driven in as many runs as he did last year, and the Yankee offense will continue to scare the daylights out of every team we face.
What I'm saying is this: You can expect the Yankees to be in first place for quite a few more days in 2009.
Keep Reading

New York Yankees: Like this team?