Momentum is integral in the NFL playoffs and can mean the difference between a first-round exit and a championship run.
Just ask the 2012 Baltimore Ravens.
That, or ask the seemingly copious amount of teams that gain a first-round bye each year and come out flat after an extended amount of time off. While great work allowed the teams to rest, others were still playing and keeping momentum alive.
2013 will be no different. Teams that have seen success begin to snowball may be unstoppable once elimination games begin.
Current Standings

| | | | |
| --- | --- | --- | --- |
| | NFC | | AFC |
| 1 | Seattle Seahawks (12-3) | 1 | Denver Broncos (12-3) |
| 2 | Carolina Panthers (11-4) | 2 | New England Patriots (11-4) |
| 3 | Philadelphia Eagles (9-6) | 3 | Cincinnati Bengals (10-5) |
| 4 | Chicago Bears (8-7) | 4 | Indianapolis Colts (10-5) |
| 5 | San Francisco 49ers (11-4) | 5 | Kansas City Chiefs (11-4) |
| 6 | New Orleans Saints (10-5) | 6 | Miami Dolphins (8-7) |
| 7 | Arizona Cardinals (10-5) | 7 | Baltimore Ravens (8-7) |
| 8 | Dallas Cowboys (8-7) | 8 | San Diego Chargers (8-7) |
| 9 | Green Bay Packers (7-7-1) | 9 | Pittsburgh Steelers (7-8) |
| | | 10 | New York Jets (7-8) |
ESPN
Indianapolis Colts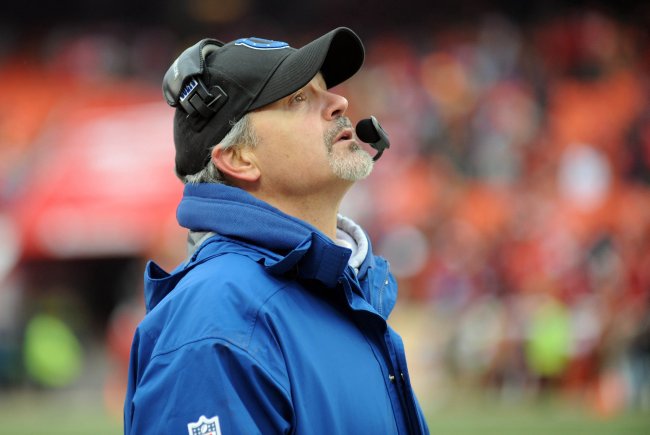 Denny Medley-USA TODAY Sports
Much criticism has been leveled in the Indianapolis Colts' direction this year because the team clearly plays up and down to competition.
Losses to Miami and San Diego were discouraging at the time (they are eight-win teams now), but the lowlight was a Week 10, 38-8 loss at the hands of the 7-8 St. Louis Rams (probably better than most expected by this point, too).
However, the Colts have been elite against the NFL's best. ESPN summarizes it nicely:
The @Colts w/their 23-7 win over KC have now beaten the Broncos, Seahawks, 49ers and Chiefs this year. Impressive, most impressive.

— NFL on ESPN (@ESPNNFL) December 22, 2013
Not only that, the Colts need a Week 16 win over the Jacksonville Jaguars to secure their third season sweep of the AFC South since 2002:
The only 2 teams that are undefeated in their divisions this season are the @dallascowboys & the @Colts (both 5-0).

— Numbers Never Lie (@ESPN_Numbers) December 23, 2013
Coach Chuck Pagano understands how much momentum his team built with a victory over 11-win Kansas City, per the team's official site:
To go back-to-back, especially this one, on the road, we all know how tough it is to play at Arrowhead and how loud it is, the elements and all that stuff, not to mention how good of football they have and what a great coach they have in Coach (Andy) Reid. For our guys to be able to go out and win that football game, win it the way that we won that football game can only help us moving forward.
It is a long shot for the Colts to land the No. 2 seed in the AFC (it would require a win plus the Cincinnati Bengals and New England Patriots losing in Week 17), but the team understands how to play top-shelf competition well and should enter the postseason fray on a three-game win streak.
Cincinnati Bengals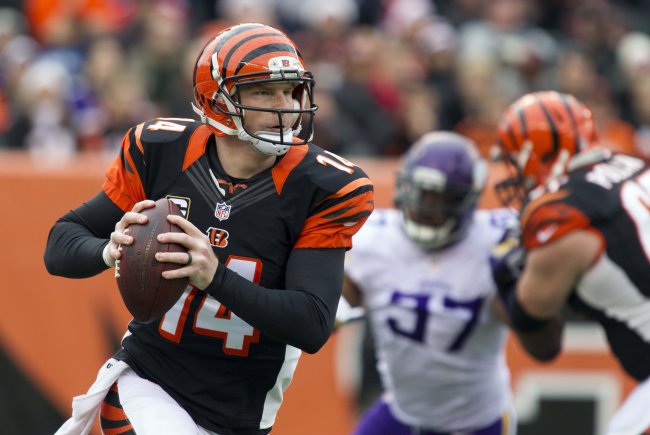 Trevor Ruszkowksi-USA TODAY Spor
The Cincinnati Bengals may be the NFL's most unstoppable team outside of Seattle if Marvin Lewis' team can nab home-field advantage.
In 2013, the Bengals are 7-0 from The Jungle, otherwise known as Paul Brown Stadium. The team has scored a minimum of 40 points in each of its last four games at home, while the oft-erratic quarterback Andy Dalton has thrown 15 touchdowns to three interceptions in that span.
Joe Reedy of the Cincinnati Enquirer provides a jaw-dropping stat to match:
#Bengals are third team in NFL history to score 40-plus in four straight home games in same year joining '52 Lions and 2000 Rams

— Joe Reedy (@joereedy) December 24, 2013
That's a "Greatest Show on Turf" edition of the Rams, by the way.
Week 17 is an AFC North battle between the Bengals and Baltimore Ravens, where the defending champions need a win and help to secure the final wild-card spot. But the team understands the Bengals will not be taking the contest lightly:
Don't expect the Bengals to rest their starters Sunday... They still have a shot at the AFC's No. 2 seed: http://t.co/CNcl0BVu5t

— Baltimore Ravens (@Ravens) December 24, 2013
The Bengals need a win and a Patriots loss to steal the No. 2 seed, obtain a bye and play their postseason games at Paul Brown Stadium.
Regardless, the Bengals are a hot team, winning four of their last five and appearing to have turned a corner since a pair of overtime losses that began in Week 9.
San Francisco 49ers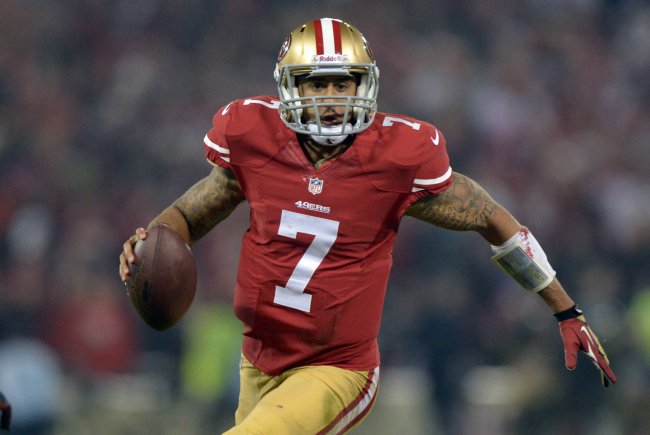 Kirby Lee-USA TODAY Sports
The San Francisco 49ers sent their home field out with a bang in Candlestick Park's final game against the Atlanta Falcons on Monday Night Football.
Linebacker NaVorro Bowman picked off a pass from Matt Ryan late to give the 49ers a playoff berth:
49ers had 33.6% win probability before Ryan's pick-6, 99.8% win probability after Swing of 66.2% is biggest on defensive play this season

— ESPN Stats & Info (@ESPNStatsInfo) December 24, 2013
#49ers LB @NBowman53 scored his 1st career TD on an 89-yard INT return on #MNF. http://t.co/wX8vOpX09R pic.twitter.com/kQ1xTjQy38

— San Francisco 49ers (@49ers) December 24, 2013
Playoff team with most momentum?
The 49ers currently sit at No. 5 but can clinch the NFC West crown with a win in Week 17 paired with a Seattle Seahawks loss. They can also claim the No. 1 seed in the conference with a win combined with losses by Seattle and the Carolina Panthers.
But let's stay focused on the momentum aspect, which is why it is worth even bringing up playoff scenarios—the 49ers are on a roll.
Now winners of five straight, the team's only losses this year have come to opponents that now have a minimum of 10 wins.
Week 17 is a trip to the desert to take on the 10-win Arizona Cardinals. Should the 49ers continue the streak and emerge victorious, it would be unwise to bet against them in the postseason—regardless of seeding.