Keenan Allen Most Deserving of Offensive Rookie of the Year Award
December 25, 2013

Christopher Hanewinckel-USA TODA
The San Diego Chargers need a couple gifts to make the postseason, but they got one present back in April. Despite a stable of solid wide receivers, the Chargers couldn't pass on University of California wide receiver Keenan Allen and selected him with their third-round pick.
Allen was supposed to be a first-round pick; the Minnesota Vikings even guaranteed it, as reported by Tom Krasovic of the San Diego Union-Tribune. Now, it looks like the Vikings and 30 other teams made a big mistake by not drafting Allen in the first two rounds—gifting him to the Chargers at No. 76 overall.
With just one game left to play, there should be no debate that Allen is the offensive rookie of the year. With all due respect to Green Bay Packers running back Eddie Lacy, he doesn't even deserve to be in the conversation with Allen.
For starters, Allen is a wide receiver, and Lacy is a running back. It normally takes two to four years for a wide receiver to develop at the NFL level, but running backs are expected to produce immediately. That's because there is a lot more that goes into playing the wide receiver position in the NFL than the running back position.
The margin of difficulty for Allen was exponentially higher than it was for Lacy. That's not to say Lacy hasn't done a good job, but a case could be made that Cincinnati Bengals' running back Giovani Bernard has actually been a superior runner. Bernard has a better average rush and is far more effective as a receiver out of the backfield.
Rookie Yards From Scrimmage
Player
Position
Yards From Scrimmage
Touchdowns
Eddie Lacy
RB
1354
10
Le'Veon Bell
RB
1163
7
Giovani Bernard
RB
1136
8
Zac Stacy
RB
1076
8
Andre Ellington
RB
981
4
Keenan Allen
WR
957
8
pro-football-reference.com
Rookie running backs Zac Stacy and Le'Veon Bell are also having good seasons. Running back is just a position where rookies can start and put up big numbers. Five rookie running backs will likely go over 1,000 yards from scrimmage in 2013.
Lacy actually has far fewer yards from scrimmage than running backs Doug Martin and Alfred Morris had last year during their rookie seasons. Rookie running backs producing big stats isn't worthy of an award unless they do something really special. Lacy hasn't done anything special. 
Allen is the only rookie receiver this year who is capable of reaching 1,000 yards receiving, needing just 43 yards in Week 17 to accomplish the feat. If Allen is successful, he will join A.J. Green as the only rookie receiver to reach the 1,000-yard plateau over the past five years. Only three rookie receivers have gone over 1,000 receiving yards in the past decade—three more were able to go over 1,000 yards from scrimmage with the help of a few rushing yards.
By comparison, 27 running backs have reached 1,000 yards from scrimmage mark in the past decade—4.5 times as many as the receiver position despite less than half the starting spots at the NFL level (some teams start three receivers).
Allen's production is rare for a rookie, but it's also a much greater impact on the field than Lacy.
Allen's win probability added per game is .11 compared with a win probability added per game of .05 for Lacy, according to advancednflstats.com. This is an advanced statistic that attempts to calculate how any given player impacts the outcome of the game. 
Lacy vs. Allen
Player
WPA/G
EPA/P
DVOA
DYAR
Keenan Allen
.11
.43
33.6
329
Eddie Lacy
.05
.02
7
156
Difference
+.06
+.41
+26.6
+179
advancednflstats.com, footballoutsiders.com
Football Outsiders has two statistics that also attempt to measure performance beyond the traditional metrics. One is called DVOA and measures a player's value per play and the other DYAR which attempts to measure a player's total value.
Allen has a DVOA of 33.6 percent through Week 15, second in the league at the receiver position, and a DYAR of 329, sixth in the league. Lacy has a DVOA of seven percent, ninth in the league at the running back spot, and a DYAR of 156, sixth in the league. That's pretty close if you don't consider how hard it is to play wide receiver in the NFL.
A lot of people think the only prerequisites for being a good receiver are having the right combination of good hands, good size, good speed and good agility. Plenty of amazing athletes with all the measurables have failed to become great wide receivers because there is much more to playing the position.
For the running back position, athleticism is a bigger piece of the puzzle. There is a much larger mental component for wide receivers.
A wide receiver has to be able to beat press coverage by using their hands and their body position. A wide receiver must also understand coverages and interpret them in the same way as their quarterback.
By running good routes, receivers make it so defensive backs can't cheat. If a cornerback can't cheat, they have to rely on their own technique and athletic ability in coverage. A good wide receiver can bait most defensive backs by making different routes look the same.
Mastering the art of the subtle push-off to gain separation is one of the many tricks in the bag of every great receiver. Put simply, there's a lot that goes into being a good wide receiver, which is why Allen's accomplishments this season are a lot more impressive and deserving of accolades than any of the running backs.
Allen is wise beyond his years at the wide receiver position.
Facing a 3rd-and-10 in the second quarter against Washington, the Chargers were able to convert thanks to Allen's quick play recognition. Philip Rivers was nearly sacked, but he was able to escape the pocket.
When Rivers escaped the rush, Allen broke off his route and found a soft spot in the coverage.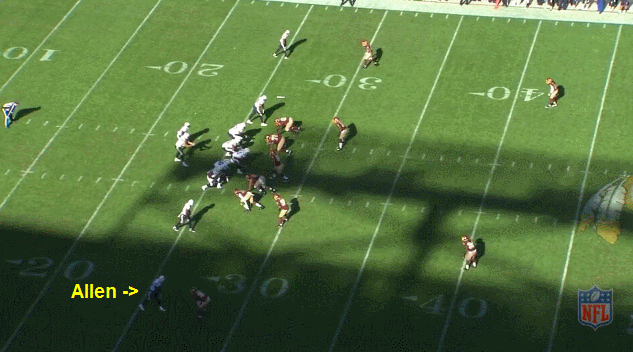 Game Rewind
This is not something you normally see from a rookie wide receiver, and it's hard not to notice the fact that Allen makes the adjustment and his more experienced teammates either don't adjust, or are much slower to do so. When it comes to understanding coverages and knowing when to break off his routes, Allen is quite advanced.
Allen's ability to run routes is also one of his strengths. Most of Allen's catches have come close to the line of scrimmage, so he has to create instant separation to be successful.
In the game against Washington, two plays Allen made stick out as the perfect example of this ability. The first play didn't even count because Allen was called for a phantom offensive pass interference penalty.
Game Rewind
Allen created so much separation that the official with a poor view assumed that it couldn't have been created without him pushing the defender at the top of his route. In reality, Allen didn't even touch the defensive back—he just ran a crisp five-yard in-route with a jab step to the outside that froze him.
Two plays later, Allen made a 20-yard catch to negate the penalty. Rivers hit wide receiver Eddie Royal for a touchdown to cap a drive that was basically all Allen. 
In the fourth quarter, Rivers hit Allen for a 16-yard touchdown. It was made possible because Allen was routinely creating separation earlier in the game. In this case, the route looked identical to the one in which he was called for offensive pass interference with one notable difference.
Game Rewind
Instead of breaking inside, Allen faked inside and went outside. The defensive back opened up his hips too early to try to cover the inside route, but Allen broke toward the corner for an easy touchdown.  
It was a great route by Allen, but it was made possible by good routes all afternoon. Washington's defensive backs were simply no match for San Diego's rookie dynamo.
There's a reason quarterbacks generally win the offensive rookie of the year award—it's a tough job. With no quarterback deserving this year, Allen's performance has been by far the most impressive of all the rookies. The choice for offensive rookie of the year is clear—it's Allen, whether he actually wins the award or not.