As we know, the rumors surrounding the return of Dave Batista to the squared circle turned out to be completely true, as the WWE officially announced his comeback on the December 23 edition of Monday Night Raw. Understandably, The Animal is a favorite to win the Royal Rumble—but it's something that shouldn't happen.
It should be acknowledged that Batista is a huge star with verified box-office appeal and as such certainly deserves a prominent spot on the WrestleMania card.
He should be in one of the three main events of the show, just not the one involving the WWE Championship.
You see this argument on the Internet all the time; "X top star is returning, which is bad because they're taking someone else's spot." I don't usually agree with that way of thinking, but in this instance, it's applicable.
CM Punk, Roman Reigns, Daniel Bryan and Bray Wyatt are all stars who WWE clearly has big plans for, and are all more suitable Royal Rumble winners. In the instance of Reigns and Wyatt, the Rumble is an opportunity to build a new big star, and in the case of Punk and Bryan, it's a chance to elevate them to Triple H levels of superstardom.
An Orton vs. Batista 'Mania match, if it's for the WWE Championship, would represent WWE's stubborn inertia to change in a similar way that TLC's Orton vs. Cena match did. This time it'll be worse because the stage is so much grander.
What will it do to Batista's legacy to win the Rumble and compete for the title at WrestleMania? He's already done both.
He'll get a top 'Mania spot because he's Batista and he's earned it—but he doesn't need the Rumble rub.
Two years ago Chris Jericho returned to the WWE after a 14-month absence, and it seemed like Y2J vs. CM Punk at WrestleMania XXVII was a sure thing. In 2012, Jericho was the favorite to win the Royal Rumble; it just made sense.
But he didn't. At the time it seemed puzzling, but ultimately, it was the right move by the company. Y2J was a six-time world champion and didn't need to win the Rumble to earn his WrestleMania spot.
He would get to that spot simply by virtue of the fact that he's Chris Jericho. Sheamus needed it more, and that's why he got the win.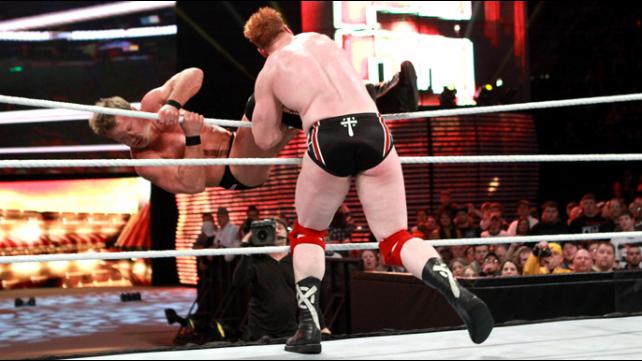 WWE.com
Of course, times have changed and now there's only one world title, but regardless of gold and leather, there are usually three or four main event matches at the Show of Shows, and it's been proved before that the WWE title match isn't always the most important.
Saying Batista shouldn't win the Royal Rumble is in no way condemning him as a performer or besmirching his right to have a big-time WrestleMania match. He deserves a prominent position on the Road to WrestleMania, but winning the Royal Rumble isn't the avenue he should take.
Follow Daniel on Twitter @dvanboom.