The 2013 NFL regular season is going to go out with a bang. In 13 of the 16 games scheduled for the week, there are playoff implications.
Not one of the four NFC divisions has crowned a champion.
Fans will not only have to root for their favorite team—they are also going to have to root for scenarios that will help their team's postseason chances.
Of course, if patience isn't your strength, skip past all that and check out my full list of predictions for the week and a deeper look at three teams guaranteed to find victory this week.
Langford's Week 17 NFL Picks

| | | | | |
| --- | --- | --- | --- | --- |
| Date | Time (ET) | Away | Home | Picks |
| Dec. 29 | 1 p.m. | Cleveland Browns | Pittsburgh Steelers | Steelers |
| Dec. 29 | 1 p.m. | Washington Redskins | New York Giants | Giants |
| Dec. 29 | 1 p.m. | Baltimore Ravens | Cincinnati Bengals | Bengals |
| Dec. 29 | 1 p.m. | Houston Texans | Tennessee Titans | Titans |
| Dec. 29 | 1 p.m. | Jacksonville Jaguars | Indianapolis Colts | Colts |
| Dec. 29 | 1 p.m. | New York Jets | Miami Dolphins | Dolphins |
| Dec. 29 | 1 p.m. | Detroit Lions | Minnesota Vikings | Vikings |
| Dec. 29 | 1 p.m. | Carolina Panthers | Atlanta Falcons | Panthers |
| Dec. 29 | 4:25 p.m. | Tampa Bay Buccaneers | New Orleans Saints | Saints |
| Dec. 29 | 4:25 p.m. | Buffalo Bills | New England Patriots | Patriots |
| Dec. 29 | 4:25 p.m. | St. Louis Rams | Seattle Seahawks | Seahawks |
| Dec. 29 | 4:25 p.m. | Green Bay Packers | Chicago Bears | Bears |
| Dec. 29 | 4:25 p.m. | San Francisco 49ers | Arizona Cardinals | Cardinals |
| Dec. 29 | 4:25 p.m. | Denver Broncos | Oakland Raiders | Raiders |
| Dec. 29 | 4:25 p.m. | Kansas City Chiefs | San Diego Chargers | Chargers |
Indianapolis Colts
Week 17 Opponent: Jacksonville Jaguars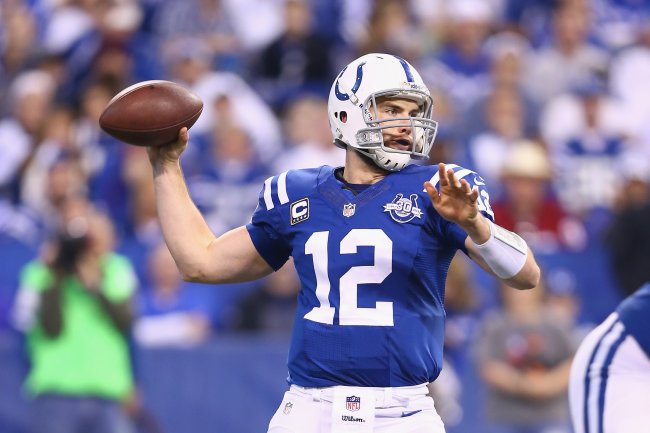 Andy Lyons/Getty Images
The Colts have been less than impressive in the second half of the season. They are, however, putting together a strong close to the season. The Colts have won their last two games, against the Houston Texans and Kansas City Chiefs, by the combined score of of 48-10.
This week, the Colts get the Jacksonville Jaguars to close out the season. The Jags have been far more competitive in the second half of the season. Still, they haven't beaten a team with a winning record all season.
The first time these two met, the Colts trounced the Jags 37-3. Jacksonville's offense is playing better football now, but it still has mustered just 36 combined points over the last two games against the less-than-elite defenses of the Buffalo Bills and Tennessee Titans.
The Jags will struggle against a Colts defense that has been on lock down the last two weeks.
The Colts do have the AFC South locked, so there is the fear that they won't play their starters the entire game. If neither the Cincinnati Bengals or the New England Patriots win, however, the Colts can still earn a first-round bye.
Denver Broncos
Week 17 Opponent: at Oakland Raiders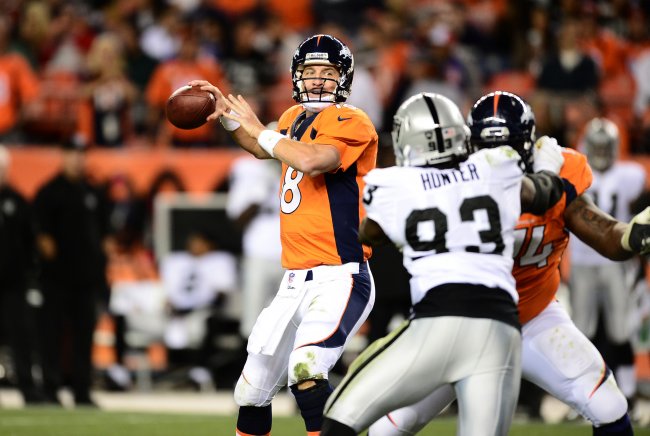 Ron Chenoy-USA TODAY Sports
Typically, I shy away from picking the away team in a divisional rivalry game. They seem to be a ripe setting for upsets.
The Denver Broncos, however, have not come this far to lose out on the AFC's No. 1 seed by losing to a four-win Raiders team.
The Broncos beat the Raiders by 16 in Week 2. In that game, Peyton Manning found little resistance. He finished the game with just five incompletions out of 37 passes with 374 yards, three touchdowns and no interceptions.
The Raiders' current five-game losing streaks tells that Oakland is not any better prepared to slow down Manning than they were then.
Terrelle Pryor returns under center for the Raiders, and there is a chance that he sparks the offense. He won't spark it enough to keep up with the Broncos, however.
Drama has accompanied Pryor's return, as his agent criticized head coach Dennis Allen for his handling of Pryor and said that the coach was setting up his client to fail. Allen fired back at the agent, but there is the concern that the coach and the player will not be on the same page—especially considering the fact that this may be Allen's last game:
Does Rich Gannon expect Dennis Allen to return: "My gut tells me that Mark Davis is probably like his father. Not a ton of patience."

— 95.7 The GAME (@957thegame) December 25, 2013
The Denver Broncos will cruise in this game and lock up home-field advantage.
Philadelphia Eagles
Week 17 Opponent: Dallas Cowboys
There is a big question mark hanging over this battle that will determine the champion of the NFC East. That would be the one hanging over Tony Romo:
Tony Romo is determined to play Sunday, reportedly receiving an epidural injection in his injured back. http://t.co/J0Kh0FHZhK

— NBC Sports (@NBCSports) December 25, 2013
This pick is not dependent upon the status of Romo, however.
The Dallas Cowboys' abysmal defense is going to keep them out of the playoffs. The Cowboys allow the 27th-most yards in passing and the 31st-most yards in rushing.
That isn't going to cut it against this Eagles team.
Philadelphia is first in both yards per pass and yards per rush. They will be able to dictate the action to the Cowboys defense.
Nick Foles needs a perfect passer rating (158.3) next Sun against Cowboys to top Rodgers' single season mark of 122.5. It may be possible.

— Jeff McLane (@Jeff_McLane) December 23, 2013
Meanwhile, the Cowboys won't be able to rely on their surging run game. The Eagles allow the fourth-fewest yards per rush in the NFL.
This game may be close until the fourth quarter, but the Eagles will pull out the win.
All playoff scenarios via NFL.com. All stats via TeamRankings.com.