With just one week remaining until the playoffs, there are a few elite teams that have solidified spots atop the NFL power rankings. Conversely, there's a handful of teams that are sure to remain at the bottom.
Thirteen of the 16 games on the schedule in Week 17 feature playoff implications, as noted by NFL: AroundTheLeague:
Your officially official NFL playoff scenarios http://t.co/6xUBK8ifYI

— NFL: AroundTheLeague (@NFL_ATL) December 23, 2013
This is the best time of year for football fans, as the league's best start playing their best heading into the postseason.
Here's a look at how all 32 teams stack up heading into the final weekend of the NFL's regular season in 2013.
1. Seattle Seahawks
Don't let Seattle's two recent losses to San Francisco and Arizona fool you into thinking the Seahawks aren't the best team in the NFL.
They'll prove it with authority in Week 17 when they host the St. Louis Rams. Look for a big response from Pete Carroll's team after it surrendered the first loss at CenturyLink Field in Week 16 to the Cardinals.
2. San Francisco 49ers
Seattle is No. 1, but San Francisco comes in a close second. The 49ers overcame an inspired effort by a veteran Atlanta Falcons team that wanted to play spoiler on Monday Night Football in Week 16, winning their fifth straight game in the process.
After the game, head coach Jim Harbaugh was thrilled with the win (on his 50th birthday, no less), as noted by Matt Barrows of the Sacramento Bee:
"I'll remember that until the day I die," Harbaugh said of NaVorro Bowman's 89-yard interception return for a touchdown with 71 seconds left. "I got it at 50. I couldn't have had a better birthday present. ... I'm shooting for 100, so I got it right at the halfway point. Happier than a pig in slop."
If St. Louis somehow finds a way to beat Seattle, and if the 49ers win over Arizona in Week 17, then San Francisco will win the NFC West.
3. Denver Broncos
Losing Von Miller to an ACL injury was a gut punch to this championship contender. However, the Broncos are going to go as far as Peyton Manning takes them this year—period. If he goes on a flawless run, then Denver will be unbeatable.
4. Carolina Panthers
Beating New Orleans in Week 16 was a huge step for Carolina, which secured a playoff berth with the win. Atlanta tested San Francisco, and the Falcons won't lay down for the Panthers, either. Winning on the road in Week 17 will seal Carolina as either the No. 1 or No. 2 seed in the NFC.
5. New England Patriots
Bill Belichick and his stellar coaching staff continue to prove time and time again the value of a sound scheme and in-game adjustments. Oh, and Tom Brady is still an elite quarterback. His command of New England's offense is complete, and he is brilliant about getting the most out of his teammates.
6. Cincinnati Bengals
Since losing in overtime to Baltimore in Week 10, Cincinnati has won four of five games and is the No. 3 seed in the AFC heading into the final weekend. Lindsay Patterson of ESPN 1530 pointed out some reasons for the turnaround, via Matt Vensel of the Baltimore Sun:
I think what has happened since the loss in Baltimore is that this team has added the run game in. We have seen on offense more of a 50/50 split with Giovani Bernard and BenJarvus Green-Ellis. Andy Dalton is getting more comfortable with his weapons and again the defense is stepping up despite the injuries.
Provided the offense continues to show up big, Cincinnati has the talent on both sides of the ball to make a deep run in the playoffs.
7. New Orleans Saints
Don't expect the Saints to drop their home game against the Tampa Bay Buccaneers on Dec. 29. This team hasn't lost at home yet this season, and a loss could eliminate New Orleans from playoff contention.
Look for Drew Brees to have a huge game at home, leading the Saints to a blowout win and a playoff berth.
8. Arizona Cardinals
Arizona could win at home against the 49ers in Week 17 and still miss the playoffs with a record of 11-5. Tough luck for a team that has become one of the league's most feared in the second half of the season, winning seven of its last eight.
9. Indianapolis Colts
The Colts have beaten Seattle, San Francisco, Denver and Kansas City in 2013.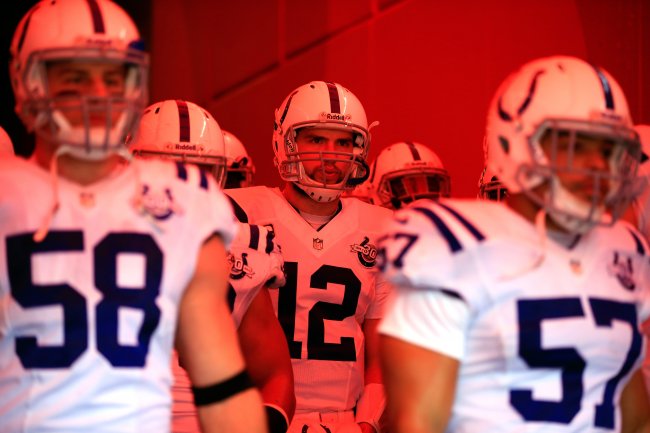 Jamie Squire/Getty Images
Unfortunately, this team has also fallen apart completely against two tough teams recently, losing to Arizona and St. Louis by a combined score of 78-19.
It's hard to have faith in a team that fluctuates so badly from one week to another, but when the Colts are on, they're difficult to beat.
10. Kansas City Chiefs
Kansas City's extremely easy early-season schedule (opponents with a .436 winning percentage in 2013—easiest in the NFL) could come back to bite it in the postseason. It hasn't helped that the Chiefs' once-dominant defense has been giving up big plays with regularity the past handful of weeks, either.
Still, winning 11 games is impressive, and it's not crazy to think the Chiefs will win at least one playoff game.
11. Philadelphia Eagles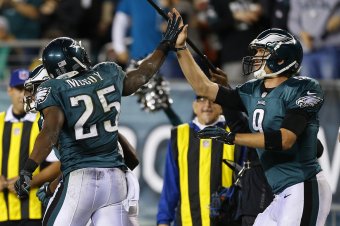 Rich Schultz/Getty Images
Look who's getting hot at just the right time.
The Eagles are featuring the offensive firepower many expected when Chip Kelly was hired from Oregon, and the 54-point explosion against Chicago proved how dangerous this team is at home.
One more win in Dallas will ensure the Eagles play one home playoff game, and anything can happen once the team is in.
12. San Diego Chargers
The Chargers can make it into the playoffs with a win and some help, and this team has already proved it can win tough games on the road, beating Denver and Kansas City in recent weeks.
13. Miami Dolphins
Miami will get into the playoffs with a win over the New York Jets, but this team isn't quite ready to make the leap. That said, Ryan Tannehill is clearly going to be a stud once he gets proper protection, and the future is bright for the Dolphins while he's around.
14. Baltimore Ravens
If John Harbaugh's Ravens beat Cincinnati in Week 17, then the defending Super Bowl champs could earn the No. 6 seed—something the rest of the AFC doesn't want to see happen. Baltimore is only 2-5 on the road this year, though, and it's likely the red-hot Bengals will cruise at home.
15. Pittsburgh Steelers
Creeping.
That's what the Steelers are doing right now.
Miami, Baltimore and San Diego must lose, and the Steelers must win in Week 17 for Pittsburgh to get into the playoffs via the back door with a record of 8-8.
Head coach Mike Tomlin is excited about the opportunity, as relayed by Teresa Varley of Steelers.com:
Still having a horse in this race is important to us. We are excited about getting back in front of our fans, and doing it in Heinz Field against a division opponent... I like the way the group is laying in it. We will focus on the task and challenge that is in front of us, the preparation and play against the Cleveland Browns.
Given the team's inability to shut down opposing running attacks, and given the offensive line's penchant for giving up sacks, Pittsburgh won't likely go far, but a wild-card berth would still be amazing, considering the team's 2-6 start.
16. Chicago Bears
Boy, when Chicago's offense sputters, the Bears have zero chance of winning these days. Sure, head coach Marc Trestman has been just what the offense needed this season, but the absence of Lovie Smith—a defensive-minded head coach—has been keenly felt.
17. Dallas Cowboys
Sorry, Cowboys fans, but Kyle Orton isn't going to get you to the playoffs against Philly in Week 17. Tony Romo's back injury was the final nail in Dallas' coffin, and the Cowboys will finish the season mired in mediocrity at 8-8.
18. Green Bay Packers
Some teams have completely fallen apart under the overwhelming weight of injured starters, but the Packers have been remarkably resilient under head coach Mike McCarthy over the years. Unfortunately, there were just too many to deal with this season, and the Packers will fall to Chicago in Week 17, missing the playoffs.
19. St. Louis Rams
The Rams will give Seattle a tough challenge in Week 17, and this team has a bright future. Zac Stacy and Tavon Austin are exciting rookie playmakers, and the team's defense is loaded with young studs.
20. New York Jets
Rex Ryan has gotten a lot of flack over the past few years, but the coaching job he's done in 2013 has been stellar. Starting a rookie quarterback who clearly wasn't ready for the job, Ryan's Jets have been competitive all year long, which is why Peter King of SI.com believes the coach should keep his job:
The Jets should not fire Rex Ryan.

— Peter King (@SI_PeterKing) December 23, 2013
21. Detroit Lions
Losing at home in overtime to the pathetic New York Giants has to be the last straw for Jim Schwartz. Blessed with one of the most talented rosters in the league, Schwartz has completely mismanaged his club, and his lack of restraint on the sideline is a key reason his team is annually among the most undisciplined in the NFL.
22. Buffalo Bills
Buffalo's defense leads the league with 56 sacks and is second in the NFL with 22 interceptions. Once EJ Manuel and the Bills offense come of age in the next year or two, this team will be extremely dangerous on both sides of the ball.
23. New York Giants
Rather than make a list of areas of need for the New York Giants, it would be far simpler to talk about what the team doesn't need: a quarterback.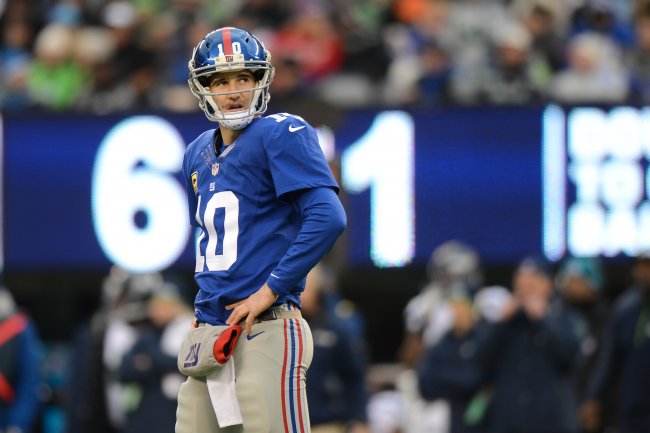 Ron Antonelli/Getty Images
Eli Manning's atrocious season can be directly attributed to the stark lack of talent on the team's offensive line and to the devastating injuries suffered to skill-position players.
The defense is in bad shape, too, as the team lacks playmakers at all three levels—defensive line, linebackers and defensive backs.
24. Tennessee Titans
Tennessee features excellent young players on both sides of the ball, but Mike Munchack and his coaching staff haven't been able to get the most out of their talented stars. A change in leadership is likely needed in order to facilitate a turnaround for the Titans.
25. Atlanta Falcons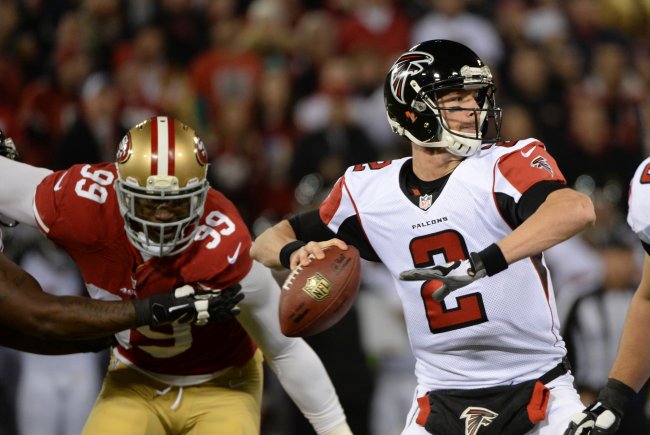 Kyle Terada-USA TODAY Sports
Atlanta's inspired effort against San Francisco came up short, but it was still pretty amazing to see this veteran team sell out without any shot at the playoffs. With Julio Jones back and healthy in 2014, and with a few more moves, the Falcons will once again be contenders in the NFC.
26. Minnesota Vikings
Without a starting quarterback, Minnesota will be doomed to failure. That said, if the Vikings can find their franchise leader, then it won't be long before this team is back in the playoffs.
27. Tampa Bay Buccaneers
The Buccaneers have a strong nucleus of talent on the roster. Rookie quarterback Mike Glennon appears to be the long-term answer, and now the team will need to continue building around him. Adding a pass-rusher or two is critical for the defense to find success.
28. Cleveland Browns

Cleveland could make a huge leap into the postseason next year, provided general manager Michael Lombardi has a brilliant offseason. Landing a franchise quarterback is likely at the top of his list, and it'll be interesting to see what happens on that front.
29. Jacksonville Jaguars
It's always a positive sign when teams overcome long odds. Winning a single game was once thought to be nothing but a pipe dream, but Gus Bradley has squeezed every little bit of talent out of his roster to win four games.
It's been an impressive job by the rookie head coach, and it portends big things for the future of this beleaguered franchise.
30. Oakland Raiders
It's hard to imagine the players on Oakland's roster feel confident about their chances on Sundays. Dennis Allen has gone back and forth about his starting quarterback all year long, ensuring that neither Terrelle Pryor nor Matt McGloin gets a chance to build any chemistry with his receivers.
It's also hard to imagine that Allen will keep his job at the end of the season, though in reality, Oakland was doomed to fail, regardless of what Allen did this year. The team's roster is thin on NFL-caliber starters.
31. Washington Redskins
It's going to be intriguing to see what happens in Washington this offseason.
Nobody should be shocked if Dan Snyder figures out a way to get Mike Shanahan out of town after the team's 3-12 record through Week 16.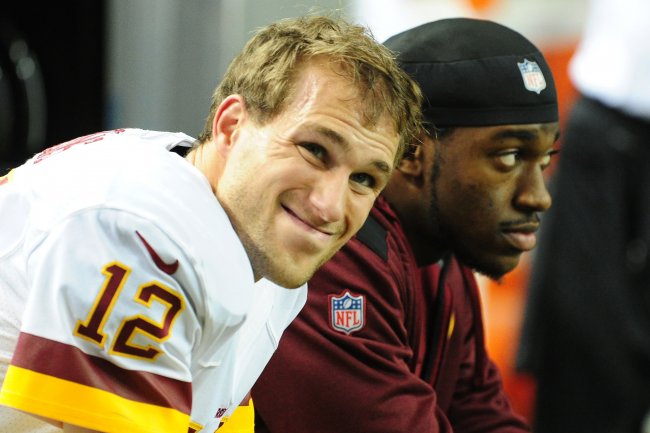 Scott Cunningham/Getty Images
The real question, though, is what will happen next season for Robert Griffin III, who took a tumble back down to earth after a stellar rookie campaign. His confidence was shattered throughout the season, and he needs to bounce back quick.
32. Houston Texans
After losing 13 straight heading into the final weekend, Houston has a lot of soul searching to do this offseason. In addition to the obvious need for a quarterback, the team has some tough decisions to make on which players to pay, as pointed out by John McClain of the Houston Chronicle:
Key Texans whose contracts r up: Ben Tate, Antonio Smith, Wade Smith, Garrett Graham, Earl Mitchell, Darryl Sharpton, Joe Mays, Greg Jones.

— John McClain (@McClain_on_NFL) December 24, 2013
Follow me on Twitter @JesseReed78