The final week of any NFL regular season is always bittersweet. On one hand, Week 17 will be the last time all season you'll have to deal with the dregs of the league. No more Texans. No more Jaguars. No more Greg Schiano (hopefully forever). It's only good times, cold beer and playoff football from now on.
On the other hand, Week 17 is the last time all year fans of 20 teams will get to watch their favorite squad play. No more Houston, Jacksonville or Schiano? What if I like those horrible things? And we all realize that the proliferation of good football means we can no longer totally ignore our loved ones to watch bad games, right?
Unless you count all the nonsense college bowl games, of course.
Luckily, the final week of the 2013 NFL regular season comes with its fair share of intrigue. Two NFC divisions will be decided with winner-take-all contests, home-field advantage is yet to be decided in either conference, and profound disappointment for Jerry Jones will likely get a prime-time feature for the third straight year.
Holiday cheer for everyone!
So for one last time, let's take a look around the league and predict the outcomes for all 16 games on the slate. We'll specifically be highlighting contests that look like locks down below as well.
Week 17 NFL Picks

| | | |
| --- | --- | --- |
| Away Team | Home Team | Pick (Spread) |
| Carolina Panthers | Atlanta Falcons | Panthers (-7) |
| Green Bay Packers | Chicago Bears | Bears (pick) |
| Houston Texans | Tennessee Titans | Titans (-7) |
| Washington Redskins | New York Giants | Giants (-3.5) |
| Cleveland Browns | Pittsburgh Steelers | Steelers (-7) |
| Baltimore Ravens | Cincinnati Bengals | Ravens (+6) |
| Jacksonville Jaguars | Indianapolis Colts | Jaguars (+11.5) |
| Philadelphia Eagles | Dallas Cowboys | Cowboys (+6) |
| New York Jets | Miami Dolphins | Dolphins (-6.5) |
| Detroit Lions | Minnesota Vikings | Lions (+3) |
| Buffalo Bills | New England Patriots | Patriots (-9.5) |
| Tampa Bay Buccaneers | New Orleans Saints | Buccaneers (+12.5) |
| Denver Broncos | Oakland Raiders | Broncos (-12.5) |
| San Francisco 49ers | Arizona Cardinals | 49ers (-1.5) |
| Kansas City Chiefs | San Diego Chargers | Chiefs (+9.5) |
| St. Louis Rams | Seattle Seahawks | Seahawks (-10.5) |
Vegas Insider
Week 17 NFL Locks
Jaguars Cover (+11.5) But Lose to Colts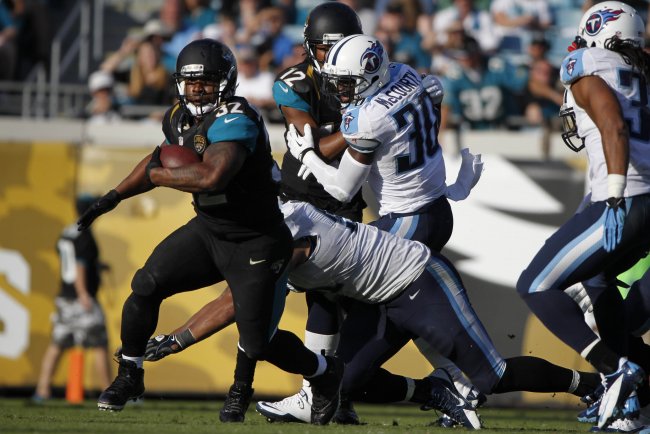 Kim Klement-USA TODAY Sports
Suffice it to say betting faith has returned to the Indianapolis Colts. For much of their early season surprise run of victories, highlighted by triumphs over our two Super Bowl favorites (Seattle and Denver), there was a tepid reaction in Vegas for Indy. The spreads always felt a point or two lower than they should have been, as if the oddsmakers were just waiting for the inevitable fall.
Well, as it tends to be, the overarching Vegas outlook proved correct. The Colts went through a 3-3 midseason swoon from Weeks 9-14, giving up 38 or more points in all three losses and never winning by more than a score. It looked like a natural regression from a football team playing juuuust a little beyond its britches.
Then something clicked. Indy has outscored Houston and Kansas City 48-10 over the past two weeks, turning in arguably its most dominant performance of the season last week at Arrowhead. The formerly cratering defense caused six fumbles, three of which it recovered, and picked off Alex Smith once. If the peak of the Colts' season was defeating Peyton Manning in his return home, then this was arguably their re-peak.
All of that (plus some injuries on Jacksonville's side) has led to a massive swing in the Week 17 line. The Jaguars opened at +4.5, arguably the latest sign of the aforementioned apprehension in Vegas regarding Indianapolis. However, that line has already moved a touchdown in the Colts' favor—everything else be damned.
Here's the problem: Jacksonville isn't a terrible football team. OK, yes it is. But it's not as terrible as you'd think. Despite being marred by injuries to nearly every top position player on their roster, the Jaguars have busted their you-know-whats down the stretch for Gus Bradley. They are 4-3 since starting the season 0-8, with only one game not being decided by a touchdown or less.
The Jaguars' schedule was mostly nonsense in the second half, so you have to account for that. Nevertheless, I have a hard time seeing Jacksonville deciding to lay down in the season's final week; there's just too much positive momentum to be had.
It just won't result in a win. The Colts are too good to not beat the Jaguars but not good enough to beat them by more than 10 points. Following? No? OK, let's move on.
Denver Gets Out to Three-Touchdown Lead over Oakland, Rests Starters in Second Half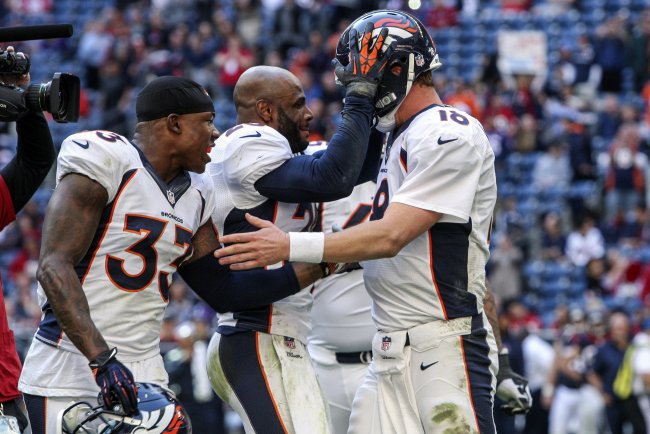 Troy Taormina-USA TODAY Sports
The Broncos have their AFC West crown and first-round bye locked up. Unfortunately, the scheduling gods and the power of Tom Brady compels them to suit up for Week 17's contest against the lowly Raiders. Denver needs to win or have the Patriots lose to earn home-field advantage throughout the entire playoffs—a key considering it already lost in New England once this season.
It's frankly the only thread left for the Broncos to sow. Peyton Manning broke the single-season passing touchdown record in last week's thrashing of the Texans, and we're all probably smart enough to realize that his hold on that mark is going to be short-lived. NFL passing numbers will only continue to rise in the coming years, to the point where one has to wonder if Manning's final total will look like a relic a decade from now.
Same goes for his attempt to crack Drew Brees' 5,476 passing yards record. The way things are going, Manning may hold that record for less than a calendar year. The Broncos quarterback is already the greatest regular-season quarterback in league history; all that's left is for him to start dispelling the narrative-driven theory that he can't win in the playoffs.
Which is exactly why I expect the Broncos to do everything they can to embarrass Oakland in the first 30 minutes. Manning will come out throwing early and often, plowing through the Raiders secondary like a sledgehammer through plywood. You saw an early preview in the fourth quarter against Houston.
And, at this point, it's hard to argue against Oakland and Houston being in the same strata. The Raiders have lost five straight and seven of eight, and head coach Dennis Allen looks like a strong Black Monday candidate. Oakland ranks 31st in Football Outsiders' DVOA rankings and is the only team to rank in the bottom half-dozen of all three major categories. This is a barren, talentless wasteland against the second-best team in football.
Denver will look to get in, get out to an early lead and move on with its life. Winning home-field advantage is important, but staying healthy for the playoffs holds just as much weight—especially after Von Miller's season-ending knee injury.
The way these two teams are going, though, I don't expect the Broncos to have much trouble accomplishing both of their goals.
The Lions Will Defeat the Vikings Handily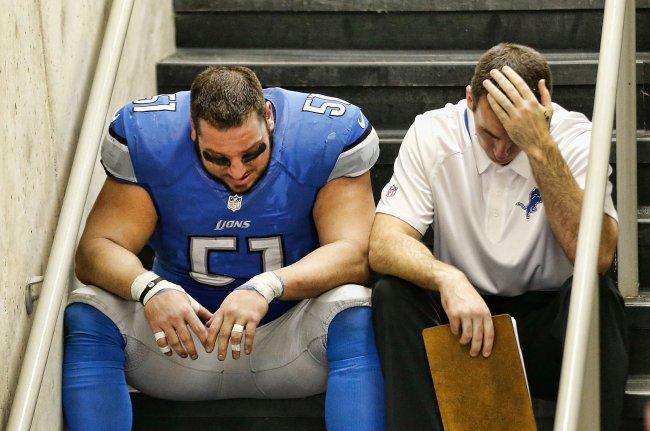 Leon Halip/Getty Images
If you follow this space regularly, you know I usually reserve all talk of feelings and gut reactions for the others. Everything has a statistical reason or at least something I picked up from watching film. It's always mixed with inherent nonsense, of course. But there's no point in selecting games if everything is based on internal notions rather than fact.
So, we could note that the Lions are eight spots higher on Football Outsiders' DVOA rankings. Or that the league's worst passing defense is going against the third-best passing offense. Or that the Vikings' only real source of consistent offense (Adrian Peterson) will be meeting up with the league's fourth-ranked run unit. Or that LOL Matt Cassel.
Nope. None of that matters. The Lions will win and do so with authority because there may be no team in NFL history that screams "8-8" more than this bunch. Chicago and Green Bay practically handed them the division. Aaron Rodgers' seemingly season-ending collarbone injury coupled with Chicago's sieve defense and the prominence of Josh McCown finally opened the door for the star-laden Lions roster.
Nearly every little box on the good team checklist was crossed out. Matthew Stafford is a very good, if not quite top-five, quarterback. Reggie Bush and Joique Bell are among the best one-two running back punches in the league. Calvin Johnson Da Gawd. Ndamukong Suh will punch you in the face, and if he doesn't, Nick Fairley will.
And then they all went and shot it to hell. The Lions lost three straight and five of six down the stretch, culminating in their playoff-eliminating defeat against the Giants on Sunday. They've done so in the most excruciating ways, blowing lead after lead after lead after lead in the fourth quarter. It's been both dispiriting as someone who likes the pieces on this roster and mildly amusing as Detroit fashions itself Dallas North.
Which is why it only makes sense that they complete the full circle and go 8-8. Not just any .500 record will do, though. The Lions who show up will be the very best version of themselves, with Megatron and Stafford holiday hamming it up for touchdowns and Suh committing only six personal foul penalties. Oh my, it will be a hearty celebration—one that Jim Schwartz will put atop his "Why You Peepz Should Keep Me" slideshow at the end of the year.
It also helps that the Vikings are terrible. Whatever. The only way to go #FullLions is to finish with the most shrug-worthy of possible records. There is no playoff glory or Getting Ready for Teddy. There is only apathy.
Hope you all had a wonderful holiday.
Follow Tyler Conway on Twitter: