The last week of the NFL's regular season is not the time to reach for your remote unprepared. We need a game plan, especially this year.
Of the 16 games being played this Sunday, 13 of carry playoff implications. The playoff picture is so muddied in the AFC that no team controls its own destiny in the race for the second wild-card spot.
Here is a look at the full TV schedule for Week 17 and then I'll break down three vital games to the postseason picture.
NFL Week 17 TV Schedule

| | | | | |
| --- | --- | --- | --- | --- |
| Date | Time (ET) | Away | Home | TV |
| Dec. 29 | 1 p.m. | Cleveland Browns | Pittsburgh Steelers | CBS |
| Dec. 29 | 1 p.m. | Washington Redskins | New York Giants | FOX |
| Dec. 29 | 1 p.m. | Baltimore Ravens | Cincinnati Bengals | CBS |
| Dec. 29 | 1 p.m. | Houston Texans | Tennessee Titans | CBS |
| Dec. 29 | 1 p.m. | Jacksonville Jaguars | Indianapolis Colts | CBS |
| Dec. 29 | 1 p.m. | New York Jets | Miami Dolphins | CBS |
| Dec. 29 | 1 p.m. | Detroit Lions | Minnesota Vikings | FOX |
| Dec. 29 | 1 p.m. | Carolina Panthers | Atlanta Falcons | FOX |
| Dec. 29 | 4:25 p.m. | Tampa Bay Buccaneers | New Orleans Saints | FOX |
| Dec. 29 | 4:25 p.m. | Buffalo Bills | New England Patriots | CBS |
| Dec. 29 | 4:25 p.m. | St. Louis Rams | Seattle Seahawks | FOX |
| Dec. 29 | 4:25 p.m. | Green Bay Packers | Chicago Bears | FOX |
| Dec. 29 | 4:25 p.m. | San Francisco 49ers | Arizona Cardinals | FOX |
| Dec. 29 | 4:25 p.m. | Denver Broncos | Oakland Raiders | CBS |
| Dec. 29 | 4:25 p.m. | Kansas City Chiefs | San Diego Chargers | CBS |
| Dec. 29 | 8:30 p.m. | Philadelphia Eagles | Dallas Cowboys | NBC |
Source: NFL.com
Green Bay Packers at Chicago Bears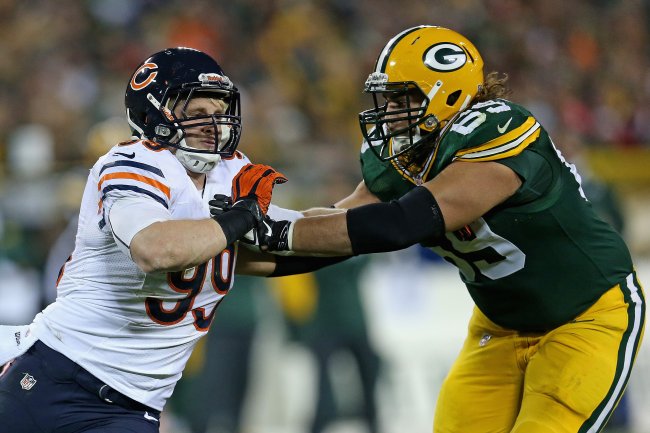 Jonathan Daniel/Getty Images
The NFC North will come down to the game between the Green Bay Packers and Chicago Bears. Neither enters Sunday's showdown at Soldier Field with much momentum—well, at least not positive momentum.
The Bears were throttled by the Philadelphia Eagles last week, losing by 43 points, while the Packers fell by seven to the Pittsburgh Steelers.
The big story this Sunday is the status of Aaron Rodgers:
Aaron Rodgers tells @jasonjwilde that he will know "definitively" by Thursday whether he's playing vs. Bears http://t.co/8H8kYo0z0G

— NFL: AroundTheLeague (@NFL_ATL) December 24, 2013
If Rodgers does not play, the Packers will have to rely heavily on their run game, but that shouldn't be too hard against the Bears—owners of the NFL's worst rush defense.
Photo of the day? Eddie Lacy goes airborn for this acrobatic TD vs. Steelers. pic.twitter.com/RfhnMAlhvR

— SportsCenter (@SportsCenter) December 22, 2013
The Packers also have concern over the status of Eddie Lacy:
MM: Eddie Lacy (ankle) is sore. Packers won't practice until Thursday, will find out more at that point.

— NFL: AroundTheLeague (@NFL_ATL) December 23, 2013
Even without Lacy, Green Bay should be able to muster some success on the ground against the Bears.
Of course, the Bears can always hope to outscore the Packers. The Packers haven't held a team under 36 points in either of their two last games.
Baltimore Ravens at Cincinnati Bengals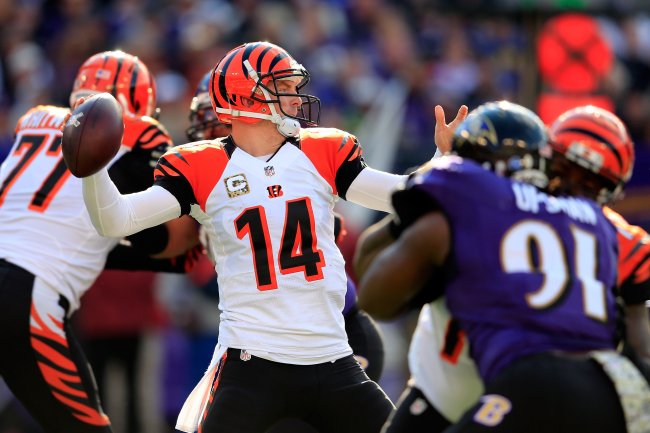 Rob Carr/Getty Images
The Bengals have wrapped up the AFC North, but still have a shot at earning a first-round bye. To grab the second seed, the Bengals have to win and the New England Patriots would have to lose to the Buffalo Bills at home.
The Patriots kick off around the time the Bengals will be wrapping up their game.
In other words, the Bengals and Ravens will both be playing to win.
The Ravens can still make the playoffs if they lose, but that would require the San Diego Chargers and Miami Dolphins to both lose while the Pittsburgh Steelers would have to either tie or lose.
The weird thing is, that even though the Ravens can get in with a loss, they are not guaranteed a postseason berth with a win. They will need either (or both) the Dolphins and Chargers to lose.
All of this sets up what should be an intense and entertaining divisional rivalry game.
Philadelphia Eagles at Dallas Cowboys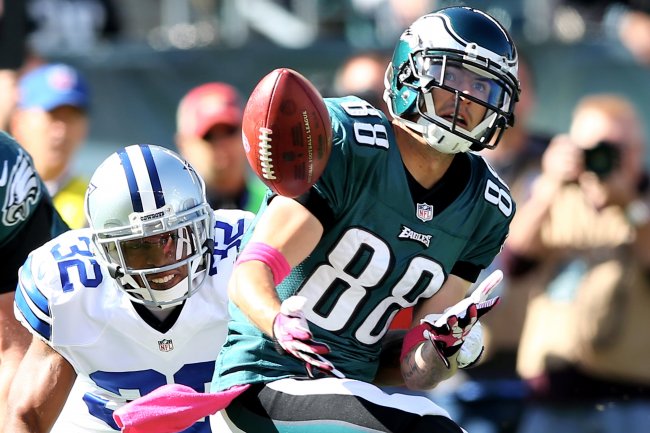 Elsa/Getty Images
Speaking of an intense divisional showdown, this one also fits the bill.
The Philadelphia Eagles and Dallas Cowboys will be playing for the divisional title in Philadelphia on Sunday, although the status of Tony Romo is stealing some of the excitement from the game:
Tony Romo is determined to play Sunday, reportedly receiving an epidural injection in his injured back. http://t.co/J0Kh0FHZhK

— NBC Sports (@NBCSports) December 25, 2013
It remains to be seen if Romo will be able to play with his injured back, but the ugly truth for Dallas is that it might not even matter.
The Cowboys rank 27th in the NFL in yards allowed per pass and 31st in yards allowed per rush. Meanwhile, the Eagles lead the league in both yards gained per pass and rush.
Philadelphia's pass defense has proven vulnerable, but the Eagles are fourth in the NFL in yards allowed per rushing attempt.
In the end, we can probably throw all of those stats out the window. I get the feeling this is going to be a wild game.
All playoff scenarios via NFL.com. All stats via TeamRankings.com.