Former Crystal Palace chairman Ron Noades, whose leadership helped the club reach its greatest heights, passed away at age 76 following a battle with lung cancer.
The Eagles confirmed the news on their official site:
The club are saddened to learn of the passing of former club Chairman, Ron Noades.

Ron, 76, was diagnosed with lung cancer just over a year ago and has received chemotherapy, brain radiotherapy and radiotherapy.

He had surgery to remove a tumour behind his heart but the treatment had a severe effect on his lungs and a brave battle against the illness sadly ended in the early hours of Christmas Eve.
Back in October, Noades spoke to the Croydon Advertiser about his ongoing battle with cancer:
Then I had a respiratory check and they found a tumour behind the heart.

I'd had X-rays done before and always been clear. I said 'how the hell are my X-rays clear?' and they said it was hidden by the heart.

No one's ever told me that. How many things are behind the heart that aren't seen?
He also discussed his time with Crystal Palace:
Running a football club is a very difficult thing. I could have run a club anywhere. Cardiff actually asked me.

Because I did Crystal Palace, I could have done it anywhere. I could have done Man United's marketing.

The whole principle of Crystal Palace then was we went out and found the players and built a good side. Then if other clubs come in for them, we won't stand in their way.
Geoff Thomas, a midfielder who played under Noades during Palace's successful run from the late 1980s through the early 1990s, sent his thoughts to the family:
Just heard the sad news that my Chairman when I was at #cpfc Ron Noades past away last night. Our thoughts and love go to his family

— Geoff Thomas (@GeoffThomasGTF) December 24, 2013
Former Eagles goalkeeper Nigel Martyn said the Englishman cared deeply about the club:
Sad to hear my old Crystal Palace chairman Ron Noades has passed away , lovely man who cared deeply for the club .

— Nigel Martyn (@nmartyn25) December 24, 2013
Mark Bright also played at Palace during Noades' run as chairman and shared similar sentiments for the family:
Former #cpfc chairman Ron Noades passed away in the early hours of this morning, sending my love to his wife Novello & the family.

— Mark Bright (@Mark__Bright) December 24, 2013
TalkSPORT commentator Ian Abrahams also passed along his thoughts about Noades:
Former Crystal Palace chairman Ron Noades has passed away - he was a real character in London Football for decades with Palace & Brentford

— Ian Abrahams (@BroadcastMoose) December 24, 2013
Along with his successful stint with Crystal Palace, he also spent time with Southall, Wimbledon and Brentford. He also tried his hand at managing, first as a short-term caretaker at Palace before a more extended run with Brentford.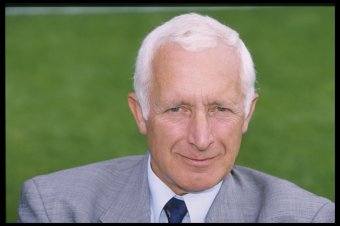 Mark Thompson/Getty Images
Judging by the outpouring of support, both from former players that he helped guide to success and those around the English game during Palace's memorable years, he left his imprint on the club he'll always be most associated with.
Charles Perrin of the Daily Express adds that Noades was originally diagnosed with lung cancer over a year ago, but it didn't become known publicly until a few months ago. He was undergoing intense treatment, including chemotherapy, brain radiotherapy and radiotherapy.
Sadly, the fight came to an end one day before Christmas.
Noades will always be remembered for helping Crystal Palace and their supporters reach heights the club had only previously dreamed of, making him a club legend.