Falcons vs. 49ers: Score, Grades and Analysis
December 24, 2013

Getty Images
It wasn't always pretty, but the San Francisco 49ers were able to extinguish Candlestick Park with a victory. 
In the last ever regular-season contest at the storied stadium, the hometown Niners stumbled out of the gate but scored 31 second-half points and got a late 89-yard pick-six from NaVorro Bowman en route to a 34-24 win over the Atlanta Falcons on Monday night. 
Jim Harbaugh, whose squad clinched a playoff spot for the third straight season with the thrilling victory, was understandably ecstatic following the game:
This one was nowhere near as decisive a victory as the pregame point spread suggested it would be, as the Falcons defense stifled Colin Kaepernick and the 49ers early on, taking a 10-3 lead into halftime.
Kaepernick and the Niners offense woke up in the second half, however, scoring on all four of their possessions. The dynamic QB finished with 248 total yards (197 passing, 51 rushing) and two total touchdowns (one passing, one rushing), while Michael Crabtree pulled in 102 receiving yards and Frank Gore added 97 on the ground.
A one-yard plunge by Gore put the Niners ahead, 27-17, with 5:04 remaining, and the game looked all but over. 
Dramatics were in store for The 'Stick's finale, though. 
Matt Ryan proceeded to lead the Falcons on an 80-yard touchdown drive in 2:55, and on the next play, Jason Snelling recovered the onside kick with a tremendous one-handed grab: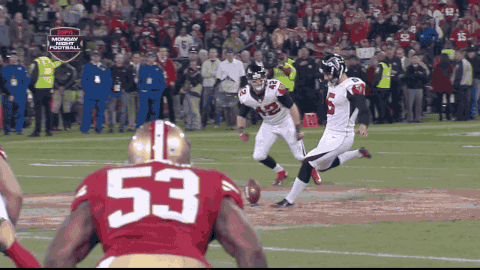 GIF courtesy of Bleacher Report
 The Falcons were suddenly in position to tie or win. 
But three plays later, Harry Douglas couldn't handle Ryan's pass in the red zone, allowing Bowman to snatch it and return it 89 yards to cap off a wild final five minutes at Candlestick: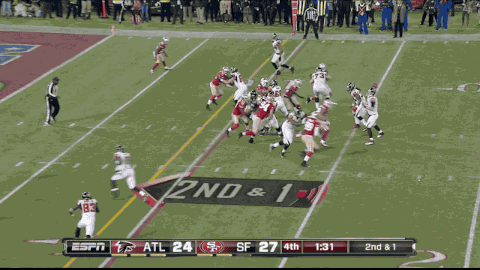 GIF courtesy of Bleacher Report
Ryan, who threw his second interception on a last-second Hail Mary on the ensuing drive, completed 37-of-48 throws for 348 yards and two touchdowns in a terrific road performance, and Roddy White pulled in 12 catches for 141 yards, but it wasn't quite enough. 
Player Grades
Colin Kaepernick, 49ers: A
Something future NFC playoff contenders won't like to see: Colin Kaepernick making plays with his legs. 
The explosive third-year QB took off six times on Monday, tallying 51 yards on the ground. That's the most he has recorded since Week 8 against the Jacksonville Jaguars—a 42-10 win. He also added his first rushing score since that same week: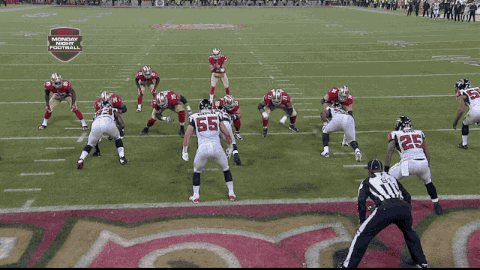 GIF courtesy of Bleacher Report
Kaepernick was also good throwing the ball, averaging an impressive 9.4 yards per toss, but his ability to escape the pocket and run was (and is) essential. 
Matt Ryan, Falcons: A-
Stephen Dunn/Getty Images
Most quarterbacks would fold if they were playing in a difficult environment with nothing on the line. 
Not Ryan. 
Matty Ice was excellent on Monday night, escaping pressure on several occasions (the Niners created lots of pressure, but recorded just one sack on Ryan's 49 dropbacks), dumping the ball off or throwing it away when necessary and throwing dimes like this one:
GIF courtesy of Bleacher Report
The two interceptions weren't his fault, and although the loss is all that matters in the end, Ryan isn't to blame after a great performance. 
Michael Crabtree, 49ers: B+

Thearon W. Henderson/Getty Images
In the first half, Michael Crabtree had one catch for three yards and one pass interference penalty. The 49ers had three points and 113 total yards.
In the second half, the five-year veteran had four catches for 99 yards, including receptions of 47 and 22 yards on third downs on separate scoring drives. The Niners had 31 points and 266 total yards. 
ESPN Stats & Info provided this impressive stat from the third quarter, which is when San Francisco turned the game around:
When Crabtree is getting open and making plays down the field, the 49ers offense is so much more dynamic, efficient and difficult to stop. That was on display on Monday night. 
What's Next
The 49ers head to Arizona to take on the Cardinals next week. They are already in the playoffs, but with a win and some help from the St. Louis Rams against the Seattle Seahawks, they can still win the NFC West and earn a first-round bye. 
Atlanta, meanwhile, finishes off its disappointing season at home with a chance to spoil the Carolina Panthers' shot at the NFC South.