Kobe Bryant's prolonged absence has given the basketball world a crystal ball to observe the Los Angeles Lakers' future.
The sight is not a pretty one. Bryant missed the first portion of the early season schedule rehabbing his ruptured Achilles. The Purple and Gold stayed afloat during that time by winning close to half of their games.
Since the 2004-05 campaign, Bryant has been the one carrying the Lakers' organization, but his physical ailments change the scope of the franchise.
The team always pushed through and remained relevant in the face of injuries because of Bryant, but it would appear as though that is a thing of the past.
Kobe Bryant: LA Lakers savior
Kobe Bryant is a once-in-a-generation kind of talent that has carried the entire roster on his back at times.
Indeed, during a tumultuous 2012-13 season, the Lakers' all-time leading scorer persevered and did just enough to get his team into the playoffs. The most glamorous franchise in basketball lost Steve Nash, Pau Gasol and Dwight Howard at various points, but Bryant still delivered on his vow to make the playoffs.
Playoff promise fulfilled #ontothenext

— Kobe Bryant (@kobebryant) April 18, 2013
Keep in mind, the Lakers often battled distractions that year due to a multitude of issues beyond the control of the players. The Buss family opted to switch coaches during the season, a move that resulted in some controversy because Mike D'Antoni was ultimately hired at the expense of Phil Jackson.
Also, Bryant and Howard never truly got on the same page, which eventually resulted in the departure of the former Orlando Magic center. But again, L.A. could survive, provided it had the Black Mamba.
The franchise invested its faith into Bryant and was rewarded for doing so. That has since been replaced by doubt.
The cloudy future
Kobe Bryant fractured the lateral tibial plateau in his left knee six games into returning from an Achilles tear. The training staff has estimated his recovery will take four to six weeks. Although one cannot say it with any degree of certainty, it would appear as though the Los Angeles Lakers leaned a little too much on their superstar.
Grantland's Zach Lowe shared as much:
It has been fashionable to say Bryant came back too soon, or that Mike D'Antoni overtaxed Kobe by playing him heavy minutes at point guard over a four-games-in-five-nights stretch. In this telling, the Achilles tear may have contributed to a subsequent injury in the same leg, especially since it can take months or even years for players to regain adequate strength and bone mass in the leg with the ruptured Achilles. Bryant's left calf appeared smaller than his right, a common thing after an Achilles rupture.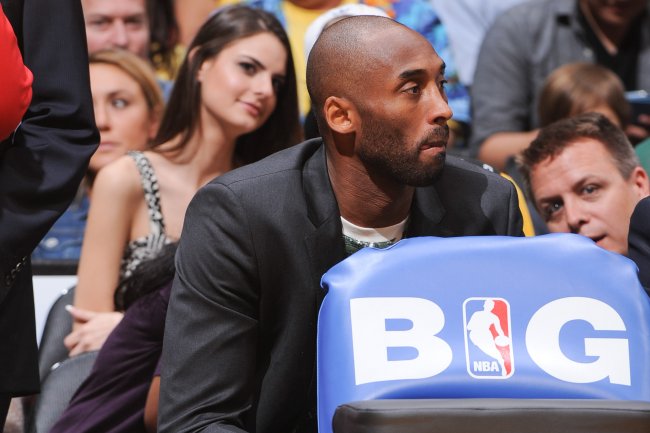 Andrew D. Bernstein/Getty Images
Upon returning from his Achilles tear, Bryant played the role of point guard and looked to involve teammates.
He looked quite rusty and lacked explosiveness, which was expected as Bryant noted to Mark Medina of Inside SoCal:
"It takes time. You have to get the game legs back and make proper reads," Bryant said. "The biggest thing for me is putting guys in a position to be successful. Then I can be a threat myself and be able to execute it if the defense gives me a shot. If I don't, then I have to kick it to somebody else to knock down the shot."
He eventually began to regain some of his groove and started playing his brand of basketball: fall-away shots and endless dribbles before launching from long range.
The point guard experiment was seemingly over. One cannot say with certainty if he was going to completely revert back to his gunning ways, but it appeared as such and thus, the Lakers' identity was about to change.
He will probably be in and out of the lineup until he retires, and Los Angeles will have a Jekyll and Hyde identity to show for it.
D'Antoni hinted at that in an interview with NBA.com: "There are high expectations," D'Antoni said. "Rightfully so, and he's going to live up to them, but it's just going to take a little bit of time to adjust to it."
Despite a multitude of physical setbacks, the former league MVP has always managed to suit up and adjust his game accordingly. However, the mileage he has accumulated over the years is seemingly taking a toll.
Kobe just beginning a LONG ROAD back, physically and mentally.

— Skip Bayless (@RealSkipBayless) December 17, 2013
The two-time Finals MVP has now suffered two substantial injuries within the same calendar year. There is only so much a body can take. Indeed, even the indestructible Karl Malone broke down during his stint with the franchise.
Consequently, it is difficult for one to assume Bryant will avoid a similar fate. His limbs have begun to betray him and really, this signals that his best days are officially behind him.
The cost of Bryant's return to the training room is a substantial one: indifference. The Purple and Gold no longer resonate in the basketball world.
Bryant's talents coupled with the glamour of the team have always produced sellouts on the road. Since 2000-01, the Lakers have consistently been among the top-three road draws according to ESPN.com.
They have taken a dip and are outside of the top five through roughly the first quarter of the season. Without the four-time All-Star Game MVP, the Lakers simply are not as compelling.
Guys like Paul George and Anthony Davis have begun to captivate the attention of fans while the Lakers slowly move to the back of the entertainment bus.
More importantly, a team that was probably going to be mediocre with its Hall of Fame 2-guard is rather unimpressive when he sits. This is likely the reality that awaits Mitch Kupchak during the final years of Bryant's contract.
These are the Lakers of the future until the former Olympian retires.
2014 offseason
At the conclusion of the 2013-14 season, the Los Angeles Lakers will have roughly $26 million in cap room to spend on a solid crop of players provided that they renounce all of their free agents.
From a historical standpoint, great players have always wanted to join the Lake Show. Wilt Chamberlain, Kareem Abdul-Jabbar and Shaquille O'Neal all left their previous teams for the greener pastures of the City of Angels.
One might assume that history will repeat itself in that regard. Then again, many believed Dwight Howard would re-sign with the Lakers in 2013.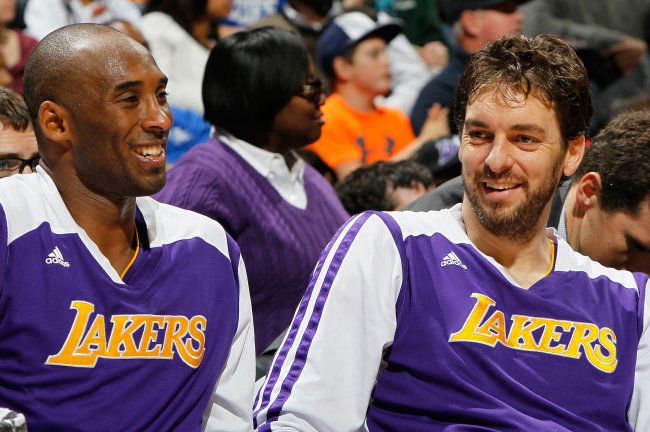 Kevin C. Cox/Getty Images
The big man opted instead to sign with the Houston Rockets because he could no longer fathom playing alongside Bryant. Jim Buss confirmed this to Ric Bucher:
"Dwight didn't want to play with Kobe for 2-3 more years," Buss said. "I'm going to stand behind Kobe because of his history with the franchise." It would seem, then, with all that happened, the Lakers had the wherewithal to keep Howard if they had desired; they simply found the price too high.
That's an important factor given that Bryant is signed until the end of 2015-16. Players might not be inclined to play with the 2-guard because he dominates the ball. In addition, some might find it difficult to defer to a player that is diminished because of age and a betraying body.
Put it all together and there is a chance the Purple and Gold will spectacularly strike out in the offseason.
Retirement
The Los Angeles Lakers can sell hope to its fans as long as Kobe Bryant is under contract. The expectation is that he will retire once his deal is up at the end of the 2015-16 season.
Bryant's exit from basketball will more than likely warrant a celebration of his career and its accomplishments. On the other hand, it will also be the dawn of a new age for the organization.
The departure of the all-time great will mean that Los Angeles needs to rebuild. As fate would have it, Kevin Durant will hit the open market in that offseason and furthermore, Kevin Love has a $16.7 million player option that if exercised, allows him to become a free agent at the same time.
Help might be on the way for the Lakers when Bryant finally retires. Then again, these respective stars might choose to remain with their current teams or join another franchise altogether.
The Lakers' future is a huge question mark that revolves around the status of Bryant.