Dirk Nowitzki Passes Alex English for 13th on All-Time NBA Scoring List
Use your ← → (arrow) keys to browse more stories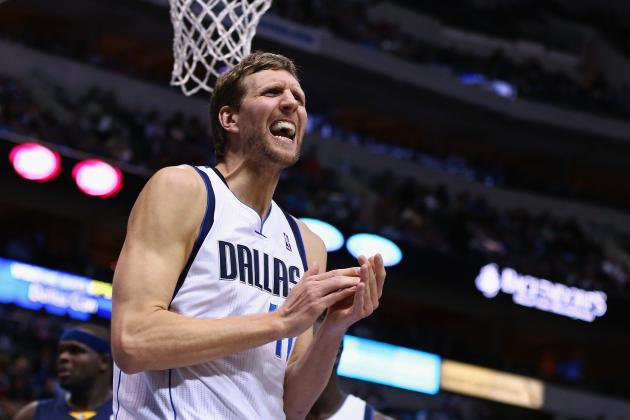 Tom Pennington/Getty Images

Dirk Nowitzki keeps moving up the all-time scoring list. On Monday night, the Dallas Mavericks' franchise player passed Alex English to reach No. 13 with 25,615 points.
The 11-time All-Star did it in the third quarter against the Houston Rockets with a classic Dirk jumper.
Moving up the @NBA ladder! Dirk w/ the J passes Alex English. Your No. 13 scorer in NBA history, #swish41, the baller from the G!! #DALatHOU

— Dallas Mavericks (@dallasmavs) December 24, 2013
With this latest milestone, Nowitzki now takes aim at John Havlicek, who is 12th on the NBA's all-time scoring list at 26,395.
The German-born Nowitzki won an NBA Championship in 2011 when the Dallas Mavericks defeated the Miami Heat.
He is also the 2007 NBA MVP and is widely viewed as a pioneer for the modern stretch 4 position. Nowitzki was drafted by the Milwaukee Bucks as the ninth overall pick in 1998 and later traded to the Mavs.