If you needed a reminder that Monday night's contest was the final regular-season NFL game ever at Candlestick Park, 49ers fans spelled it out during the first half against the Atlanta Falcons.
A big card stunt spelled out "Farewell Candlestick," as captured by the 49ers' Twitter account:
#FarewellCandlestick card stunt. pic.twitter.com/VBv50vObeJ

— San Francisco 49ers (@49ers) December 24, 2013
The team also took a nod to the team's future home of Levi's Stadium, which is set to open next fall in Santa Clara, about 37 miles south of San Francisco. Steve Berman of BayAreaSportsGuy.com shared a photo of the Levi's logo that was a part of the card stunt on Monday night:
Something doesn't seem right here pic.twitter.com/k0mdAv6RZn

— Bay Area Sports Guy (@BASportsGuy) December 24, 2013
Candlestick Park is a historic venue that has housed the 49ers for the past 43 seasons and also served as the home park for MLB's San Francisco Giants from 1960-99. The farewell celebration before and during Monday night's contest also brought back past greats like Joe Montana, Jerry Rice, Willie Mays and Eddie DeBartolo Jr. to the park.
All-time epic sports moments like The Catch and the 1989 earthquake that happened shortly before Game 3 of the World Series took place at Candlestick. But with dated, cramped locker rooms and stadium facilities, and fiascoes like the "Monday Night Football" lights-out episode of 2011, it's clear the 49ers needed new digs.
The 49ers broke ground on their new stadium in April 2012, and it's been quickly rising ever since, literally casting its shadow on the team's long-time practice facility. While the team name will remain the San Francisco 49ers, the franchise is embracing its new Silicon Valley roots.
Bloomberg recently provided a virtual tour of the technologically-advanced stadium.
In the past few years, the franchise has plucked top talent from Facebook like team President Gideon Yu and Chief Information Officer Kunal Malik in an effort to keep the stadium on the cutting edge.
Other than the typical benefits of new stadiums like nicer seats, better sight lines, bigger suites and wider concourses, major pros of Levi's Stadium include plans for the most sophisticated Wi-Fi network ever and an app that will tell you which beer line is the shortest.
The biggest con, as noted by Matier and Ross of the San Francisco Chronicle, is that there will be a major shortage of parking spots on weeknights, putting a hold on prime-time games on Monday and Thursday nights.
While Candlestick will always be associated with Montana, Rice, DeBartolo, Steve Young and Bill Walsh, Levi's Stadium will forever be connected to current coach Jim Harbaugh, Colin Kaepernick and Patrick Willis.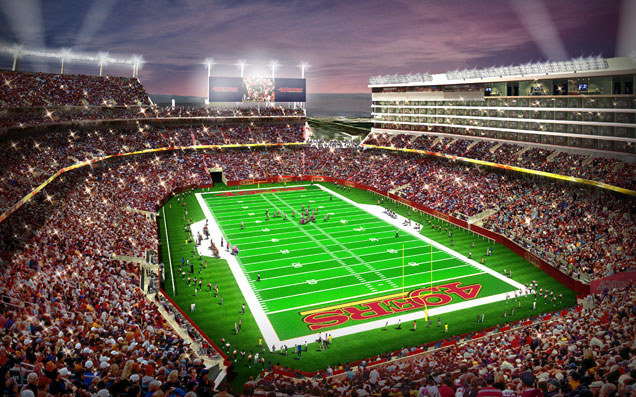 LevisStadium.com
49ers CEO Jed York, general manager Trent Baalke and Harbaugh have been a powerful trio calling the shots for the team in recent years and shaped the franchise into one that's set up for long-term success.
The core four linebackers, Willis, NaVorro Bowman, Aldon Smith and Ahmad Brooks, are all locked up through at least until 2015, keeping together the cornerstones of the team's great defense. Kaepernick is a free agent following the 2014 season but it's hard to see the 49ers letting him get away, while offensive tackles like Joe Staley and Anthony Davis are also locked up to long-term deals.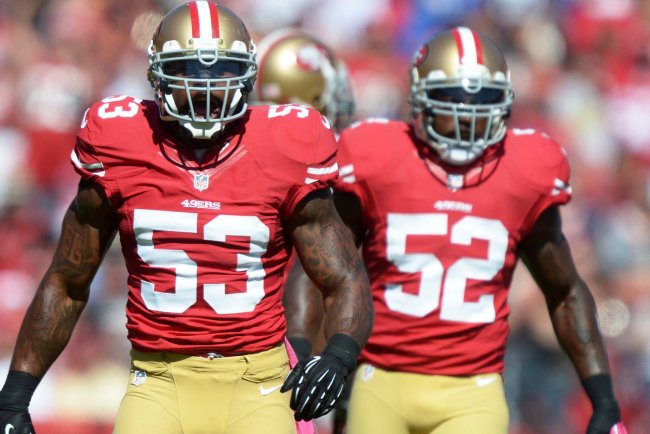 Kirby Lee-USA TODAY Sports
Baalke has shaped the roster with smart, low-cost trades like the sixth-round pick he sent to the Baltimore Ravens for Anquan Boldin this past offseason. The 49ers have also drafted well recently by adding players like Kaepernick, Smith and Willis, while Baalke has been deft at maneuvering on draft day and stocking up picks.
According to Matt Maiocco of CSNBayArea.com, the Niners are expected to have six selections in the first three rounds of next year's draft. The 2014 rookie class will have a chance to play in the inaugural season at Levi's Stadium, which will also host Super Bowl L in 2016.
It's a good time to be a part of the 49ers, and the bittersweet farewell for Candlestick Park will surely be eased when the team kicks off in Santa Clara next fall.