College football—more than any other sport—prides itself on a rich history filled with traditional powerhouses, legendary players and innovative coaches who paved the way for the game we love today.
That history cannot be changed, and schools like Notre Dame, Texas, Michigan and many others will always be revered for the product they put out on the field, even when it doesn't compete for a national title.
A five-year stretch of mediocre play can't change the legacy a program has built, but it's certainly going to elicit noise from a fanbase that expects to win with regularity. Sorry Longhorns, we might be picking on you here, but given the resources at your disposal, failing to make any serious noise after reaching the championship in 2009 just doesn't make sense.
So how does a program turn its fortunes around? Well, one look at the national championship this season should give you a glimpse of how it's done.
Florida State dominated in the late 90s and early 2000s, but has since been the token underachiever. Finally, thanks to super freshman Jameis Winston at quarterback and a tangible confidence emanating from the locker room, the 'Noles have climbed back atop the mountain to a place that should look awfully familiar.
At Auburn, the roller-coaster ride has been much swifter—rising high to a national title in 2010 and then dipping down underground for a three-win season in 2012. Under first-year head coach Gus Malzahn, the Tigers have won 12 games and are set to square off with Winston and company in Pasadena on January 6.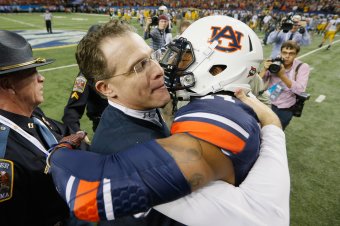 Kevin C. Cox/Getty Images
Every program is different, so trying to lure away Gus Malzahn or stumble upon an incredible, once-in-a-generation talent at quarterback may not be so easy for Texas. But there are ways for the Longhorns to return to the glory days of the late 2000s.
Having Vince Young and Colt McCoy start back-to-back obviously put Mack Brown's team in the hunt each and every season, and getting a game-changer at quarterback is one way to ride the elevator to the penthouse without having to make stops along the way.
But the root of the problem is this: While there are a number of exciting players on both sides of the ball, Texas football has become a stale product.
Just as Florida State went through year after year of high expectations followed by disappointment, the Longhorns have been unable to find any long-term solutions for having sustained excellence.
Auburn, after scoring Cam Newton in the junior college jackpot, won a title and then fell quickly into mediocrity. Coach Gene Chizik wasn't able to recreate a championship formula, and it culminated in a winless SEC season in 2012.
Texas obviously hasn't fallen that low, and with the bevy of talent on the sideline at any given moment, a three-win Texas seems like something only the most optimistic Oklahoma fans can imagine. But in order to remove that stale flavor, the Longhorns must take several key steps and move back up the mountain instead of camping out waiting for the storm to pass.
Jeff Zelevansky/Getty Images
Step one is to be innovative and willing to try new things. Do the Longhorns need to land the next Chip Kelly? No, but the days are over of being able to run predictable schemes and assume your hogs can win the battle.
Whatever direction Texas chooses to go in following the Mack Brown era, it must be fully committed to the path. If that means a run-first offense with multiple options on every play—like Auburn—then the Longhorns need to go pick up a couple of top-tier backs in every recruiting class and let them do their thing behind an athletic, physical offensive line.
Risks are okay, maybe even necessary, when reviving a traditionally dominant program. Malzahn certainly wasn't the safest bet in the world at Auburn, but across the state Nick Saban has the pro-style system perfected, so taking a risk was practically a requirement.
Step two is having leaders in every level of the program.
From guys who help lead the scout team all the way up to the head coach, there has to be a host of leaders who can represent the program in a positive way at every moment. That's not meant to be a shot at David Ash or Case McCoy, but neither player appears to have "face of the program" in their DNA.
It goes without saying that the Longhorns should always have one of the top-three classes in recruiting as well. And it isn't just about star-ratings, it's about finding the best possible players available who fit in with exactly what you're trying to do.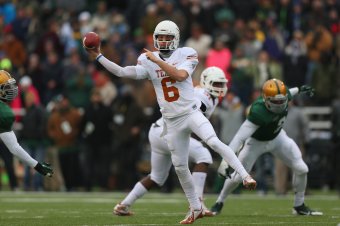 Ronald Martinez/Getty Images
But no matter how the team comes together in the offseason and in fall camp, improving throughout the season itself is critical.
To Texas' credit, it did just that in 2013 after losing badly to both BYU and Ole Miss early on. But again, Auburn is a great example of a team that made adjustments throughout the year and ended up with a national championship squad.
Remember that the Tigers beat a mediocre Washington State team by just seven points and needed a late-game touchdown to eclipse Mississippi State. There was a bit of luck involved in wins over Georgia and Alabama, but September Auburn wouldn't have come within three touchdowns of the Crimson Tide.
Returning to prominence means always looking for ways to look better, especially in the middle of a season.
Finally, there has to be some luck that translates into producing players who can become household names.
If you were to ask the average college football fan who the best player on Texas was at the moment, you'd get a lot of "I don't knows" mixed in with the occasional "Jackson Jeffcoat". Pose that same question and use either Auburn or Florida State, and you'll get answers like "Jameis Winston", "Nick Marshall" or "Tre Mason" right away.
In 2005, Vince Young was one of the most well-known players in all of sports, and Colt McCoy carried on that legacy with his career. But in order for Texas to back up its reputation as one of the best programs in the country with real results, it must find those players that everyone knows and people talk about around the water cooler on Monday mornings.
Again, this isn't meant to pick on Texas, despite the Longhorns being the sole focus of the discussion. The fact is, there's no better example of a football powerhouse with unlimited resources in need of a makeover.
How long will it take for Texas to make it back to a national title?
In reality, there is no step-by-step process to becoming a title-worthy team. The only thing you can control as a program is the effort you put in each and every day.
But in looking at the resurgences at Auburn and Florida State, the blueprint exists, although it might need to be toyed with to fit the needs of a particular program.
It remains to be seen whether Texas can vault itself back into the conversation with Alabama, Auburn, Florida State and others who have owned college football in recent years. An upset victory over Oregon in the Alamo Bowl would be a good start.
But for powerhouse programs hoping to rebuild, a quick look toward Pasadena for the national title game will provide an excellent look at two schools that have shown us how to become nationally relevant once more.