Predicting Boxing's Biggest Risers and Fallers in 2014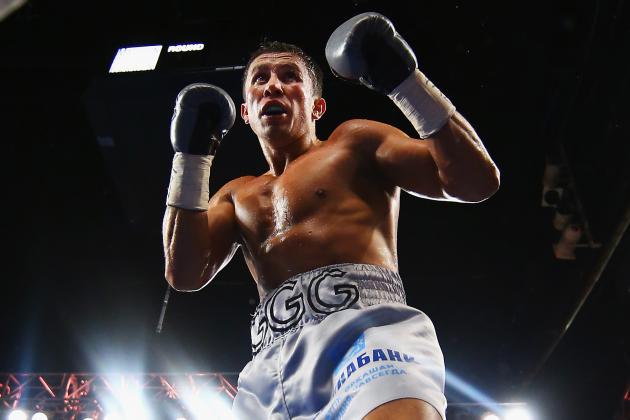 Al Bello/Getty Images
Is Gennady Golovkin still on the rise? Or will 2014 knock him off his feet?
As 2013 winds to a close, it's time to have a look into Bleacher Report's exclusive crystal ball to see who will be boxing's biggest risers and fallers in 2014.
Which fighters will take center stage? And which men have seen their better days?
Projections are based on what the fighter did in 2013, what he's projected to accomplish in 2014 and his overall talent level.
Begin Slideshow

»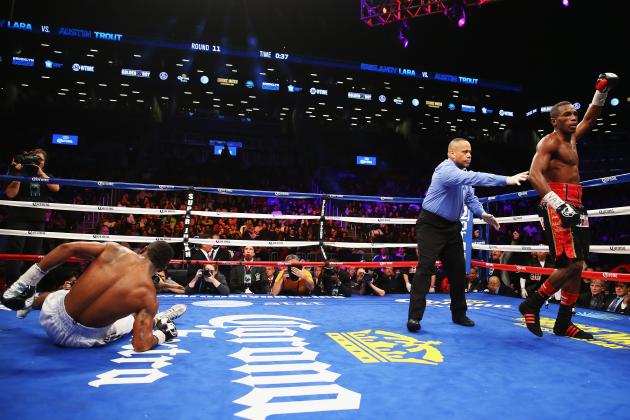 Al Bello/Getty Images
Lara dominated Austin Trout in 2013.
In the Rearview Mirror: Lara enjoyed the two best wins of his career in 2013. First, he scored a thrilling knockout over slugger Alfredo Angulo in June. Lara was down twice in the bout but used precise and powerful punching to force the stoppage. Next, he absolutely dominated talented southpaw Austin Trout in December.
On the Horizon: Lara is one of the best fighters in the world. The lesser known of an outstanding group of Cuban defectors led by Guillermo Rigondeaux, Lara has earned big opportunities in 2014. Look for him to garner the spotlight with a bout against someone like Canelo Alvarez.
Why He'll Rise: Lara is the No. 1 junior middleweight in the world not named Floyd Mayweather. Star divisional opponents will not be able to duck him any longer.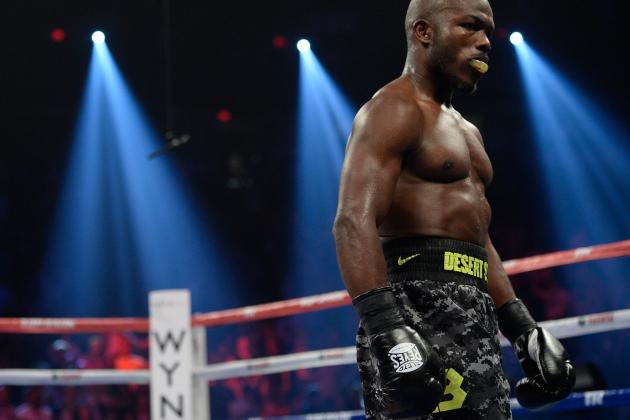 Jeff Bottari/Getty Images
Bradley will not have a stellar 2014.
In the Rearview Mirror: Bradley, as a welterweight, is probably the front-runner for Fighter of the Year honors, and he deserves the accolades. He defeated two good opponents in 2013 in equally impressive fashion. First, he outlasted tough guy Ruslan Provodnikov in March in a Fight of the Year candidate. Next, he outboxed Juan Manuel Marquez in October to show his quality among the sport's elite.
On the Horizon: Bradley will have to rematch Manny Pacquiao in 2014 in a bout that will go a long way in telling if the first fight was a fluke. Almost anyone who saw the 2012 Pacquiao vs. Bradley bout had Pac-Man as the clear winner. But the judges gifted the win to Bradley. It's time for him to pay the piper.
Why He'll Fall: Bradley has earned his lofty place in boxing, but it will soon come to an end. He'll be an underdog to Pacquiao in a return bout, and a rematch with Marquez isn't a walk in the park either. Expect Bradley to fall back down to earth in 2014. It's impossible in boxing to get the nod in every close fight, and he is always in close fights.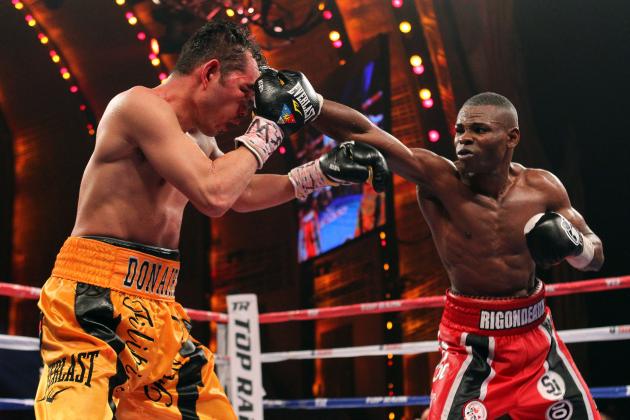 Ed Mulholland-USA TODAY Sports
The Rigolution will continue in 2014.
In the Rearview Mirror: Rigondeaux had two stellar wins in 2013. He started the year by dominating perennial star Nonito Donaire over 12 rounds to become the lineal junior featherweight champion. After some tug of war with HBO, he returned in December to blank former titlist Joseph Agbeko over 12 rounds on all three judges' scorecards.
On the Horizon: Rigondeaux will not suffer defeat anytime soon. While he seems to be a polarizing figure now, the bandwagoning boxing crowd will rally behind him as he continues to embarrass everyone put in front of him. In a perfect world, he'd take on Leo Santa Cruz and Abner Mares, but this is boxing, so expect matchups against Top Rank guys like Donaire and Vic Darchinyan in 2014 instead.
Why He'll Rise: There is simply no greater talent in boxing today than Rigondeaux. He'll win easy and barely break a sweat doing it. The Rigolution is here.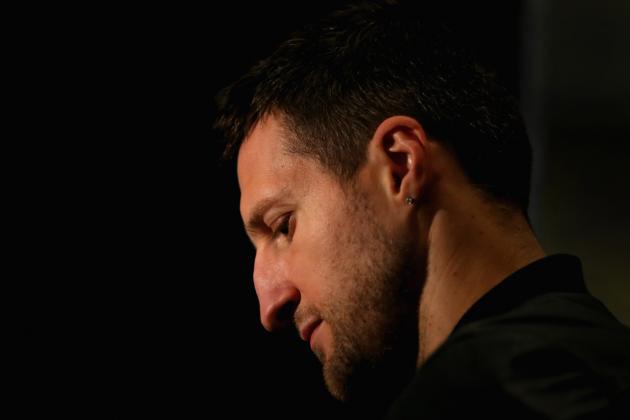 Alex Livesey/Getty Images
Froch should start getting used to street clothes.
In the Rearview Mirror: Froch won a revenge bout against Mikkel Kessler in May before benefiting from an early stoppage in a technical knockout win over prospect George Groves in November. Froch had a superb year, but he's definitely starting to look older and slower. He's on his way down the ladder.
On the Horizon: Froch, 36, desperately wants a rematch with super middleweight kingpin Andre Ward. Ward dominated Froch in 2011 and would expect to do the same now. While Froch has shown himself to be quality, Ward is on another level as a fighter.
Why He'll Fall: Froch barely beat Groves and would likely find himself in deep trouble in a rematch. The only other option that makes sense for him now is a rematch with Ward, where he'd be a big underdog. Froch had a great run and is one of the better super middleweights in history, but his best fighting days are behind him.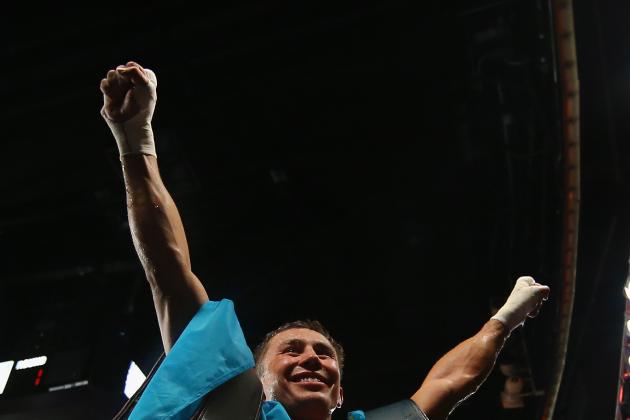 Al Bello/Getty Images
Get used to a celebratory Golovkin.
In the Rearview Mirror: Golovkin amassed four wins in 2013 and defeated all of his opponents by knockout. By the end of the year, he'd gone from prized prospect to a clear front-runner for boxing superstardom.
On the Horizon: There's nothing but big fights headed Golovkin's way. The folks at HBO have good reason to love him. He's an exciting fighter who knocks his opponents out with ruthless veracity. Moreover, he seems to be becoming a real draw numbers wise.
Why He'll Rise: Golovkin is no flash in the pan. He had a tremendous amateur career and has parlayed that into being an outstanding professional. Golovkin is already considered by most to be the best middleweight in the world. Expect him to prove it in 2014 with big fights against top middleweight competition.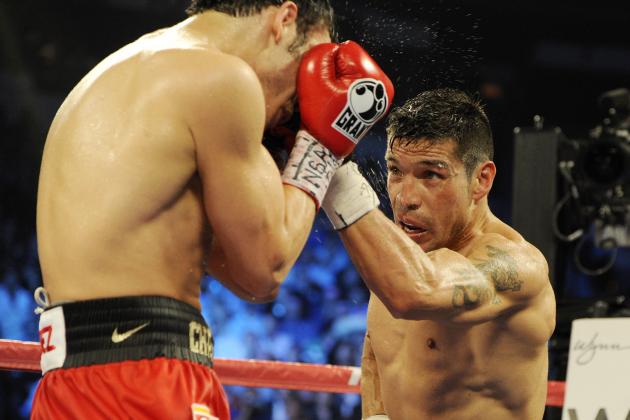 Jeff Bottari/Getty Images
Martinez is slowing down.
In the Rearview Mirror: Middleweight champion Martinez was on the shelf for most of 2013 because of an injury. He did slip past Martin Murray in April, but the bout was as close a call as a win can get. Martinez was down in the fight and had to rally to a points win in front of his home crowd in Buenos Aires.
On the Horizon: Martinez has been a great champion, but at 38 he seems to want to play it smart by taking on smaller men. Rumors, courtesy of Boxing Scene's Miguel Rivera, have him facing Miguel Cotto or Saul "Canelo" Alvarez next year. Martinez himself has said he wants Cotto, and while both bouts would be lucrative, they would also be tough sledding for a fighter on his way to the pasture.
Why He'll Fall: Martinez will not stave off age and injury while remaining relatively unscathed for much longer. He might slink past either Cotto or Alvarez but not both. And a real middleweight monster like Gennady Golovkin would do him in for good. Martinez will retire sometime in 2014 after a Hall of Fame career.