Unlike the craziness in the NFC, the AFC's playoff picture has nearly come into focus heading into Week 17. Five teams have earned playoff bids, leaving just one spot to be determined.
That said, there are four teams with a shot to earn that final berth.
The Miami Dolphins, Baltimore Ravens, San Diego Chargers and Pittsburgh Steelers all have a chance of getting into the postseason, meaning there will be plenty of drama unfolding throughout the action on Dec. 29.
Here's a look at where every AFC playoff contender stands heading into Week 17, followed by a closer examination of what could happen in the final weekend of the regular season.
| | | | |
| --- | --- | --- | --- |
| RANK | TEAM | RECORD | STREAK |
| 1 | Denver Broncos | 12-3 | Won 1 |
| 2 | New England Patriots | 11-4 | Won 1 |
| 3 | Cincinnati Bengals | 10-5 | Won 1 |
| 4 | Indianapolis Colts | 10-5 | Won 2 |
| 5 | Kansas City Chiefs | 11-4 | Lost 1 |
| 6 | Miami Dolphina | 8-7 | Lost 1 |
| 7 | Baltimore Ravens | 8-7 | Lost 1 |
| 8 | San Diego Chargers | 8-7 | Won 3 |
| 9 | Pittsburgh Steelers | 7-8 | Won 2 |
ESPN.com
After losing in Week 15, the Denver Broncos and New England Patriots both won in blowout fashion on Dec. 22, meaning nothing changed at the top of the standings.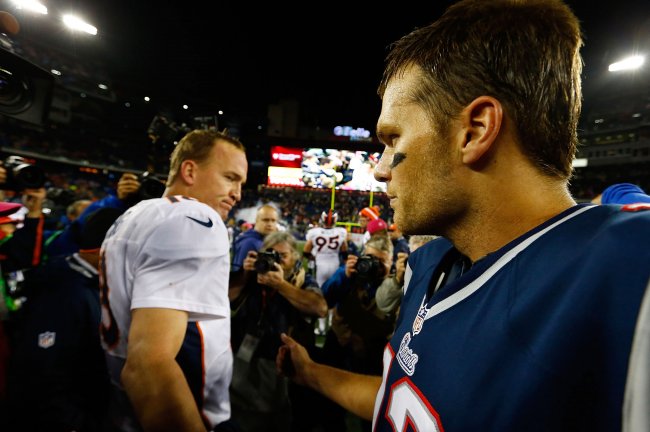 Jared Wickerham/Getty Images
Assuming the Broncos take down the Oakland Raiders in Week 17 (they will), then Peyton Manning's team would enter the postseason as the No. 1 seed in the AFC with a record of 13-3.
The Patriots must beat Buffalo at home (they will) to secure the No. 2 seed, which comes with at least one home game and a first-round bye.
The Indianapolis Colts and Cincinnati Bengals could potentially move up into the No. 2 spot if New England falls.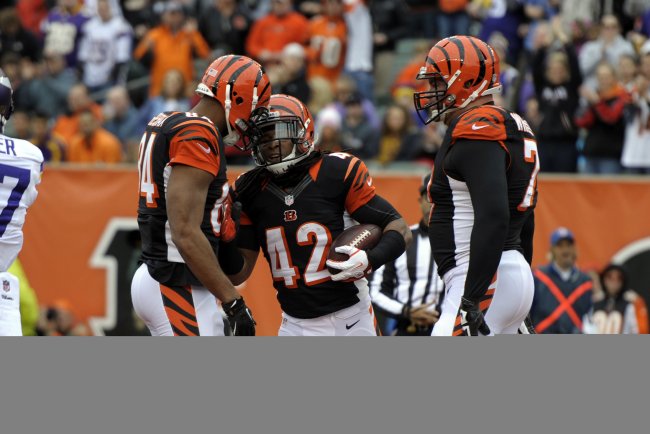 Marc Lebryk-USA TODAY Sports
Which team is more likely to land the No. 3 spot?
However, it's far more likely they will be jostling for the No. 3 and No. 4 spots. Cincinnati is currently ahead based on head-to-head matchups, but a big matchup against Baltimore will be critical if the Bengals want to keep that spot.
Both the Colts and Bengals head into the final weekend on a high note, having won big in Week 16. Cincinnati has a brutal divisional matchup against Baltimore to close out the season, while Indianapolis will likely cruise to victory at home against Jacksonville.
Though Indy won the AFC South back in Week 14, it's clear head coach Chuck Pagano hasn't allowed his team to get complacent.
As pointed out by Scott Kacsmar after Indy took down Kansas City at Arrowhead Stadium, this team has won some impressive games in 2013, but it remains to be seen if the Colts will play well in January:
Hell of a win for the Colts today. Not sure what they can do in January, but no team will finish reg. season with more big wins. #FOAud

— Scott Kacsmar (@FO_ScottKacsmar) December 22, 2013
Kansas City has the No. 5 spot sewn up with a record of 11-4. Because of this, head coach Andy Reid is apparently debating the virtues of resting his starters but has yet to make a decision, as reported by Terez A. Paylor of the Kansas City Star:
Reid says he hasn't decided what he gonna do as far as rest guys against San Diego. Said he's had some success doing it in the past, though.

— Terez A. Paylor (@TerezPaylor) December 23, 2013
Then, there's the No. 6 seed, which is up for grabs.
Will Brinson of CBS Sports provided details of what each eligible team would need to do in order to secure the spot, calling the race a "mess":
The AFC Wild Card race isn't a mess at all. http://t.co/qsxRiArFWF pic.twitter.com/aApzp2Nd83

— Will Brinson (@WillBrinson) December 23, 2013
Miami, Baltimore and San Diego are all facing difficult opponents in Week 17. The Dolphins will be hosting the New York Jets, the Ravens will be in Cincinnati taking on the Bengals and the Chargers will hosting the Chiefs.
Meanwhile, Pittsburgh, with the slimmest odds of making it in, has an easier task when the Cleveland Browns come into town. Slim odds or not, Pittsburgh will be the last team standing when the final whistle blows on the 2013 season.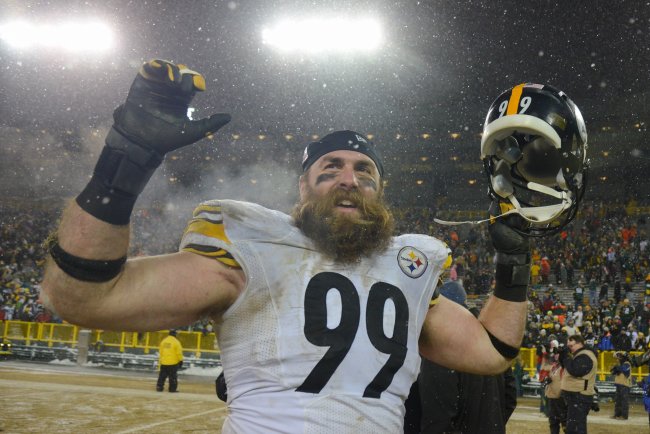 Benny Sieu-USA TODAY Sports
Once the playoffs begin, any team can run the table. All it takes is getting hot at the right time—and you can throw all the regular-season stats out the window.
One thing's for sure: As good as the regular season has been, the postseason is shaping up to be one to remember.
Follow me on Twitter @JesseReed78