The Dallas Cowboys will take on the Philadelphia Eagles in Week 17 in a game that will determine the NFC East champion, and they may have to do so without the services of quarterback Tony Romo.
Struggling with back issues, the quarterback's status is up in the air. Cowboys head coach Jason Garrett hit us with the news at a Monday press conference:
Jason Garrett says the team has not "made that determination at all" when asked if Tony Romo is out for the season. Talks about treatment

— Ian Rapoport (@RapSheet) December 23, 2013
This came after the following report from ESPN's Adam Schefter:
Cowboys QB Tony Romo has been ruled out the rest of the season due to his back injury, per league source.

— Adam Schefter (@AdamSchefter) December 23, 2013
Given that report, and Garrett's less-than-convincing statement that Romo could still play next week, it would appear to be safe to assume that Romo will not be able to play.
This opens the door for Kyle Orton to ride in on a white horse named Backup with his straightened long brown hair flowing under his cowboy hat and spark the Cowboys to a magic run into the playoffs and all the way to MetLife Stadium for the Super Bowl.
Jason Garrett: "We have Kyle Orton here for a reason." But "right now, we have a QB who is getting treatment for an injury in the game"

— Ian Rapoport (@RapSheet) December 23, 2013
Orton won't be able to find that door.
Before any glass-half-full fans jump at some of Orton's finer moments, like his 2009 season with the Denver Broncos where he threw for 3,802 yards, 21 touchdowns and 12 interceptions, I just want to remind everyone that Orton is the quarterback who performed so badly with the Broncos in 2011 that Tim Tebow's insertion was a drastic boost to the team.
Flash forward a couple of seasons later and Orton has been gathering dust on the bench and Tebow can't find a single job in the NFL.
Merry Christmas, Eagles. pic.twitter.com/AibWMd6Ytr

— Will Brinson (@WillBrinson) December 23, 2013
Orton has appeared in three games for the Cowboys over the past two seasons and has attempted just 15 passes.
Kyle Orton has taken just 22-snaps in two seasons with the #Cowboys #Romo

— Matt Barrie (@MattBarrieESPN) December 23, 2013
At his best, Orton will make quick decisions and get the ball to his playmakers when they are in a position to do damage.
The 31-year-old can be woefully inaccurate, however. He has a career completion percentage of just 58.4.
With DeMarco Murray on a tear out of the backfield and with Dez Bryant to beat the defense on the outside, Orton can have success with the Cowboys. The problem is he would not be able to help the Cowboys outscore the Eagles.
Philadelphia is second in the NFL in yards per game, and it leads the league in yards per rush and pass. This is terrible news for a Cowboys defense that is 32nd in the NFL in yards allowed, 31st in yards allowed per rush and 27th in yards allowed per pass.
Nick Foles needs a perfect passer rating (158.3) next Sun against Cowboys to top Rodgers' single season mark of 122.5. It may be possible.

— Jeff McLane (@Jeff_McLane) December 23, 2013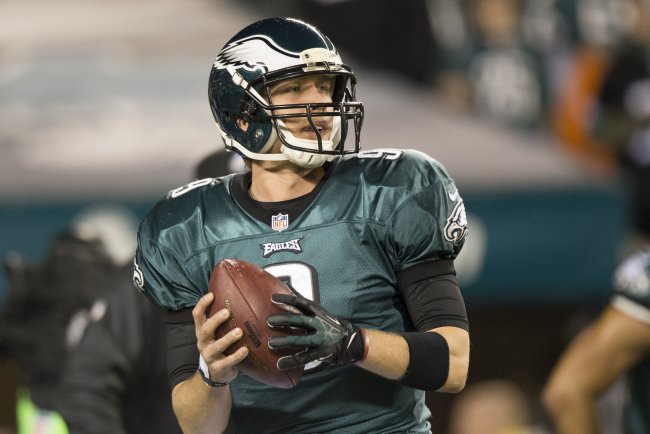 Tommy Gilligan-USA TODAY Sports
The Cowboys will enjoy the home field, but the Dallas faithful didn't help the Cowboys hold the Green Bay Packers, sans Aaron Rodgers, under 37, or the Matt McGloin-led Raiders under 24 in either of their last two home games.
The Eagles are going to shred the Dallas defense.
Although the Eagles are 32nd in passing yards allowed per game, they are a decent 20th in yards allowed per pass and 16th in opponent interception percentage.
Combine that with a defense that is fourth in yards allowed per rush and even on a good day from Orton, the Eagles have enough on defense to at least slow down the Cowboys.
The Cowboys don't have that similar hope. There will be no postseason in Big D this year.
All stats via TeamRankings.com.