2014 NFL Draft: Updated Wide Receiver Rankings with Analysis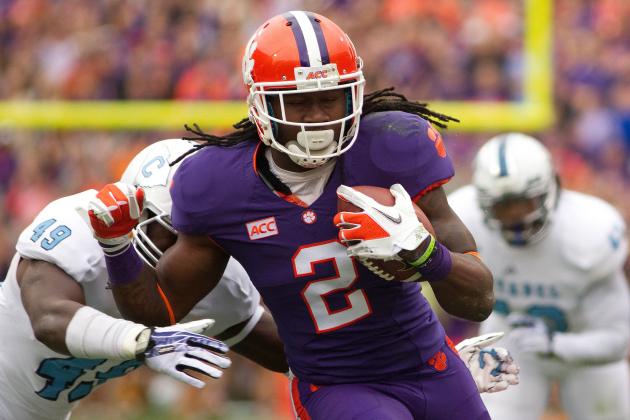 Joshua S. Kelly-USA TODAY Sports

0It seems that in the current NFL, a roster can never have enough wide receivers. The rules have skewed to favor the passing game heavily, and with that teams are transitioning to more three- and four-wide receiver sets.
Fortunately, the 2014 NFL draft is just jam-packed with guys who look as NFL-ready as any wide receiver class in recent years.
And don't worry. It doesn't matter if your team needs a tall, physical wide out, or smaller speedy pass-catcher. This group has you covered. The problem is that trying to rank them is arduous. The type of wide receiver your team favors will impact which player is taken first.
Of the 15 receivers listed here, it would not be unreasonable for seven or eight of them to be selected in the first round, with the next five being second-round selections.
So, let us take a closer look at some of these elite wide receiver prospects.
Begin Slideshow

»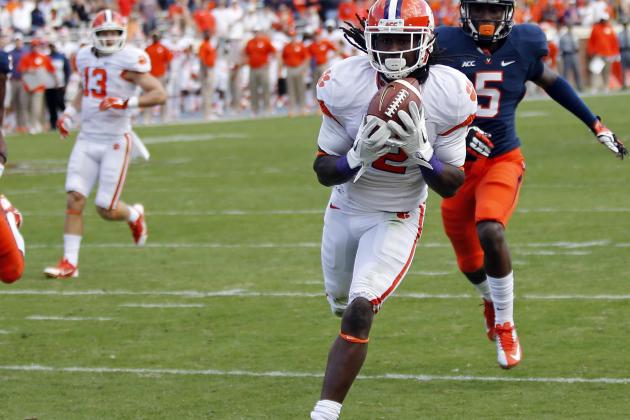 Geoff Burke-USA TODAY Sports

The gap between Clemson's Sammy Watkins and the rest of this class seems to widen with each passing week. While the rest of this group seems to have skill sets that fit some teams and schemes better than others, Watkins can do it all.
His combination of size (6'1", 205 pounds) and speed overshadows all of his other emerging skills. His leaping and catch radius are elite, and his body control is as good as any wide receiver's in the country.
There is truly nothing to dislike about Watkins' game. He is very much a bigger stronger version of Steelers wide receiver Antonio Brown, and that makes him a matchup nightmare for any defense.
Draft Grade: Top-Five Pick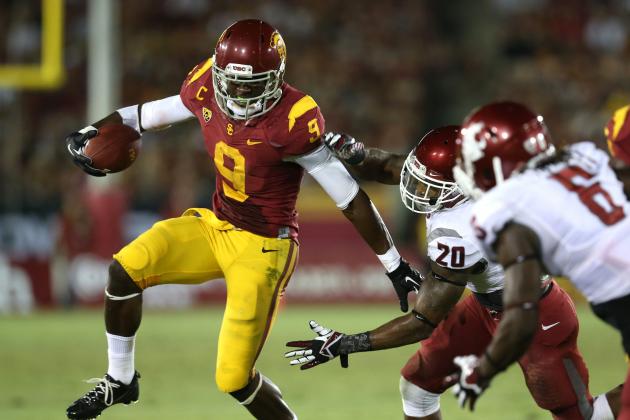 Stephen Dunn/Getty Images

USC wide receiver Marqise Lee has been unfairly cut down in terms of his draft stock this season. None of the reasons for Lee's drop in production have anything to do with any perceived lack of talent. The wide receiver who caught 118 balls in 2012 is still out there.
Lee is a dynamic receiver with deceptive speed and high football acumen. He runs excellent routes, understanding his matchups and the defenses he is facing. Once Lee gets the football into his hands, he never lets up on a play. He's strong and can run through arm tackles, fighting for extra yards.
On the downside, Lee needs to work on his hands and his concentration. He misses on rather routine plays sometimes, and it all points to a lack of concentration. Lee lets the football get into his body a little too often and needs to have more active hands.
Draft Grade: Top-15 Pick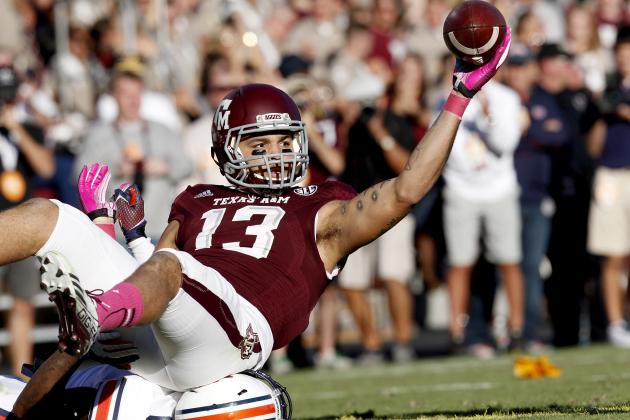 Thomas B. Shea/Getty Images

If your taste leans more toward a big wide receiver, Texas A&M wide out Mike Evans might be more your cup of tea. Evans measures up at 6'5" and 225 pounds. Evans certainly passes the eyeball test.
Evans has long arms and a massive catch radius. Often at Texas A&M Evans was on the other end of a jump-ball type of throw, where he could simply overpower the defender.
Many of Evans' other catches came when he had to come back to the football when quarterback Johnny Manziel extended the play with his legs. This ability to adjust to the play, never give up on the route and work with his receiver is a huge plus for Evans.
Not everything about Evans is positive, however. Evans' size means he struggles to get separation in the route, so he will need to improve his concentration when making the contested catch. Shockingly enough, Evans made a huge percentage of his catches with very little interference from defenders.
Evans is also going to need to time well. A low number in the 40-yard dash will help ease any concerns about his long speed. We've all seen these oversized wideouts who can't translate to the NFL.
Draft Grade: First-Round Pick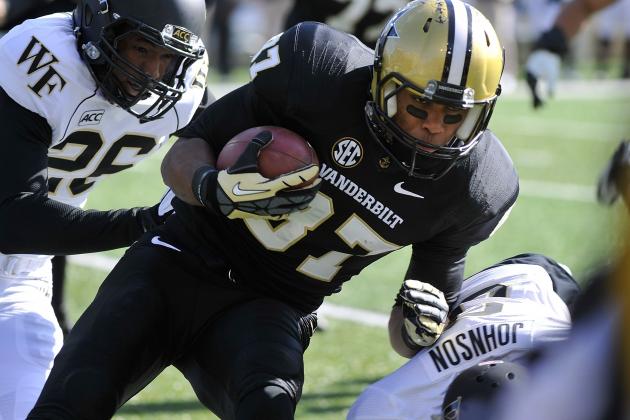 Frederick Breedon/Getty Images

The best-kept secret in college football might be Vanderbilt wide receiver Jordan Matthews. Matthews has NFL-caliber size (6'3", 205 pounds) and has been the focus of the Vanderbilt passing offense for the past two seasons.
Matthews has handled all this extra attention by honing his skills. Matthews is an excellent route-runner. He can recognize coverage, and if it is zone, find the voids—or against man coverage, use his body type and speed to beat the coverage.
Where Matthews really stands out is in his concentration. Matthews finishes plays at an elite level. He has active hands and can snatch the football out of the air. Even on contested plays, Matthews is always focused on the football and has made some astonishing plays.
What Matthews isn't is an elite athlete. He should time well, but his leaping isn't on par with some of the other prospects. And he is not a top-tier prospect in terms of running after the catch. Matthews is an effective football player who has been tremendously productive. However, if you are looking for the guy who can take short throws and make them long runs, he might not be your guy.
Draft Grade: First-Round Pick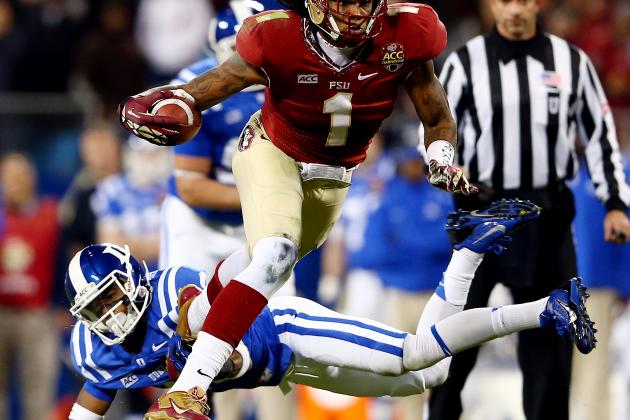 Streeter Lecka/Getty Images

The hottest name in the NFL draft is Florida State wide receiver Kelvin Benjamin. Benjamin is only a redshirt sophomore; however, due to the fact he is already 22 and the success of his team this year, it is entirely reasonable that Benjamin will parlay all this attention into an early draft pick.
Benjamin is a fascinating prospect because his size is impressive and more athletic than you might imagine. Benjamin is 6'5" and 235 pounds, and can run better than you might expect. However, the strength of his game is in his ability to go up and get the football.
Even for his height, Benjamin often displayed his leaping ability on high throws. Benjamin does a nice job of going up and getting the football, snatching it out of the air.
Benjamin is an emerging route-runner, and while he doesn't have great speed or quickness, does a nice job getting separation. Benjamin's size does have some downside in that his future might be as more of hybrid tight end rather than a true wideout.
As a red-zone target, the potential of a player like Benjamin is enticing, but I don't see him as the type of big wide receiver who is going to go streaking past defensive backs on deep throws.
Draft Grade: First-Round Pick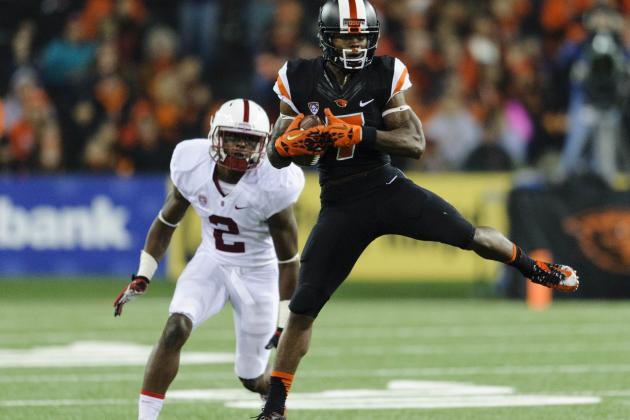 Steven Bisig-USA TODAY Sports

Looking at the rest of this list, you understand how just how deep this wide receiver group is. Players like LSU's Odell Beckham and Jarvis Landry, Penn State's Allen Robinson and Oregon State's Brandin Cooks are all first-round talents.
The sleeper among this group is Fresno State's Davante Adams. Adams has put up ridiculous statistics while at Fresno State, but he will need to prove he is more than just a system wide receiver at the next level.
Similar to that is Colorado's Paul Richardson. Is Richardson's production the result of superior talent, or simply based on the fact that he is the only viable weapon on the Colorado offense?
6. Odell Beckham, LSU
7. Allen Robinson, Penn State
8. Jarvis Landry, LSU
9. Brandin Cooks, Oregon State
10. Davante Adams, Fresno State
11. Paul Richardson, Colorado
12. Brandon Coleman, Rutgers
13. Donte Moncrief, Ole Miss
14. Jalen Saunders, Oklahoma
15. Jared Abbrederis, Wisconsin