Week 17 of the 2013 NFL season is one Monday night finale away. Plenty of the league's elite teams will still be playing in meaningful games as the campaign wraps up, as home-field advantage has yet to be decided in either conference.
The four teams that occupy the top two spots in each conference are squaring off against teams with losing records to close out the regular season.
Having the benefit of at least one home playoff game would be huge, since they have lost a total of three home contests all year. With all the turbulence that has gone on, at least the top of the playoff picture should look the same following this coming Sunday.
Here is a look at the top-tier clubs that will take care of business with big wins in Week 17, along with a complete list of predictions for every game on the upcoming schedule.
Note: This has been written prior to Week 16's Monday night game involving the San Francisco 49ers and Atlanta Falcons.
Carolina Panthers (11-4) over Atlanta Falcons (4-10)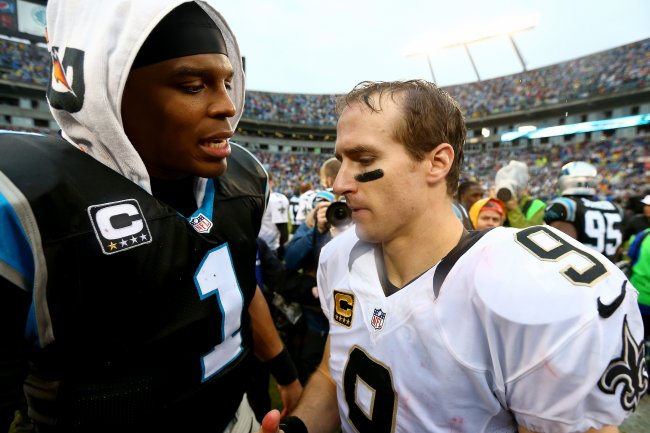 Streeter Lecka/Getty Images
It looked as though Panthers quarterback Cam Newton was going to fade at the hands of his elite counterpart in New Orleans' Drew Brees in Week 16. Two late three-and-outs followed a signature 97-yard drive by Brees, and Carolina trailed at home 13-10.
Then Newton absolutely blew up, rifling one of the best throws yours truly has ever seen to Ted Ginn Jr. for a 37-yard gain, and following it by hitting Greg Olsen for 14.
The 2011 No. 1 overall pick capped it all off with a game-winning strike to Domenik Hixon. It was nothing short of sensational—really any superlative one could conjure up.
Let's also not forget about Luke Kuechly, the second-year linebacker who picked off Brees and racked up 26 tackles in the winning effort.
It was an unprecedented display as far as defensive coordinator Sean McDermott was concerned, as documented by Panthers.com's Max Henson:
DC Sean McDermott on Kuechly's 26 tackles: "Never been around a performance like that." Called Luke best defensive player in the league.

— Max Henson (@PanthersMax) December 23, 2013
Despite the sensational individual effort, Kuechly was happy just to be on the winning side, per Panthers.com's Bryan Strickland.
Which top team is in the most danger of being upset in Week 17?
"We got the win, and that's honestly all that matters," said
Kuechly
. "You ask me or Thomas [Davis], and winning is all that matters."
With sole possession of the NFC South lead, it's up to Newton to keep his team on track at the Georgia Dome when they face a lowly Falcons team teeming with envy, scheming to spoil their rival's plans for a No. 2 playoff seed.
But Atlanta is not fully equipped on offense to take the Panthers' elite defense to task. Matt Ryan has been a different quarterback—in a bad way—with the league's worst rushing attack behind him. The Falcons are also 27th in points allowed and 28th in total yards conceded per contest.
None of that bodes well against this determined Carolina bunch, who went 7-1 at Bank of America Stadium this season and will find a way to grind out this road victory.
Prediction: Panthers 31, Falcons 17
New England Patriots (11-4) over Buffalo Bills (6-9)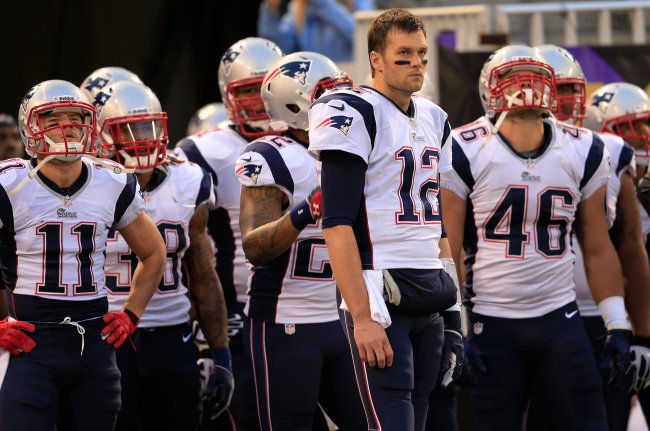 Rob Carr/Getty Images
The AFC East has been a reign of perpetual dominance by the Patriots, as the terrific Tom Brady has elevated a ragtag receiving corps and guided New England to an 11th division title in his stead as starter.
In the process of obliterating the Baltimore Ravens 41-7 to make up for last year's loss in the AFC Championship Game, Brady also joined some historic company, per ESPN Stats & Info:
Tom Brady: 147 wins as starting QB, t-4th most in NFL history (Dan Marino)

— ESPN Stats & Info (@ESPNStatsInfo) December 23, 2013
The only issue Brady seems to have in establishing rapport with his unheralded teammates is getting some high-five love:
Buffalo may be heavy underdogs in this one, but its defense is no joke. Thanks to a terrifying defensive line led by Mario Williams and a linebacker group anchored in the middle by rookie phenom Kiko Alonso, the Bills have the pieces to give Brady trouble.
In ranking second in the league in interceptions, the AFC East cellar dwellers have also managed the most sacks as a team with 56. That's bad news for Brady, who can't afford much hesitation in the pocket.
It's also troubling that the Patriots have a bottom-three rush defense and are facing the likes of Fred Jackson and C.J. Spiller.
There's no chance for Buffalo to make the postseason, but don't tell that to Jackson, whose gutsy performance (111 rushing yards, TD) in Week 16's 19-0 win over Miami was inspiring:
How impressive was Fred Jackson's game today? Even more so than you probably think. He played through broken ribs. #Bills

— Jay Skurski (@JaySkurski) December 22, 2013
All indications are that this game will be close, but with so much on the line, don't expect Brady to let the Pats lose in Foxboro, where they are a perfect 7-0 in 2013.
Prediction: Patriots 24, Bills 20
Seattle Seahawks (12-3) over St. Louis Rams (7-8)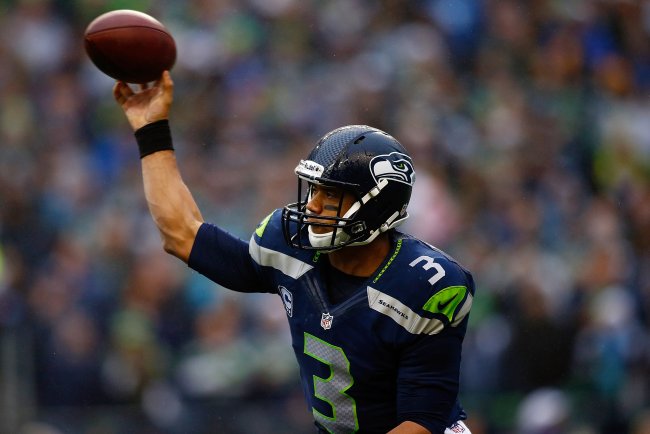 Jonathan Ferrey/Getty Images
Watch out for a big resurgence in Seattle's CenturyLink Field. Second-year QB Russell Wilson had never lost at home in his young career, but that changed when they were defeated 17-10 by the Arizona Cardinals.
With the NFC West still up for grabs, the Seahawks can ill-afford another slip. Wilson failed to capitalize on the fact that his Week 16 counterpart, Carson Palmer, threw four interceptions and played one of the worst games of his career.
As a surprise to very few, Wilson remains upbeat despite a forgettable performance:
Can't change today...only Tomorrow. #GoHawks

— Russell Wilson (@DangeRussWilson) December 23, 2013
Putting the poor display behind him is all the more necessary as the elusive Wilson gears up for a terrifying tandem of pass rushers in Chris Long and Robert Quinn, who have a combined 25.5 sacks.
St. Louis has a confident young team and will only get better with two first-round selections in the impending draft. But for now, Seattle's stout defense will reassert itself against an over-matched signal-caller in Kellen Clemens.
Hurting him even more will be the devastating knee injury left tackle Jake Long suffered this past Sunday, which ESPN's Adam Schefter reports is likely a torn ACL:
Rams HC Jeff Fisher said he anticpates that LT Jake Long tore ACL, pending further tests.

— Adam Schefter (@AdamSchefter) December 22, 2013
As long as the Seahawks can limit Zac Stacy more than they did in the previous matchup, where the electric rookie scampered for 134 yards on 26 carries, this should be a convincing victory that gives Seattle the No. 1 seed.
Prediction: Seahawks 27, Rams 16
Denver Broncos (12-3) over Oakland Raiders (4-11)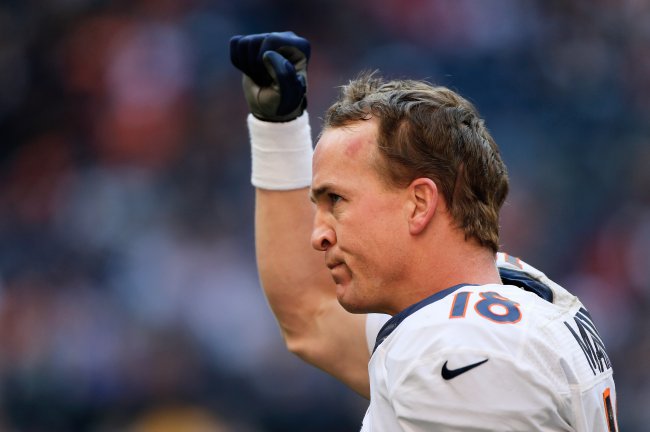 Scott Halleran/Getty Images
The math here is pretty simple. Peyton Manning plus Oakland defense equals a lot of touchdowns.
Even with the record 51 touchdown passes this season, Manning isn't the type of player to have a letdown, particularly when he still has the No. 1 seed in the AFC to secure against an AFC West adversary.
Oakland yields an average of 250.5 yards per game through the air, and the last time Manning faced this unit, he lit it up by going 32-of-37 passing for 374 yards and three touchdowns. That's absurd efficiency.
Something similar from Manning should be expected, even in the hostile environment the Black Hole tends to perpetrate.
A more accurate assessment of what's happening right now is that the Raiders are plunging into obscurity amid a five-game losing streak. According to Schefter, head coach Dennis Allen's request to extend assistants on his coaching staff was denied by owner Mark Davis:
Raiders owner Mark Davis recently rejected HC Dennis Allen's request to give extensions to Oakland asst coaches in last year of their deal.

— Adam Schefter (@AdamSchefter) December 22, 2013
Following Week 16's loss to San Diego, Allen said the right things and attempted to remain focused on the task at hand, per Raiders.com:
I can't speak to what anybody else thinks or what anybody else feels. I can only speak to me and I'm going in every day trying to win a football game. That's what my focus is; that's the only focus I can have. It'd be selfish of me to think any other way. I'm trying to do everything I can to get this football team ready to try and win a game
Manning is keeping the Broncos steady, while the Raiders are leaking oil down the stretch amid additional organizational upheaval.
Look for that to show up on the gridiron, with "The Sheriff" putting together one more virtuoso passing performance, strengthening his numbers on one of the best seasons a QB has ever had and boosting Denver to 13-3.
Prediction: Broncos 41, Raiders 23
Complete Week 17 NFL Picks

| | | |
| --- | --- | --- |
| Away Team | Home Team | Winner |
| Carolina Panthers | Atlanta Falcons | Panthers |
| Balitmore Ravens | Cincinnati Bengals | Ravens |
| Houston Texans | Tennessee Titans | Titans |
| Jacksonville Jaguars | Indianapolis Colts | Colts |
| New York Jets | Miami Dolphins | Dolphins |
| Detroit Lions | Minnesota Vikings | Lions |
| Washington Redskins | New York Giants | Giants |
| Cleveland Browns | Pittsburgh Steelers | Steelers |
| Green Bay Packers | Chicago Bears | Bears |
| Denver Broncos | Oakland Raiders | Broncos |
| Buffalo Bills | New England Patriots | Patriots |
| Tampa Bay Buccaneers | New Orleans Saints | Saints |
| San Francisco 49ers | Arizona Cardinals | 49ers |
| Kansas City Chiefs | San Diego Chargers | Chiefs |
| St. Louis Rams | Seattle Seahawks | Seahawks |
| Philadelphia Eagles | Dallas Cowboys | Eagles |
Picks are personal opinion