One more game remains for NFL playoff hopefuls to earn a spot in the postseason, meaning Week 17 is full of intriguing matchups that make for tough picks.
Only two NFC teams have clinched playoff berths heading into the regular-season finale, while there's only one remaining spot available in the AFC. Of course, four teams are vying for that one spot, including the 7-8 Pittsburgh Steelers.
With so much yet to be decided, the final weekend of the 2013 season will surely offer plenty of surprises. Here's a look at every game on the schedule, along with predictions for each one. Afterward, keep reading for deeper analysis regarding a few of the most critical matchups.
| | | |
| --- | --- | --- |
| AWAY | HOME | PICK |
| Cleveland Browns | Pittsburgh Steelers | PIT |
| Washington | New York Giants | NYG |
| Baltimore Ravens | Cincinnati Bengals | CIN |
| Houston Texans | Tennessee Titans | TEN |
| Jacksonville Jaguars | Indianapolis Colts | IND |
| New York Jets | Miami Dolphins | NYJ |
| Detroit Lions | Minnesota Vikings | MIN |
| Carolina Panthers | Atlanta Falcons | CAR |
| Tampa Bay Buccaneers | New Orleans Saints | NO |
| Buffalo Bills | New England Patriots | NE |
| St. Louis Rams | Seattle Seahawks | SEA |
| Green Bay Packers | Chicago Bears | CHI |
| San Francisco 49ers | Arizona Cardinals | SF |
| Denver Broncos | Oakland Raiders | DEN |
| Kansas City Chiefs | San Diego Chargers | KC |
| Philadelphia Eagles | Dallas Cowboys | PHI |
Jesse Reed
Green Bay (7-7-1) at Chicago (8-7)
The winner of this game will be the NFC North champion.
Both teams lost in Week 16, though Chicago's blowout loss to Philadelphia was the more shocking of the two.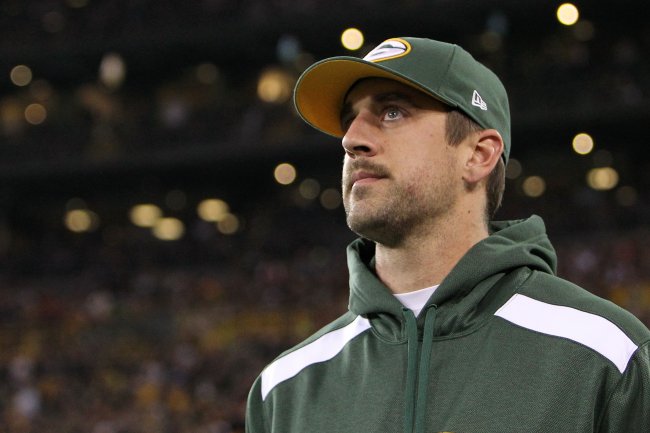 Mike McGinnis/Getty Images
Unfortunately, it's likely Green Bay will once again be without quarterback Aaron Rodgers, who, as of Sunday, Dec. 22, was still dealing with an injury that was an "extraordinary risk," as noted by ESPN's Chris Mortensen:
Aaron Rodgers fractured collarbone still "extraordinary risk" per sources. No real "organizational decision" as McCarthy repeated Friday

— Chris Mortensen (@mortreport) December 22, 2013
Fans don't like seeing Rodgers on the sideline, but Greg A. Bedard of The MMQB got it right with this statement regarding the quarterback:
Thompson, McKenzie and even trainer Pepper Burruss have long histories together making these types of decisions. They'll do what they think is right.

That might not make some fans happy. That might not even make Rodgers happy. But McKenzie and Thompson know what's best for Rodgers and the Packers, and that's how they'll make their determination.

Win or lose, no matter what decision the Packers make, it's the right call. They have the information. You and I do not. They were right to hold out Rodgers against the Steelers, and they'll be right if that's the decision they make this week.
In addition to the likely absence of Rodgers, rookie running back Eddie Lacy isn't running at full strength. He couldn't finish Week 16's contest with a bum ankle—the same ankle that hindered him earlier this season, as reported by the Packers on Twitter:
McCarthy-Eddie Lacy's ankle injury is the same he's suffered in the past. #Packers #PITvsGB

— Green Bay Packers (@packers) December 23, 2013
Though Chicago's offense was completely stymied against Philadelphia on Sunday night, nobody should expect Green Bay's No. 27 defense to put together a duplicate performance.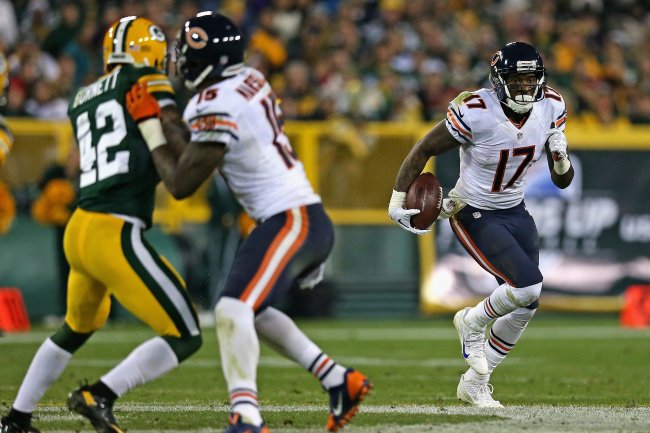 Jonathan Daniel/Getty Images
What we should expect is a revitalized effort by Chicago's passing offense, led by Jay Cutler, who will have a huge game at home against Green Bay's mediocre secondary.
Projected Score: Bears win, 35-24
San Francisco at Arizona
Heading into Week 16, it was hard to find anyone who believed the Seattle Seahawks were in danger of losing at home to the Arizona Cardinals.
After Bruce Arians' feisty squad pummeled its NFC West rival—handing the Seahawks their first home loss since Dec. of 2011—it's clear Arizona is a legitimate threat as an NFC playoff team.
However, it'll take another win to get in, and the San Francisco 49ers will be standing directly in the path of Arizona's playoff dreams. Furthermore, the Cardinals could win and still miss the playoffs, but that hasn't stopped Arians from charging ahead with full gusto, as he told Peter King of The MMQB:
I stopped worrying about that crap about three weeks ago. Once I learned we could get to 11-5 and we might still not make it, I said, "Screw it. Let's just get to 11-5 and let the chips fall where they may." Whatever happens, we're letting everyone in our division know we're a team to be reckoned with.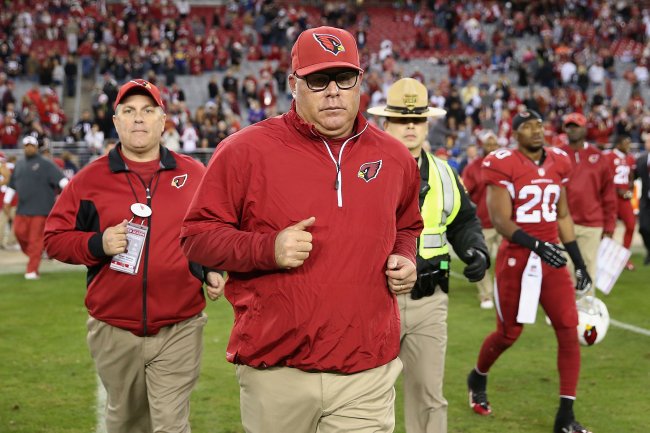 Christian Petersen/Getty Images
The 49ers clinched a playoff spot by beating Atlanta on Monday Night Football in Week 16, but there is still plenty to play for. With Seattle's loss, the 49ers could steal the NFC West crown with a win and another Seahawks loss.
Fans should expect a physical contest. Both teams rank among the league's best in scoring defense, running defense and passing defense.
San Francisco won by 12 points at Candlestick Park in Week 6 thanks to a big game by Frank Gore, who topped 100 yards, and a masterful performance by tight end Vernon Davis, who caught eight passes for 180 yards and two touchdowns.
Michael Crabtree is back and healthy for San Francisco, and he's traditionally gotten the better of cornerback Patrick Peterson.
Carson Palmer (who threw four picks in Week 16) will throw a couple of costly interceptions, as he did in the first meeting between the two teams, and the 49ers will grind out a road win to improve to 12-4 on the season.
Projected Score: 49ers win, 24-13
Philadelphia (9-6) at Dallas (8-7)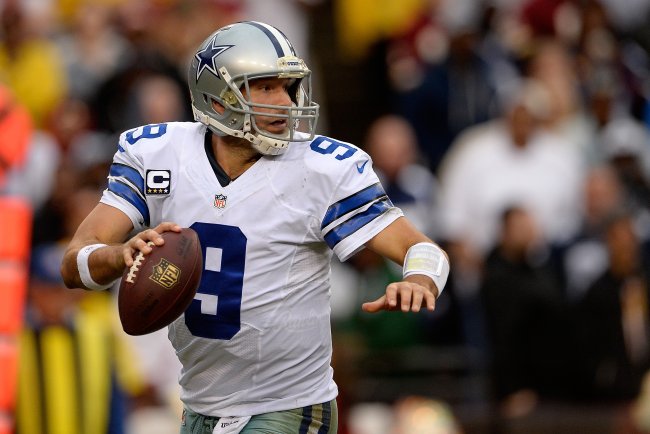 Patrick McDermott/Getty Images
When the season began, it was a good bet the NFC East would be decided in Week 17, just as it was in 2012. Washington and New York didn't factor into it, as many suspected, but the Philadelphia Eagles and Dallas Cowboys have been jostling for position throughout the second half.
And with one game remaining, the division is up for grabs. Not surprisingly, NBC flexed this game into Sunday Night Football, as ESPN's Adam Schefter relayed:
Cowboys-Eagles will be flexed to prime time next Sunday night, per NFL official.

— Adam Schefter (@AdamSchefter) December 23, 2013
Philadelphia comes into the game with plenty of momentum, having knocked off Chicago by a stunning score of 54-11 in Week 16 and having won six of seven games.
Dallas, on the other hand, has backed into the postseason chase with two losses in the last three games—the only victory being a one-point thriller against lowly Washington.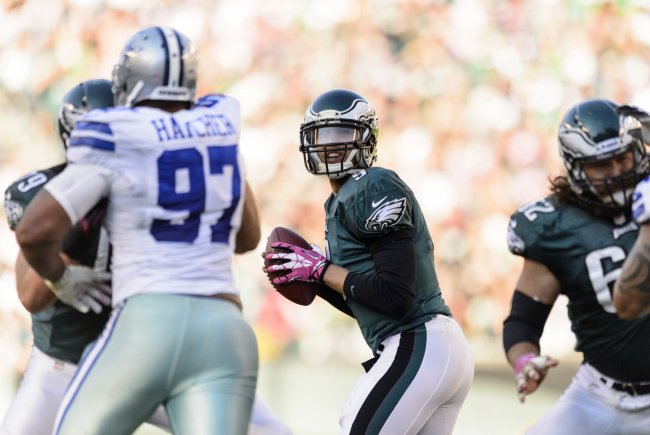 Howard Smith-USA TODAY Sports
The last time these two teams met, Nick Foles had his worst game of the season in a losing effort. The second-year quarterback hasn't forgotten about his dismal performance, and he talked about how he and his team moved past it, as Paul Domowitch of Philly.com noted:
You can't let one game defeat you. If I know anything about myself, I know I'm going to keep fighting. If I know anything about this team, it's they're going to keep fighting, too.

You learn from mistakes in games. You learn from games like that. And you move forward. We stayed together as a team. We've grown every week. But we still have a lot of work to do. We're going to look at this film in a critical way to see where where we can improve. To see if I can make better decisions to put us in better position.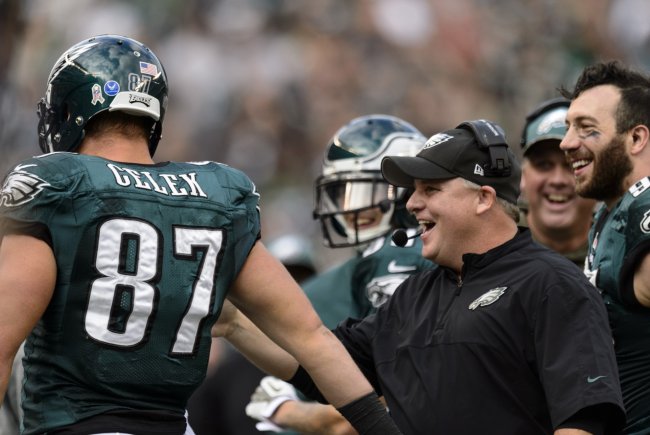 Howard Smith-USA TODAY Sports
The Dallas defense is the worst in the league. LeSean McCoy and Foles will have no trouble moving the chains and scoring points against this unit. Chip Kelly's Eagles are soaring into Week 17. They'll continue to fly high in Dallas by taking down the Cowboys to get into the playoffs as NFC East champs.
Projected Score: Eagles win, 35-27
Follow me on Twitter @JesseReed78