NFL Power Rankings 2013: Full League Breakdown with Playoffs on Horizon
Use your ← → (arrow) keys to browse more stories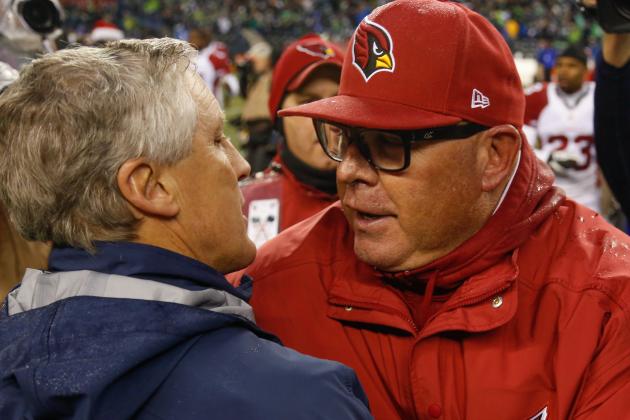 Otto Greule Jr/Getty Images

Believe it or not, there isn't much separating the top teams from those at the bottom of the NFL power rankings. Parity is alive and well, as we've seen every weekend since the start of the 2013 campaign.
All you have to do is take a look at the monumental failures had by the Atlanta Falcons and Houston Texans—two high-seeded playoff teams from 2012—to see just how slim the margin for error is in this league.
It's a game of inches, to be certain.
Heading into Week 17, there are still five playoff teams to be decided. Only two teams from the NFC have clinched playoff berths, while five of the six AFC teams have locked in a postseason bid.
Here's a look at where every team ranks heading into the league's regular-season finale.
1. Seattle Seahawks
The Seahawks were stunned at home by the Arizona Cardinals in Week 16. It was the first loss suffered by Seattle at home since Dec. of 2011, but the outcome said more about Arizona than it did about Pete Carroll's gang.
The Cardinals had a stellar defensive game plan and executed it to perfection, frustrating young Russell Wilson into his worst performance since joining the league, as pointed out by ESPN Stats & Info:
Russell Wilson posted an 11.5 Total QBR against the Cardinals, the worst rating in any of his 31 career starts

— ESPN Stats & Info (@ESPNStatsInfo) December 23, 2013
The Seahawks must right the ship in a hurry, however, to avoid a second straight stunner. The ever-unpredictable but always entertaining St. Louis Rams will be at CenturyLink Field in Week 17 to close out the season.
2. San Francisco 49ers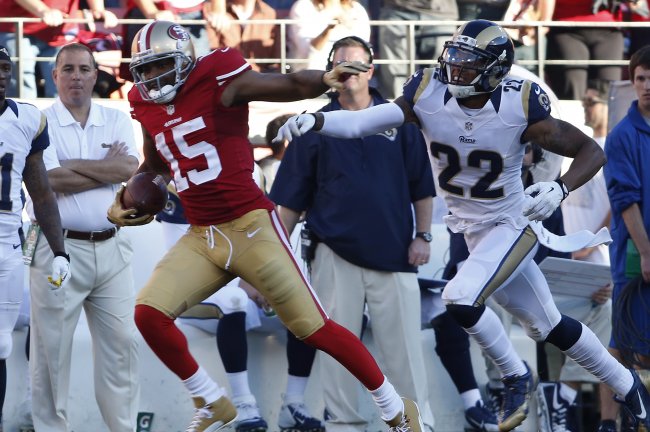 Stephen Lam/Getty Images
Heading into the 2013 season, many experts believed the Seahawks and 49ers were the NFL's two most complete (and best) teams. With one week remaining, these NFC West powerhouses have done nothing but confirm that supposition.
The 49ers appear to be blossoming at just the right time for a deep playoff run.
Michael Crabtree's presence in the starting lineup has really opened up the team's passing game. Not to mention it's clearly put Colin Kaepernick more at ease.
The team's defense is one of the league's best—as usual—and after last year's postseason meltdown by the defensive line, the team has been smart about saving a key player, as Peter King of Sports Illustrated pointed out:
Smart play by the Niners this year, resting stalwart defensive end Justin Smith regularly. In the first 14 games, he's sat 9, 15, 15, 24, 15, 9, 25, 26, 13, 11, 18, 29, 10 and 18 snaps. January insurance.
3. Denver Broncos
The Broncos feature the league's most potent offense, led by recent record-breaker Peyton Manning, who has thrown an astonishing 51 touchdowns in 15 games.
RECORD-BREAKER. pic.twitter.com/RjDquSfCvb

— Denver Broncos (@Broncos) December 22, 2013
It'll be tough to beat the Broncos in Denver this postseason, but it'll also be tough for the Broncos to play on without linebacker Von Miller, who suffered a knee injury in Week 16. Mike Klis of the Denver Post reported it was a torn ACL for Miller, which would obviously end his season:
Von Miller has a torn ACL according to NFL source. Done for season. Details coming at http://t.co/3H93t9hBcg

— Mike Klis (@MikeKlis) December 23, 2013
4. Carolina Panthers
Cam Newton, welcome to your shining moment.
Newton was atrocious for most of Week 16's contest against NFC South rival New Orleans.
However, with the game on the line, 65 yards to go and just 55 seconds left on the clock, he completed the three biggest passes of his NFL career—concluding with a 14-yard game-winning touchdown strike to Domenik Hixon.
If Newton can come up with a few more gems like that, then the Panthers will go deep in the playoffs.
5. New England Patriots
Just when you think the Patriots are ready to take a nosedive, Tom Brady and Bill Belichick pull off a masterpiece like the one we saw in Week 16 at Baltimore.
The Ravens went into the game having won four straight, and they had a shot at winning the AFC North with two final victories. The Patriots, on the other hand, were coming off a tough loss to Miami after losing Rob Gronkowski for the season with a torn ACL.
60 minutes later, New England walked out of M&T Bank Stadium with a 41-7 blowout win.
6. Cincinnati Bengals
When the Bengals are executing on offense, there aren't many teams equipped to beat this club. Unfortunately, given the way Cincinnati has consistently laid eggs in big games the past few seasons (and this year), it's tough to have faith in Marvin Lewis' club in the playoffs.
7. New Orleans Saints
Barring a final-game collapse by Carolina, the Saints will likely be on the road throughout the playoffs. That's not encouraging, because New Orleans only won three of its eight road contests in 2013. Drew Brees hasn't been sharp away from home, throwing 12 touchdowns and nine interceptions.
8. Arizona Cardinals
After beating the Seahawks in Week 16, offensive guard Daryn Colledge talked about how special the victory was for his team, as noted by Darren Urban of AZCardinals.com: "I don't think we realize how satisfying this is yet. Everyone knew it was going to be a fistfight. To stay together, to keep fighting and believe in each other, that's what makes it special."
Another victory in Week 17 could send Arizona to the postseason, but the 49ers will have something to say about the outcome. This upcoming game will be a tremendous test for both teams, and it's one you won't want to miss.
9. Indianapolis Colts
After taking down the Kansas City Chiefs at Arrowhead Stadium, the Indianapolis Colts appear poised to challenge the top teams in the AFC during the playoffs. Thanks to the stellar play of Andrew Luck, along with some inspired defense, the Colts have taken down San Francisco, Seattle, Denver and Kansas City this season.
10. Kansas City Chiefs
There's no way to sugarcoat how ugly Kansas City's performance at home against Indianapolis was. Alex Smith had his worst game since joining the team at the beginning of the season, and the Chiefs couldn't convert third downs (1-of-8) as a result.
It'll be interesting to see what kind of playoff magic Andy Reid and his staff will come up with, as the team needs to improve on both sides of the ball heading into the postseason.
11. Philadelphia Eagles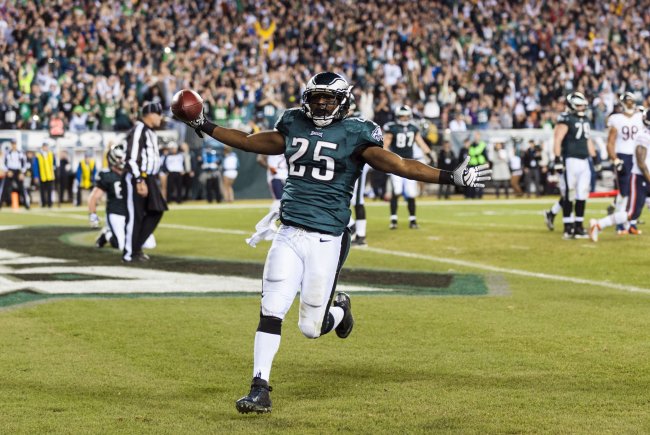 Howard Smith-USA TODAY Sports
Which team will win the NFC East?
After watching the Chicago Bears get dismantled in Philly, it's clear the Eagles would be dangerous at home in the Wild Card Round. But first, Chip Kelly's team must find a way to get past the Cowboys in Week 17 in Dallas.
12. San Diego Chargers
If the Chargers can find a way to sneak into the No. 6 seed in the AFC, then it's not crazy to think Philip Rivers can lead his team to at least one road win—if not a deep run. San Diego has knocked off Denver and Kansas City in their home stadiums since late-November.
13. Miami Dolphins
Laying an egg against a losing team with the playoffs on the line isn't the way Joe Philbin drew things up for his Miami Dolphins. But since Baltimore also lost, Miami is still in the hunt for the No. 6 seed in the AFC with the New York Jets coming into town to close out the season.
The final game will say a lot about this Dolphins team.
14. Baltimore Ravens
After getting roasted by Brady and Co. in Week 16, Baltimore will head to Cincinnati to close out the season. A win could get the Ravens into the playoffs, and you can bet the farm that John Harbaugh's crew will leave nothing on the field.
15. Pittsburgh Steelers
If Pittsburgh wins at home against Cleveland in Week 17, and if the Ravens, Dolphins and Chargers all finish with records of 8-8, then the Steelers will get into the playoffs as the No. 6 seed.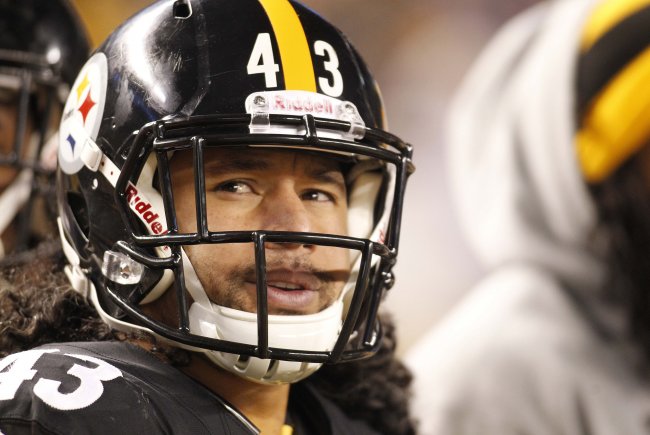 Charles LeClaire-USA TODAY Sport
The Steelers remain focused on the task at hand, despite the many playoff scenarios that could play out, thanks to the leadership of veterans like Troy Polamalu, who spoke to reporters after beating the Green Bay Packers in Week 16.
"It's irrelevant, to be honest. Nothing has changed from our standpoint," Polamalu said, per Stats LLC (via CBSSports.com). "Our mental approach to the game has got to be a week-by-week thing."
16. Chicago Bears
Wow.
That's the only way to describe Chicago's failure to show up for Sunday Night Football against the Eagles in Week 16.
The Bears could have won the NFC North with a victory, but instead they'll have to win against Green Bay in Week 17 to get into the postseason. Considering how bad Chicago's defense has been this season—especially against the run—it could be another long offseason for the Bears.
17. Dallas Cowboys
Dallas barely squeaked past the Washington Redskins in Week 16 to stay alive for the NFC East crown. It'll come down to one final game in Dallas against Philly for the division, but that doesn't necessarily bode well for Jerry Jones' Cowboys, as pointed out by ESPN's Chris McKendry:
Cowboys 8th "win-or-go-home" game in Week 17 or playoffs w/Romo starting QB. 1-6 overall & 0-3 in those games played in Week 17. #Eagles

— Chris McKendry (@CMCKENDRY_ESPN) December 23, 2013
18. Green Bay Packers
The fact that the Packers, at 7-7-1, still have a shot to win the NFC North in Week 17 shows just how pathetic the division has been this season. All four teams lost in Week 16, which prompted this brilliant little illustration courtesy of TheDrawPlay.com, via Big Cat:
NFC North was ON point today. See you Week 17! pic.twitter.com/0Q2TJwbYeB

— Big Cat (@BarstoolBigCat) December 23, 2013
19. St. Louis Rams
The 7-8 Rams are the worst team in the NFC West—by three games.
Let that sink in, NFC North fans.
20. New York Jets
Before the Jets hit the field in Week 16 against the Cleveland Browns, Rex Ryan reportedly told his team he'd be getting fired at the end of the season, as reported by Jay Glazer of Fox Sports:
Rex Ryan told his players in team meeting last night that word on street is that he's getting fired and ... http://t.co/sLNbTFS4X2

— Jay Glazer (@JayGlazer) December 22, 2013
After three straight seasons without a playoff appearance, the time might be right for a new voice to lead the club.
21. Detroit Lions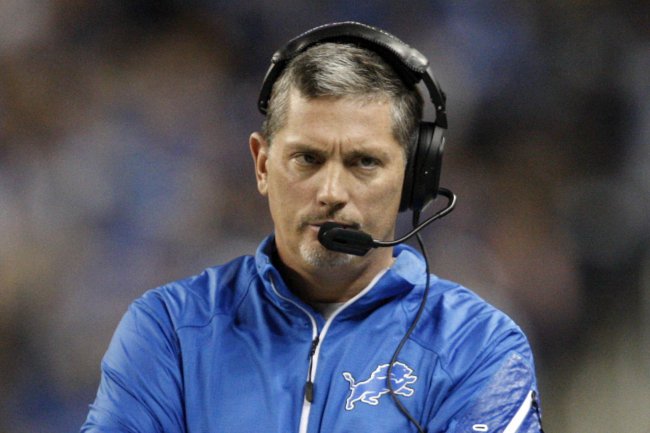 Raj Mehta-USA TODAY Sports
Bleacher Report's Michael Schottey perfectly and succinctly summed up the what's wrong with the Detroit Lions and the best course of action after the team lost in overtime to the New York Giants in Week 16: "Head coach Jim Schwartz should be done in Detroit, mercifully ending a regime filled with laziness, ineptitude and sloppiness."
After two straight blown seasons, the Schwartz era most certainly needs to come to an end. The Lions feature more talent on the roster than most teams, and anything less than a playoff berth is unacceptable.
22. Buffalo Bills
It's always good to see a team continue to fight tooth and nail even though the playoffs are out of reach. That's what we've seen from Buffalo all season long under rookie head coach Doug Marrone, who seems to have a good handle on what needs to be done going forward.
23. New York Giants
Given the massive holes on New York's roster—on both sides of the ball—it's relatively shocking that the Giants have scrounged six wins together in 2013.
Those six wins will likely be enough to keep Tom Coughlin's job safe, though it would behoove the team to look for a new general manager to come in and revamp the depleted roster.
24. Tennessee Titans
The Titans won their sixth game of the season in Week 16, taking down the mighty Jacksonville Jaguars by four points. All six wins have come against teams that are currently below the .500 mark, which clearly illustrates this team's place in the league.
25. Atlanta Falcons
Jeff Blake-USA TODAY Sports
The Atlanta Falcons need to retool their offensive line, add an elite pass-rusher (or two) and draft Tony Gonzalez's replacement in order to get back into contention after a failed 2013 campaign.
It's a real possibility that Jadeveon Clowney could be a part of that plan, because the Falcons are likely going to lose out to finish the season with a record of 4-12.
26. Minnesota Vikings
The biggest question facing Minnesota this offseason is which college quarterback the team will pick up in the 2014 NFL draft. Perhaps just as important is the team's need to draft core defensive players for the front seven, which has been abused for most of the season.
27. Tampa Bay Buccaneers
Tampa Bay won four of five games before getting hammered by the 49ers in Week 15 and the Rams in Week 16. Clearly, there is plenty of work left to do before the Buccaneers can contend for a playoff spot in the brutal NFC.
28. Cleveland Browns

Cleveland appeared poised to challenge the Bengals and Ravens in the AFC North early in the season, winning three of five games. However, since that time, the Browns have lost nine of 10, ensuring a top draft pick will be upcoming in 2014.
Derek Carr would be an intriguing quarterback option for Norv Turner's offense.
29. Jacksonville Jaguars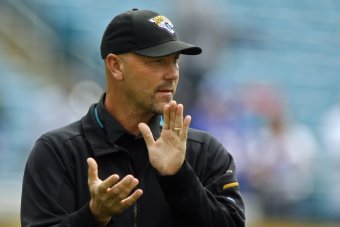 Phil Sears-USA TODAY Sports
The Jacksonville Jaguars have impressively competed all year long, despite featuring one of the league's least impressive rosters.
Gus Bradley has done an outstanding job changing the losing culture that permeated the organization the past handful of years. He'll get this team turned around quickly, provided the right players are brought on board.
30. Oakland Raiders
Provided the Broncos beat the Raiders in Week 17 (they will), Oakland will have finished the 2013 season having lost six games in a row and eight of its last nine. Dennis Allen's job could easily be on the line, and rumors of his eminent firing have already begun to swirl, as detailed by Michael Silver of NFL.com.
31. Washington Redskins
If Washington loses to the Giants to close out the season, then Mike Shanahan's team will finish with a record of 3-13.
Oh well, at least that means a top draft pick in the first round...d'oh!
Somewhere, Rams general manager Les Snead is laughing hysterically.
32. Houston Texans
Incredibly, Houston's two measly wins could be losses, as both came on fourth-quarter comeback wins in the first two weeks of the season. The Texans will, in all likelihood, finish the season at 2-14—and 0-16 wasn't out of reach.
Follow me on Twitter @JesseReed78