Twitter can be a cold and ugly town to navigate.
One day your mentions are full of praise and Corgi videos, and the next, someone's calling you a talentless hack who should expire in a shallow ditch.
But for every moment of ugliness, there is a shining glimpse of creativity or comedic genius—as evidenced by a tweet aimed at Kelly Hall, girlfriend of Detroit Lions quarterback Matthew Stafford.
Hall took to Twitter to address the Lions fans at Ford Field, many of whom were booing their team as the Lions choked away a pivotal game to the abysmal New York Giants.
Disappointed with the presumed lack of support, Hall claimed she couldn't believe a fanbase would treat its own team in such a manner.
You wouldn't even know we were playing at home the way these fans are booing our home team. #unbelievable

— Kelly Hall (@kellybhall) December 22, 2013
Then came the response from @DetroitKoolAid, who dropped a room-clearing zinger that said everything on the hearts and minds of many Lions fans.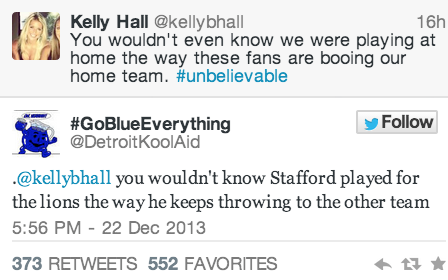 Screenshot via Twitter
Yow. I'll give you a moment to fan a towel over your smoke detector after that tweet.
While the message wasn't exactly complimentary, @DetroitKoolAid's tweet could've been ugly or crass, as frustration concerning Stafford's pick-heavy ways has escalated immensely in the past six weeks. Stafford has thrown 11 interceptions in the last five games, his last coming in the form of a fourth-quarter pick-six against the Giants.
I've always been a Matt Stafford fan and still believe he can be big time. But the last six weeks, he was the problem in Detroit. #Lions

— Mike Greenberg (@Espngreeny) December 23, 2013
@DetroitKoolAid @kellybhall KoolAid. You are a legend. Kelly admire standing by your man but this collapse by the Lions was unacceptable.

— Jason Corona (@Jcorona162) December 23, 2013
It wasn't the prettiest way to close the door on the playoffs, but all parties involved in this awful Lions slide should know this: Fans boo because they care.
They know Stafford is better than this, and many believe he has the goods to take the Lions deep into the postseason. They just want a chance to see him prove it.
Join me on Twitter: The epicenter of positivity!