In the midst of the Christmas-themed chaos that was Monday's WWE Raw, a pair of major victors emerged.
The new No. 1 contender for the Intercontinental Championship and a rising powerhouse came away with big wins. For Damien Sandow and Kofi Kingston, their losses represented negative trends in their WWE careers, the two midcarders sinking further down the card.
Who found glory on a night that featured a Present on a Pole match, a bout where two Santas bashed each other and Divas dressed in Santa gear?
We begin with a man for whom silliness is an everyday burden.
Winner: Fandango
Even if Fandango just ends up being Big E Langston's easily disposed of prey, his victory Monday night is worth celebrating.
In a Present on a Pole match, Fandango bested Dolph Ziggler. He shoved "The Show Off" to the ground and claimed the wrapped present hanging on the pole.
The victor's present is becoming the No. 1 contender for the Intercontinental Championship.
With two WWE world titles merged and the company essentially ignoring the United States Championship, the IC belt has automatically had its prestige elevated. Beating Ziggler en route to facing Langston is several steps up from battling Great Khali on a regular basis.
Loser: Damien Sandow
Add a toilet bowl to the embarrassing items Sandow's foes have used against him.
Sandow's position with the company continues to take on water. His downward journey has taken him from being moments away from the World Heavyweight Championship to getting tossed around the ring dressed in a Santa suit.
Top heels just don't get asked to do silly segments like this. Sandow continues to be asked to take part in throwaway gimmicky matches like Monday's Battle for Christmas.
Meanwhile, The Wyatt Family is made to look like a destructive trio, Randy Orton is portrayed as a predator and Alberto Del Rio is billed as wicked and difficult to topple. Sandow's role is that of a gimmick-match doormat, one that he will struggle to climb out of.
Winner: Big E Langston
Langston's push progressed.
WWE paired him with John Cena and CM Punk to take on The Shield on Monday's main event. That is some excellent company to keep.
Being the third member of that trio is a sign of WWE's extreme confidence in the powerhouse. On top of that, Langston played the hero who cleaned house near the end of the match and had Dean Ambrose defeated.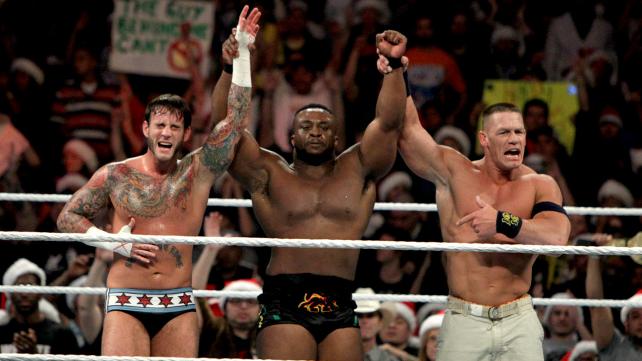 WWE.com
The final image of the episode was Langston, Cena and Punk with their arms raised in victory. How many Superstars were jealous seeing him in that spot?
Loser: Kofi Kingston
Kingston is without direction at the moment. The loss to Ryback doesn't hurt so much by itself, but in combination with his feud with The Miz trailing off without much drama, it's a sign of a declining position.
While Fandango, Ziggler and Sandow have been in contention for the Intercontinental Championship, Kingston hasn't been around the midcard title scene since September.
On Monday, Ryback manhandled Kingston. Kingston had his usual athletic offense, but Ryback was made to look far stronger than him.
That's a recent trend with Kingston, who like Ziggler, is asked to make other guys look good while he goes nowhere himself.