NFL Playoff Picture 2013: Week 17 Standings, Super Bowl Odds and Wild Card Hunt
Use your ← → (arrow) keys to browse more stories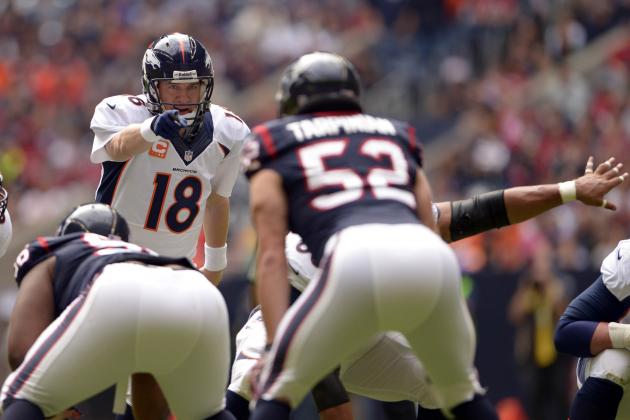 Thomas Campbell-USA TODAY Sports

After coming into Week 16 with only four teams having locked up playoff berths, the postseason structure has finally started to solidify after Sunday's action.
Depending on what happens in Monday night's game between San Francisco and Atlanta, the "locked in" field could double. As it stands now, the magic number sits at seven.
New England, Cincinnati and Carolina have each clinched a playoff berth already in Week 16—all of them doing so in fine fashion. The Patriots would have needed a complete collapse to miss out on the playoffs, but they responded with a 41-7 win over Baltimore en route to clinching the AFC East. Cincinnati was nearly as dominant, pulling off a 41-14 win against the Vikings to wave bye-bye to the rest of the AFC North.
Carolina hasn't quite locked up the division, but its win over New Orleans put it in the catbird seat with only one game to go.
The Panthers' situation is one shared by many playoff contenders. All four of the AFC's divisions are decided, but none of the seeds are locked in. The NFC is both seedless and without a locked-in division, despite having a straightforward picture across the board.
The duality of certainty with complete uncertainty is interesting and should make for a great slate of games as coaches decide how they're going to prepare for the postseason.
With that in mind, here's a look at the complete playoff breakdown heading into Week 17.
AFC Playoff Breakdown
AFC Standings

| | | | |
| --- | --- | --- | --- |
| AFC East | W | L | T |
| New England | 11 | 4 | 0 |
| Miami | 8 | 7 | 0 |
| NY Jets | 7 | 8 | 0 |
| Buffalo | 6 | 9 | 0 |
| | | | |
| AFC North | W | L | T |
| Cincinnati | 10 | 5 | 0 |
| Baltimore | 8 | 7 | 0 |
| Pittsburgh | 7 | 8 | 0 |
| Cleveland | 4 | 11 | 0 |
| | | | |
| AFC South | W | L | T |
| Indianapolis | 10 | 5 | 0 |
| Tennessee | 6 | 9 | 0 |
| Jacksonville | 4 | 11 | 0 |
| Houston | 2 | 13 | 0 |
| | | | |
| AFC West | W | L | T |
| Denver | 12 | 3 | 0 |
| Kansas City | 11 | 4 | 0 |
| San Diego | 8 | 7 | 0 |
| Oakland | 4 | 11 | 0 |
| | | | |
| AFC Wild Card | W | L | T |
| Kansas City | 11 | 4 | 0 |
| Miami | 8 | 7 | 0 |
| Baltimore | 8 | 7 | 0 |
| San Diego | 8 | 7 | 0 |
| Pittsburgh | 7 | 8 | 0 |
NFL.com
Locks: AFC East (New England), AFC North (Cincinnati), AFC South (Indianapolis), AFC West (Denver), AFC First-Round Bye (Denver)
Up in the Air: AFC No. 2, No. 3 and No. 4 Seeds
Wild Card: Kansas City (No. 5 Lock), 4 Teams in Hunt for No. 6 seed
While the race for the AFC's final playoff spot is arguably the most enticing subplot of Week 17, the overall hierarchy of the conference is all but set. And, despite some weird wrangling a week ago, it's mostly what we've been expecting for weeks.
Coming off frustrating losses in Week 15, Denver and New England reestablished themselves as the class of the conference. The Broncos played Houston surprisingly close for the first three-fourths of the contest, but three Peyton Manning touchdown passes in the fourth closed the deal on a 37-13 win. Manning's touchdown strikes allowed him to break the single-season passing record with 51, breaking the mark set by Tom Brady in 2007.
"It's a unique thing and a neat thing to be part of NFL history, even though it may be temporary," Manning said, via Benjamin Hochman of The Denver Post. "I personally think all season records are going down, especially if they go to 18 games. We'll enjoy it as long as it lasts."
Denver got some help in the playoff race, as well—from the Chiefs, whose 23-7 loss to Indianapolis on Sunday gave the Broncos the division. Though the two AFC West sides could finish with the same record, Manning and Co. have locked up the division and first-round bye that comes with it thanks to the head-to-head tiebreaker.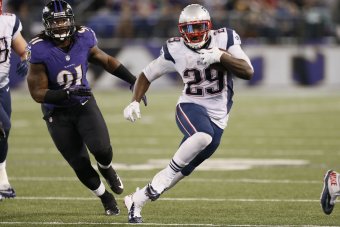 Mitch Stringer-USA TODAY Sports
Unfortunately for Denver, resting starters won't be an option in Week 17. The Patriots, who hold their own tiebreaker against the Broncos, pulled off a dominant 41-7 victory over the Ravens in Week 16 to keep their hopes of the top overall seed alive. Playing without Rob Gronkowski, New England returned to a ground-and-pound style, running the ball 34 times for 142 yards and two touchdowns.
The win locked up the Patriots' 11th division title in the past 13 seasons. Because both Denver and New England have late-afternoon kickoffs in Week 17, it's unlikely that either side will have the opportunity to rest players.
Also up for grabs but infinitely less interesting is the battle for the No. 3 and No. 4 seeds. Perhaps you'd like to see Peyton Manning take on his old team in the playoffs or New England get a chance for redemption over Cincinnati, but the current iterations of the Bengals and Colts look to be a clear step down from the other division winners. Cincy currently holds the advantage for the No. 3 seed thanks to its Week 14 head-to-head win. The Bengals can also grab the No. 2 seed with a win and a New England loss.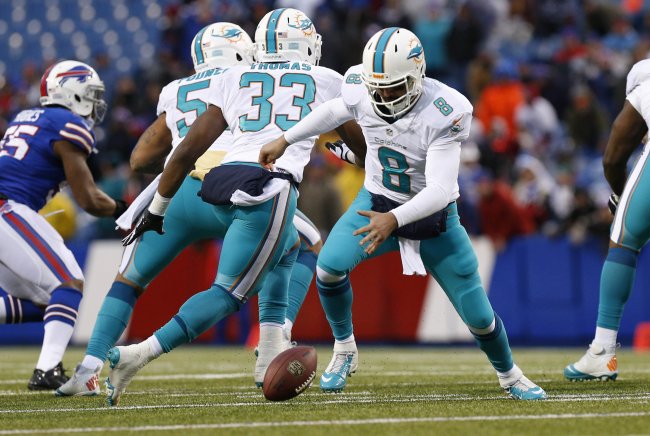 Kevin Hoffman-USA TODAY Sports
With the Chiefs' loss locking them into the No. 5 seed, the truest intrigue comes from the race for the final spot. Baltimore held its fate in its own hands heading into Week 16, but the loss to New England gives the Dolphins the inside track despite their own scuffles.
Miami looked dreadful in its 19-0 loss to Buffalo, but somewhat ironically holds the No. 6 seed thanks to its intraconference record. A win over the Jets next Sunday locks up proceedings for the Dolphins, who have battled back from numerous controversies to sit on the brink of a playoff spot.
Baltimore holds the conference-record advantage over San Diego and will take the final spot with a win over Cincinnati coupled with a Miami loss. The Chargers are in the worst spot among the 8-7 teams, despite having the conference's longest winning streak at three games.
As for the Steelers? They need a win and to hope against hope that all three other contenders lose.
NFC Playoff Breakdown
NFC Standings

| | | | |
| --- | --- | --- | --- |
| NFC East | W | L | T |
| Philadelphia | 9 | 6 | 0 |
| Dallas | 8 | 7 | 0 |
| NY Giants | 6 | 9 | 0 |
| Washington | 3 | 12 | 0 |
| | | | |
| NFC North | W | L | T |
| Chicago | 8 | 7 | 0 |
| Green Bay | 7 | 7 | 1 |
| Detroit | 7 | 8 | 0 |
| Minnesota | 4 | 10 | 1 |
| | | | |
| NFC South | W | L | T |
| Carolina | 11 | 4 | 0 |
| New Orleans | 10 | 5 | 0 |
| Atlanta (MNF Participant) | 4 | 10 | 0 |
| Tampa Bay | 4 | 11 | 0 |
| | | | |
| NFC West | W | L | T |
| Seattle | 12 | 3 | 0 |
| San Francisco (MNF Participant) | 10 | 4 | 0 |
| Arizona | 10 | 5 | 0 |
| St. Louis | 7 | 8 | 0 |
| | | | |
| NFC Wild Card | W | L | T |
| San Francisco (MNF) | 10 | 4 | 0 |
| New Orleans | 10 | 5 | 0 |
| Arizona | 10 | 5 | 0 |
NFL.com
Locks: None
Likely: NFC West (Seattle), NFC South (Carolina)
Up in the Air: NFC North, NFC East
Wild Card: 4 Teams Competing; Carolina and Seattle Have Playoff Spots Clinched
Despite looking like a jumbled mess in which only two teams have clinched playoff berths, the NFC's power structure is pretty much self-explanatory.
The NFC East and NFC North come down to winner-take-all battles between the top two teams in Week 17. The NFC West and NFC South offer win-and-receive-first-round-bye implications for both Seattle and Carolina, though the Seahawks could clinch home-field advantage with a San Francisco loss Monday night.
In fact, San Francisco could provide even more clarity to the picture.
Should the 49ers win, they would be in the playoffs regardless of what happens in Week 17. They hold the division-record tiebreaker over Arizona even if the Cardinals were to defeat them in next Sunday's matchup. That would all but calcify the six teams in the NFC playoffs, as current No. 6 seed New Orleans hosts Tampa Bay next week.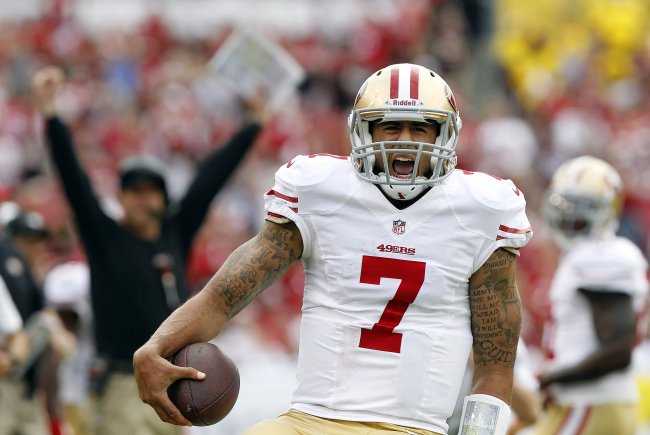 Kim Klement-USA TODAY Sports
Considering the Saints are undefeated this year at home and the Bucs have exactly one road win, one has a difficult time seeing anything changing in that regard. New Orleans holds the head-to-head tiebreaker over Arizona and has a better conference record.
Odds are that the six teams currently in the playoff picture now will be the representatives when the final whistle sounds in Week 17. And with Arizona becoming the first team to defeat Seattle at CenturyLink Field in nearly two calendar years, the Cardinals missing out might be a good thing for the top of the conference.
If playoff football is your thing—and how could it not be?—the intrigue champions of Week 17 are the NFC North and NFC East.
Though both divisions could nicely be described as dumpster fires, matchups between Green Bay and Chicago and Dallas and Philadelphia will determine both titles. Nothing more, nothing less. These games are the only ones that matter, and it's fair to say the two matchups have their own unique source of curiosity.
The Packers and Bears have to head into Week 17 shocked to even be here. Both squads did everything they could short of fielding nine-man units to hand Detroit the division crown, only for the Lions to lose five out of their last six games and likely seal the fate of Jim Schwartz. Now, two of the most storied franchises in the game will battle to host a playoff spot.
Only one question looms over the proceedings: Will Aaron Rodgers play?
The 2011 NFL MVP missed his seventh consecutive game on Sunday, as the Packers' 38-31 loss to Pittsburgh dropped their record to 2-4-1 without him. Matt Flynn has been serviceable but unspectacular under center, and it's clear that Green Bay will have an infinitely better shot at winning if Rodgers is in the lineup.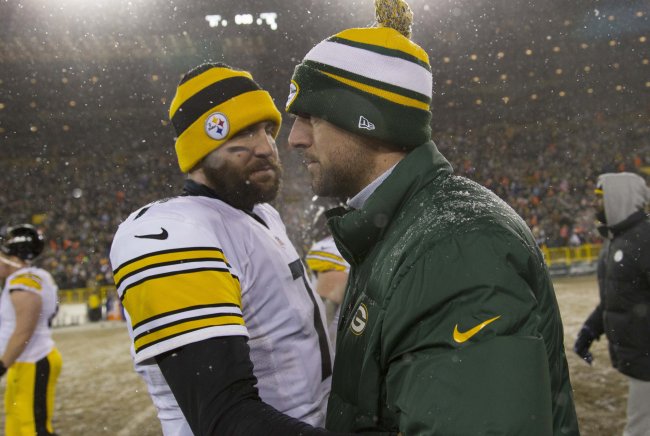 Jeff Hanisch-USA TODAY Sports
Unfortunately, Rodgers doesn't seem all that close to playing. Although he took reps in practice each of the past two weeks, sources close to the situation told ESPN's Chris Mortensen and Rob Demovsky that his broken collarbone still showed "extraordinary risk" if he played. Not a great sign.
In the NFC East, meanwhile, it feels like we're here every year. Mostly because we are. This is the third straight season the division will be decided by a Week 17 game. And, for the third straight campaign, that game prominently features the Dallas Cowboys.
Tony Romo and Co. will certainly hope that the third time's the charm. In 2011, Jerry's Boys were pummeled by the Giants as they marched toward a Super Bowl title. Last season, Week 17 proved a supposed coronation of Robert Griffin III.
If recent trends hold up, then Chip Kelly's narrative may be written on Sunday. The sometimes-beloved, sometimes-mocked head coach brought his Eagles to 9-6 with a 54-11 embarrassment of the Bears in Week 16. With the winner-take-all matchup already cemented before their nightcap, it seemed Kelly might decide to rest his starters.
Whoops. Instead, he sent a message to Chicago and the rest of the NFL. Now only one thing stands between Kelly and his first NFL division title.
Super Bowl Odds Breakdown
2014 Super Bowl Odds

| | |
| --- | --- |
| Team | Odds |
| Seattle Seahawks | 11/4 |
| Denver Broncos | 3/1 |
| San Francisco 49ers | 7/1 |
| Carolina Panthers | 10/1 |
| New England Patriots | 10/1 |
| Cincinnati Bengals | 14/1 |
| New Orleans Saints | 20/1 |
| Philadelphia Eagles | 20/1 |
| Green Bay Packers | 25/1 |
| Indianapolis Colts | 25/1 |
| Kansas City Chiefs | 25/1 |
| Chicago Bears | 40/1 |
| Arizona Cardinals | 66/1 |
| Baltimore Ravens | 66/1 |
| Dallas Cowboys | 66/1 |
| Miami Dolphins | 66/1 |
| San Diego Chargers | 75/1 |
| Pittsburgh Steelers | 150/1 |
Bovada.lv
Favorites: Seattle (11-4), Denver (3-1)
The king(s) stay the king(s). Seattle and Denver have been the Super Bowl favorites in some order for much of the season, and there has been no logical reason for any of that to change. San Francisco will probably close in a bit with a win over Atlanta after Monday Night Football, but the favorites are the favorites for very good reason.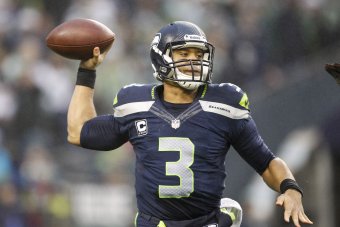 Joe Nicholson-USA TODAY Sports
Despite the shocking loss to the Cardinals, Seattle is probably the best home team in football.
A recent study published by Grantland's Bill Barnwell gave some credence to that assumption, though it's not a massive chasm the way one would expect. Heading into Week 16, the Seahawks had a home-field advantage differential of 5.2 points, with Baltimore coming in second at 5.1.
While both of those teams lost in Week 16, it's safe to say no team wants to visit CenturyLink Field in January. With the Seahawks all but certain to have home-field advantage throughout the NFC playoffs, there is no team in football with a more complete resume.
The Broncos are the class of a very flawed AFC.
New England and Indianapolis both beat Denver during the regular season, but those losses came on the road and against different versions of the Pats and Colts. Gronkowski's absence irrevocably changes what New England does on offense, as does Reggie Wayne's season-ending injury for Andrew Luck and Co.
Neither Denver nor Seattle is impenetrable. They're just better on paper than everyone else.
Coming on Strong: San Francisco (7-1), New England (10-1)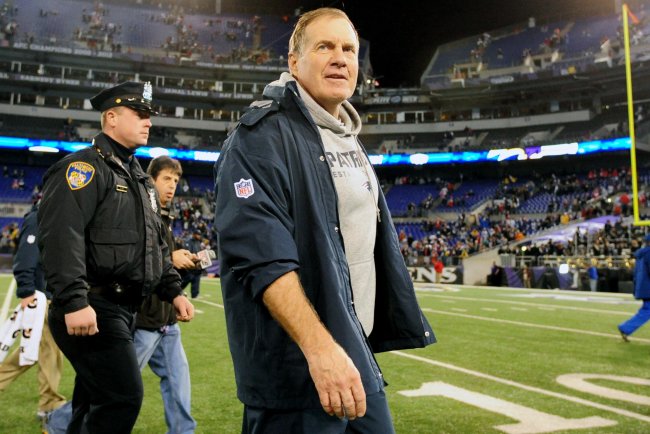 Evan Habeeb-USA TODAY Sports
Fun fact: Colin Kaepernick has fewer turnovers than Alex Smith this season. And by fun, of course, I mean against every narrative-driven article questioning the 49ers' decision to choose Kaepernick over Smith. Both are pretty not-horrible quarterbacks and have pretty similar passing statistics overall.
What's interesting about San Francisco is how quietly it has a 10-4 record. The 49ers were seemingly pummeled into semi-obscurity with their admittedly questionable losses to Seattle, Indianapolis, New Orleans and Carolina earlier this season. Are the 49ers just a good team that only beats up on the dregs of the NFL? Or was their 19-17 win over Seattle in Week 14 a sign that this team is starting to peak at the right time?
It's unclear. But of the two likely No. 5 seeds in both conferences, let's just say the Seahawks will probably have a more difficult time against their divisional foes than the Broncos.
The Patriots, umm, I just don't have an answer. They're a zombie team or something. Somehow they've managed to keep themselves in contention for home-field advantage while dealing with the losses of a bevy of top players. Gronkowski, Vince Wilfork, Jerod Mayo and Aaron Hernandez are four core players missing from the team New England expected to have when constructing its roster last offseason.
But, alas, Bill Belichick is better than all of us.
Sleepers: Carolina (10-1), Indianapolis (25-1)
Do the Panthers even count as a sleeper anymore? After surviving a monsoon en route to pulling off a key win over New Orleans on Sunday, Riverboat Ron and his crew can clinch a NFC South championship in Week 17. They've won 10 of their last 11 games, including triumphs over a semi-healthy New England, San Francisco and the aforementioned Saints.
Cam Newton also continues to prove some of his most famous detractors wrong.
The AFC has no obvious sleeper team. Denver is pretty good, New England is kinda good, and I have zero faith in any of the four other teams—regardless of who ends up with the No. 6 seed. They're all deeply, deeply flawed teams. Which, of course, you could have said about last year's Ravens.
Which is why none of this speculation ever makes any sense. But if we're shooting in the dark and selecting an AFC sleeper, why not start with the team that has defeated Denver, Seattle, San Francisco and Kansas City?
Say what you will about the Colts' roster construction, but Andrew Luck has had a habit of coming through against elite competition this season.
Maybe it happens again, maybe it doesn't. The only thing that's clear about the NFL playoffs is that nothing is ever clear until the clocks strike zero.
Follow Tyler Conway on Twitter: