The 2013-14 Barclays Premier League schedule is now squarely in the busiest time of the year, which means we're likely to see an increase in movement, especially near the top of the table.
Entering Monday's all-important clash between heavyweights Arsenal and Chelsea, the top seven clubs in the league are all within six points of one another, and that doesn't even include the defending champions from Old Trafford.
It's been a very unpredictable season, with a handful of managers already sacked, as well as surprisingly hot starts from Arsenal, Southampton and Liverpool, but there's still much to be decided for all 20 clubs.
After a very entertaining Matchday 17, here's an updated look at where each team sits in the Preimer League power rankings.
1. Liverpool
Points: 36
Position: 1st
Stock: Up
It has been a dream season for the Reds thus far, as Brendan Rodgers' club has remained close to the top of the table from the outset, and at least until we see the result of Arsenal vs. Chelsea, Liverpool will be the class of the league.
Behind Luis Suarez and his 19 league goals, Liverpool seems primed to stay in contention for the EPL title until he or Daniel Sturridge can be stopped on a consistent basis.
Consider this: Suarez's current tally of 19 would have been enough to win the Golden Boot in 7 of last 20 seasons http://t.co/oJQrCDHvhB

— Dominic King (@DominicKing_DM) December 23, 2013
In Liverpool's last three victories, they've won by a decisive 12-2 margin, which is indicative of how strong this club is when the offense is rolling.
2. Manchester City
Points: 36
Position: 2nd
Stock: Holding
Following last week's impressive thrashing of then-first place Arsenal, Manuel Pellegrini had a decidedly easier match this week at Craven Cottage.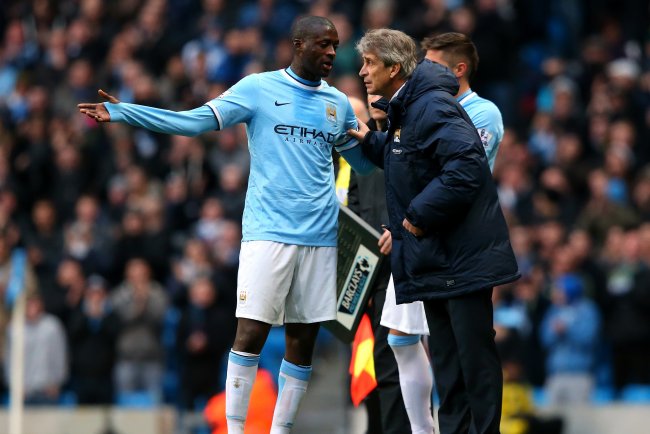 Alex Livesey/Getty Images
But even against a very average opponent in Fulham, the match wasn't without its nervous moments, as the visitors relinquished a two-goal lead in the 69th minute on an own goal from captain Vincent Kompany.
In the end, James Milner and Jesus Navas both scored to secure the victory, which demonstrated once again how special this line-up is offensively.
3. Arsenal
Points: 35
Position: 3rd
Stock: Down
The Gunners have a dreadfully difficult schedule during the holiday season, and after a heartbreaking 6-3 defeat to Manchester City at Etihad Stadium, Arsene Wenger's club have a date with Chelsea.
In what may be among Arsenal's most critical matches of the season, Mesut Ozil and company need a victory badly, because otherwise this club's amazingly dominant start will be forgotten quickly.
Jose Mourinho believes it will be "impossible" for Chelsea to keep Arsenal's Mesut Ozil quiet on Monday night. http://t.co/ztoHVQAg9X

— Sky Sports Football (@SkyFootball) December 22, 2013
4. Chelsea
Points: 33
Position: 5th
Stock: Holding
This could change once we see the result of Monday's tilt, but as of now, Jose Mourinho's squad sit just out the Champions League berths in fifth.
With the amount of talent on the roster, the Blues should never have lost to West Brom or Newcastle, but they'll have a chance to atone for it this evening against the Gunners.
5. Everton
Points: 34
Position: 4th
Stock: Holding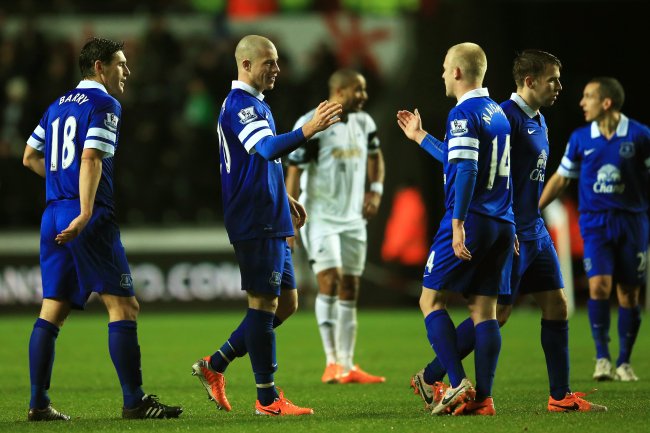 Richard Heathcote/Getty Images
Everton have earned their top-four standing with a string of impressive showings, which now includes a stunning victory over Swans at Liberty Stadium on a late strike from Ross Barkley.
Prior to that, the Toffees have picked up a very respectable draw against Arsenal, as well as a decisive 4-1 triumph over Fulham at home, so even if this club find themselves back in fifth following Monday, keep an eye on Everton going forward.
6. Tottenham Hotspur
Points: 30
Position: 7th
Stock: Up
It didn't take long for a new voice on the sidelines to make his mark on Tottenham, as Tim Sherwood got a much-needed victory on a pair of goals by Emmanuel Adebayor to begin his Premier League managerial stint with Spurs.
Following Andre Villas-Boas's sacking earlier in the week, this was a critical match against Southampton, who have been among the league's best defensively, and Tottenham's offense showed up to play.
7. Manchester United
Points: 28
Position: 8th
Stock: Up
David Moyes' first few months at the helm of Manchester United haven't gone according to plan, as the Red Devils have looked more like also-rans than a legitimate contender for the Premier League crown.
That being said, Man U have more than enough talent to mount a comeback during this critical stretch of the season, and if the club's recent results are any indication of what's to come, we may see Moyes' group move up.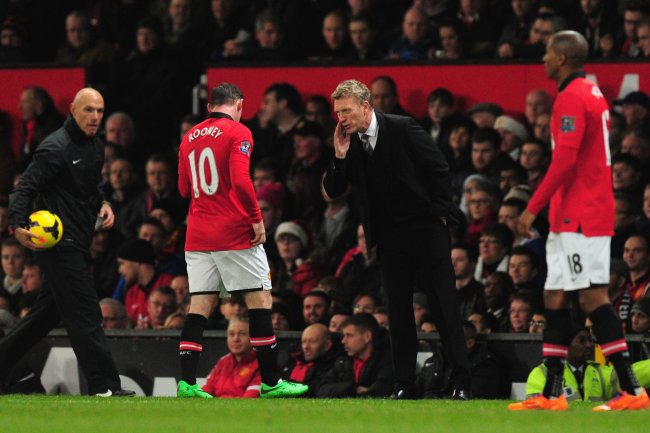 Stu Forster/Getty Images
Following a disappointing loss to Newcastle earlier this month, United have won two straight by a combined 6-1 margin, so maybe Wayne Rooney and his mates are finally starting to hear Moyes.
8. Newcastle
Points: 30
Position: 6th
Stock: Holding
December has been an inconsistent month for the Magpies, as Newcastle have won twice, lost and drawn during the club's four matches thus far.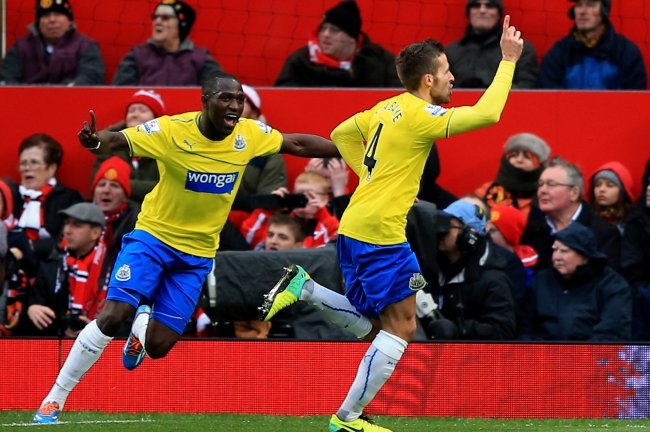 Richard Heathcote/Getty Images
There's been the stunning upset of United, a draw against Southampton, as well as a demoralizing 3-0 defeat to Swans.

This week saw Yohan Cabaye lead the Magpies to a victory at Crystal Palace, so for now, this team still sit among the league's elite, but stay tuned.
9. Southampton
Points: 24
Position: 9th
Stock: Down
After a fantastic start to the season, Southampton have tumbled down the league table, thanks to a stretch of the schedule that has seen Mauricio Pochettino's club go six straight matches without a victory.
At home against a reeling Spurs club, Southampton failed once again to keep pace offensively, and as a result, the team's early success seems like ancient history.
10. Stoke City
Points: 21
Position: 10th
Stock: Up
Since falling to Everton by means of a 4-0 whitewashing at the end of November, Stoke City have rebounded to go unbeaten in four league matches in December, including a feel-good triumph over Aston Villa this week.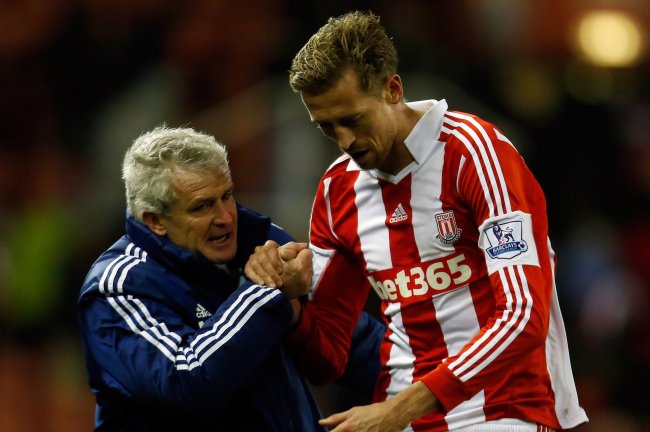 Paul Thomas/Getty Images
A late goal by Peter Crouch kept Stoke City in the mix among the league's top half, and the win over Chelsea earlier this month demonstrates that this is a club capable of defeating anyone.
11. Swansea City
Points: 21
Position: 11th
Stock: Down
Thus far, Swans have won just one of five league matches in December, and though that was a nice 3-0 victory over Newcastle, the club's other recent results are less convincing.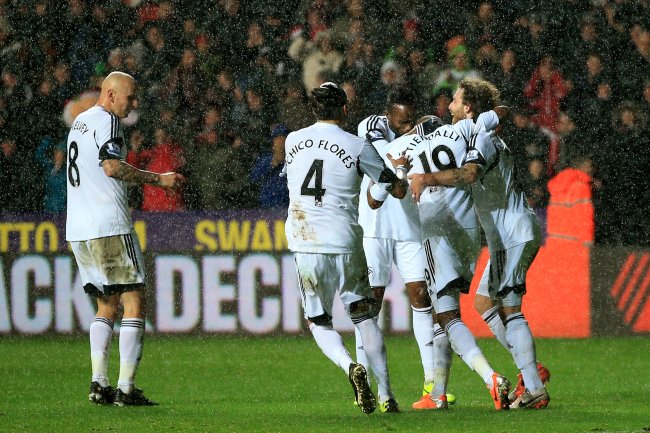 Richard Heathcote/Getty Images
In the club's last two outings, a tie against lowly Norwich and heartbreaking loss to Everton haven't been encouraging, but this remains a club that look to be somewhere around the middle of the table.
12. Hull City
Points: 20
Position: 12th
Stock: Holding
Hull City have been nothing if not consistent during December, though the club's continued lack of offensive firepower remains a concern for Steve Bruce's squad.
This week, Hull City appeared to have an important win locked up but a late goal from Matej Vydra brought West Brom level, effectively stealing two points from the visitors.
13. Aston Villa
Points: 19
Position 13th
Stock: Holding
Villa have been fortunate to secure draws in a couple of the club's last few matches, including this week against Hull City, but one has to think about how much better this team would be if top scorer Christian Benteke would find the back of the net more often.
Christian Benteke isn't in the squad for Aston Villa today, this is probably why: http://t.co/SojWpHBROf via @OptaJoe

— ITV Football (@itvfootball) December 21, 2013
Dropped from the starting XI, Benteke has failed to build on his team-leading four goals in the last 10 matches, which is a troubling stat for Villa supporters.
14. Norwich City
Points: 19
Position: 14th
Stock: Down
Against arguably the league's worst team, Norwich should have emerged with a victory at the Stadium of Light, but were forced to settle for a scoreless draw.
As of now, Norwich has the league's worst goal differential outside of the relegation zone at a whopping minus-16, and that will have to change in order for this club to move up the table.
15. Cardiff City
Points: 17
Position: 15th
Stock: Down
With two defeats in Cardiff's last three league outings, the future of manager Malky Mackay has been in doubt for weeks.
However, despite the 3-1 loss to Liverpool this week, it seems that Mackay's job will be safe, at least for the time being.
#Cardiff owner Vincent Tan has lifted his threat to sack manager Malky Mackay. http://t.co/Jp9OWbwK6R

— Sky Sports Football (@SkyFootball) December 22, 2013
16. West Bromwich Albion
Points: 16
Position: 16th
Stock: Holding
Even without a manager, West Brom were able to end their losing streak this week against Hull City, grabbing a much-needed 1-1 draw at The Hawthorns.
With another loss hanging in the balance, Vydra's goal stopped the bleeding momentarily for West Brom, but whether this club can turn things around long enough to stay above the relegation zone remains to be seen.
17. West Ham United
Points: 14
Position: 17th
Stock: Down
The Hammers have lost three of their last four, including a 1-0 decision to Crystal Palace, and followed that up with demoralizing defeats to Man United and Liverpool, along with a draw versus lowly Sunderland.
As of now, with Fulham looking to be improving, one has to think that West Ham is in danger of falling victim to relegation at season's end.
18. Fulham
Points: 13
Position: 19th
Stock: Holding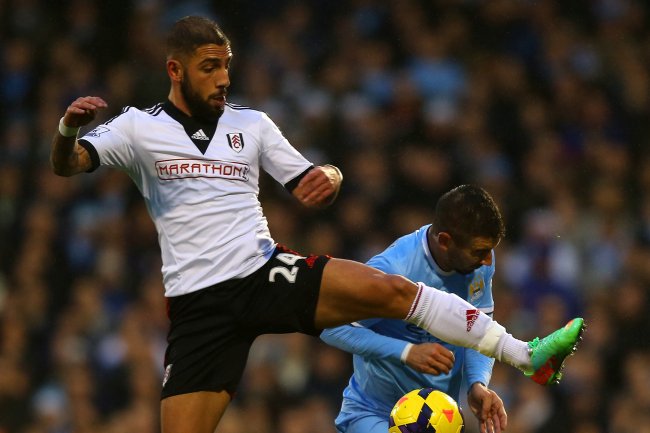 Clive Rose/Getty Images
The Cottagers appeared to be on the verge of turning things around after defeating Villa at home two weeks ago, only to follow that triumph up with a pair of multi-goal losses to Man City and Everton.
But both of those clubs should defeat Fulham every time they play, so these next three matches against Norwich, Hull City and West Ham could determine whether the Cottagers enter the new year above 18th.
19. Crystal Palace
Points: 13
Position: 18th
Stock: Down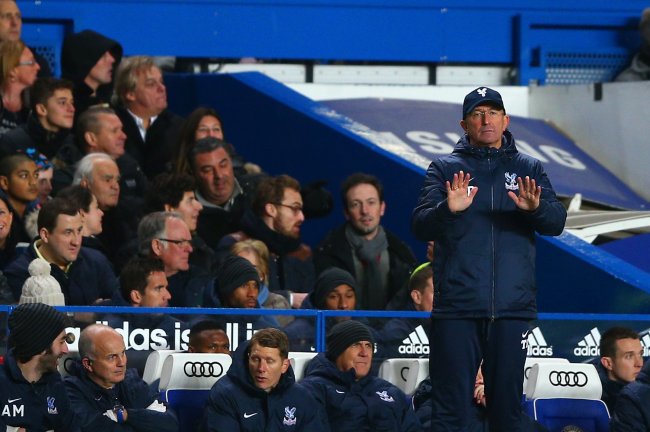 Paul Gilham/Getty Images
Yes, both Fulham and Crystal Palace have dropped their last two, so why should the Cottagers be just above Crystal Palace?
Simply put, Palace looked dreadful against Newcastle this week, as the match was basically over at the half, giving Tony Pulis his first home loss as manager.
20. Sunderland
Points: 10
Position: 20th
Stock: Holding
Despite remaining alone at the bottom of the table, Sunderland have looked better in recent weeks, managing draws against both West Ham and Norwich City.
However, given the magnitude of this team's struggles, including just one victory since the beginning of November, suggests that this club are the safest bet to be departing the EPL following the end of the 2013-14 campaign.