Picks, Predictions and Prognosis for Every SEC Bowl Game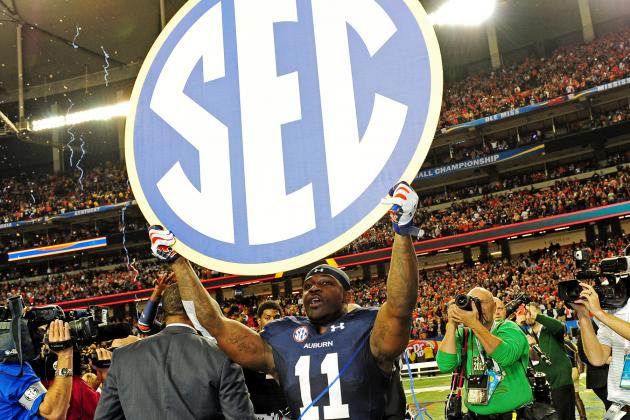 Kevin Liles-USA TODAY Sports

Bowl season is upon us, and 10 SEC schools will participate in postseason games, starting with Ole Miss' showdown with Georgia Tech in the Music City Bowl on Dec. 30.
The BCS will come to a close with familiar faces in two of its biggest games. Alabama will take on Oklahoma in the Sugar Bowl on Jan. 2, and Auburn will look to extend the SEC's streak of consecutive BCS National Championships to eight when it plays No. 1 Florida State in the VIZIO BCS National Championship Game on Jan. 6.
How will the conference fare this bowl season? Our picks are in this slideshow.
2013 record: 95-17, 64-44-2 ATS
All lines courtesy: VegasInsider.com
Begin Slideshow

»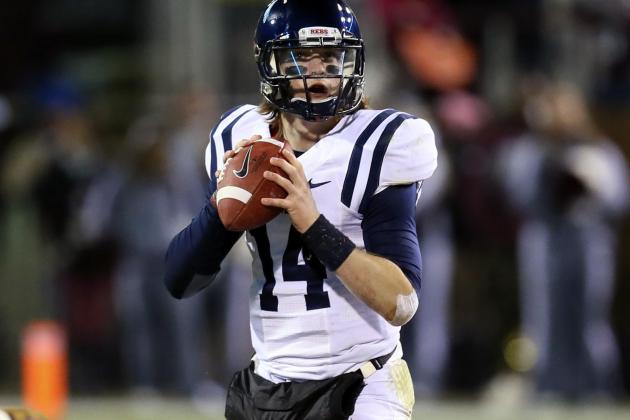 Spruce Derden-USA TODAY Sports
Ole Miss QB Bo Wallace
Monday, Dec. 30 at 3 p.m. ET in Nashville, Tenn.
Just one month ago, Ole Miss was sitting pretty in the SEC's bowl pecking order and was on the verge of taking a major step forward as a program.
Then losses to Missouri and Mississippi State happened to close out the season, and that momentum screeched to a halt.
The Rebels will travel to Music City USA to take on Georgia Tech on Monday afternoon to close out the season. Sure, a win would push them to 8-5, which would still be progress. But not nearly what it could have been.
With a month to prepare for Tech's triple-option offense, Ole Miss' defense should be able to limit what the Yellow Jackets can do on the ground to an extent.
Mounting enough of a challenge offensively, however, is a different story.
Georgia Tech enters the game with the ACC's fourth-best defense (350.5 YPG) but second-worst pass defense (243.5 YPG). The game should be in the hands of Ole Miss quarterback Bo Wallace, but in the final two games of the season, Wallace struggled. He only threw for 182 yards in the loss to Mississippi State, and he threw zero touchdowns and four interceptions in back-to-back losses to the Bulldogs and Missouri.
Wallace will keep Ole Miss in the ballgame but make a costly mistake down the stretch that turns the tables in favor of Georgia Tech.
Prediction: Georgia Tech 27 - Ole Miss 24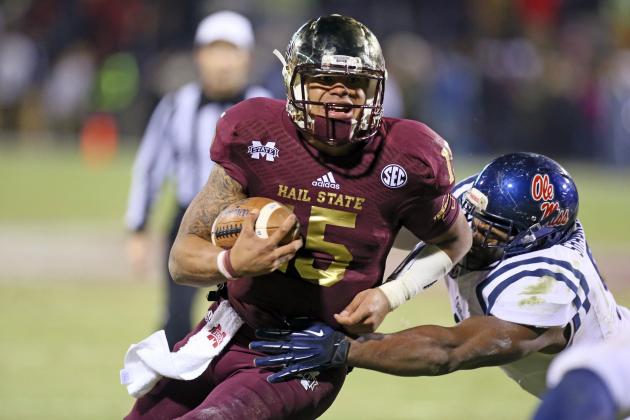 Spruce Derden-USA TODAY Sports
Mississippi State QB Dak Prescott
Tuesday, Dec. 31 at 4 p.m. ET in Memphis, Tenn.
Mississippi State will enter its bowl game riding a two-game winning streak, both of which were overtime victories over conference foes that it had to have to become bowl eligible. Its reward is a trip to Memphis—a major recruiting territory for the program—to take on Rice.
Quarterback Dak Prescott was the hero against the Rebels in the season finale, coming off the bench with a stinger and scoring the game-winning touchdown in overtime. Now that he's healed, Prescott is ready to set the tone for 2014 with a solid performance in the bowl.
"We know how good we can be and we're not going to take anything for granted," Prescott said according to The Associated Press. "We're just going to go out there, make each other better and push each other."
Prescott emerged as the Bulldogs' starter during the season, and now that he got in a camp-like setting during bowl practices, expect head coach Dan Mullen to tweak the offense a little bit since the focus hasn't been primarily on game-planning.
That means a more dynamic offense that spreads touches out among Prescott, running backs LaDarius Perkins and Josh Robinson and the Bulldogs' receiving threats. Rice's defense—which wasn't bad by Conference USA standards (351.1 YPG)—won't be able to hang.
Prediction: Mississippi State 31 - Rice 21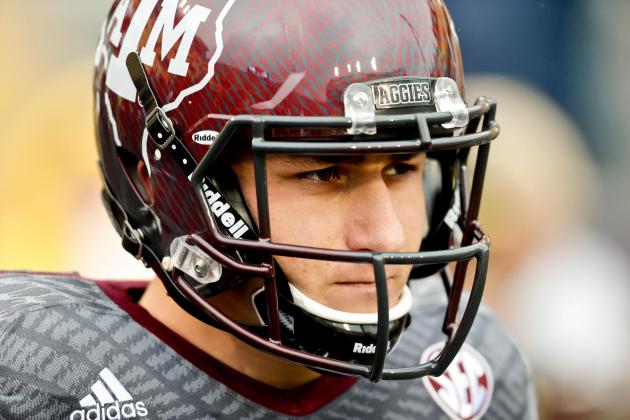 Derick E. Hingle-USA TODAY Sport
Texas A&M QB Johnny Manziel
Tuesday, Dec. 31 at 8 p.m. ET in Atlanta, Ga.
Will this be the final chapter of the Johnny Manziel book at Texas A&M? All signs point to "yes," and what better way to close out a career than with a New Year's Eve party in Atlanta?
Duke's 10-win season has been nothing short of magical, but the shine came off the Blue Devils after a 45-7 ACC Championship Game loss to Florida State on Dec. 7. Can they muster a challenge to Johnny Football and the Aggies?
Absolutely.
Texas A&M's defense isn't scaring anybody and just lost its leading tackler when Darian Claiborne was suspended following an arrest, according to Brent Zwerneman of the Houston Chronicle.
The Aggies have to win shootouts under normal circumstances, so expect some fireworks under the big top at the Georgia Dome. Manziel will want to put on a performance against a Duke defense that's giving up 408.5 yards per game, and he's going to do it.
Remember the last college game played at the Dome? When Missouri and Auburn went up and down the field in the SEC Championship Game? The sequel will take place on New Year's Eve, with Manziel and the Aggies pulling away in the fourth quarter.
Prediction: Texas A&M 42 - Duke 31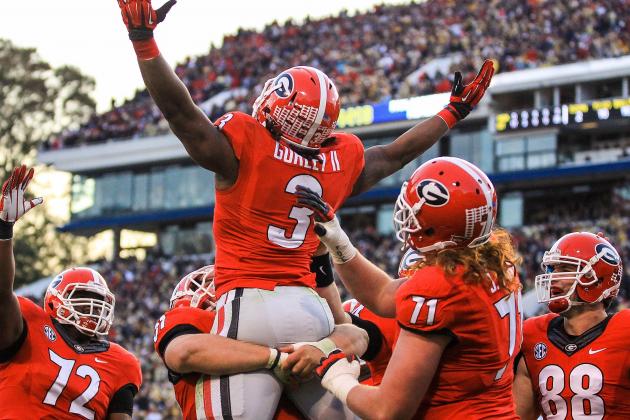 Daniel Shirey-USA TODAY Sports
Georgia RB Todd Gurley
Wednesday, Jan. 1 at noon ET in Jacksonville, Fla.
Game 2 of the Hutson Mason era will take place in a familiar place for the Georgia Bulldogs—Jacksonville, Fla., site of the World's Largest Outdoor Cocktail Party against Florida.
Mason will get his second career start after leading the Bulldogs to a 41-34 double overtime victory over Georgia Tech to close out the regular season. The good news for Mason is that running back Todd Gurley is back and 100 percent behind him, which will be a nice safety net against a Cornhuskers team that has allowed 161.08 yards per game on the ground this season.
This game will set the tone for Georgia's 2014 season. Gurley will be a legitimate Heisman Trophy candidate next season, and as long Mason can make smart decisions and the young Bulldog defense can come together, they should be in the mix for the SEC East.
All of those things will happen against the Cornhuskers, Gurley will go north of 175 yards, and head coach Mark Richt will carry some much-needed momentum into the offseason.
Prediction: Georgia 42 - Nebraska 21
Wednesday, Jan. 1 at 1 p.m. ET in Orlando, Fla.
South Carolina will look to secure its third straight 11-win season in the Capital One Bowl on New Year's Day against Wisconsin, which would be the first time in program history the program reached 11 wins in three straight seasons.
It won't be easy, though.
Wisconsin features a punishing running game behind Melvin Gordon and James White and is efficient in the passing game with quarterback Joel Stave. This will likely be the final game for Gamecock defensive end Jadeveon Clowney. If he can contribute to stopping the run, that will allow him to pin his ears back late in the game and get after the quarterback.
"They can run the ball pretty well," said Clowney in quotes released by South Carolina. "They'll try to pound it at us. We've got to be ready to stop the run. I think they pass the ball a lot more than you expect. They do a lot of play-action pass."
Clowney will have an impact, but it will be Gamecock quarterback Connor Shaw who steals the show. The senior quarterback should go down as one of the top quarterbacks in SEC history, and he will have a big day in his final act as the quarterback in Columbia. He'll hook up with wide receiver Shaq Roland, who's been hot down the stretch, early and often to tie a bow on his career with another mark in the win column.
Prediction: South Carolina 31 - Wisconsin 21
Wednesday, Jan. 1 at 1 p.m. ET in Tampa, Fla.
The new era of LSU football will begin in Tampa, as true freshman Anthony Jennings will get his first start at quarterback against the Iowa Hawkeyes. Jennings came off the bench late against Arkansas and led the Tigers on a 99-yard touchdown drive that culminated with a 49-yard touchdown pass to Travin Dural with 1:15 to play to secure a 31-27 win.
Now, with a month of preparation as the starter, he has the chance to set the tone for the 2014 season. More importantly, offensive coordinator Cam Cameron has the chance to prepare the offense for Jennings' dual-threat capabilities.
Uh oh.
We've already seen his big arm and know about LSU's ability to pound the rock with running backs Jeremy Hill and Terrence Magee, and now the element of Jennings' legs will be added to the equation.
Iowa's defenses is pretty salty—third-best in the Big Ten (303.2 YPG)—but LSU's offense will look much different on New Year's Day, which makes it impossible for the Hawkeyes to prepare. LSU will roll.
Prediction: LSU 30 - Iowa 14
Thursday, Jan. 2 at 8:30 p.m. ET in New Orleans, La.
Letdown?
There won't be a letdown in the Sugar Bowl when Alabama plays Oklahoma.
Sure, the Crimson Tide would rather be playing a few thousand miles west in Pasadena, Calif. the following week for the BCS National Championship and are returning to the scene of a 31-17 loss to Utah in the 2009 Sugar Bowl following the 2008 season.
But location is the only similarity between the 2009 Sugar Bowl and the one vs. the Sooners.
That was head coach Nick Saban's second team in Tuscaloosa, and it hadn't been properly "Sabanized." Quarterback AJ McCarron and the current crop of Alabama players have, which means they'll continue their battle against perfection in the Superdome.
McCarron isn't going to let his team down in the final chapter of his storied career. Oklahoma has questions at the quarterback spot and Saban is 19-5 at Alabama with more than a week to prepare for an opponent.
Expect McCarron to go north of 250 passing yards against the Big 12's best defense, running back T.J. Yeldon to break a couple of big runs and the Crimson Tide to cruise.
Prediction: Alabama 31 - Oklahoma 14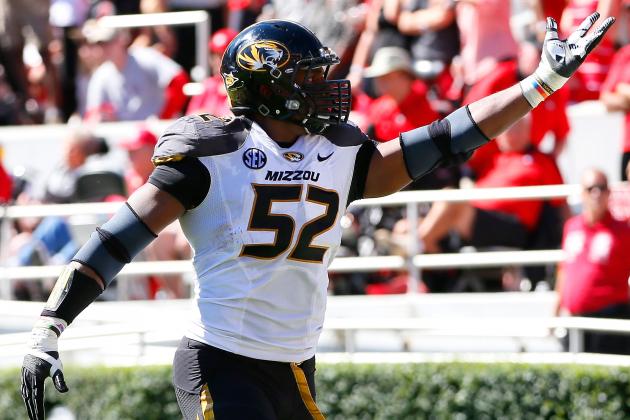 Kevin C. Cox/Getty Images
Missouri DE Michael Sam
Friday, Jan. 3 at 8 p.m. ET in Arlington, Texas
Missouri was one game away from playing for the BCS National Championship but couldn't finish the drill in the SEC Championship Game. As a consolation, it gets to square off with Oklahoma State in the Cotton Bowl in suburban Dallas in what will be a huge game for both programs in terms of offseason momentum and exposure in talent-rich Texas.
Expect both programs to put on an offensive show in Jerry World.
Oklahoma State boasts the Big 12's third-best offense (440.5 YPG), while Missouri finished with the third-best offense in the SEC (492.9 YPG).
What will determine the outcome in this one? Missouri's defensive line has been great, but Oklahoma State has only given up 11 sacks on the season. The Pokes will protect quarterback Clint Chelf, who will rebound from a rather pedestrian performance in Bedlam for a big day against the Tigers.
Missouri will stand toe-to-toe and have the ball late with a chance to win but won't be able to close the door for the second straight game.
Prediction: Oklahoma State 38 - Missouri 35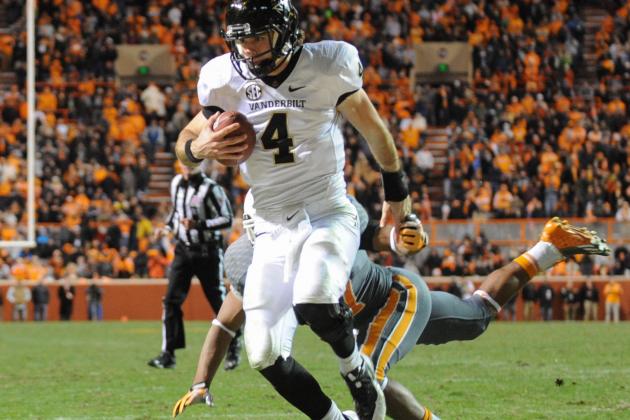 Randy Sartin-USA TODAY Sports
Vanderbilt QB Patton Robinette
Saturday, Jan. 4 at 1 p.m. ET in Birmingham, Ala.
Vanderbilt has made it to the three straight bowl games for the first time in program history and has won eight regular-season games in back-to-back seasons.
As a reward, it gets to travel south across the border and take on Houston in the BBVA Compass Bowl in Birmingham, Ala.—an area that is important to the Commodores' recruiting efforts.
Patton Robinette will get the start at quarterback for head coach James Franklin's crew after it was revealed that starter Austyn Carta-Samuels tore his ACL earlier in the season. Robinette was the hero versus Tennessee, scoring the game-winning touchdown on a five-yard run with 16 seconds left to topple the Vols 14-10.
Now he gets to set the tone for next season against a Houston pass defense that's giving up 276.2 yards per game through the air.
Hello, Jordan Matthews.
Expect Robinette to hook up with his senior wide receiver early and often, and Vanderbilt to keep momentum going in the right direction.
Prediction: Vanderbilt 28 - Houston 24
Monday, Jan. 6 at 8:30 p.m. ET in Pasadena, Calif.
The BCS National Championship Game will feature the best team in the nation vs. the hottest team in the nation when the No. 1 Florida State Seminoles take on the No. 2 Auburn Tigers for the crystal football.
Auburn's offense was a machine on the ground down the stretch, which culminated in a sizzling performance in the SEC Championship Game against Missouri in which they rushed for 545 yards against what was, at the time, the second-best rush defense in the SEC.
With time to prepare, can Seminole defensive coordinator Jeremy Pruitt shut the Tigers down?
Nope.
Auburn's offense is so multi-dimensional within the running game and quarterback Nick Marshall has been making such good decisions that it won't be shut down.
The thing is, though, it won't matter.
This game will be won or lost when Florida State has the ball, and Auburn's defense will have its hands full with quarterback Jameis Winston and the Seminoles. The Tigers' strength on defense is a defensive line that rotates nine or 10 guys throughout the game in order to get pressure with four, but Winston is at his best when he's got pressure in his face and has to make quick decisions.
He'll make the right ones more times than not, find receivers Kelvin Benjamin, Rashad Greene and Kenny Shaw often and win a shootout in the final game of the BCS era.
Prediction: Florida State 38 - Auburn 35.