LeBron James has won four of the past five NBA MVP Awards, and each year, several candidates challenge him for the award.
But each year, ultimately, the field falls short and James comes out on top. Will this year be any different? With over half of the NBA season left to play, the future is unclear, but there are a couple of candidates who could finally end James' reign as the NBA MVP.
The tell-all statistic that people seem to enjoy using to measure an NBA player's value is PER, or Player Efficiency Rating, which is the "overall rating of a player's per-minute statistical production," according to ESPN. In that sense, James holds a slight advantage over Durant (29.72 to 28.71).
But let's look at the statistic that actually measures player value, the true indication of who is the most valuable player. Value Added, which is "the estimated number of points a player adds to a team's season total above what a 'replacement player' would produce," per ESPN, gives Durant the edge over James. However, the advantage (318.8 to 310.7) is also too slight to matter much.
But what you can take away from these complicated statistics it that there isn't really a great disparity between James' and Durant's levels of play this year. In fact, you could make the argument that Durant has been better.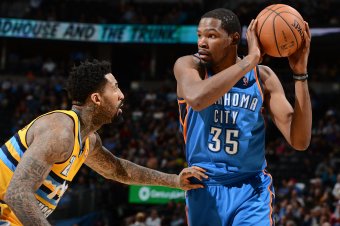 Garrett Ellwood/Getty Images
So, while there are still around 50 games left to play in the marathon that is the NBA season, Durant is certainly matching James on the statistical front. Where Durant can put some distance between himself and James, however, is with his team's performance.
It's worth noting that grabbing the top seed in the Western Conference is a significantly harder accomplishment than doing so in the Eastern Conference. It's common knowledge by now that the West features the majority of the top teams in the NBA. On the other hand, the Miami Heat and Indiana Pacers form the upper echelon of teams in the East, and that's about it.
So now that we've cleared up the obvious, let's discuss the implications. A smart voter will recognize that the Thunder's 25-6 record is considerably more impressive and meaningful than the Heat's 24-7 record. According to ESPN's Strength of Schedule rankings, the Thunder have the third-toughest strength of schedule in the NBA, while the Heat come in at 24th.
Leading one's team to victory over tough competition, as Durant has done, is a perfect example of MVP-caliber play.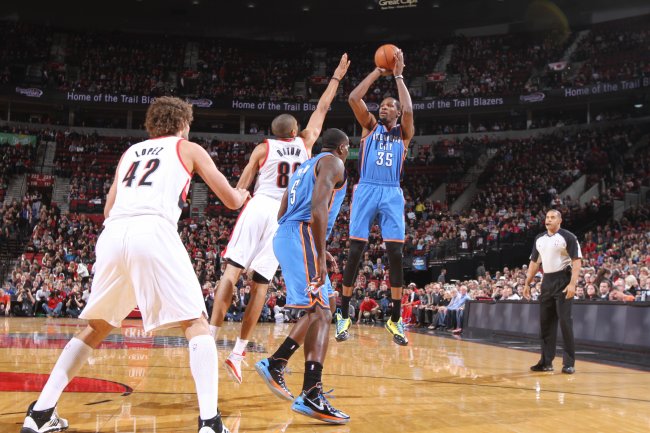 Sam Forencich/Getty Images
But here's the real reason Durant has a shot at the MVP Award this year: With Russell Westbrook sidelined until after the All-Star break, Durant has the perfect opportunity to prove his true value. The biggest argument that could go against Durant's MVP worthiness is that he relies on Westbrook to win, so proving he can do so without his point guard would speak volumes for his MVP candidacy.
If Durant can lead the Thunder to the West's top seed while dealing with Westbrook's extended absence, that just might be enough to sway the vote in his favor.
Kevin Love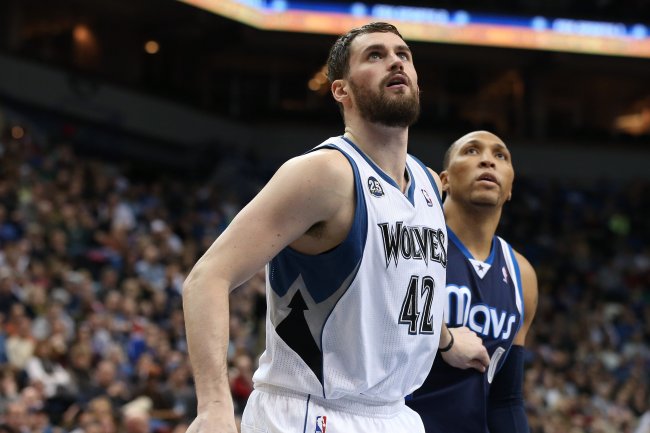 Jordan Johnson/Getty Images
Love trails James and Durant in those aforementioned advanced statistics, but when looking at the "regular" (and just as legitimate) statistics, Love certainly holds his own.
Of course, Love has been a rebounding machine this year, as he currently leads the NBA in that department. Also, among power forwards, he's second in assists. Oh, and he ranks behind only Durant in scoring in the NBA.
But statistics can only carry Love's MVP candidacy so far. He'll have his best (and only) shot at winning the award if he can lead his below-average Timberwolves to the playoffs in a crowded Western Conference.
Also in Love's favor is that he has a penchant for putting up monster numbers every so often. Those monster numbers also tend to be in games that take place against top teams in the West.
For example, Love's best game of the season, and one of the best overall games by anyone, came against the Los Angeles Clippers on Dec. 12, when he had 45 points, 19 rebounds, six assists and shot 65.2 percent. Less than two weeks before that, against the San Antonio Spurs, he went for 42 points and 14 rebounds.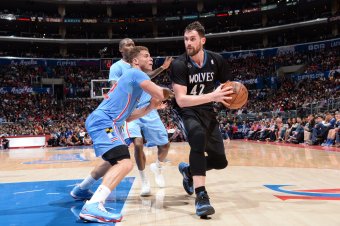 Andrew D. Bernstein/Getty Images
Individual game performances like that are a part of the MVP race that often get overlooked. But in the NBA, when the difference in the standings is often as little as one game, having a big performance in a big game is a great way to distinguish one's self from the crowd.
Finally, Durant and Love also have an advantage over James that goes beyond individual statistics and team success. It's the simple fact that voters get tired of repeatedly giving the award to the same player.
The last time a player three-peated for the MVP Award was Larry Bird from 1983-84 to 1985-86. It has only been done three times in NBA history; Wilt Chamberlain and Bill Russell accomplished the feat as well.
Why I think LeBron won't be voted MVP this season -- it's the same reason MJ wasn't in 1993. http://t.co/8bZ7sJes5R [$]

— Tom Haberstroh (@tomhaberstroh) October 29, 2013
So historical precedent shows James must beat the odds to win the award again. For now, he is the NBA MVP. But by season's end, either Kevin Durant or Kevin Love might have something to say about that.