Predicting the National League All-Star Starters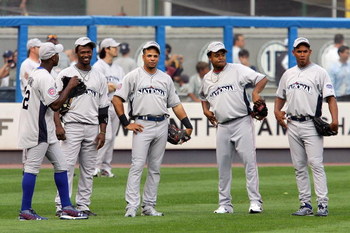 Now that we've completed two months of the 2009 MLB season, let's take a look at who's leading the way (not in votes) and is playing like a starter for the National League All-Star Game.
There are a number of possibles, and surely there will be some who are having great seasons coming off the bench at some point in this year's Midsummer Classic.
First Base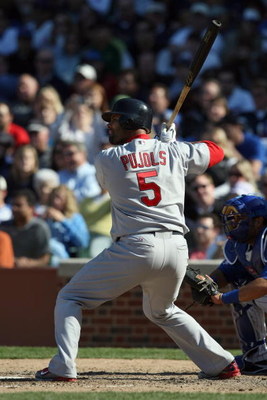 Normally this would be easy, but this year Albert Pujols is not running away from all other NL first basemen.
He's one of three who have an OPS of over 1.000 as of Jun. 1.
Joey Votto has been dealing with an ear infection, but it hasn't affected his .357 BA.
Adrian Gonzalez plays in a big park on a bad offensive team, but is still leading the majors in HR with 20.
But, looking at the numbers, Pujols will be starting the All-Star Game again in 2009.
Stats: .339 BA, 16 HR, 42 RBI, 7 SB, and 1.146 OPS.
Second Base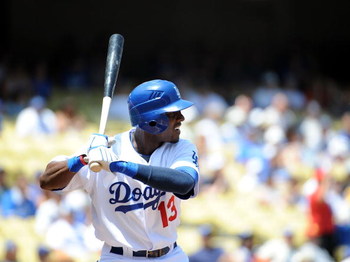 The Dodgers got themselves a relative bargain by signing a Gold Glove second basemen for under $5 million this offseason.
They'll likely be rewarded as Orlando Hudson is having an All-Star season.
Chase Utley has more home runs than Hudson and a higher OPS, but Hudson leads the NL in hits and isn't supposed to be a power hitter for the NL-leading Dodgers.
His defense is arguably the best of any second basemen in the majors as he's got Gold Gloves from both leagues to prove it.
Hitting for the cycle early this season at Dodger Stadium proved how good and how versatile he is as a player. Despite the home run disparity, Hudson actually has more extra-base hits than Utley, and a batting average 40 points higher.
Stats: .332 BA, 3 HR, 31 RBI, 4 SB, .407 OBP, and .877 OPS.
Shortstop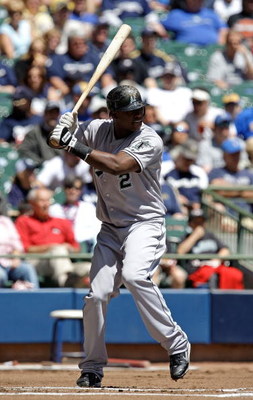 Many would consider Hanley Ramirez among the best players in all of Major League Baseball. His performance this season so far has done nothing to dissuade people from that opinion.
He got more attention during the Marlins' 11-1 start, but has gone rather unnoticed since. Having been moved down in the order, he's proving to be as good of a hitter there as he was leading off.
Stats: .330 BA, 8 HR, 23 RBI, 8 SB, .406 OBP, and .959 OPS.
Third Base
Ryan Zimmerman has returned to the form that saw him average 22 HR, 101 RBI, and a .277 BA in his first two full major league seasons in 2006 and 2007.
David Wright has seen his power drop this year and only has three home runs. While Wright has 12 SB, he's got a lower slugging percentage, fewer homers, RBI, and extra base hits.
After dealing with injuries in 2008, he's back with a vengeance and had a 30-game hitting streak through April and May. With Adam Dunn protecting him in the lineup, he's showing his hitting skills on a regular basis in DC.
Stats: .319 BA, 11 HR, 35 RBI, and .932 OPS.
Left Field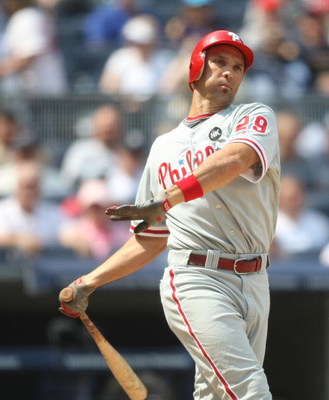 Raul Ibanez seems to have found the fountain of youth in Philadelphia—or at least that short porch in right field.
After coming over as a free agent from Seattle to replace Pat Burrell, he's proven to be even better than expected. While Adam Dunn was the biggest name left fielder to sign this offseason in the NL East, Ibanez has surpassed Dunn's power numbers to this point.
Stats: .332 BA, 17 HR, 46 RBI, 4 SB, and 1.079 OPS.
Center Field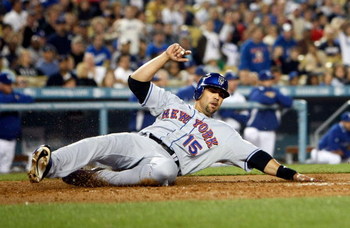 Carlos Beltran has seen his power numbers drop this season. However, his overall production has been solid in a center field group that does not really have any major standouts.
Mike Cameron leads all CF in home runs, but doesn't have any other eye-popping numbers.
Beltran flirted with .400 for a brief while, but his consistent all-around performance shows up in his stats:
Stats: .352 BA, 6 HR, 31 RBI, 7 SB, and .998 OPS.
Right Field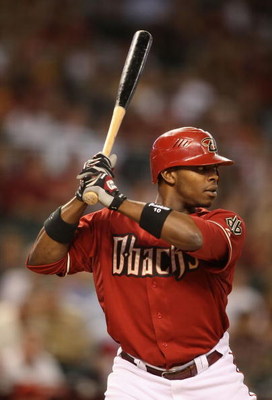 Justin Upton is showing now why he was a top draft pick of the Arizona Diamondbacks.
Brad Hawpe has more RBI and a slightly higher batting average than Upton as both have OPS numbers north of 1.000, but Hawpe hasn't played everyday because of some injuries.
At the tender age of 21, Upton's best years are ahead of him.
He's good and he's only going to get better.
Stats: .329 BA, 9 HR, 29 RBI, 6 SB, and 1.010 OPS.
Catcher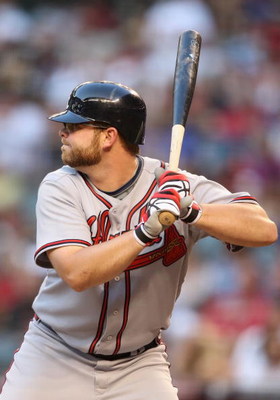 Brian McCann is the easiest choice out of any position for the National League.
He's the only catcher with more than 100 AB with a batting average above .290. Despite missing two weeks with an eye infection, he's still among the top four NL catchers in RBI, home runs, and OPS.
He's raised his average .120 points in 20 games since returning from the DL with his clear Oakley prescription glasses.
Stats: .318 BA, 5 HR, 18 RBI, .422 OBP, and .936 OPS.
Starting Pitcher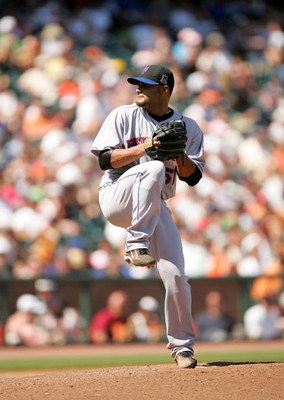 I'm tempted to take back what I said about Brian McCann being the easiest choice at his position.
Johan Santana is perhaps an easier choice as the NL starting pitcher.
There have been a number of NL starters, nine to be exact, besides Santana with a .500 or better winning percentage and an ERA under 3.00.
Santana would only win pitching's Triple Crown if the season ended today as he leads the NL in ERA, and is tied for the league lead in wins (Jason Marquis) and strikeouts (Javier Vazquez).
Stats: 7-2, 1.77 ERA, and 1.05 WHIP.
Soon to Come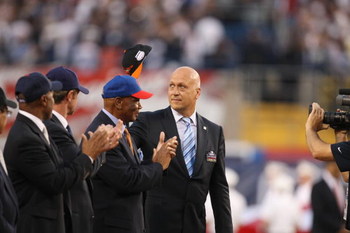 There's still a month to go before the All-Star starters are announced.
We'll see how good of a job the fans do in the voting.
Coming soon—the front runners for AL All-Star starters.
Keep Reading