Coming off a 42-14 shellacking at the hands of the Cincinnati Bengals, it's clear that the Minnesota Vikings need a seismic change at head coach if they want to move forward and improve as an organization.
But how do you go out and find the right guy to help this franchise get back to their winning ways? By understanding that, in today's NFL, the importance of implementing a great scheme with your current personnel must serve as the guiding light to finding a remarkable head coach.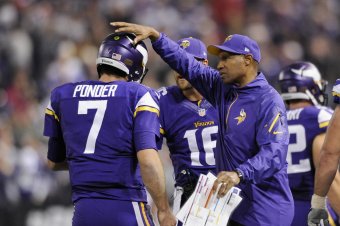 Hannah Foslien/Getty Images
The End of the Leslie Frazier era
Despite receiving support from his players, head coach Leslie Frazier's career record of 20-32-1 is disconcerting when you talk about the future of the Vikings franchise.
While all of the blame can't be placed directly at his doorstep, Frazier has made a lot of mistakes since taking over the head coaching job from Brad Childress in Week 12 of the 2010 season.
But the one mistake that stands out above the rest is the role Frazier played in finding a franchise quarterback.
As the head coach pegged with that responsibility, Frazier helped lure current offensive coordinator Bill Musgrave to Minnesota in 2011. At the time, Musgrave was coming off an impressive run as the quarterbacks coach of the Atlanta Falcons, helping Matt Ryan develop into the elite signal-caller that we've all come to know.
Together, Frazier, Musgrave and the front office went into that season deciding that the best way to fix their problems at the position would be by drafting Florida State quarterback Christian Ponder and signing former Philadelphia Eagles great Donovan McNabb in the interim.
Excitement quickly turned to despair, however, as McNabb was released midway through his first season with the team while Ponder struggled to figure things out on the fly.
Aside from the fact that scouts like Greg Cox of Walterfootball.com had described Ponder as having "average arm strength" and compared him to Chad Pennington—even with guys TCU's Andy Dalton and University of Nevada gunslinger Colin Kaepernick still on the board, Frazier and the Minnesota regime went after Ponder.
The worst part about the current situation is that Frazier believes drafting Ponder has worked out, according to K-TWIN 96.3 FM analyst Sean Jensen:
Leslie Frazier asked between Ponder and Dalton: "We targeted Christian and it worked out fine. He was our guy... Andy's done a good job..."

— Sean Jensen (@seankjensen) December 18, 2013
Despite Frazier's support, the fact is, that after three seasons in Minnesota, Ponder has consistently found himself at the bottom half of the Pro Football Focus (subscription required) quarterback rankings.
For Frazier, playing a role in drafting Ponder and not being able to fix the instability at the quarterback position should be the main reasons why he isn't brought back as head coach next year.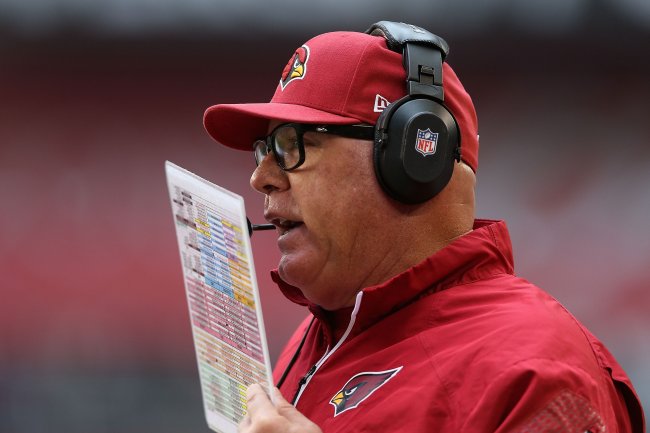 Christian Petersen/Getty Images
The Importance of a Great Scheme
Lately, the NFL has been overtaken by innovative schemes. From the explosion of the read-option to the arrival of Chip Kelly's up-tempo attack in Philadelphia, it seems like things are evolving on both sides of the football at an accelerated pace.
In order for the Vikings to keep up, that doesn't necessarily mean they need to make a splash hire like Kelly to get back on track. What they do have to do is find a head coach who will change the way this organization thinks from he moment he steps in the door.
2014 Minnesota Vikings Head Coaching Candidates

| | | |
| --- | --- | --- |
| Name | Age | Current Job |
| Jon Gruden | 50 | ESPN broadcaster |
| Bill O'Brien | 44 | Head coach, Penn State |
| Mike Zimmer | 57 | Defensive coordinator, Cincinnati Bengals |
| Greg Roman | 41 | Offensive coordinator, San Francisco 49ers |
| James Franklin | 41 | Head coach, Vanderbilt |
| Ray Horton | 53 | Defensive coordinator, Cleveland Browns |
| Pep Hamilton | 39 | Offensive coordinator, Indianapolis Colts |
Bleacher Report
With an abundance of talent available on both sides of the football for the Vikings, finding a way to blend their current personnel with the right scheme will dictate whether or not this team can move forward in a positive direction.
Looking at the list of potential coaching candidates out there right now, names like Ray Horton, Pep Hamilton, Mike Zimmer and Bill O'Brien stand out as coaches who have created, or been around, forward-thinking football concepts for a long time.
What's exciting about bringing in a new head coach is that great schemes can turn franchises around in a heartbeat. Just look around the league and you'll notice that the proof is in the pudding.
From the outstanding job that Bruce Arians has done in molding the Arizona Cardinals into a playoff contender to the excitement that Kelly has brought to the Philadelphia Eagles, implementing the right scheme can work wonders in a short period of time.
It seems like the story has always been that the coaches who find the most success at the NFL level are usually the guys who figure out ways to control the tempo of games and manipulate their opponents every chance they get.
From premier coaches like Sean Payton and Bill Belichick, finding a gifted football mind to run your organization seems to goes a lot further in today's NFL than hiring a "players coach."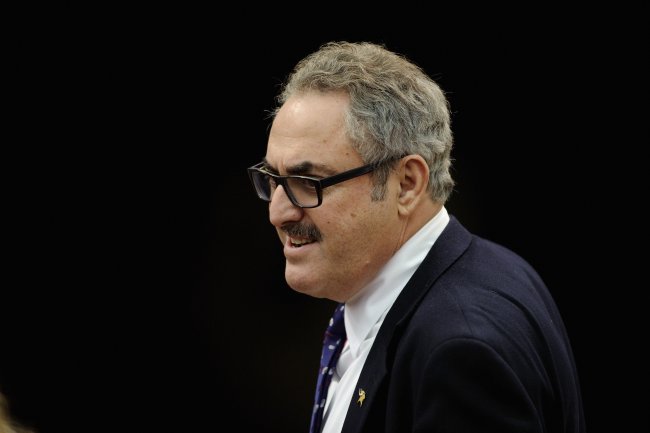 Hannah Foslien/Getty Images
A Critical Decision
Who should be the next head coach of the Minnesota Vikings?
Thanks to the allure of a new stadium, a loyal legion of fans and a roster flowing with established playmakers and promising young talent, the Vikings head coaching job is one that has appeal.
But finding the perfect candidate to guide this team is going to fall on the shoulders of general manager Rick Spielman and owner Zygi Wilf.

For them, this truly is the one chance to get it right. Whether you point to a 28-year-old Adrian Peterson heading into the final chapter of his illustrious career or the desperate need to fix the NFL's 31st-ranked defense, the Vikings are an organization desperate for a radical injection of change.
When it comes down to it, finding a coach who can develop the right scheme and integrate it with the current personnel on the roster is the essential formula for ensuring our beloved Vikings franchise has a bright and prosperous future.
*All stats courtesy of NFL.com unless noted otherwise.