Finally, some good news for the Houston Rockets, with additional bad news as a chaser.
According to the Houston Chronicle's Jonathan Feigen, Jeremy Lin hopes to return soon after missing time with back spasms:
After a second strenuous pregame workout in as many nights, Rockets guard Jeremy Lin said he is hopeful he will be able to play against the Dallas Mavericks on Monday after missing a week with back spasms.

Lin has been careful to not tax the back, even sitting on elevated seats on the bench during games. But rather than just wait for word from the training staff that he is cleared to play, he said the workouts made him especially encouraged that he has made progress.

'Hopefully, I'll be back Monday if there are no setbacks,' Lin said. 'Just to get back in shape after having to sit, not do anything for a while, not even really being able to sit, let alone jog or run, it's good to sweat again and get your body going.'
Lin's impending return comes not a moment too soon.
Starting point guard Patrick Beverley fractured his right hand and, per Feigen, is expected to miss significant time:
Pat Beverley said he was told his fourth metacapal was fractured and would be out 4 to 6 weeks. Talk in locker room sounded more like 6.

— Jonathan Feigen (@Jonathan_Feigen) December 22, 2013
Joining him could be superstar James Harden, who missed Houston's victory over the Detroit Pistons while tending to his right ankle. Missing more time is something he indicated was an option.
"It's still sore," Harden said, via Feigen. "It's painful."
Backcourt depth suddenly nonexistent, Houston will need to plug Lin into the starting lineup immediately, all while hoping he can give the Rockets enough to remain afloat in a bone-crushing Western Conference.
Connecting with Dwight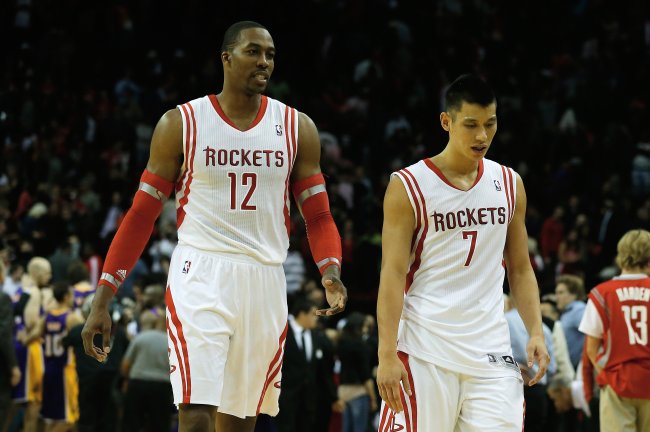 Scott Halleran/Getty Images
Beverley hasn't gone playoff bonkers for the Rockets, but he has developed a nice rapport with Dwight Howard.
Houston's offense relies on constant pick-and-rolls, and Beverley and Howard are two chief catalysts within those sets. According to Synergy Sports (subscription required), the Rockets rank first and ninth in points scored per pick-and-roll possessions for the ball-handler and roll man, respectively. Beverley ranks 17th among individual ball-handlers and Howard 11th among all roll men.
With Beverley sidelined and Harden preparing to miss some time, the Rockets need Lin to maintain their pick-and-roll dominance while improving upon his performance with Howard on the floor.
Dwight With Houston's Point Men

| | | | | | |
| --- | --- | --- | --- | --- | --- |
| With.. | Off. Rtg. | Def. Rtg | Net Rtg. | eFG% | TS% |
| Beverley | 108.0 | 102.2 | 5.8 | 59.9% | 60.4% |
| Lin | 105.1 | 102.4 | 2.8 | 58.6% | 59.9% |
Via NBA.com.
"Superman" has found more offensive success alongside Beverley, who doesn't need the rock in his hands to be effective. The ball-dominating Lin hasn't fared as well next to Howard. He's better suited playing opposite shooters he can kick out to once he approaches the rim.
But Lin is equipped to initiate pick-and-rolls, where Howard, despite his preference to post up, is most dangerous. He ranks 28th among all ball-handlers within those sets this season, connecting on more than 50 percent of his shot attempts when he fires away.
Syncing up with Howard more often will stabilize Houston's offensive dynamic with Beverley riding pine, no insignificant feat for a Rockets team that depends on its third-ranked offense rather than its 14th-ranked defense to contend.
Aggressive Scorer/Efficient Shooter
Scoring hasn't been a problem for Lin this season. He's emerged as an economic scorer off the pine.
Lin is averaging 14.3 points per game on 49.7 percent shooting overall and a 37.5 percent clip from deep, both of which would be career highs. But he's done a majority of his damage as Houston's sixth man, providing an instant scoring and playmaking punch off the bench.
Beverley has struggled to remain efficient since becoming a starter, converting only 42 percent of his shots overall and a mere 33.3 percent of his three-pointers. That's where Lin has the edge.
Better yet, his numbers have been even stronger as a starter this season.
Jeremy Lin Offensive Splits

| | | | | | | | | | |
| --- | --- | --- | --- | --- | --- | --- | --- | --- | --- |
| Role | Games | FG% | 3P% | USG% | ORtg | MPG | PTS | TRB | AST |
| Starter | 8 | 49.4 | 42.9 | 22.2 | 116 | 30.6 | 15.9 | 3.1 | 5.0 |
| Reserve | 10 | 50.0 | 31.0 | 21.2 | 113 | 27.3 | 13.1 | 1.9 | 3.6 |
Via Basketball-Reference
Lin's success from deep is especially noteworthy when you consider he drilled just 33.9 percent of his long balls last season. This year, he's become a more palatable spot-up shooter, burying 48.5 percent of his three-point spot-up attempts, more than 15 percentage points higher than Beverley's clip in similar situations (33.3).
Howard has always been best when surrounded by shooters. If Lin can continue to drain outside shots at a high frequency, he becomes much more valuable to Houston's offense. It's also a great way for him to establish that chemistry with Howard.
Should he prove able to maintain his high level of offensive aggression (rim attacks, pick-and-rolls, etc.) while acting as Howard's safety net beyond the arc, like a shorter Chandler Parsons, then he's suddenly a better fit for the entire team.
Moving without the ball and assimilating into more of a spot-up role means he'll have the necessary skill set to thrive alongside Harden when he's healthy. The duo couldn't coexist together last season. Lin's developing jumper gives them new life. A second chance.
Hope that Houston won't stumble in Beverley's absence.
More Playmaking, Fewer Turnovers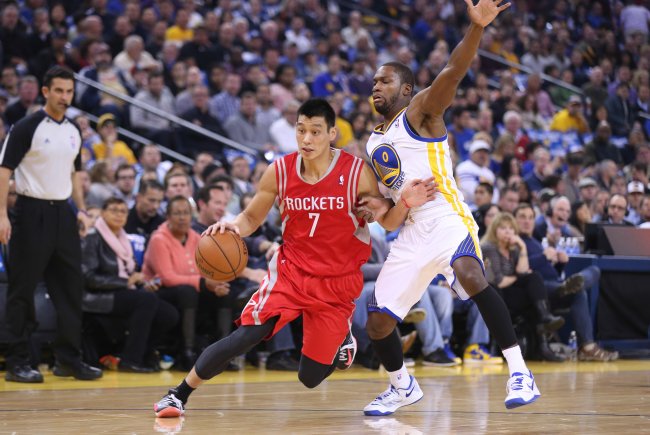 Kelley L Cox-USA TODAY Sports
Despite coming off the bench and averaging fewer minutes than Beverley, Lin ranks second on the team behind Harden in assists per game (4.2).
Houston will need more minutes and assists from Lin, simply because the Rockets are a playmaker down—two if you believe Harden will miss serious time.
Although Beverley has not been a playmaking fiend (2.2 assists per night), he's taken better care of the ball than Lin. Turnovers have always been Lin's downfall, a trend that's continued into this season.
Beverley is coughing the ball up just 11.4 percent of the time. Of all players averaging at least 25 minutes a night, Lin currently has the eighth-highest turnover rate, relinquishing control of the rock on more than 20 percent of his possessions.
The Rockets already rank second in turnovers committed per game (17.3) and can ill afford to have a starting point man who cedes more than a fifth of his total touches. Limiting his turnovers and focusing on tighter handles gives Lin a better chance at successfully running Houston's high-octane offense.
Thin on backcourt talent, the Rockets need that much, lest turnovers become an even bigger detriment to their cause than they are now.
Better Off?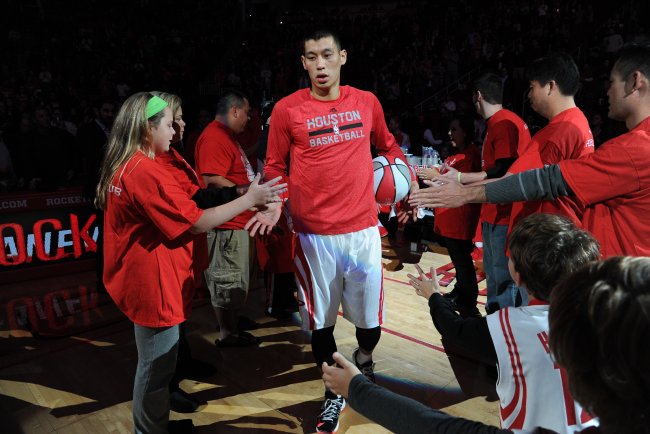 Bill Baptist/Getty Images
I'm always hesitant to call injuries a good thing.
When Beverley's playing up to his potential, he's an athletic point man who can stretch defenses with his shooting, wreak havoc with incisive cuts and run pick-and-rolls to perfection.
But Lin, when healthy, has slowly, surely improved as a starter.
Overall, Lin has been more efficient and potent than Beverley. Starting has suited him this season, and while CBS Sports' Ken Berger reported the Rockets were looking to deal him, Lin has reached a point where he's more of an on-court asset than trade fodder.
This is an offense he can run, predicated on aspects of the game Lin himself can excel at, some of which for the first time.
Which player is better as the Rockets' starting point guard?
The catch?
He needs to do so immediately. Return to pre-back spasm form right now. Houston has the fifth-best record in the Western Conference, but injuries to Harden threaten to torpedo the Rockets' standing if they cannot adjust.
"Being able to move, driving by people, jumping, shooting—it's expected," Lin said previously, per the Houston Chronicle's Jenny Dial Creech. "I didn't move or sweat for four days, so it is going to take a little bit of time."
Time and patience aren't luxuries the Rockets have. Current circumstances demand Lin be the Lin of 2013-14, better than Beverley, right away.
*All stats courtesy of Basketball-Reference, NBA.com (subscription required) and Synergy Sports (subscription required) unless otherwise noted.