Robert Woods Ejected for Throwing Punch vs. Dolphins
December 22, 2013

Timothy T. Ludwig-USA TODAY Spor
Updates for Thursday, Dec. 26
The Associated Press (via Yahoo! Sports) has the latest on discipline for Robert Woods after being ejected against Miami in Week 16:
Buffalo Bills rookie receiver Roberts Woods has told The Associated Press he has been fined $15,000 by the NFL for punching Miami Dolphins safety Reshad Jones last weekend.

Woods, who was ejected after throwing the punch, says he wasn't surprised upon receiving notice from the league when he arrived for practice Thursday.
Original Text
Buffalo Bills rookie wide receiver Robert Woods threw a punch in Week 16's AFC East clash with the Miami Dolphins and was ejected from the game at Ralph Wilson Stadium.    
Chris Brown of BuffaloBills.com reported the news and noted the impact it had on Buffalo's thinned receiving corps:
ESPN.com's Mike Rodak provided a statement from Woods discussing the incident on Dec. 23:
"Of course you shouldn't throw a punch in a football game, but if you're playing outside the rules, sometimes you got to be a man sometimes," Woods said. "But I learned my lesson and just can't do it again." 

[...]

"The play was over. It was just of those things where it was just extra, how he felt it was necessary to push me after the play and throw me over the pile," Woods said. "They were clapping once I was walking off the field, but we still won at the end of the game." 
Rodak also noted that speedy first-year wideout Marquise Goodwin left the contest earlier with a knee injury and would not return:
Woods, a second-round draft pick out of USC in the 2013 NFL draft, was leading the Bills with three receptions for 70 yards before his unceremonious exit from the gridiron.
BuzzFeed provided a GIF of the unfortunate incident: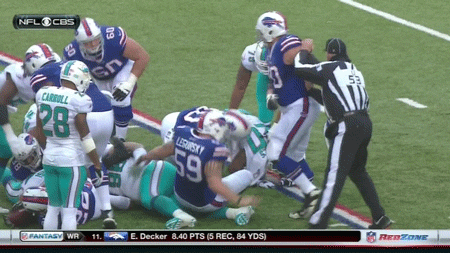 GIF courtesy of BuzzFeed
Despite the limitation of weapons at his disposal, Buffalo quarterback Thad Lewis has displayed strong poise under center and has performed well against a playoff-caliber opponent in place of EJ Manuel, who was out with a knee injury.
This was not Woods' finest moment, and it is a substantial blow to the Bills' passing attack.
Not only does it hurt them for the remainder of this contest, but it also takes away from Woods' opportunities to get valuable reps. The promising young playmaker is still continuing to learn the nuances of the uptempo offense designed by head coach Doug Marrone and offensive coordinator Nathaniel Hackett.
Entering the penultimate game of the season, Woods had recorded 36 receptions for 490 yards on the season, and was tied for the team lead with three touchdown catches.
While the future is promising for Woods and the Bills' young nucleus, temperamental blunders such as this must be avoided to keep the development process on track.