Marquis Teague is turning out to be the great enigma of the Chicago Bulls. The gulf between where he is in terms of skill and where he could end up in terms of accomplishment is as wide for him as for anyone in the NBA not named Anthony Bennett. The Bulls need to stop futzing around and solve this problem.
In terms of athleticism and speed, Teague is a beast. He ran the three-quarter court in 3.19 seconds and has a 40.5-inch vertical. Rivals.com had him as the fifth-best player in his high school class. Then he went on to Kentucky, where he led the Wildcats in minutes en route to a national championship.
Marquis' (pronounced Marcus, by the way) natural talent exceeds that of his older brother, Jeff, who is currently averaging 15.8 points and 8.0 assists per game with the Atlanta Hawks and having an All-Star-caliber season.
There is no question that the Bulls' younger Teague has the potential to be a quality backup point guard in the NBA, but every time he steps on the court, hilarity ensues. Or at least it would be hilarity if it weren't so sad.
Teague shoots badly. Extremely, terribly, awfully, notoriously badly. Words can't do it justice, but his shot chart can.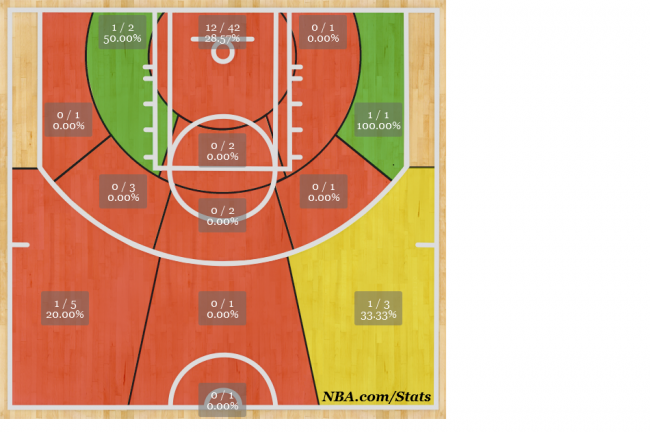 Shot Chart Downloaded from NBA.com/STATS
When Bulls fans say, "See red!" that's not what they mean.
Since the NBA instituted the shot clock in the 1954-55 season, there are only seven players who have shot at least as many shots in a season and had a lower field-goal percentage than Teague's 24.6, per Basketball-Reference.
Even that barely scratches the surface of his horrendousness. Of his 65 shots, 42 have come at the rim, where he's shooting just 28.5 percent. According to Hoop Data, that's less than half the NBA average of 64.6 percent.
Still need more compelling evidence? How about this?
The GIF shows the problem with Teague. It's between the ears. Rather than pull the ball back out when it's clear he can't get to the rim, he goes into not one, but two trees and gets his shot blocked (surprise!). His chances of making that shot are somewhere between none and zero, yet he still forces it.
What he needs is consistent playing time, and that is something he's not getting right now. He's played just 632 minutes in his NBA career.
It's hard to improve your game when you can't play in games. The more he sits, the harder it is. In fact, per minute, Teague is actually regressing this year compared to his rookie season.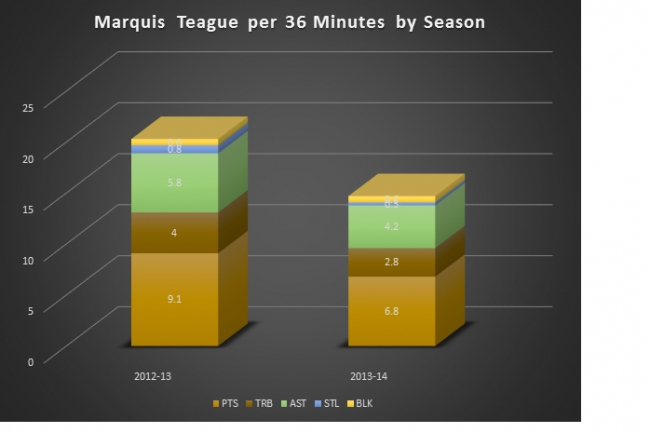 Original Excel Chart
Prior to Kirk Hinrich's recent injury, Teague was about to be sent to the D-League, then was almost immediately recalled. That would have been a good call, as it would have given him time on the court.
Shortly after, Mike James was waived and D.J. Augustin was signed.
Augustin has shown what a difference even a minimally competent point guard can make running the team. With Augustin starting against the Cleveland Cavaliers, the Bulls had their most effective offensive performance in 10 games, scoring 100 points even though they didn't have Jimmy Butler or Luol Deng.
Should the Bulls send Teague to the D-League to improve his game?
Once Hinrich returns, the Bulls seriously need to revisit their consideration to send him to the D-League. As it stands right now, there are only three possibilities for his future for the Bulls: He becomes a respectable backup point guard, he washes out entirely or he gets traded. The Bulls get themselves no closer to any of these options by keeping him on the bench.
I'm speculating, but this may be this is one of those "Gar Forman vs. Tom Thibodeau" disputes we've heard so much about. Perhaps Foreman wants to see him played for his development, but Thibodeau doesn't play Teague because he is horrible.
Sending him down to D-League would give him the chance to play heavy minutes and improve without imposing him on Thibodeau. It would take the decision of whether to play him or sit him out of Thibodeau's hands entirely. A better Teague and a smoother relationship would kill two birds with one stone.
And being fair to Thibodeau's argument, Teague isn't playing on an NBA level. He's one of the worst players on an NBA roster. No player with 200 minutes played has a lower player efficiency rating than Teague's 0.4.
Bulls fans would get behind it in a hurry. It gets tiresome watching Teague constantly muddle plays. So much so that fans should feel free to give him the middle name "Fa" until he improves. That's because you can "mark us fatigued" with him until he does. The decision is an easy one. Hopefully the Bulls make it.