NBA Finals Breakdown: Los Angeles Lakers vs Orlando Magic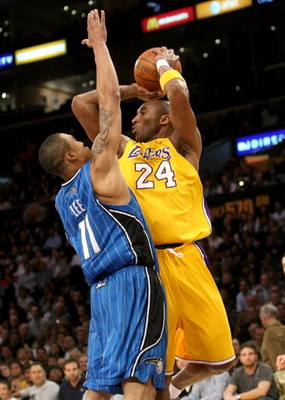 The Marathon that is the NBA season has come down to this...the Los Angeles Lakers vs the Orlando Magic.
The Nike Muppets made for funny commercials and we've all been talking about the potential LeBron vs Kobe matchup, but that will have to wait for another year.
Cleveland showed us how much matchups affect the outcome of a series, well let's take a look at these matchups.
The Lakers are back after last season's disappointing performance in the finals, they have home court advantage, and the game's premiere "closer", while the Magic have the defensive player of the year.
Who will win?
You make the call...
Point Guards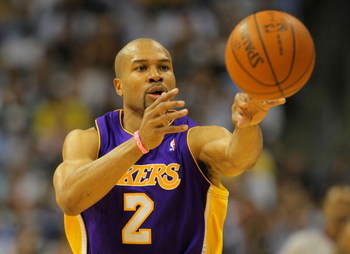 Derek Fisher 6'1"
Fisher's Strengths: Championship experience and leadership. Offensively he is a steady passer, a spot up jump shooter, and has a knack for hitting big clutch shots.
On the defensive end, Fisher is one of the best at drawing charges and plays smart team defense.
Fisher's Weakness: Derek's been in somewhat of a shooting slump and has a tough time guarding the small quick point guards.
Point Guards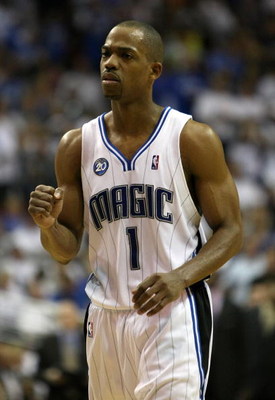 Rafer Alston 6'2"
Alston's Strengths: three-point shooting, great ball handler, good penetrator and distributor.
Alston's Weakness: Not a proven leader on this level and had questionable mental lapses in the postseason.
Point Guards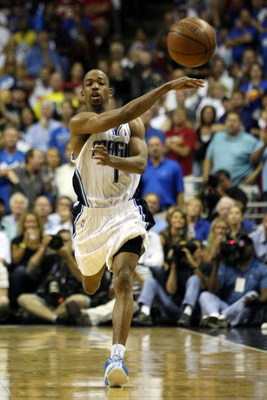 Analysis: The slumping Fisher seems to have lost a step, but he is still dependable, tough, and capable.
Rafer seemed to have lost his composure when he slapped Eddie House in the second round of the playoffs, so I question his mettle in the tough moments.
While the steady veteran Fisher's impact may not be fully seen in the stat sheet, the playground legend Rafer "Skip to my Lou" Alston is capable of going off for 18 to 20 points any given night.
Edge: Slight edge to Alston for his explosive potential.
Shooting Guards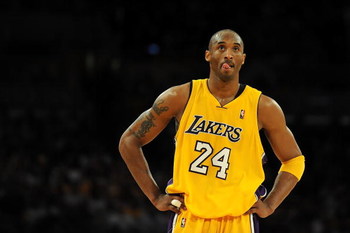 Kobe Bryant 6'6"
Bryant's Strengths: The full arsenal—championship experience, leadership, ball handling, passing, rebounding, scoring, defense, athletic, clutch performer, physically tough, and mentally tough.
Bryant's Weakness: No holes in his game.
Shooting Guards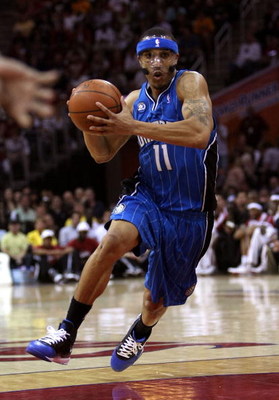 Courtney Lee 6'5"
Lee's Strengths: Versatile, athletic, good on ball defender, and shoots with range.
Lee's Weakness: Rookie, can disappear offensively, and his shooting can be streaky.
Shooting Guards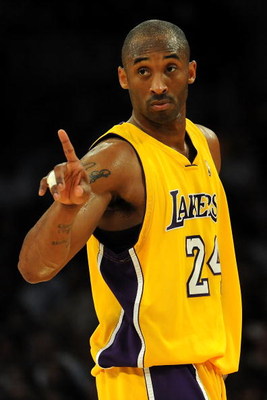 "The Closer."
This is the most difficult man to stop on the court—he's one of the best players to ever do it.
Bryant won't be stopped, Orlando can only hope to contain him. For my money, the best player in the game today.
Strong Edge: Bryant
Forwards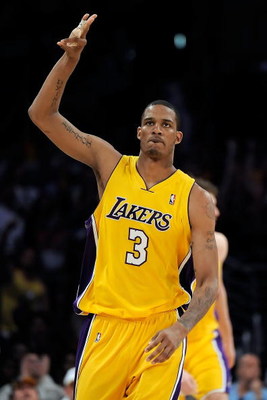 Trevor Ariza 6'8"
Ariza's Strengths: Athletic, tough, long, great defender, steals, respectable three-point range, slasher, good all around skills, and two way player.
Ariza's Weakness: Needs to improve his mid range offensive game.
Forwards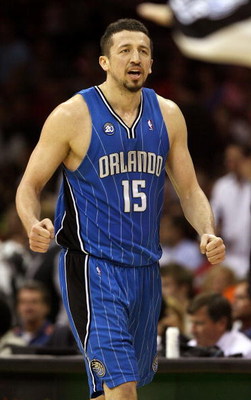 Hedu Turkoglu 6'10"
Turkoglu's Strengths: His size, great three-point shooter, all around offensive player, good ball handler for his size, good passer/playmaker, and adequate rebounder.
Turkoglu's Weakness: Not a great defender.
Forwards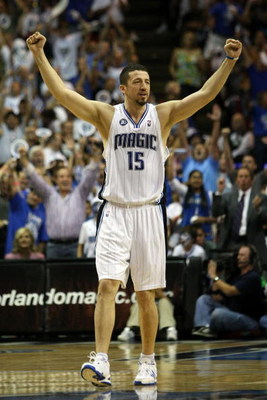 Slight Edge: Turkoglu...
Offensive edge goes to Hedu, defensive edge to Trevor, and overall edge Turkoglu.
Although Ariza is an impact player for the Lakers, Turkoglu is a "go to" player for Orlando; his impact is essential for the Magic's success.
Forwards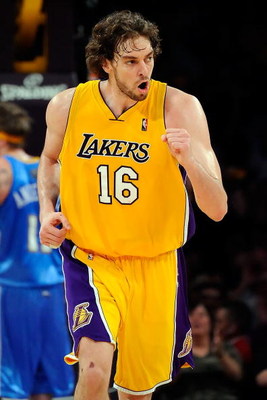 Pau Gasol 7'0"
Gasol's Strength's: Crafty scorer, can post up and play with his back to basket, he can turn and face then shoot or drive, right hand hook, left hand hook, rebounds, long wing span, shot blocker, and is a good passer.
Gasol's Weakness: At times he can be too passive; he will have difficulty with guarding Orlando's big perimeter players.
Forwards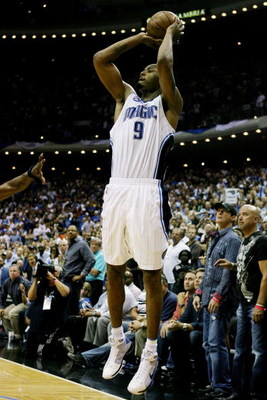 Rashard Lewis 6'10"
Lewis Strength's: Great three-point shooter, slasher, athletic, good mid range offense, versatile, long, and clutch shooter.
Lewis Weakness: At times seems to be passive, not a great defender, and could improve his post up game.
Forwards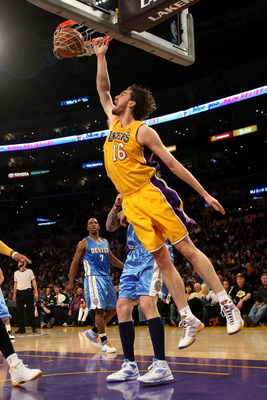 Edge: Gasol
Both will benefit from mismatches but overall edge to Gasol. He shoots a high percentage shot and with his length, he affects the game both offensively and defensively.
Also, depending upon adjustments, they may not guard each other.
Centers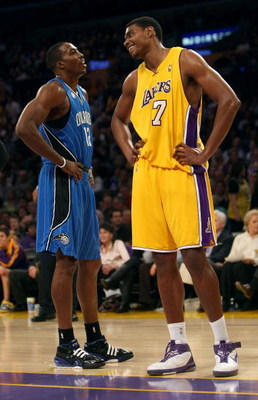 Andrew Bynum 7'0"
Bynum's Strengths: Big body, strong, athletic, great hands, strong finisher, improving post moves, rebounder, and can block shots.
Bynum's Weakness: Gets in early foul trouble, consistency, confidence, and still regaining pre-injury form.
Centers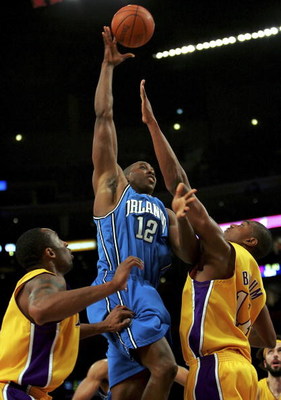 Dwight Howard 6'11"
Howard's Strengths: He's a physical specimen, dominant near the basket, defensive player of the year, shot blocker, rebounder, dunker, and decent jump hook from close range.
Howard's Weakness: Limited offensive game beyond dunking and close range jump hook.
Centers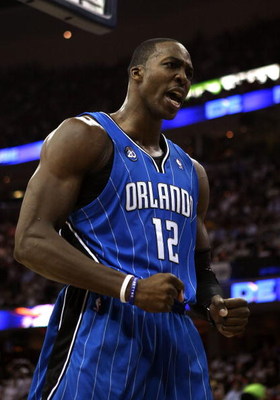 Edge: Howard
Dwight will dominate at times, but the Lakers, with a young Bynum, should be better able to defend Howard than the older Cleveland centers were.
Sixth Man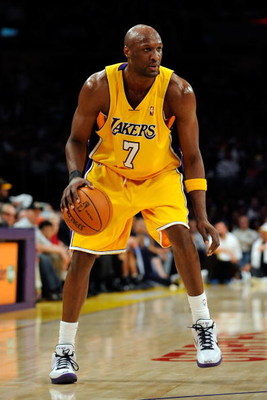 Lamar Odom 6'10"
Odom's Strengths: Blessed with rare all around ability's: can dribble, pass, rebound, score, and defend.
He is the team's best rebounder and his ability to run the floor puts defenses in tough situations.
Lately he's been shooting the three with consistency.
Odom's Weakness: Some games he doesn't impose his will, he can play too laid back, and too unselfishly. At times he doesn't look to attack the basket as much as he should.
Needs a mid range "go to" move or shot.
Sixth Man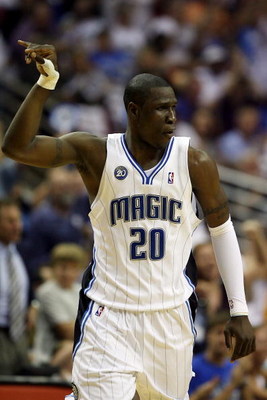 Mickael Pietrus 6'6"
Pietrus Strengths: Pietrus is a strong explosive athlete, shoots with great three-point range, and can finish at the rim.
He is a defensive stopper and a very tough player.
Pietrus Weakness: Could improve his passing skills and off the dribble.
6th Man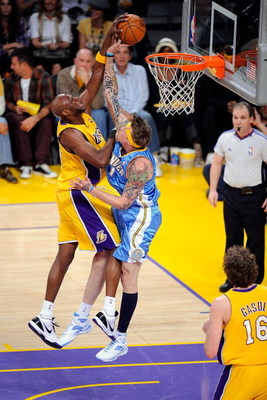 Edge: Odom
Both these players are X factors for their respective teams.
Pietrus will be a major player in the defending of Kobe, and his offensive skills will force Kobe to have to defend him as well.
Odom, on the other hand, matches up well with Lewis and/or Turkoglu and, unlike Gasol, he is comfortable guarding perimeter players.
Odom, when he plays right, is at an All Star level so the edge goes to Lamar.
Coaches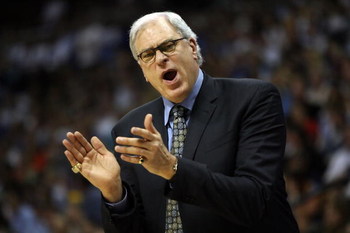 The Zen Master:
Jackson's Strengths: His nine NBA Championships tie him with Celtics legend Red Auerbach.
He is a master of mind games and manipulation, is calm under pressure, and has a proven winning system with the triangle offense.
Jackson's Weakness: Hard to fault a coach with nine rings, but at times he may stick to his principals of not calling time outs a little too much and to his teams detriment.
Still, his methods clearly work.
Coaches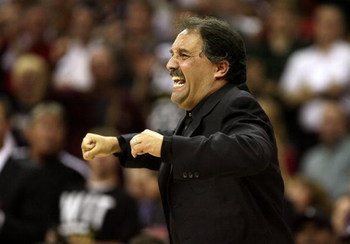 Formerly known as the Master of Panic, Stan Van Gundy.
Van Gundy's Strengths: Passionate leader, intense, and motivator.
Van Gundy's Weakness: His passion/intensity has been interpreted as panic to some.
Coaches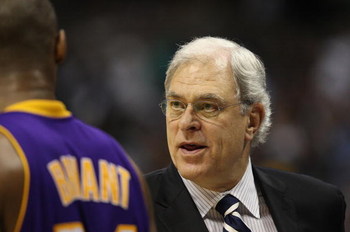 Edge: Clear cut advantage Jackson.
Pick a winner...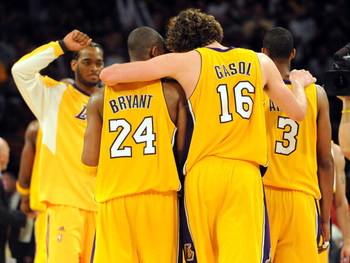 In my opinion, the Lakers have the size, the talent, and the experience in their favor.
Orlando will put up a fight, but in the end there will be a championship parade in Downtown Los Angeles.
The Lakers will win their fourth title of the decade out of six appearances, and the 15th title overall out of 30 appearances.
Keep Reading