NHL Power Rankings: B/R Experts' Week 13 Poll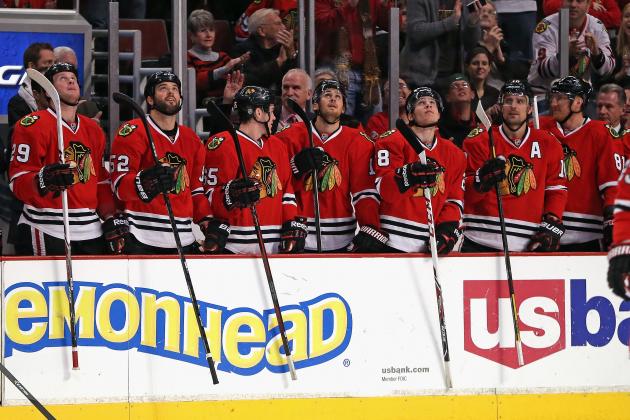 Jonathan Daniel/Getty Images

The defending Stanley Cup champion Chicago Blackhawks took the top spot in last week's power rankings, but they're facing tough competition this week and were recently bumped out of first overall in the NHL. Will they be pushed aside here, too? Who might displace them?
Our panel is back again to provide the answers. Voting this week are Adrian Dater, Dave Lozo, Allan Mitchell, Lyle Richardson, Carol Schram, Rob Vollman and myself. The criteria remain the same, and the vote will focus heavily on performances in the last week, with the overall NHL standings only serving as an anchor point for each team.
Read on to see where every NHL team ranks this week.
Begin Slideshow

»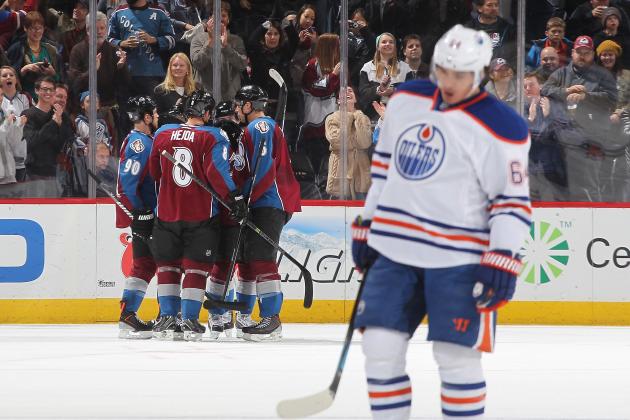 Michael Martin/Getty Images

Last Week: 28
Recent Trend: Losing! Edmonton has dropped six straight games, and the average score in those contests has been 4-1.
Big Picture: If the Oilers were in the East, they could take some cover among the other disappointing franchises, and thanks to a more favourable schedule, they just might have a few wins. But instead, they are the lone laughingstock of the Western Conference, seven points back of 13th-place Calgary and 20 points out of a playoff spot.
By the Numbers: Ten Oilers are in double-digit negative plus/minus, with Nail Yakupov leading the way at minus-26.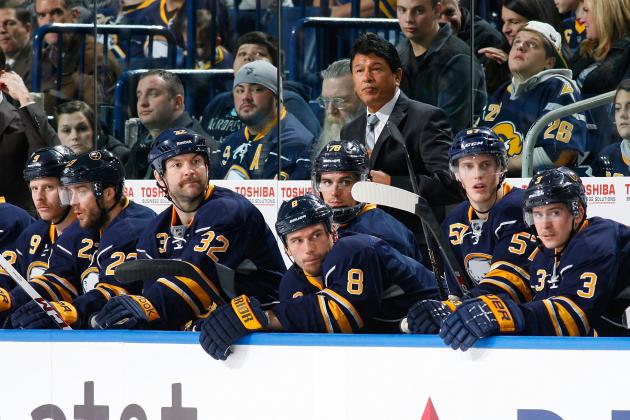 Bill Wippert/Getty Images

Last Week: 30
Recent Trend: Last week, the Sabres won two of the three contests they played, beating the Winnipeg Jets and then earning a split against the Boston Bruins.
Big Picture: The season is gone, but there's no question the change in coaching seems to have helped, at least a little bit. The Sabres are 5-9-2 since the hiring of head coach Ted Nolan after going 4-15-1 under predecessor Ron Rolston.
By the Numbers: Buffalo ranks dead last in the NHL in goals per game, and two teams (the Chicago Blackhawks and St. Louis Blues) score more than twice as frequently.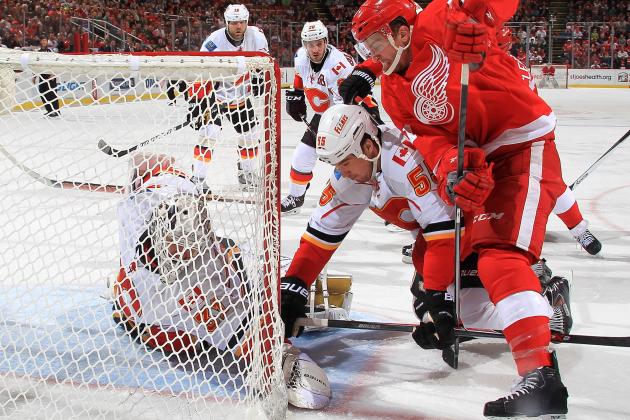 Dave Reginek/Getty Images

Last Week: 26
Recent Trend: Whatever modest progress the Flames made with a series of narrow overtime wins at the start of December has now evaporated, with the team dropping the last four games of a five-game Eastern Conference road swing.
Big Picture: The gap between the Flames and the final playoff spot in the West (13 points) is nearly twice as big as the one between Calgary and dead last in the conference (seven points).
By the Numbers: A strong December from Karri Ramo (3-2-2, .922 save percentage) has been the primary driver of what success the Flames have had in the month; it also makes him the team's only goalie with a save percentage above .900 (.904) on the season.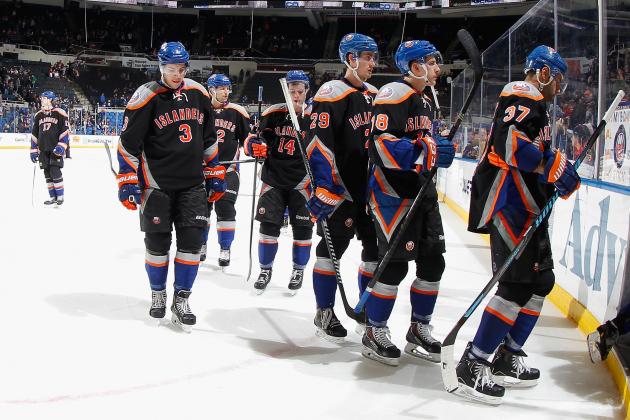 Paul Bereswill/Getty Images

Last Week: 29
Recent Trend: A 1-1-1 record last week represented a modest revival from a terrible, terrible stretch of play and propelled New York from 29th in the league standings all the way up to 28th.
Big Picture: The really, truly amazing thing is that the Islanders have a 10-20-7 record but aren't truly out of playoff hope yet. To be sure, the picture is grim, but the club is only 10 points back of third place in the NHL's Metropolitan Division and has 45 games to make that up.
By the Numbers: The Islanders' regulation win on Friday ended a streak of 16 games stretching over 38 days since the team's last one, back on November 12.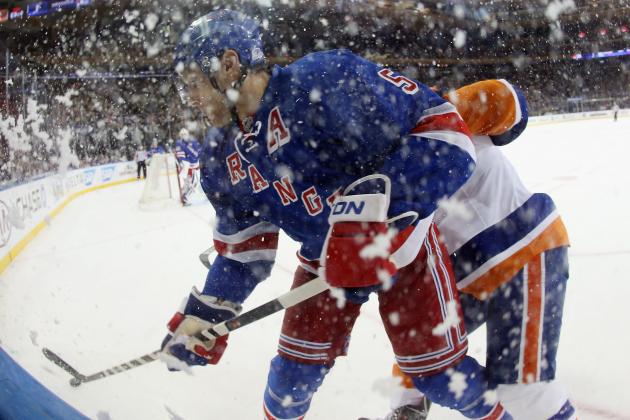 Bruce Bennett/Getty Images

Last Week: 27
Recent Trend: The team has all of two regulation wins in December and has gone 2-5-2 in nine home games in the month, with the lone regulation win coming this Sunday.
Big Picture: The Rangers are exactly one point out of a playoff spot despite their lousy 17-18-2 record.
By the Numbers: Impressive rookie (and dark-horse U.S. Olympic team candidate) Chris Kreider has gone quiet. After a red-hot November where he posted 13 points and a plus-nine rating in 15 contests, he has just four points in his last 10 games and a plus-one rating, and this despite increased average ice time. The good news is that three of those points have come in his last four games, so at least he's trending up.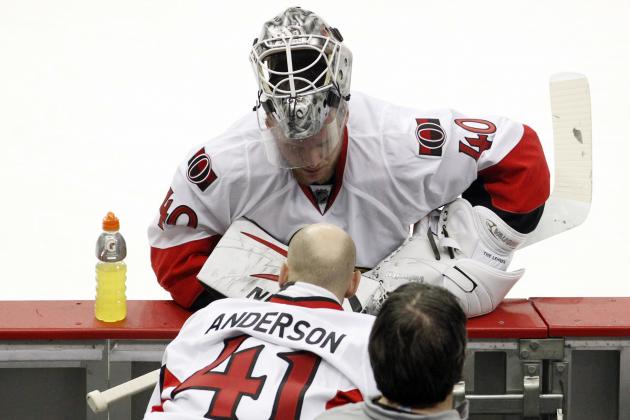 Charles LeClaire-USA TODAY Sport

Last Week: 23
Recent Trend: Ottawa has all of one regulation win in its last 10 games, and even that came over the Buffalo Sabres and was by just a single goal. The Senators were able to pull off an overtime win over a very good St. Louis squad on Monday but then posted losses to New Jersey, Florida and Phoenix to wrap up the week, continuing a largely frustrating month.
Big Picture: In terms of straight wins and losses, the Senators are 14-24 on the season, but despite that they find themselves only five points back of Toronto for the final wild-card spot in the East. One good run and this is a club in the thick of the playoff hunt.
By the Numbers: How long until Robin Lehner supplants Craig Anderson as the starter in Ottawa? Anderson, who posted a .941 save percentage in 24 games last year and probably would have won the Vezina with a few more games played, has a .897 save percentage through 24 contests this year. Lehner, sporting a .926 save percentage through 18 games, has been much better.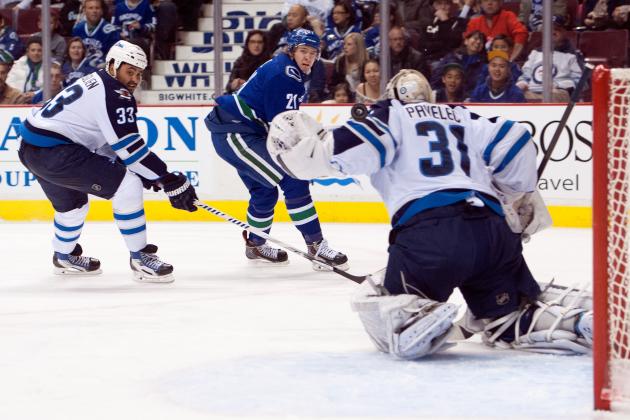 Rich Lam/Getty Images

Last Week: 25
Recent Trend: The Jets have alternated games where they get points with games where they don't going back to late November. It's the kind of run that keeps the team from falling too far but doesn't allow it to go anywhere good, either.
Big Picture: The lack of upward mobility is a big problem for Winnipeg, a team currently eight points out of a playoff spot.
By the Numbers: One pleasant surprise for the Jets has been the solid play of backup goalie Al Montoya, who with a 5-2-1 record and .920 save percentage has been solid pretty much whenever called upon.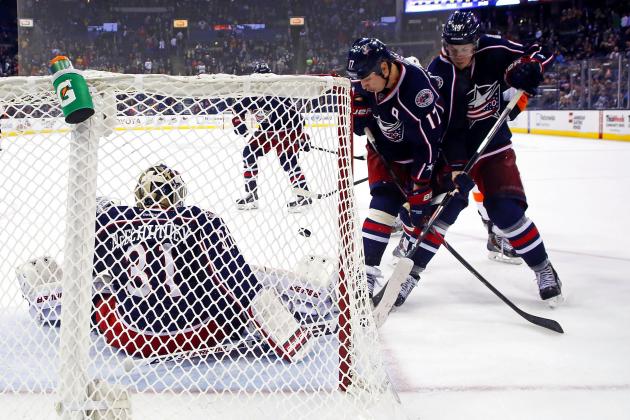 Kirk Irwin/Getty Images

Last Week: 17
Recent Trend: There just seems to be no way for the Blue Jackets to keep a good thing going. The team that won four of five to start December has more recently lost three of four.
Big Picture: The Jackets bring up the rear of the pack with realistic playoff hopes, but they're only three points out of third place in the Metropolitan Division.
By the Numbers: Journeyman backup Curtis McElhinney continues to play well in the absence of Sergei Bobrovsky. Despite a modest 5-5-1 record, he boasts a .920 save percentage on the season.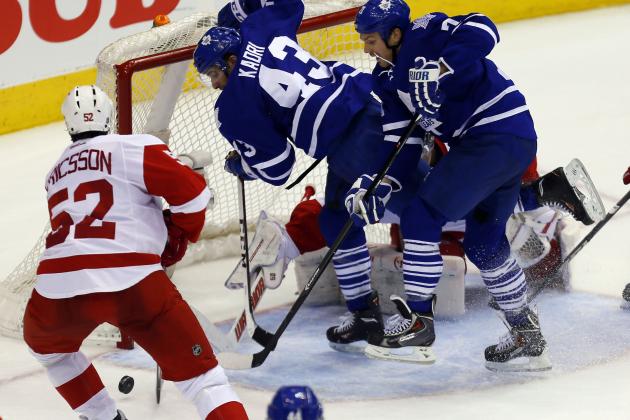 John E. Sokolowski-USA TODAY Spo

Last Week: 20
Recent Trend: A big 7-3 win over Chicago on Hockey Night in Canada remains the lone highlight of a disastrous stretch that goes back to mid-November. It's the team's only regulation win in its last 17 games.
Big Picture: Toronto still has a reasonably firm hold on the final wild-card spot in the East, with a four-point lead on Philadelphia and Carolina (though both teams also have two games in hand). Unfortunately, hopes of a higher seed are basically gone at this point; the Leafs sit seven points out of third in the Atlantic.
By the Numbers: Highly touted free-agent addition David Clarkson scored a goal against the Detroit Red Wings on Saturday; it was his first in 13 games and only his second point in that stretch.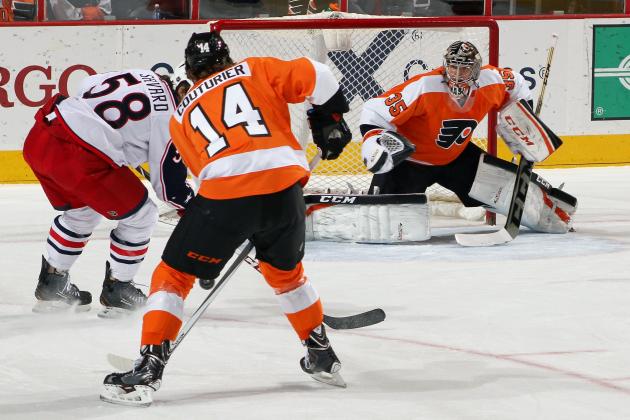 Len Redkoles/Getty Images

Last Week: 24
Recent Trend: The Flyers seem to have nicely arrested a December swoon mid-month, going 3-1-1 in their last five games. The only negative to this sudden uptick is that both losses came against other teams vying for a Metropolitan Division playoff berth.
Big Picture: Philadelphia is life and death for a playoff spot in the worst division in hockey and will likely stay that way for the foreseeable future.
By the Numbers: A trend to keep an eye on is the recent collapse of Steve Mason's numbers. The goaltender was Philadelphia's most valuable player early in the season when everything was going wrong, but the team's been winning despite his play lately. In a 4-1-2 December, he has a lousy .890 save percentage.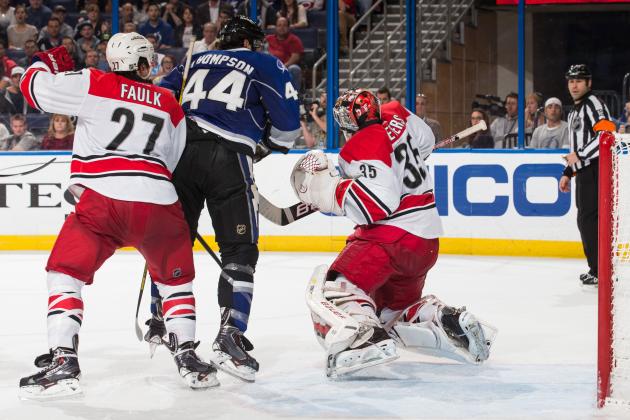 Scott Audette/Getty Images

Last Week: 18
Recent Trend: Three regulation wins in one week near the start of the month got the Hurricanes off on the right foot, but the trend lately hasn't been nearly so positive. The team has one win in its last six games, and the stretch includes losses to Edmonton and Calgary.
Big Picture: The 'Canes are a mediocre team by NHL-wide standards, but that puts them on the playoff bubble in the Met.
By the Numbers: After a relatively slow start to his return from injury, Jeff Skinner has scored eight times in his last nine games.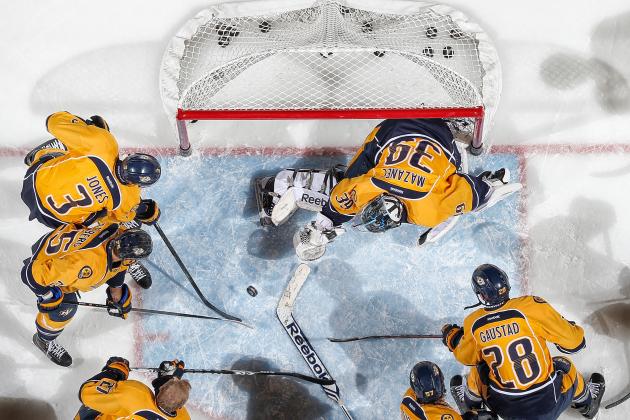 John Russell/Getty Images

Last Week: 16
Recent Trend: Having turned around a stretch of five consecutive losses with three wins last week, the Predators took advantage of that momentum...no, wait, they dropped three in a row.
Big Picture: "Jekyll and Hyde" describes Nashville's season to date. The team's most recent stretches include the following: three straight losses currently, three consecutive wins, five losses in a row, five wins in six games and being outscored 17-2 in four losses. The Predators are like a box of chocolates: You never know what you're going to get.
By the Numbers: Fill-in goalie Marek Mazanec went 5-4-1 with a .932 save percentage in November. This month he's 0-3-0 with a .854 save percentage.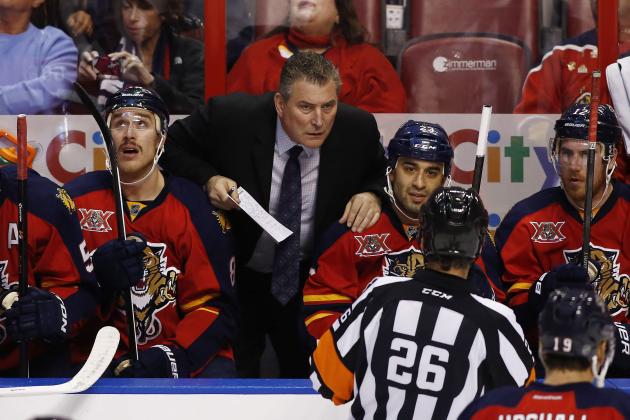 Robert Mayer-USA TODAY Sports

Last Week: 22
Recent Trend: Peter Horachek was hired as head coach near the end of November and faced the seemingly impossible task of turning the Panthers around. The amazing thing is that he's delivered so far: Florida is 7-3-0 in December.
Big Picture: On December 1, the gap between the Panthers and the Toronto Maple Leafs (the team in the final wild-card spot) was 12 points. Just three weeks later, that gap has fallen to seven, and suddenly, this season just might be about more than the draft lottery.
By the Numbers: Florida took some chances on reclamation projects in the summer and none has been a bigger hit than Tom Gilbert. The team's No. 2 defenceman has 13 points and a plus-one rating in 37 games, averaging 21:08 in ice-time per night. All of that comes on a one-year deal worth only six figures.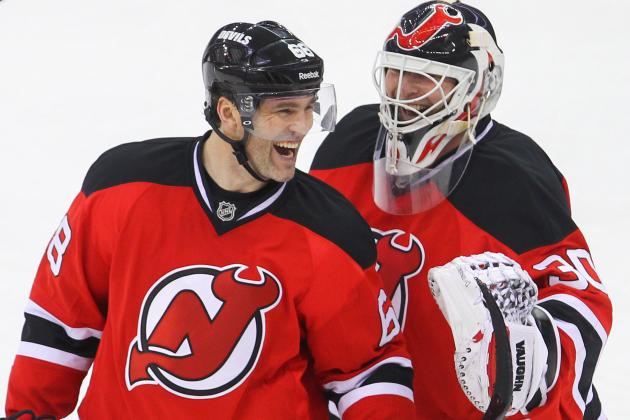 Ed Mulholland-USA TODAY Sports

Last Week: 21
Recent Trend: After losing five of their first six games in December, the Devils have turned things around lately with three wins in their last four games.
Big Picture: The Devils have a one-point edge on Philadelphia and Carolina for third place in the Metropolitan Division, and both of the latter clubs have a game in hand. New Jersey is also competitive for the final wild-card spot in the East, sitting three points back of Toronto.
By the Numbers: One of the best stories in the league this year is the performance of the ageless Jaromir Jagr. He leads the Devils with 33 points and a plus-12 rating in 37 games, which isn't half bad for a guy who will turn 42 less than two months from now.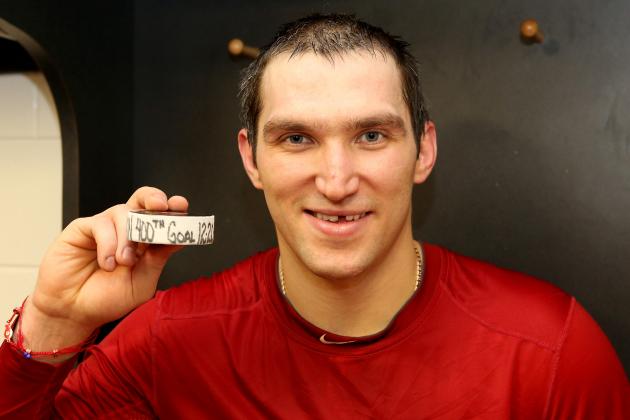 Gregg Forwerck/Getty Images

Last Week: 13
Recent Trend: Washington has gone win-loss-win-loss for six straight games now.
Big Picture: The Capitals seem to have established themselves as the Metropolitan Division's "other team," holding a comfortable lead in the standings on seeds three through eight but still sitting well back of the Pittsburgh Penguins.
By the Numbers: As with last week, Alex Ovechkin's pursuit of 50 goals in 50 games remains a race worth watching. He's not making up ground, but with four goals in his last four games (including his 400th career marker), he's holding steady.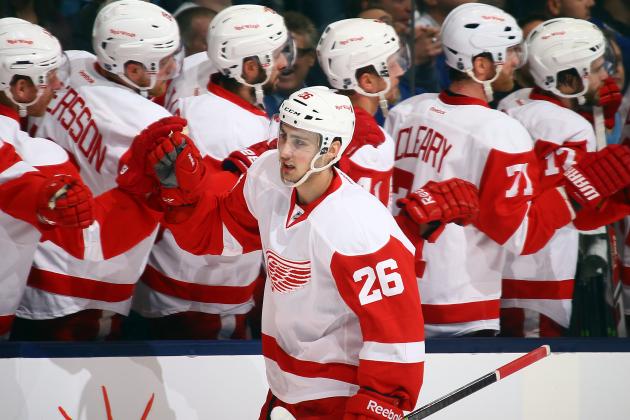 Abelimages/Getty Images

Last Week: 19
Recent Trend: Detroit has been slumping badly in December but tentatively may have begun to turn things around this week. The club won games on Thursday and Saturday (admittedly, neither in regulation), the first time it's won two in a row since November 29/December 1.
Big Picture: The Red Wings' downward slide for most of the past month has to continue quite a bit longer to knock the team out of the playoffs altogether. With 43 points, the Red Wings have a seven-point cushion on teams still outside a postseason berth and only sit four points back of second in the Atlantic Division.
By the Numbers: Tomas Jurco's first week of NHL employment went rather well. He has two goals, three points and a plus-three rating in four games to start his major league career.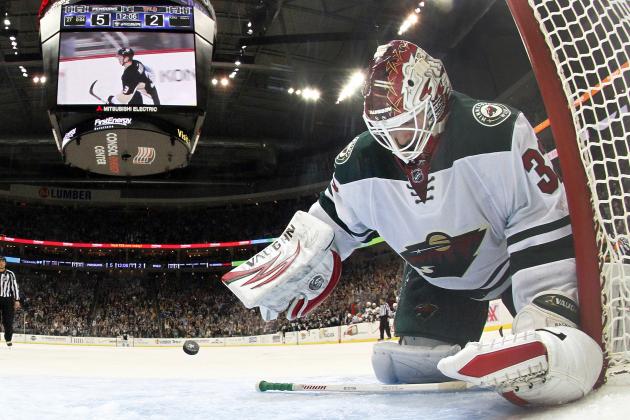 Justin K. Aller/Getty Images

Last Week: 12
Recent Trend: Minnesota has just one regulation win in its last six games, with a 4-1 loss on Sunday to the hapless New York Rangers representing a particularly low point for the club.
Big Picture: The Wild have precious little margin for error; with 45 points, the team is only one ahead of the Phoenix Coyotes for possession of the final wild-card spot in the West. It wouldn't be a comfortable position for any team, and the fact that Phoenix has three games in hand makes it even less so.
By the Numbers: Niklas Backstrom, who has largely been supplanted in net by Josh Harding, has been asked to step in and fill the role of starter, with Harding on injured reserve to make adjustments to his multiple sclerosis medication, as per this AP report. Backstrom can't seem to find his game, though; he has lost six straight and has a .898 save percentage over that stretch.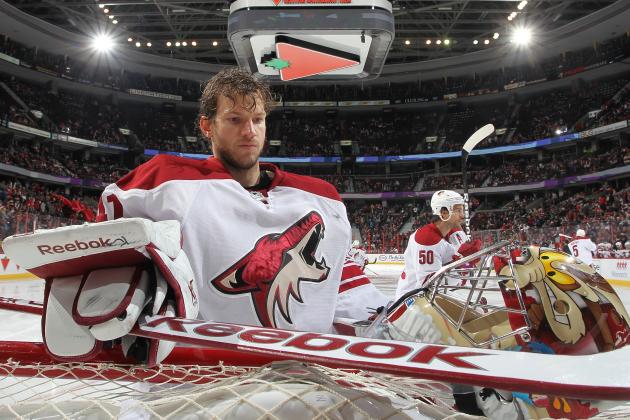 Andre Ringuette/Getty Images

Last Week: 10
Recent Trend: The Coyotes continue the trend of roughly .500 hockey they've been stuck in since their hot start, going 1-1-1 over the last week.
Big Picture: The Coyotes have gradually slipped down the Western Conference standings and outside the playoff picture; if they can't better their recent record, they'll stay on the outside.
By the Numbers: Since posting a .930 save percentage in 2011-12 with the Coyotes, Mike Smith has played 64 games and has a .912 save percentage, which is just a little higher than what he posted in his career prior to moving to Phoenix.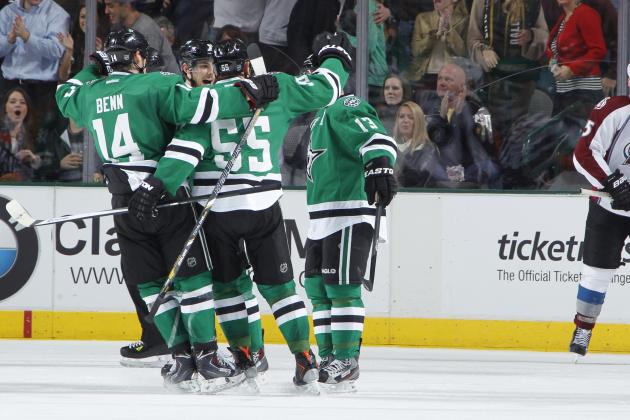 Glenn James/Getty Images

Last Week: 14
Recent Trend: Dallas has spent most of the last month or so swapping wins and losses roughly equally; this week, the team continued on that same path with two wins, one regulation loss and one shootout loss.
Big Picture: It's still early enough for things to change, but Dallas appears to have settled in as the team at the bottom of a group of 10 vying for eight playoff positions.
By the Numbers: Sergei Gonchar has recovered a little bit after a difficult start, but his goal-scoring slump continues. The veteran defenceman is now 0-of-48 on the season and, based on his established career shooting percentage, would normally have four goals on that many shots.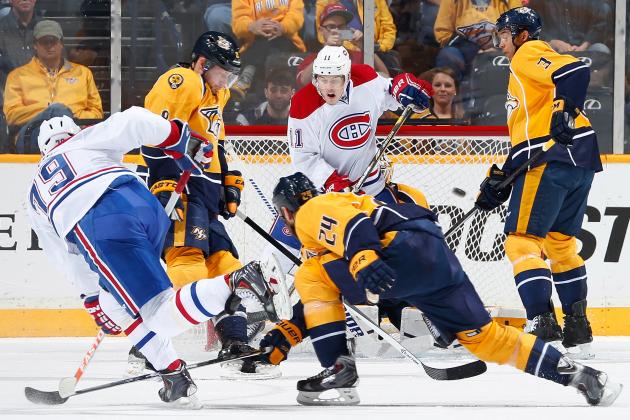 John Russell/Getty Images

Last Week: 15
Recent Trend: After winning four straight to start the month, the Canadiens have mostly traded wins and losses, something they've done for the last six games.
Big Picture: Montreal's situation is pretty rosy. The team only sits three points out of first place in its division and has a four-point lead on the fourth-place Detroit Red Wings.
By the Numbers: Inexplicably, the Habs continue to employ defenceman Douglas Murray. The veteran blueliner has no points and a minus-11 rating in 21 games this year, and he's been full value for the latter.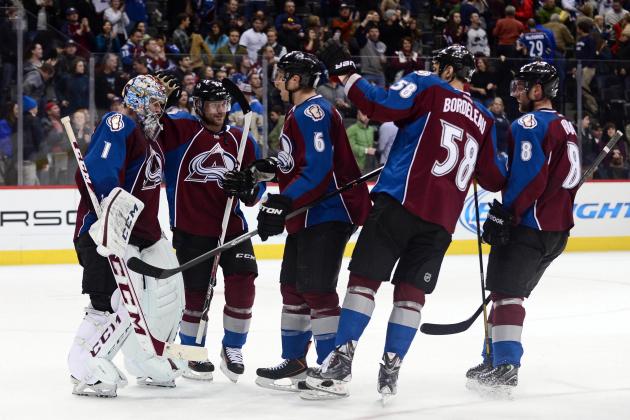 Ron Chenoy-USA TODAY Sports

Last Week: 9
Recent Trend: Much like Phoenix, the Avs have been basically a 0.500 team for the last month and kept at it this past week in winning two and losing two.
Big Picture: The Avalanche have fallen behind the big guns in the West and now find themselves in a bubble position.
By the Numbers: Colorado has a 5-3-2 record against teams currently in a playoff position in the West and an 18-7-0 record against everyone else.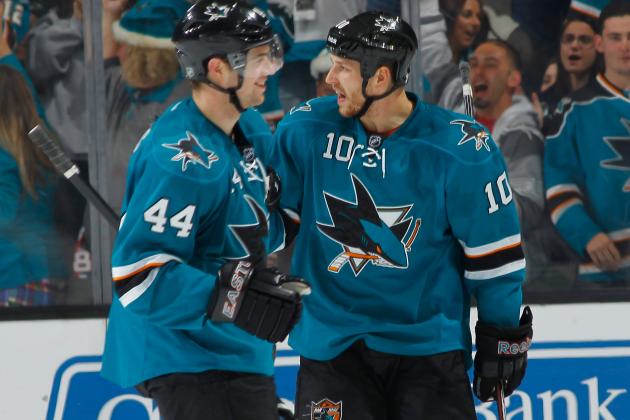 Don Smith/Getty Images

Last Week: 7
Recent Trend: The Sharks rebounded this week from a bit of a rough patch they'd hit in the schedule, winning two of three games against St. Louis, Los Angeles and Dallas.
Big Picture: San Jose's slump has slid them down an insanely competitive Pacific Division's standings, but the team is still comfortably in the playoff picture.
By the Numbers: Martin Havlat, who has largely been a disappointment in San Jose, posted three points in the past week, ending a six-game pointless streak. He now has eight points in 22 contests and seems like a pretty decent candidate for a compliance buyout in the summer.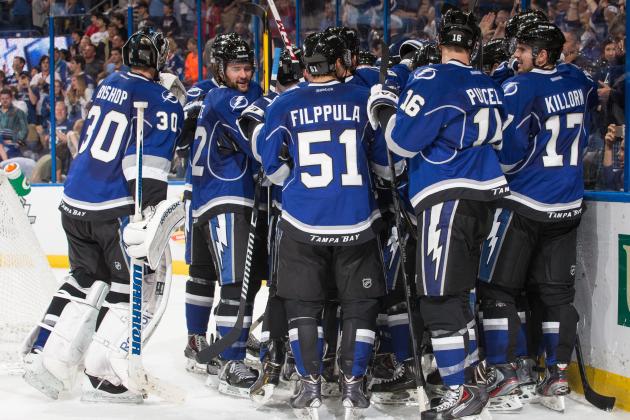 Scott Audette/Getty Images

Last Week: 11
Recent Trend: The team's needed a little help in the form of overtime and the shootout, but Tampa Bay is currently riding a four-game winning streak and has won five of its last six.
Big Picture: The Lightning's resurgence this year is one of the league's most overlooked stories; a year ago, only two teams in the NHL were worse, and today, only two teams stand between Tampa Bay and first in the East.
By the Numbers: Richard Panik is the only Lightning skater with more than 20 games played to have a negative plus/minus on the season.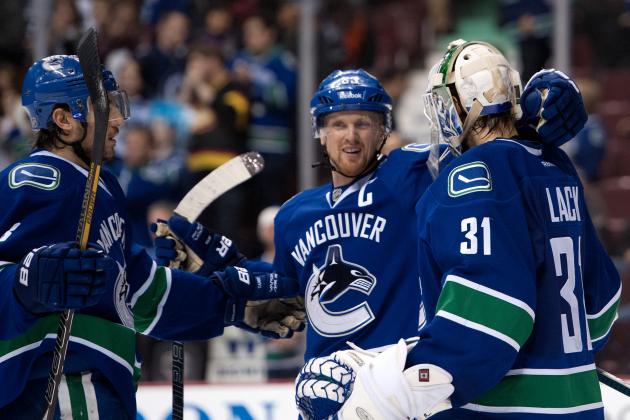 Rich Lam/Getty Images

Last Week: 6
Recent Trend: The Canucks have all of one regulation loss in 11 December games and have now won two in a row.
Big Picture: With 50 points, Vancouver is reasonably secure in a playoff spot in the West; the team has a six-point lead on Phoenix, though it's worth noting that the Coyotes also have four games in hand. Still, Minnesota (five points back of Vancouver and slumping) and Colorado (two points back) would also have to pass Vancouver to put the playoffs in jeopardy.
By the Numbers: Eddie Lack came in on Sunday in relief of an injured Roberto Luongo and stopped 15 of 16 shots he faced to secure the win over Winnipeg. The Vancouver backup now has a 6-2-0 record and .928 save percentage and is playing admirably in place of the departed Cory Schneider.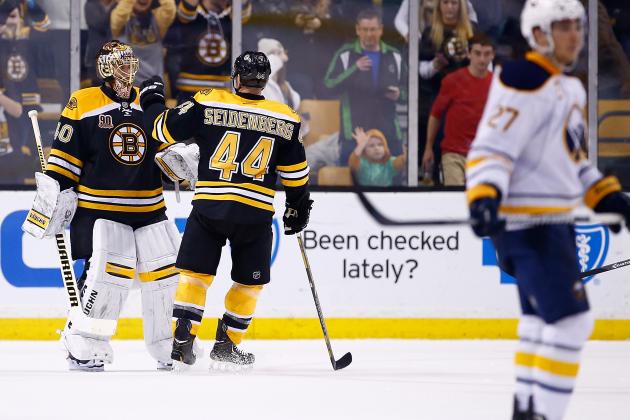 Jared Wickerham/Getty Images

Last Week: 8
Recent Trend: Boston has won only two of its last four games, which is what passes for a cold streak for the Bruins. They last sunk to this level a month ago before ripping off eight wins in the 10 games that followed.
Big Picture: The Bruins lead a reasonably competitive Atlantic Division and trail only Pittsburgh in the Eastern Conference standings.
By the Numbers: Of Torey Krug's 18 points on the season, 10 have come on the power play; he is the only Bruin with more points with the man advantage than on even strength and, along with Eric Gelinas, the only one of the NHL's 30 top-scoring rookies to have that kind of scoring balance.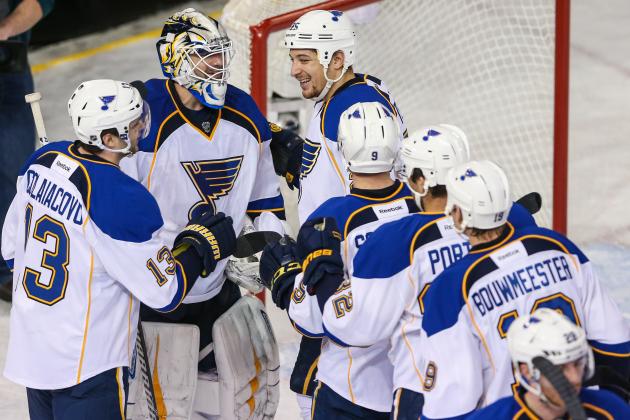 Sergei Belski-USA TODAY Sports

Last Week: 3
Recent Trend: The Blues have won six of their last seven games and outscored their opposition 15-3 in their last three contests.
Big Picture: St. Louis is a Stanley Cup contender, and the club's been running roughshod over the rest of the league in general.
By the Numbers: While the Blues have dominated most of the NHL, there is one thing to keep in mind if they make it to the conference finals: The team is currently 0-5-1 against the top four clubs in the Pacific.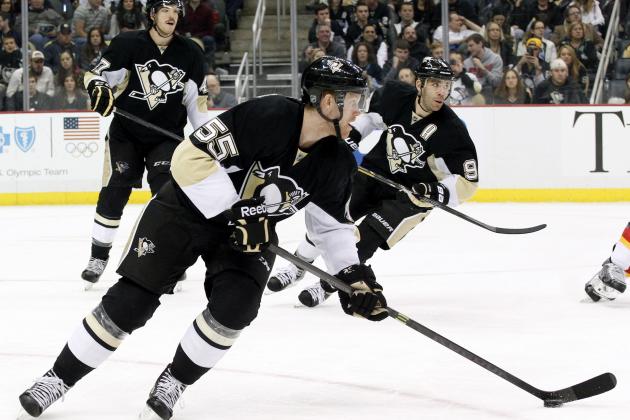 Charles LeClaire-USA TODAY Sport

Last Week: 5
Recent Trend: "But we have injuries" is the common cry of fans all over the league when their favoured team slumps, and it's one that has a fair bit of merit. So the Pittsburgh Penguins, beset with injuries, would have had every excuse to post subpar results in December. They've won seven straight games and 12 of their last 13, with the lone loss by a single goal at the hands of the Bruins.
Big Picture: Pittsburgh's incredible run has made history of a decent but unmemorable start and propelled the team to first in the East by a healthy five-point margin.
By the Numbers: In the Penguins' last game (against Calgary), the team dressed eight skaters who spent significant portions of last season in either junior or the minors.
Gary A. Vasquez-USA TODAY Sports

Last Week: 4
Recent Trend: The Ducks have won eight straight games, and I feel compelled to note were the choice of this voter for the top spot in these rankings.
Big Picture: Even without the eight consecutive wins the team just posted, Anaheim would be sitting pretty with a 18-7-5 record. With those victories, the Ducks currently sit first in the overall NHL standings.
By the Numbers: Ryan Getzlaf and Corey Perry sit second and third in Western Conference scoring and third and seventh overall with 43 and 40 points, respectively.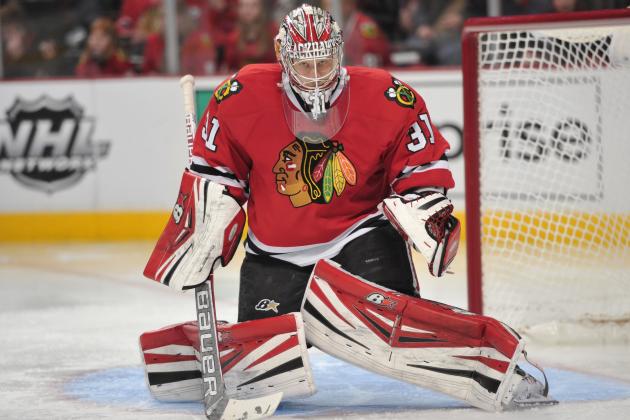 Rob Grabowski-USA TODAY Sports

Last Week: 1
Recent Trend: The Blackhawks are 5-1-1 in their last seven, and their 7-3 loss to Toronto earlier this month remains entirely inexplicable. I guess that's why they play the games.
Big Picture: The only real question about the 'Hawks in the regular season is whether they'll win the Presidents' Trophy or not. Currently, the team sits one point back of Anaheim for that honour.
By the Numbers: Antti Raanta, the highly touted Finnish free agent who chose Chicago over Edmonton and other suitors in the summer, probably feels pretty good about that decision now—just not as good as the Blackhawks do. With Corey Crawford and Nikolai Khabibulin injured, Raanta has gone 7-2-1 with a .920 save percentage in relief.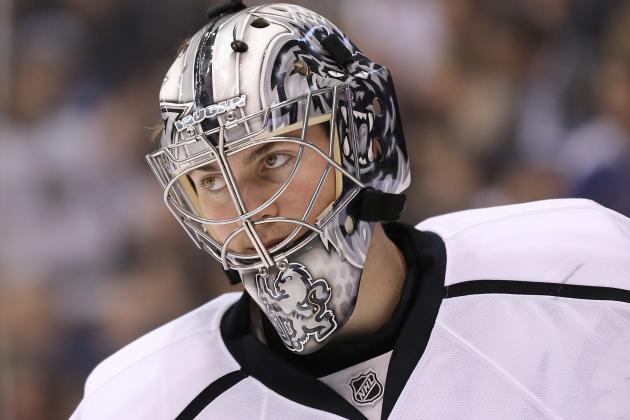 Tom Szczerbowski-USA TODAY Sport

Last Week: 2
Recent Trend: The Kings have won three straight games and nine of their last 10.
Big Picture: Los Angeles currently sits second in the Pacific with 54 points, three back of the division- and league-leading Anaheim Ducks. No team in the NHL has allowed fewer goals than the Kings' 71.
By the Numbers: The Kings may want to call up goalie Jean-Francois Berube from Manchester, because apparently the lower a goalie is on the Los Angeles depth chart, the more ridiculously he's going to play this season. Starter Jonathan Quick is 10-5-0 with a .905 save percentage, backup Ben Scrivens is 7-3-4 with a .941 save percentage and third-stringer Martin Jones currently sits at 8-0-0 with a .966 save percentage.