Analysing Pedro's Performance vs. Getafe
December 22, 2013

Gonzalo Arroyo Moreno/Getty Images
Barcelona needed the absolute best from Pedro with star counterparts Neymar and Lionel Messi out.
They got that and then some from the Spaniard, who earned his hat-trick in a nine-minute span before half-time and added an assist to propel Barcelona's 5-2 win over Getafe on Sunday, Dec. 22.
ESPN FC noted Pedro's epic feat through 45 minutes of play on Twitter:
Without their two stars and needing three points to remain tied atop the league table, Barcelona's backs were against the wall early on. Getafe fired off goals in the 10th and 14th minutes to post a commanding 2-0 lead in a raucous environment.    
But in the 34th minute, La Blaugrana's offense finally penetrated off an impressive Cesc Fabregas lead pass through three defenders that Pedro was on the other end of.
The 5'7" forward made no mistake of the finish, chipping the goalkeeper—who seemingly got a piece of the ball—from about 30 yards out: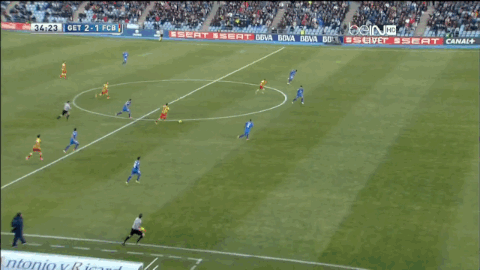 Bleacher Report
The swift-footed forward could thank his midfielder for help on the first one, but seven minutes later, Barcelona equalized. This one was all Pedro.
Cutting in from the left side, Pedro fired through two defenders with a splendid rip that just barely caught the inside post. Goalkeeper Miguel Moya stood no chance: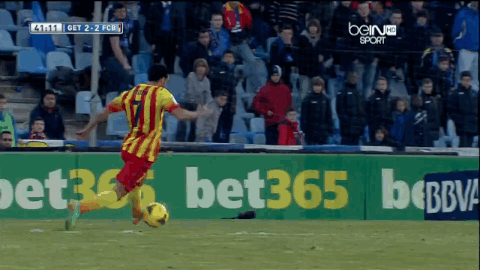 Bleacher Report
Like Barcelona do when their offense is firing on all cylinders, they wasted no time producing another scoring chance. Pedro aimed to cap off his hat-trick and put the defending title winners in the lead despite conceding two first-half goals.
A signature pass-heavy La Blaugrana attack in the 43rd minute culminated in a Jordi Alba cross that deflected off a Getafe defender and straight to Pedro.
He took a few touches of the ball before putting the exclamation point on his first-half hat-trick: 
Bleacher Report
Three goals weren't enough to satisfy Pedro, apparently. He showed even more chemistry with Fabregas in the 68th minute by assisting the midfielder's goal. 
Someone has to be on the finishing end of things when Barcelona are playing this well offensively and dominating possession at such a dizzying pace. Pedro was fortunate enough to be the recipient of some masterful plays by teammates like Fabregas, Andres Iniesta, Alba and more. 
But you can't deny his ability to step up to the plate when his team needed him. Down two goals, Pedro scored three goals himself in the span of nine minutes. 
That sort of performance is almost unheard of. This is especially true considering Pedro doesn't get the typical hype of the world's elite footballers like a Messi, Cristiano Ronaldo or Luis Suarez. 

Gonzalo Arroyo Moreno/Getty Images
Pedro's wondrous nine-minute stretch in the first half took the phrase "putting the team on your back" to a whole new level. Surely it doesn't hurt that he's suddenly the featured forward with Messi and Neymar out, but each of his finishes was quite impressive. 
Barcelona will need more games like this from Pedro if they're going to stay afloat in league play. This season isn't shaping up to be the cupcake that last year was, as Atletico Madrid look keen on contending for the championship down the stretch.   
The importance of Pedro's play will drop down a bit when Neymar and Messi return to the fold, but he's still a regular starter and one of the key players in Barcelona's offense—no matter who is starting alongside him.