It took all 60 minutes to find a winner, but in the end Tony Romo was able to find DeMarco Murray on a pass with just over a minute to go in the game, giving the Cowboys the victory over the Redskins and keeping their playoff hopes alive.
Final
Redskins - 23
Cowboys - 24
Here's a look at live game grades and analysis for Washington.
Washington Redskins Game Grades

| | | |
| --- | --- | --- |
| Position Unit | 1st Half | Final |
| Passing Offense | B- | B- |
| Rushing Offense | B | B |
| Rushing Defense | C | C |
| Passing Defense | C | C- |
| Special Teams | C | C |
| Coaching | B- | B- |
vs. Cowboys / Week 16
Final Analysis for Washington
Passing Offense: Perhaps it wasn't a stat line similar to a week ago, but Kirk Cousins handled the game well, made accurate passes (for the most part) and kept the Redskins relevant.
That sounds so sad, doesn't it?
As mentioned before, Cousins' pocket presence and footwork means so much to the offensive line, the passing attack and the ultimate outcome of the game. The Redskins offensive line benefits from a quarterback who can shift and maintain a pocket, the receivers benefit from accurate passes and the ground game increases effectiveness by way of an efficient passing attack, which ultimately improves offensive game flow.
There are clearly still throws that make you shake your head, or hold your breath. But there's nothing wrong in labeling Cousins a quality backup with good potential.
Cousins finished the game 21-of-36 for 197 yards, a score and an interception.
Hats off to Pierre Garcon, who hauled in more than half (11) of Cousins' completions for 144 yards and a score, on his way to becoming just the second Redskins players ever to bring in more than 100 catches in a season and eclipsing Art Monk's record of 106.
Rushing Offense: Morris finished the game with 24 carries for 88 yards and a touchdown, helping to keep the Cowboys defense honest and making them pay on critical short-yardage situations throughout the game.
The offensive line held up its end of the rushing game when the Redskins weren't going with obvious calls on running plays. As we've seen all season, if this Redskins offensive line is even a little overmatched up front, they're not going to overpower anyone.
Moving forward, let's hope Morris develops some sort of catching reliability out of the backfield. He's such a dependable back when it comes to carrying the ball, but his lack of versatility leaves much to be desired.
Rushing Defense: Although they were able to limit Murray to just one rushing touchdown on the day, the Redskins allowed themselves to be gashed at bad times throughout the game. Murray, like Morris, was able to remain effective and keep the defense honest.
Murray finished the game with 96 yards on 22 carries and a rushing score, as well as the game-winning touchdown catch with just over a minute to go.
Passing Defense: Romo clearly deserves credit for his play today. He battled through injury on his way to manipulating the pocket on seemingly every play, finding space and throwing to open receivers.
Romo finished the game with 226 yards on 17-of-27 passing, two touchdowns and an interception (that was thrown into tight coverage, but was aimed at Dez Bryant who had slipped and fell).
The Redskins could have played much, much worse in the deep half. But the stat line shows they were able to hold Romo to less than 250 yards and all receivers, including Bryant, to less than 85 yards. Something needs to be said for that.
However, Romo's improvisation with just more than a minute to go in the game to find Murray for the score will stick with fans... as it should.
Special Teams: Kai Forbath had a good day, as did Santana Moss, the returners and the Redskins coverage, aside from the Cowboys' lone punt return. In the end, though, this special teams unit is just as bad as we've seen all year.
Punter Sav Rocca—who should be playing his final few quarters in a Redskins uniform this season—was absolutely horrid, but somehow benefited from sloppy weather conditions and lucky bounces that ultimately turned shanked punts into decent pins.
Coaching: It will be interesting to hear the arguments swirling around tomorrow morning regarding how terrible the Redskins are and why it's entirely the fault of the coaching staff.
To be fair, the final play from the Cowboys that put them ahead was all on players, rather than what many will likely call a lack of pressure. The down linemen got enough push, and that forced Romo to move. However, a breakdown by a linebacker is what ultimately allowed DeMarco Murray to find space.
From a time management perspective, there was a random timeout late in the game that didn't seem to make any sense. Clock work remains a concern with this staff.
Not that I want play anymore into the coaching turmoil, but Bill O'Brien has since moved atop my list.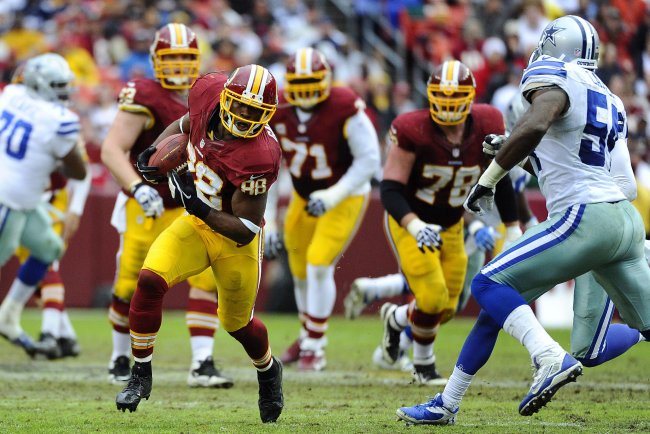 Brad Mills-USA TODAY Sports
First-Half Analysis for Washington
Passing Offense: With a chance to score before the half, Cousins left a ball behind an open Moss on a slant, which ricocheted off Moss' hands and into the arms of a Cowboys defender.
For the most part, Cousins has been accurate, but his inexperience is still noticeable.
What stands out most when watching Cousins is his command in the pocket. His ability to drop back with relative ease, feel the pressure and step up to deliver a strong throw is much different than what we saw from Robert Griffin III through the first 14 weeks of the season.
As mentioned last week, Cousins' footwork can help the offensive line, but the unit as a whole is inconsistent. Right tackle Tyler Polumbus let a defender get by him in the first quarter, which resulted in a big shot on the quarterback—something the Redskins clearly can't afford.
Garcon has been incredible so far, pulling in sick catches on his way to 107 yards, and exceeding the century mark in receptions this season. Garcon joins Hall of Famer Art Monk as only the second player to ever pull in 100 catches in a season.
Rushing Offense: We all knew how bad this Cowboys defense was coming into today's game, and Morris' success through one half is proof. Although he didn't gouge them on all of his runs, Morris (and any other running back) has a decent chance of ripping off a big gain at any point against this porous Dallas unit. Morris has 43 yards on 13 carries through two quarters.
Rushing Defense: Like the Cowboys, the Redskins defense can't consistently stop the opposing rushing attack. On one play the defense clogs a lane and takes down Murray for a short gain. But they'll come back the next down and allow Murray to rip off a 43-yarder like the one we saw late in the second quarter.
In this instance, Redskins fans can only hope the offense remains capable of offsetting the Cowboys' production through the air and grinding on the ground.
Passing Defense: The missed blitz by E.J. Biggers and the resulting Bryant touchdown before the half should still burn, as the Redskins passing defense has looked suspect on minimal action (Romo is 5-for-9 for 62 yards) in the first half.
Lining up Ryan Kerrigan and Brian Orakpo on the same side (a look Redskins fans have begged for) ended in a Romo sack—but that was the lone bright spot on an otherwise routine half for the Redskins.
Special Teams: Micheal Spurlock's 62-yard punt return in the first quarter ultimately helped the Cowboys score their first touchdown of the day. So, no surprise. The Redskins special teams unit has made a habit of such poor play.
However, since that return, the Redskins have looked better on coverage assignments and Moss pulled one of the best returns for Washington this season with his 18-yarder early in the second quarter.
Coaching: Defensive coordinator Jim Haslett needs to remain creative. Bringing Kerrigan and Orakpo on the same side is not only creative, but it works. Why not mix it up more? Why not think of new ways to get to the quarterback?
Now, in Haslett's defense, having his defensive backs whiff on Romo as if the quarterback is Allen Iverson circa 2003 isn't on the coach. Players need to execute when put in the position to do so.
It's been a pretty balanced half from Kyle Shanahan so far. He's keeping Dallas true with Morris on the ground and he's giving Cousins open receivers underneath.