Playoff Duds: NHL's Most Disappointing Postseason Performances of 2009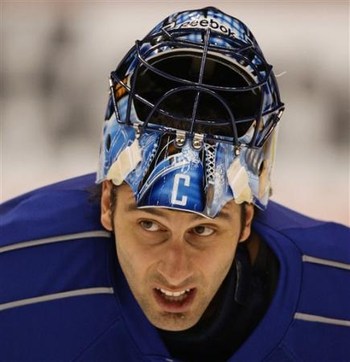 Much of the talk that is done during playoff time is about the players that steal the show and the guys that step up under pressure and play a huge role in their team's success.
Those are the guys that finish the season having the fans excited about what they'll be able to bring to the team in the following season.
Those are the guys that can sleep soundly over the summer because they know they contributed to the best of their ability.
But some players aren't so lucky.
Here now are the players that seemed to forget to show up for the playoffs.
The guys that were major disappointments to their team and fans, and just might have a big question mark hanging over their heads going into next season.
Or, it's guys that should have done much better in their short stay in the season after the season...but didn't.
Pavel Datsyuk—Detroit Red Wings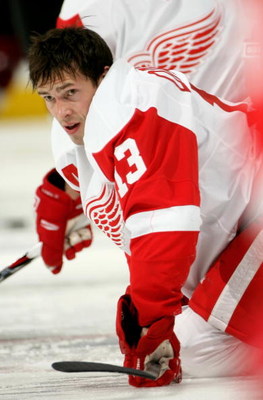 Pavel Datsyuk finished the regular season fourth overall scoring with 97 points.
He had 32 goals and was a constant contributor to the highlight reel.
He led his team to second place in the Western Conference and solidified himself as one of the best players in the NHL.
The 30-year-Old Russian super star went into the playoffs on a roll and was sure to be impossible to stop for his opponents.
So what the heck happened?
Before suffering a foot injury in the series against Chicago, he had one goal and six assists in 13 games.
He has always been known as a playoff dud with only 21 career playoff goals in 82 games coming into this year's postseason, but after the stellar regular season he had it was expected that he continue to perform when the Red Wings needed him most.
As he recovers from injurty on a day-to-day basis, Datsyuk will be expected more than ever to perform like he did in the regular season because his teammates can only hold up his end of the scoring for so long.
Without Datsyuk playing at his superstar potential, the Wings might be out-superstarred by Pittsburgh's young guns.
Roberto Luongo—Vancouver Canucks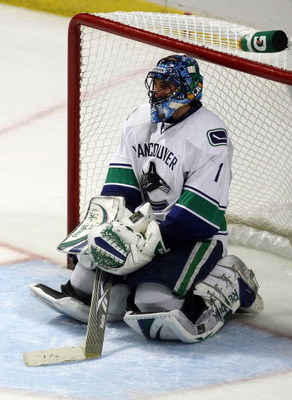 Okay, so before you all jump down my throat and cry foul that I dare utter a negative word about Roberto Luongo...let me explain.
Luongo had an unbelievable first round against the St. Louis Blues in which he hardly even let in a goal. Once the sweep of St. Louis was over, there were already rumblings of the Conn Smythe Trophy that was to come his way should he lead his team to the Finals.
But the honeymoon was soon over once the young and feisty Chicago Blackhawks rolled into town.
After the Canucks won Game One, things went significantly downhill for Luongo and the 'Nucks.
He went 1-4 in his next five games, had an .878 SV percent, and allowed 18 goals in that span—including seven in Game Six, their final game of the season.
It's hard to say that he was tired after a usual Luongo-type regular season since he only played in 53 games, far fewer than what he is used to.
He hadn't played less than 70 games in a season since 2003.
It may have been an injury since he had dealt with injury problems during the season, but it certainly was kept quiet even until now.
Whatever it was, Luongo was not his usual self in round two and allowed many goals in that he normally would save without a second thought.
Undoubtedly there will be no one questioning his playoff performance come the beginning of next season and whether his poor play will carry over.
But, his future with the Vancouver Canucks may be in question; whether it is their choice or his.
Patrick Kane—Chicago Blackhawks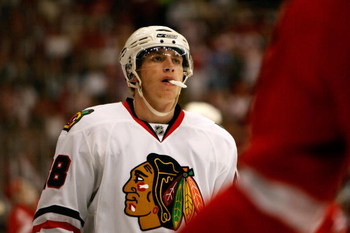 Through his first 11 playoff games in his career, Patrick Kane was simply incredible.
Eight goals and four assists through those games, it looked as if he was going to be an absolute stud come postseason time.
Then he got injured, a mystery injury of sorts—or maybe it was just the flu, twice— whatever it was, it may have been the reason his play, come the Conference Finals against the Red Wings, was extremely below that of the previous rounds.
The series was over in five games, but Kane did not score until Game Five and added one assist in the game before that.
Twelve points in his first 11 games, two points in his next five, and that ended the season for the Hawks.
To blame the loss on Kane is unfair since almost the entire team was playing in their first playoffs against one of the most playoff-tested teams there has ever been.
But his lack of offensive output certainly hurt the hawks when they needed him most.
It was a disappointing end to such a prominent season for Kane and the city of Chicago, but by the look of the team now, Kane will have plenty more chances to prove his worth in the postseason.
Don't sweat it, kid.
San Jose Sharks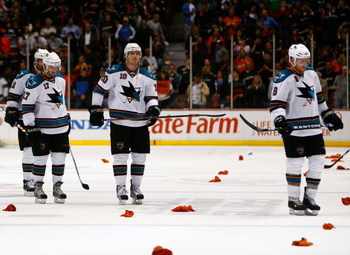 I could go through the players on this team name-by-name that did not show up for their first round series.
But we don't have that much time.
Basically—and this is news to no one—the San Jose Sharks yet again proved themselves as completely useless when it comes to playoff time.
Sometimes the NHL regular season really does mean absolutely nothing.
They were the No. 1 team in the NHL during the regular season, basically from day one, and looked as if they would cruise to the Conference Finals against Detroit to see who would still stand to battle for the Cup.
Well, the Wings made it.
But the Sharks lost to the eighth place Anaheim Ducks, who were riding the momentum they had gained by just sneaking into the playoffs.
Apparently a month of good play to make it into the big dance better prepares a team than a year-long beat down of every team in the NHL.
Who knew?
Needless to say, the Sharks were one major disappointment in this year's playoffs.
Maybe next season they should shoot for a better spot in the West, like eighth.
Jeff Carter—Philadelphia Flyers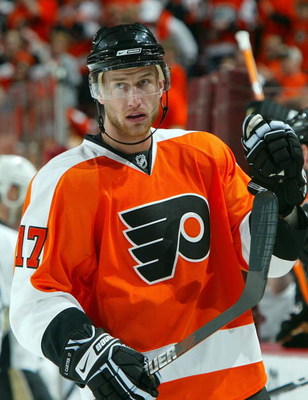 2008-2009 was Jeff Carter's coming out party, of sorts, as he officially booked his spot as one of the top scorers in the NHL.
He finished with 46 goals and 86 points while playing all 82 games.
The playoffs were not so kind to Carter, not so kind at all.
The Flyers were bounced from the postseason in the first round by the Pittsburgh Penguins in six games.
Jeff Carter had one goal.
That's it.
A big-time let down after such an incredible season in which he finished second in league scoring and was expected to stand up against the Penguins' Sidney Crosby and Evgeni Malkin.
The Flyers needed scoring from their top guys—which is essentially their top six forwards who all score at a ridiculous pace—but Carter is the lead-dog in that pack, and his lack of output set the tone for the rest of the team.
Now they sit and watch as the team that out played them fights for the Stanley Cup.
Just another example of how scoring in the regular season can only get you so far, but if you can't score in the postseason...all the other goals are hardly worth remembering.
Jose Theodore—Washington Capitals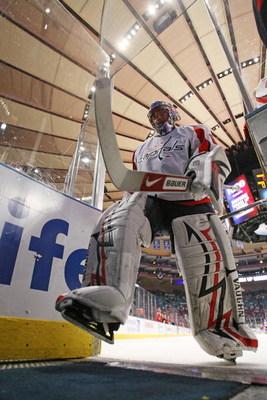 The 2009 Stanley Cup Playoffs will not be a memorable one for Washington Capitals' goalie Jose Theodore.
He played two playoff games—the first game and the last—and both ended up in losses for the team.
He did not play well, at all, and Coach Bruce Boudreau had him on a very short leash.
In Game One of the first round against the New York Rangers, Theodore allowed four goals on 21 shots—an .810 SV percent—and was benched in favour of rookie goaltender Simeon Varlamov.
In Game Seven in round two against the Pittsburgh Penguins, Varlamov's play in the first period called for him to be pulled, and Theodore was once again back in the net.
He then went on to allow two goals in 12 shots—a .833 SV percent—and the Capitals' season was done.
The Vezina and Hart Trophy winner (2002) was once a top-notch NHL net minder, but now it seems his career is in decline and the two games that he played in the playoffs this season may have been his last chance.
Erik Cole—Carolina Hurricanes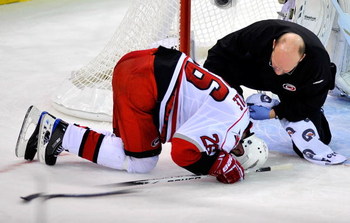 The Carolina Hurricanes added Erik Cole to their roster as a part of a three-team deal at the trade deadline.
They needed some more scoring help for Eric Staal and Ray Whitney come playoff time, and the return of Cole—who played for the team from 2002 until the end of last season—would hopefully ensure their stay in the postseason would last as long as their Stanley Cup run in 2006.
Well, they made it to the Eastern Conference Finals, but through 18 games Cole only had five assists before the Canes were ousted from the spring dance.
He was a minus five in the end and practically invisible for many of the games.
Whether his stay in Carolina is as long as last time or not, Erik Cole certainly did not contribute the way he did in those previous years in front of the Caniacs.
Montreal Canadiens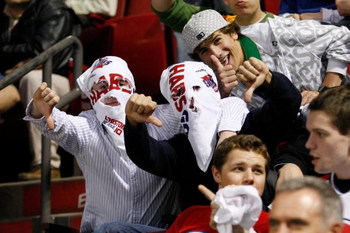 As a proud Leaf fan, I just have one thing to say...
Weak.
Keep Reading