Colorado State scored 18 points in the final three minutes off two fateful Washington State fumbles to take victory of the 2013 New Mexico Bowl, 48-45.
ESPN SportsCenter summed up the unpredictable Rams win:
EPIC FINISH!! A Statue of Liberty and a fumble recovery on the kickoff give Colorado State the 48-45 win in the final minute! #NewMexicoBowl

— SportsCenter (@SportsCenter) December 21, 2013
Washington State quarterback Connor Halliday threw an interception on his second pass of the game, but nothing could be a more misleading indication of how his performance would go in the opening minutes.
After Colorado State fumbled their first play after the pick, Halliday connected with River Cracraft for a 25-yard touchdown less than three minutes into the game to put the Cougars up, 7-0.
The Rams had a punt blocked on their next possession, and that set up another quick Halliday touchdown pass. Washington State had two touchdowns before the game reached four minutes, leading 14-0.
Tempers flared on the Colorado State sideline after the touchdown, as Rams defensive line coach Greg Lupfer shared some non-pleasantries with Halliday.
B/R's Barrett Sallee captured the clip that quickly went viral:
The bizarreness of the first half didn't stop there. As Washington State tried to pull away, the opposing Rams pulled some rabbits out of their respective hats to stay in it.
After seeing their first punt directly turn into Cougars points, the Rams converted two fake punts in the first half. The first immediately resulted in a 63-yard touchdown pass from Garrett Grayson to Charles Lovett to make the deficit 14-7.
The second came in the midst of a 19-play drive that resulted in a field goal to make it 21-13 Washington State in the middle of the second.
It would take much more than fake punts and long drives to overcome Halliday's first half. He tossed five touchdowns before halftime, which—as CBS Sports' Eye on College Football noted—is a bowl game record:
Washington State's Halliday has 222 yards and 5 TD passes today. In the first half. The 5 TDs are New Mexico Bowl record.

— Eye on College FBall (@EyeOnCFB) December 21, 2013
Halliday and the Washington State offense put up 35 in the first half, but it wasn't enough to lock this one up. Colorado State scored late in the opening half off a one-yard score from Kapri Bibbs, and added a last-second field goal to cut the deficit.
Suddenly, Washington State was only up 35-23 at half thanks to Colorado State churning out a couple of long drives to keep Halliday's dangerous passing attack off the field for long stretches.
CBS Sports' Tom Fornelli noted the Cougars' lack of a running game in the opening half in contrast to their lead:
At halftime Washington State is being outgained by 100 yards, has -12 yards rushing as a team and leads 35-23.

— Tom Fornelli (@TomFornelli) December 21, 2013
Colorado State wasted no time moving within one score, and who else but Bibbs?
After Washington State hit an early field goal, Bibbs took a carry 75 yards on the Cougars' first play of the drive to pay dirt. Despite a lingering turf toe injury, the star back was untouchable when he reached the second level.
In the blink of an eye, the Rams trailed just 38-30—and that's how the teams would enter the fourth quarter after defenses suddenly made themselves visible.
The Cougars went on an 11-play drive fueled by an efficient passing game early in the fourth, and it was capped off by Halliday's 22-yard touchdown strike to Isiah Myers. That put them up 45-30 with a little more than nine minutes left.
Colorado State punted to flip field position with less than seven minutes left, and it paid off as they mounted an insane comeback fueled by a long drive to make it a one-possession game.
With less than three minutes left, the Rams trailed 45-37 and gave it back to a mistake-prone Washington State offense that had just one more blunder left to make. Shaquil Barrett ripped possession away from Jeremiah Laufasa and gave the Rams the ball with less than two minutes left.
It took eight plays, but Grayson led Colorado State into the end zone off a one-yard plunge from Bibbs.
All that was left was a spectacular two-point conversion on the "Statue of Liberty" play to Donnell Alexander to secure the two points needed to send this one to overtime, 45-45.
Washington State had other plans, as it fumbled the resulting kickoff. A Rams player fell on it with less than 30 seconds left.
This shot from CJ Fogler perfectly describes how Cougars fans felt after the fumble:
Cougar fan in disbelief http://t.co/68ajPoTmL2

— CJ Fogler (@cjzero) December 21, 2013
Jared Roberts nailed a 41-yard field goal in the closing seconds, putting the finishing touches on this historic bowl game and one of the craziest last-minute comebacks you'll ever see.
As ESPN Stats and Information noted, it was the second straight year there have been late fireworks in the New Mexico Bowl:
Colo St scored 11 points in final minute to beat Wash St in New Mexico Bowl. Deja vu? Remember Arizona's last second win in NM Bowl last yr

— ESPN Stats & Info (@ESPNStatsInfo) December 21, 2013
When Washington head coach Mike Leach has the right quarterback in his system, the sky is the limit for his offense. But with no running game to speak of—Halliday threw 89 passes against Oregon this season—the Cougars aren't able to grind down opponents.
Bruce Feldman of CBS Sports chimed in on Leach after the crazy game, referencing the 2006 Insight Bowl win over Minnesota:
Leach has the biggest comeback in bowl history and he's just had the ugliest collapse.

— Bruce Feldman (@BFeldmanCBS) December 21, 2013
They couldn't rely on the ground to milk time off the clock while also sustaining drives, and that allowed the Rams to get back in it when the passes started falling incomplete. It also gave them no ball security when Colorado State was ball-hunting.
On the other end, what an inspiring win for Jim McElwain. In his second season after moving from Alabama's offensive coordinator spot, he finishes 8-6 after a thrilling victory over one of the Pac-12's better offenses.
Grades
Connor Halliday, QB, Washington State: A-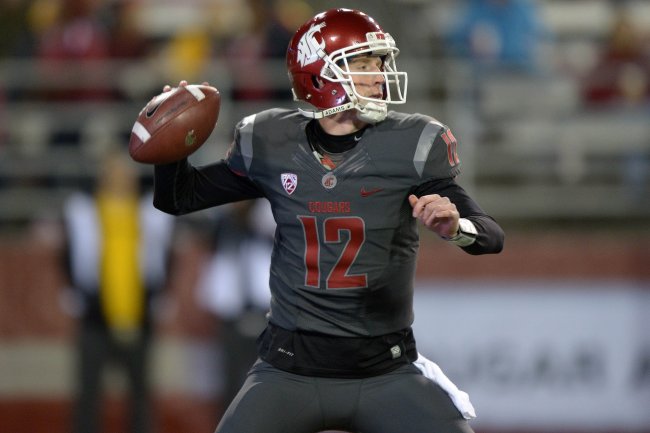 Kirby Lee-USA TODAY Sports
Halliday didn't just have a great game, he broke a New Mexico Bowl record before halftime. But it wasn't enough to lead his team to victory.
The junior quarterback finished 37-of-58 passing with 410 yards and six touchdowns.
He tossed an interception on his first drive and struggled in the second half, and that's the only thing keeping him from a perfect grade.
Kapri Bibbs, RB, Colorado State: A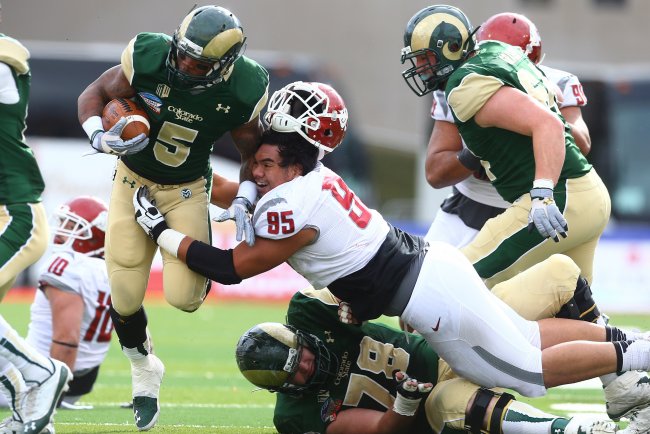 Mark J. Rebilas-USA TODAY Sports
Colorado State's unquestionable leader was noticeably impacted by a brutal turf toe injury that sent him to the locker room for a portion of the contest. But he didn't let it slow him down one bit.
Bibbs finished with 27 carries for 169 yards and three scores, including a stellar 75-yard touchdown early in the third quarter and a game-tying touchdown in the final seconds.
This talented rusher put the team on his back throughout the game, and whenever they had the luxury of running the ball, he was a workhorse.
River Cracraft, WR, Washington State: B+
Halliday spread the wealth out to a bevy of receivers, but none more so than River Cracraft, who had a big day.
Cracraft finished with nine receptions for 125 yards, including an early score to kick off a high-flying first half for Washington State. He proved to be a big-time target for extending drives and making big first-down grabs.