Fulham vs. Manchester City: 6 Things We Learned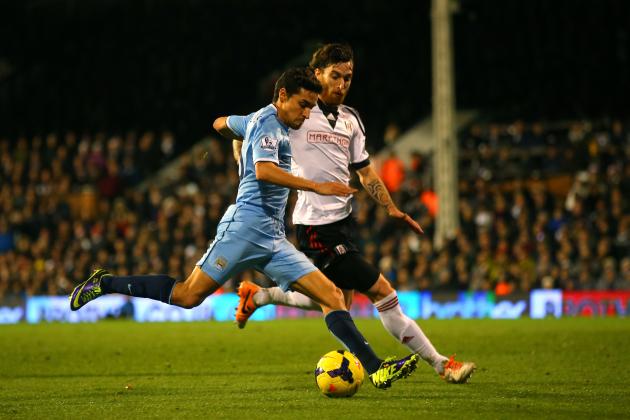 Clive Rose/Getty Images
Navas helped save City from another disaster away from home.
Fulham 2-4 Manchester City is a score line that at once tells all of the match story and none of it.
A two-goal road victory against a relegation-threatened side looks comfortable enough, and by the end of the match, City's palpable relief was probably of some comfort.
But between the two first-half goals that sent City to the changing room with a solid lead, and the two late goals that won them the three points, the Citizens made a mess of things and stirred up lingering demons of past road foibles.
Whether City can build off this result and straighten out their traveling form more permanently will have to wait for the new year to be answered.
For now, City will happily bank the three points on a day where much was in flux, and move on.
Here are six takeaways from Fulham 2-4 Manchester City.
Begin Slideshow

»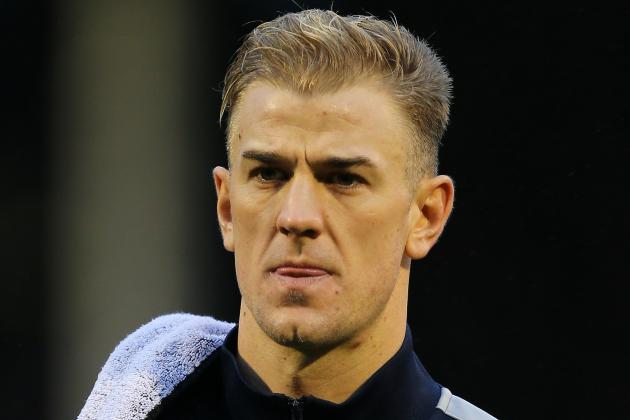 Clive Rose/Getty Images
Hart's return was ultimately a non-story, which is a good thing.
Manchester City manager Manuel Pellegrini took a calculated gamble in putting Joe Hart back in the goal for the Sky Blues.
Costel Pantilimon had held the starting job for nearly two months. In that time, the Citizens had lost only one Premier League decision while winning five others and drawing once. The 16 points Pantilimon helped to secure have thrust City back into Premier League title contention.
Ultimately, though, if City are to seriously compete for hardware in the Champions League and in the Premier League, they need a keeper whose ceiling is much higher than Pantilimon's. Hart has been that sort of keeper in the past. Pellegrini must find out now if Hart can be that good again.
Hart's performance against Fulham was a good first step. He made a few key saves (including one vital stop in the 32nd minute) against Adel Taarabt that steadied City during disorganized moments in the first half.
And Hart cannot be faulted for either of Fulham's goals. Kieran Richardson's tally in the 50th minute came from point-blank range on a two-on-one break, and City captain Vincent Kompany finished clinically into his own goal in the 69th minute.
All told, Hart's display on his return has to be called a positive development for City.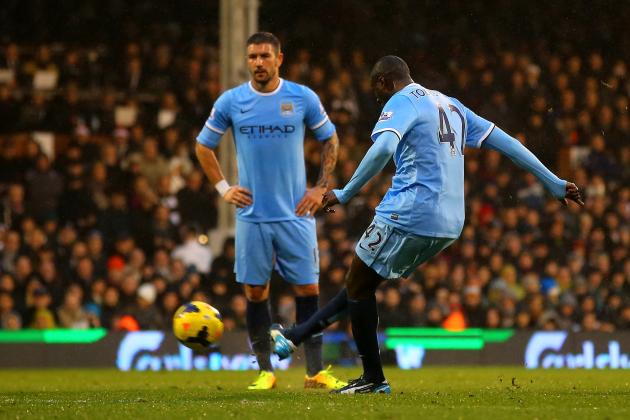 Clive Rose/Getty Images
"Hey Aleks, watch this."
Manchester City's form in the first 20 minutes against Fulham at Craven Cottage was, to put it kindly, uneven.
Both sides had created quality chances. Perhaps the most notable was David Silva's smash off the bar behind Maarten Stekelenburg in the 14th minute.
Still, Fulham was well in the match. Had the Cottagers broken through first, their opposition to City's presumed supremacy would have been emboldened.
Instead, David Silva was granted a specious foul on the threshold of the Fulham box. Then it happened.
Yaya Toure approached the ball on a parallel path to Fulham's goal line and hooked a strike into the top corner of Fulham's net with millimeters separating the ball and the woodwork. National Football League quarterbacks struggle to achieve such accuracy when they throw.
As noted by the club's Twitter feed: "Yaya Toure has scored 4 direct freekicks in his @premierleague career. All of them this season."
It is getting to the point where it will be more surprising to see Toure miss a free kick than it is thrilling to watch him score. Which is ridiculous, because these free kicks are so much harder than he is making them look.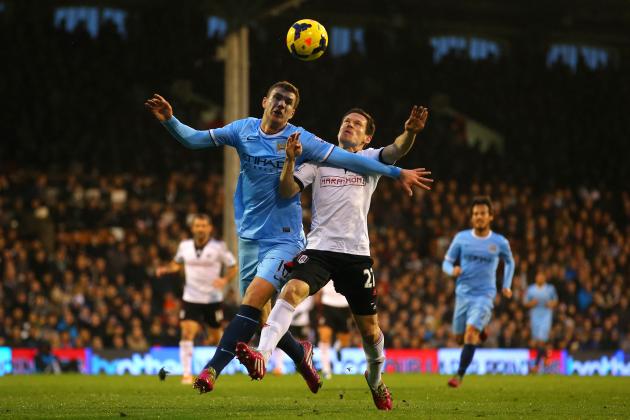 Clive Rose/Getty Images
Dzeko came up short again at Craven Cottage.
Whether Sergio Aguero is out for two months or just one, Manchester City are still stuck scraping for goals in his absence.
Erstwhile, starting striker Edin Dzeko was chosen for the XI in hopes that the towering Bosnian could provide some of the threat Aguero's absence took with him to the physio's table.
Instead, Dzeko had another forgettable performance as a starter.
Dzeko had two chances—one in the 31st minute, one in the 36th—that any elite striker should bury.
In the 31st minute, Dzeko was alone with the ball in a shooting position in the Fulham box but took too long shifting the ball onto his right foot and, in the end, never got a shot away.
Then in the 36th minute, Dzeko was set up beautifully by an Aleksandar Kolarov cross and had half an acre of Fulham's net to hit. Instead, Dzeko's side-foot strike hit Maarten Stekelenburg in the stomach.
So abject was Dzeko's display that he was the first player taken off by manager Manuel Pellegrini. Dzeko came off in the 58th minute for Jesus Navas, who went on to score the game-winning goal.
It will be fascinating to see whether Pellegrini gives Dzeko another chance against Liverpool this week. He may instead leave Alvaro Negredo alone up top and hope that some combination of passing from David Silva, Samir Nasri and Navas can provide Negredo sufficient service.
Just one Dzeko goal against Fulham would have made such tinkering unnecessary. Dzeko has only himself to blame.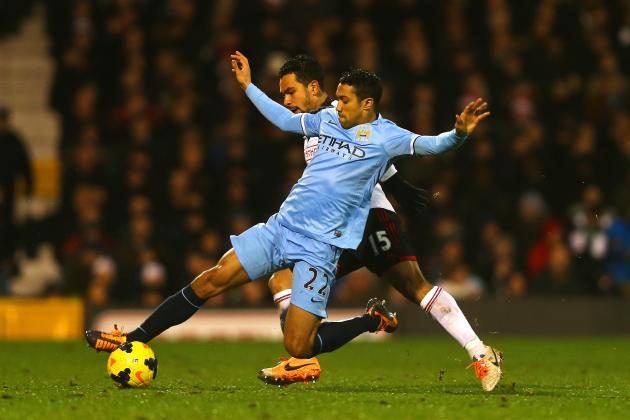 Clive Rose/Getty Images
It is unfair to fault Clichy too much for his iffy play against Fulham.
Manchester City are currently without first choice right-back Pablo Zabaleta and second choice right-back Micah Richards, both battling injury.
City boss Manuel Pellegrini was his usual philosophical and noncommittal sort discussing the gaping hole at right-back before the Fulham match.
"We don't have a right back so will see who will play there. We can play Clichy, we can play Kolarov, we can play Boyata, Milner, so we will see who is the best option," said Pellegrini according to Rob Dawson of the Manchester Evening News.
Pellegrini did ultimately select Gael Clichy to plug the dike at right-back. It did not really work.
Fulham clearly targeted Clichy all afternoon, and their persistence paid off in the 50th minute when Adel Taarabt blew past Clichy and the heavy-footed Martin Demichelis down the left flank, shortly thereafter teeing up Kieran Richardson's goal.
It would be wrong to fault Clichy for his subpar day. Clichy is a solid professional who was asked to play out of position and did the best he could given that circumstance.
With any luck, Liverpool manager Brendan Rodgers and striker Luis Suarez will not watch any film from Fulham 2-4 Manchester City and will not see the weak point in the City defense.
So let's keep it between us, okay?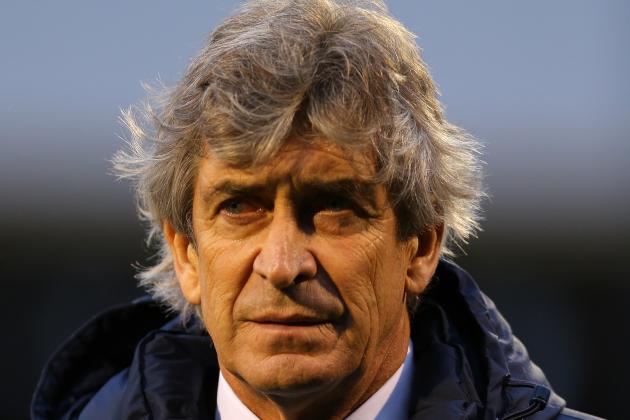 Clive Rose/Getty Images
The elements and the frenetic play at Craven Cottage reduced the normally smooth Pellegrini to this.
Manchester City led Fulham by two goals after the first half at Craven Cottage. In fairness to Fulham, that score flattered City quite a bit. Fulham had a few great chances in the first half, and the first City goal was a Yaya Toure free kick following a ticky-tack foul outside the Fulham box.
City's halftime advantage was built against the run of play. As recently as last season, that would have led to a decided change in City's tactics.
When Roberto Mancini managed City, a 2-0 lead on the road—particularly in a match where the Citizens were not playing well—meant closing up shop and trying to bleed out the last 45 minutes. That led to many a nervy second half for City fans as the Sky Blues put nine men behind the ball and held on.
The good news for City fans is that City does not play like that any more. Manager Manuel Pellegrini is committed to always going forward and trying aggressively to outscore the opposition.
The bad news is that even a two-goal lead, especially on the road, never feels safe.
Fulham's first goal, which converted the contest from a foregone conclusion to an "uh-oh," happened mainly because City had most of their XI pushing ahead. When David Silva needlessly lost the ball to Steve Sidwell, Fulham was off and City could do little to thwart the one-two from Adel Taarabt and Kieran Richardson.
Stuff like that does not matter too much, but it does render a side vulnerable to a fluke setback like Vincent Kompany's own goal leveling the score instead of being easily laughed away.
City scored the last two goals of the match because Pellegrini permitted attacking threats like Jesus Navas, Silva and Alvaro Negredo to keep pouring forward. Against Fulham, at least, it worked.
It would be nice, though, if City had the ability to take the air out of the ball with a two-goal lead now and again. This is no way to play against stronger sides like Liverpool, Chelsea or Barcelona.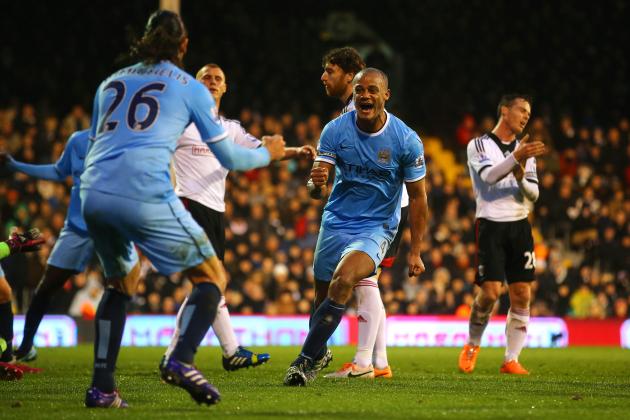 Clive Rose/Getty Images
Kompany had more to smile about than to frown about in the end.
Golfers often react to holes where they follow a chunked wedge shot into a creek with a 50-foot putt to save bogey by shrugging and saying that there is no place for pictures on the scorecard.
Manchester City will not be sending film of Fulham 2-4 Manchester City to any hall of fame for perpetual display. Parts of the match were fairly disturbing from City's perspective; certainly, spitting up a two-goal lead on the road to a talent-starved outfit like Fulham cannot sit well with anyone in sky blue.
When the match ended, though, three more points were added to City's total in the Premier League table.
On a day where City played without Sergio Aguero and without a true right-back—and put Joe Hart back in goal for a Premier League match for the first time in seven weeks, no less—this result was as much as City could fairly ask for.
It was also no more or less than they deserved, no matter what it may have looked like.