The drastic disparity between the Eastern and Western Conferences has been a hot topic throughout the 2013-14 NBA season, and unless the gap between the two shrinks, it will continue to be a source of discussion.
In a recent roundup of basketball minds at USA Today Sports Network, Ian Levy of Hickory High put things in perspective:
I can sympathize with the frustration of West fans, knowing their team might miss out on the playoffs simply because of geographic orientation. The NBA is supposed to be a meritocracy and when that fundamental principle is overruled it feels like a gross miscarriage of justice.
To summarize: The East stinks, and yet the West and its fans are the ones losing.
My recap of Levy's insight is far from an urbane declaration, but the concept is simple. Beyond the Miami Heat and Indiana Pacers, not one Eastern Conference team would qualify for the postseason out West, and as of Dec. 21 at 12 a.m. ET, the Atlanta Hawks are the only other squad to boast a winning record.
Conversely, and here's where the trouble lies, the West is a different story. The Portland Trail Blazers, who we thought would be a fringe playoff team, are in a clash for first place in the conference. The Phoenix Suns, who we assumed were tanking for Andrew Wiggins, are above .500 and look like a potential postseason player.
Then, of course, there's the additional myriad of teams battling for a spot come April. The Dallas Mavericks have exceeded expectations, the Denver Nuggets have done the same and the Golden State Warriors should improve before the year comes to an end.
Out East, it's a two-horse race to the conference championship, and it's not even close.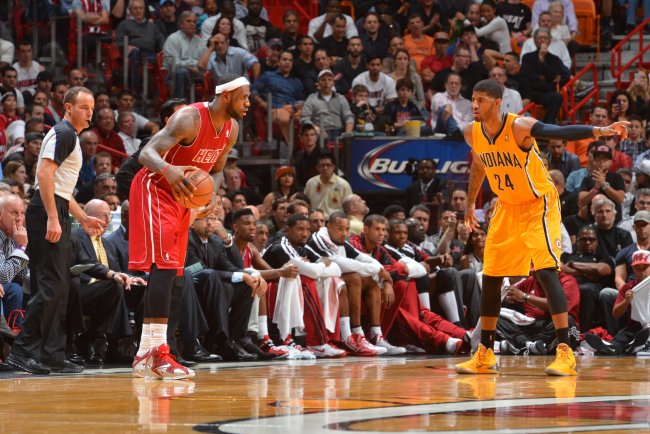 Jesse D. Garrabrant/Getty Images
The Heat and Pacers are legitimate title chasers; this we can't deny. But below them are a group of pretenders without a single contender.
The Hawks, despite having a winning record, lack the star power to compete for a championship. The Boston Celtics, even after blowing up their roster, are in fourth at 12-15.
The hope here is that the Heat and Pacers bring some semblance of balance to the top of NBA power rankings. This has been and will continue to be the case all year, but when it comes to the pre-finals version of the postseason, we're stuck with that same two-horse race the entire way.
Heat and Pacers should just play every game in the Eastern Conference for the rest of the year. Not like anyone else has a shot anyway.

— Not Bill Walton (@NotBillWalton) December 19, 2013
Taking a closer look at the Western Conference, here's how the rankings would stand if the playoffs started today:
Western Conference Standings

| | | | | |
| --- | --- | --- | --- | --- |
| Team | W | L | PCT | GB |
| 1. Oklahoma City Thunder | 21 | 4 | .840 | - |
| 2. Portland Trail Blazers | 22 | 5 | .815 | - |
| 3. San Antonio Spurs | 21 | 5 | .808 | .5 |
| 4. Los Angeles Clippers | 18 | 9 | .667 | 4 |
| 5. Houston Rockets | 17 | 10 | .630 | 5 |
| 6. Phoenix Suns | 15 | 10 | .600 | 6 |
| 7. Dallas Mavericks | 15 | 11 | .577 | 6.5 |
| 8. Denver Nuggets | 14 | 11 | .560 | 7 |
Standings courtesy of ESPN.com.
There's power atop the conference, balance at the bottom and at least a sense that the second-tier teams could compete in a seven-game series.
Don't forget, either, that teams like Golden State and the Minnesota Timberwolves are far from done. We're just a quarter of the way through the season, and neither has yet to reach its potential at this point in the year.
Then there's the East:
Eastern Conference Standings

| | | | | |
| --- | --- | --- | --- | --- |
| Team | W | L | PCT | GB |
| 1. Indiana Pacers | 21 | 5 | .808 | - |
| 2. Miami Heat | 20 | 6 | .769 | 1 |
| 3. Atlanta Hawks | 15 | 12 | .556 | 6.5 |
| 4. Boston Celtics | 12 | 15 | .444 | 9.5 |
| 5. Charlotte Bobcats | 13 | 14 | .481 | 8.5 |
| 6. Detroit Pistons | 13 | 15 | .464 | 9 |
| 7. Washington Wizards | 11 | 13 | .458 | 9 |
| 8. Toronto Raptors | 10 | 14 | .417 | 10 |
Standings courtesy of ESPN.com.
Can you honestly say that any team between No. 3 and No. 8 can compete? Unlike the West, the next in line (Cleveland Cavaliers, Chicago Bulls, New York Knicks, etc.) are dreaming if they think sneaking in as a bottom seed helps them earn respect on the national level.
Even players and teams across the league are getting their shots in when it comes to the East's poor performance. According to Yahoo! Sports' Marc J. Spears, Dirk Nowitzki doesn't think too highly of his opponents on the other coast.
The big man was quoted saying, "If you look at the Western Conference, the quality so high. The teams are bunched up right there. We can beat each other every given night. It's not like the Eastern Conference, where you just roll through."
Even the Trail Blazers (or at least their behind-the-scenes social media team) found the time to throw their hats into the mix.
Is it too late to join the Eastern Conference? Asking for a friend.

— Trail Blazers (@trailblazers) December 4, 2013
Parity has disappeared from the East altogether, and something must be done to remove bad basketball from the climax of the season.
When it comes to altering the system, there's an internal battle that takes place in the heads of decision makers. The concept of tradition versus modernization influences a number of changes, but when it comes to the NBA, tradition shouldn't blind the authority figures.
At its most fundamental level, the game of basketball is just that—a game. It's a contest between two competing rosters, and when bottom feeders try to contend with top-tier organizations, it creates undesirable playoff matchups year after year.
As a fan (not just of your favorite team, but of the game itself), think about this: We could legitimately see a 50-loss team in the playoffs out East.
For those counting, that's a squad that loses more than 60 percent of its games, yet still squeezes in as an inevitable speed bump for the Heat or Pacers.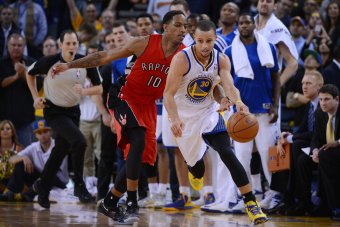 Kyle Terada-USA TODAY Sports
Take the Toronto Raptors, for instance. Through 24 games, the team is 10-14. That's a winning percentage of just .417, yet it's good enough for the eighth seed in the conference (13th out West).
If the Raptors continue their current pace, they'll win approximately 34 games. That's enough to avoid the dreaded 50-loss mark, but if it weren't for a stunning one-point win over the Mavs on Dec. 20, they'd be right on par for a 52-loss season.
Can you imagine watching the Raptors face the Heat while the Warriors are stuck at home? That's a thought that should make any fan outside of Toronto cringe, and it's one that puts the current discrepancy between the two conferences in a perfect nutshell.
It's worth noting that the likelihood of a 50-loss playoff appearance is not strong. The teams in the East will continue to beat one another, and with every loss between Eastern Conference foes, there is inevitably a win for the other side.
However, it's also worth stating that simply having this discussion exemplifies how dreadful the Eastern Conference has become. Bleacher Report's own Joe Flynn breaks down how this scenario could play out, bringing to light that this hypothetical situation could legitimately come to fruition.
I have a new dream for the East: a 50-loss playoff team. #Believe

— Eric Koreen (@ekoreen) December 6, 2013
So the question, of course, becomes: What are the alternatives? There's no point in shouting about change if you don't have a solution, and while this is just the beginning of the conversation, it makes sense to start in one place: abolish the current playoff format.
First of all, let's recognize that the 2013-14 campaign is not an aberration. We re-visit this narrative year after year, and while the current season is particularly dreadful, we must understand that the downfall out East is far from an anomaly.
One idea that's been discussed in the past is contraction. Eradicating the non-competitive, small-market franchises would allow middle-of-the-road teams to acquire playoff-caliber talent, and it would create fewer blowouts throughout the regular season.
But once again, this isn't just about the players—it's about the fans, too. Fans in Charlotte don't deserve to lose their team (again), and quite frankly, quitting on a franchise is admitting that it has no hope of a return to relevancy.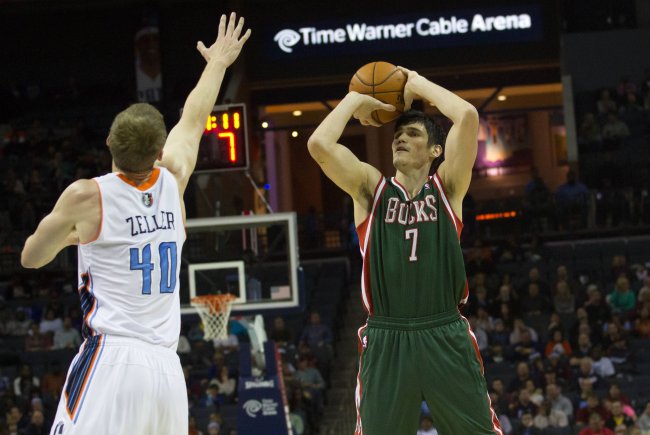 Jeremy Brevard-USA TODAY Sports
So without eliminating teams completely, let's consider a change in the postseason structure. While teams mired in mediocrity (or worse) can currently make the playoffs out East, fringe playoff teams out West are forced to exit early.
Fans and players alike are given a raw deal come the postseason, and if you want evidence, look no further than the 2012-2013 Mavericks.
Despite being a modest underdog at 41-41, they—as well as the 43-39 Utah Jazz—got to witness the Milwaukee Bucks fall to the Heat in the postseason. Milwaukee won just 38 games that year, and while Dallas and Utah weren't contenders in the traditional sense, they would have been more entertaining to watch than a Brandon Jennings-led team that couldn't keep up.
Has there ever been a worse sports guarantee than Brandon Jennings saying the Bucks would beat the Heat?

— Yahoo Sports (@YahooSports) April 28, 2013
What we need is a playoff system that is blind to conference. We need a 16-team tournament at the end of every season, and we need one that ranks squads in order of record.
Admittedly, implementation of this will not be easy. Schedules must be tweaked, traveling will change considerably, and it's unlikely that everybody involved in the shift will agree upon a single solution.
But one thing's for sure: something must change. The Eastern Conference epitomizes disparity, and it's the fans and players out West who will inescapably suffer when the postseason comes around.
Upgrading tradition isn't always simple, but if the NCAA can introduce a playoff to college football, the NBA can do what's right for its most competitive franchises.