LeBron James and Dwyane Wade Videobomb Chris Bosh with Human Wheelbarrow
Use your ← → (arrow) keys to browse more stories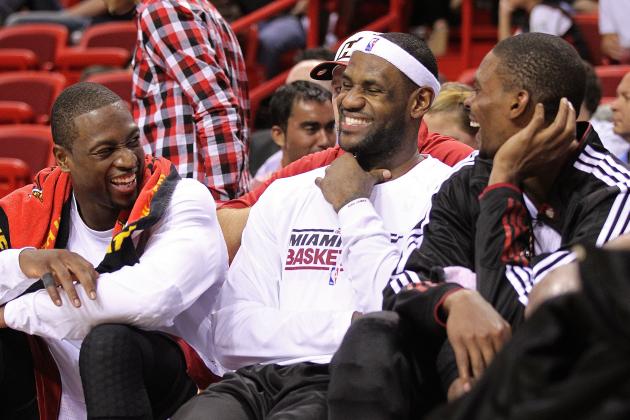 Mike Ehrmann/Getty Images
Winning is hilarious.
The Miami Heat's 19-point win over the Sacramento Kings on Friday, Dec. 20 was a laugher by the start of the fourth quarter. LeBron James and Dwyane Wade seamlessly carried that comedy over to Chris Bosh's postgame interview.
While Bosh attempted to answer a question from Sun Sports sideline reporter Jason Jackson regarding the team's improved defense in the second half, LeBron emerged with one of the Heat's best videobombs on record.
He turned D-Wade into a human wheelbarrow as the four-time MVP held the three-time champ by the ankles and "wheeled" him around on his hands. That got a chuckle from Bosh and the usual videobomb glee from Jackson.