The Wisconsin-Whitewater Warhawks claimed their fifth Division III National Championship by defeating familiar foe Mount Union Purple Raiders, 52-14 in the 2013 Stagg Bowl.
UW-Whitewater Warhawks win the Stagg Bowl, 52-14 over Mt. Union. #uww pic.twitter.com/p3HUrY2Lj6

— UW-Whitewater (@UWWhitewater) December 21, 2013
The win gives the school it's fifth national championship and an undefeated season to hang its hat on. Four of those championships have come in the last five years and all have come by defeating Mount Union in the Stagg Bowl.
This year, they dominated every facet of the game en route to a blowout victory over the Purple Raiders. The loss was the first for the Purple Raiders since losing to Whitewater in the 2011 Stagg Bowl:
Mount Union hadn't loss since 2011 Stagg Bowl to @UWWhitewater. Won 29 in a row before having to play @UWWhitewater again.

— Tom (@Haudricourt) December 21, 2013
The defense held an usually explosive Mount Union offense to just 14 points and 1.2 yards per rush. Meanwhile, the offense rode a balanced attack to 449 total yards. Running back Jordan Radcliffe had 28 carries for 146 yards and two touchdowns.
Things didn't look good for the Purple Raiders from the outset. Prior to the game it was Mount Union's Gagliardi Trophy-winning quarterback Kevin Burke who received all the attention, but UW-Whitewater's Matt Behrendt showed he was more than capable of playing at Burke's level. He led his team on a 75-yard touchdown drive to give the Warhawks an early 7-0 lead.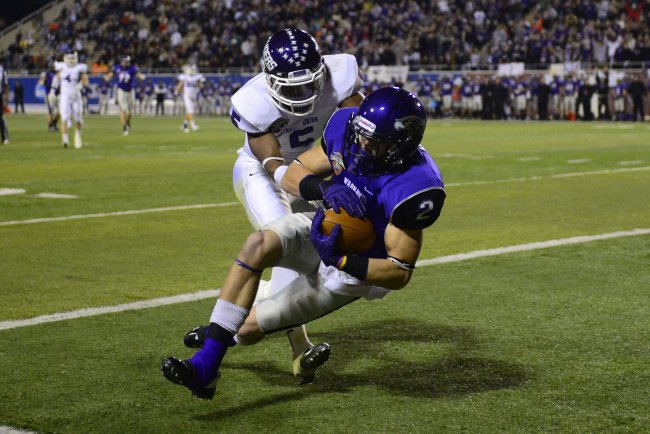 Bob Donnan-USA TODAY Sports
The Purple Raiders' first two drives resulted in three-and-outs before they finally caught a break that kept them in the game. A high snap that went over Behrendt's head was recovered at the Warhawks' five by Alex Kocheff of Mount Union.
Burke ran in the equalizer on the next play.
Whitewater recovered well, though. Behrendt once again shined as he connected with Tyler Huber on touchdown passes of 23 and seven yards to extend the Warhawk lead to 21-7.
Whitewater: 153 yards passing on 12-for-16 by Matt Behrendt, 3 passing TDs, 70 yards on 17 rushes including 43 by Behrendt. 223 total yds.

— Art Kabelowsky (@WSJPrepZone) December 21, 2013
Vince Kehres' Mount Union squad didn't go away quietly in the first half, though. The Purple Raiders finally put together an impressive offensive drive as an 11-yard touchdown dash from B.J. Coleman would put them within seven going into halftime.
The momentum gained by the late touchdown didn't carry over to the second half, though. Mount Union fumbled possession away on its opening possession. The Warhawks would turn things over to Jordan Ratliffe and the running game. He expanded the Whitewater lead to 28-14 on the strength of an 18-yard run up middle for the touchdown.
A Whitewater field goal completed the scoring for the third frame as the Warhawks took a 31-14 lead into the final quarter.
Behrendt found Jake Kumerow from three yards out for his fourth touchdown of the game and added to his incredible efficiency on the season:
A stat that is absolutely incredible is that @UWWhitewater QB Matt Behrendt has thrown 457 passes and only one has been intercepted.

— Tom (@Haudricourt) December 21, 2013
Behrendt finished the game with a nearly perfect performance including 20-of-28 passing for 249 yards and four touchdowns with no interceptions.
Ratliffe threw more salt in the wound with a three-yard touchdown to make the score 45-14. A pick-six touchdown from Brady Grayvold gave the Warhawks their final touchdown and the final score of 52-14.
In the end, Mount Union needed to bring its "A" game to defeat a team as complete as Wisconsin-Whitewater and it failed to do so, turning the ball over four times and racking up 80 penalty yards.