After another long week of speculation, it was determined that Aaron Rodgers will miss the Green Bay Packers Week 16 showdown with the Pittsburgh Steelers as he deals with the repercussions of his collarbone that he broke in Week 9.
The Packers officially broke the news via Twitter:
Aaron Rodgers out; Matt Flynn will start against Steelers. Read more: http://t.co/6owJxniqXY

— Green Bay Packers (@packers) December 20, 2013
Many assumed that Rodgers would return against Pittsburgh following Green Bay's improbable comeback against the Dallas Cowboys in Week 15. The victory moved the Packers to 7-6-1, which is a mere half-game behind the NFC North-leading Chicago Bears.
With Green Bay in the thick of the playoff race, coach Mike McCarthy addressed concerns about why Rodgers won't be on the field in a press conference (per Vic Ketchman of the official web site of the Packers).
"He understands where we are. Everything has been explained, but he obviously wants to play. The kid has played with injuries. He's a tough guy. He's done everything he possibly could to try to get back on the field."
Despite McCarthy's explanation, this entire situation is beginning to feel eerily similar to Derrick Rose missing the NBA playoffs for the Chicago Bulls last season. Rose was on the sidelines watching his team battle without him, and there was tons of speculation surrounding the entire organizational decision to keep him out.
Much like the Bulls did, the Packers have to weigh risking the long-term health of their superstar investment for the short-term gain of making a run at the title and satisfying fans. ESPN's Adam Schefter addressed Green Bay's ultra-conservative approach with its franchise quarterback:
So Aaron Rodgers is out. Not that there's anything wrong with it, but are Packers more conservative with Aaron Rodgers or in free agency?

— Adam Schefter (@AdamSchefter) December 20, 2013
Conservative or not, if Rodgers doesn't come back, Green Bay simply isn't making the playoffs. It is already missing superstar receiver Randall Cobb, plus its defense ranks 22nd in opposing passing yards allowed and 25th in opposing rushing yards allowed, and it has long been a weak point in the Packers' arsenal.
Green Bay already lost at home to division-leading Chicago once without Rodgers and has to travel to the Windy City for a Week 17 showdown. That earlier Bears victory came without the services of Jay Cutler, who has since returned, and before Chicago fully recognized just what kind of weapon it has in Alshon Jeffery.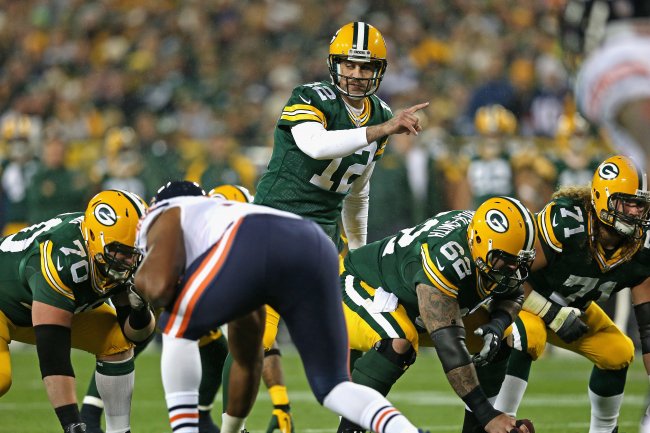 Jonathan Daniel/Getty Images
Without Rodgers, the Packers won't be able to knock off the Bears, which would officially eliminate them from the division race regardless of what happens in Week 16.
Then there are the Detroit Lions, who are very much in the thick of the NFC North race despite a stunning loss to Justin Tucker and Baltimore in Week 15. The Lions play the abysmal New York Giants in Week 16 and then have a tricky contest against a 4-9-1 Minnesota Vikings team to finish the season.
It's not much of a leap to assume Detroit finishes 9-7 by winning out, which would put it ahead of Green Bay if the Packers lose just one more time.
The good news for the Bears and Lions is that the Packers will lose at least one more time if Rodgers doesn't return before the regular season is over.
Follow and interact with Bleacher Report writer Scott Polacek on Twitter @ScottPolacek.