Predicting Which Boxers Will Have a Breakout Year in 2014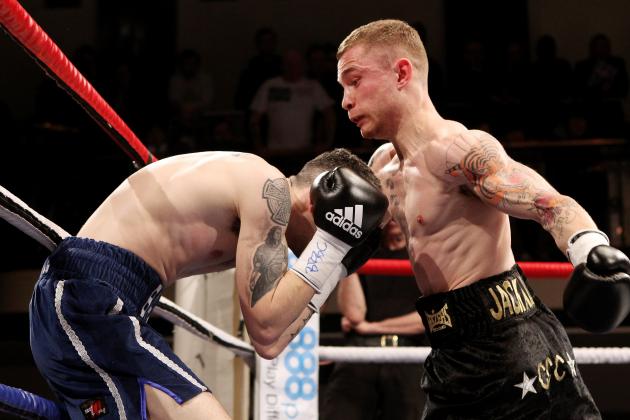 Scott Heavey/Getty Images

Super bantamweight Carl Frampton and newly crowned IBF welterweight champion Shawn Porter are two rising fighters poised to have breakout years in 2014.
A breakout year can mean different things for different fighters in the early parts of their career. Although some years stars seem to explode onto the scene out of nowhere, in most cases, successful boxing careers are built steadily over years, with multiple years in a row trending up.
Danny Garcia, for example, has been a breakout star two years in a row. He broke out onto the world-champoionship level in 2012, and then he broke out into the pound-for-pound considerations in 2013.
Guillermo Rigondeaux was another breakout star this year, but he was heavily trending in that direction coming over from 2012.
Most of the names on this list have already taken major steps toward establishing themselves this year. And now they have set themselves up in position to get major fights in 2014.
Begin Slideshow

»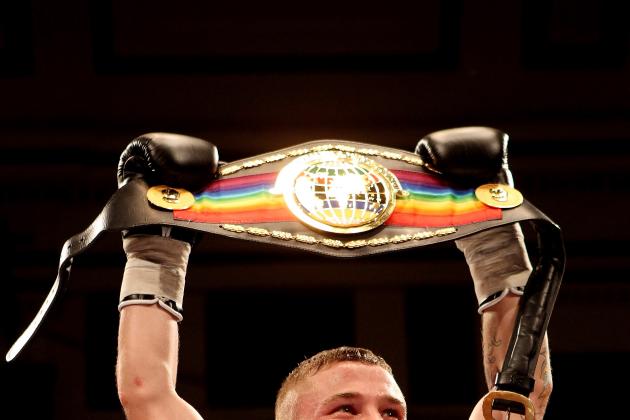 Scott Heavey/Getty Images

Carl "The Jackal" Frampton, from Belfast, Northern Ireland, is 17-0 with nine KOs. Last February he recorded a Round 9 TKO of current IBF 122-pound champion Kiko Martinez.
HBO and Top Rank should be all over Frampton. Exciting Irish fighters like Frampton have always been easy to promote in the United States. HBO and Top Rank desperately need a credible opponent they can offer Rigondeaux and Frampton is probably the best available candidate not signed by Golden Boy.
I would not necessarily expect Frampton to fair that well against Rigondeaux, but he could be made to look very exciting next year with some carefully selected opponents on Boxing After Dark. At the very least, he should be given a shot at Martinez, the champion he has already beaten.
WBA super featherweight champion Takashi Uchiyama from Japan is arguably the top 130-pound fighter in the world. His list of knockout victims includes Bryan Vasquez and Juan Carlos Salgado.
This should be the year he finally breaks out big time with the North American boxing fans. Uchiyama is an all-action fighter with a 20-0-1 record with 17 KOs.
If HBO can bring him to the U.S., they can build him into a future opponent for Mikey Garcia the same way Toshiaki Nishioka became a highly anticipated fight for Nonito Donaire in 2012.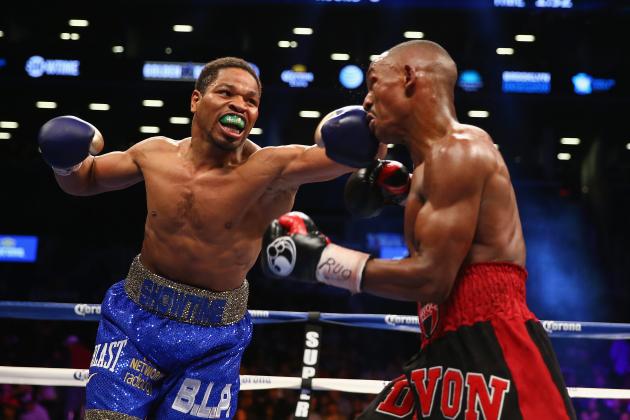 Al Bello/Getty Images

Earlier this month, undefeated Shawn Porter took a major step up in competition to face IBF welterweight champion Devon Alexander. With Porter being a longtime sparring partner with Manny Pacquiao, he executed his game plan with veteran aplomb against Alexander.
Porter used a terrific jab to pressure the slick Alexander and rough him up. Anytime a fighter captures a world title in the welterweight division, he's positioned for some big fights.
Porter took the belt in exciting, impressive and relatively unexpected fashion. It's the kind of performance that will have him on the boxing radar for 2014.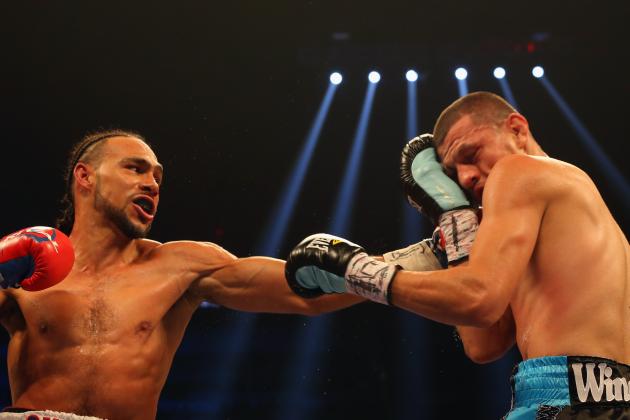 Ronald Martinez/Getty Images

With Adrien Broner going down in defeat to Marcos Maidana on December 14, Keith Thurman is now starting to fully step out of his shadow and gain the recognition many of us felt he deserved all along.
On the Broner-Maidana undercard, Thurman once again showed he is a skillful and intelligent boxer, as he carefully broke veteran Jesus Soto Karass down physically before stopping him in Round 9.
Broner was the kind of fighter fans tuned in to watch lose, but I think Thurman will break as a popular star in 2014. The WBA interim champion should be in the discussion for just about any major welterweight fight that gets made next year.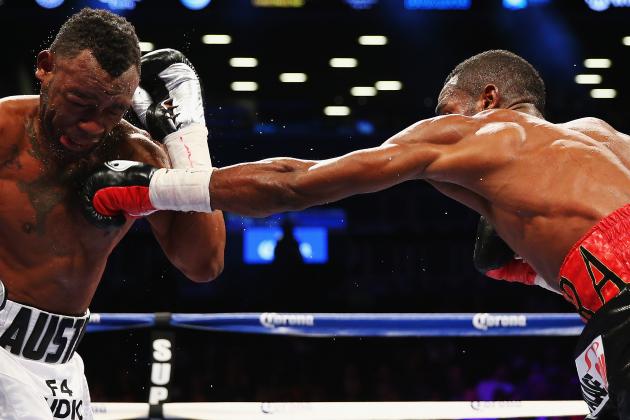 Al Bello/Getty Images

In 2013 Erislandy Lara battled through tremendous adversity to hang on and stop hard-punching Alfredo Angulo in Round 10, and he handed highly rated Austin Trout a painful boxing lesson. He's forced his name into the conversation for the biggest fights at 154 pounds.
Lara is a tricky and highly skilled southpaw. He beat Trout with far more ease than Canelo Alvarez did. Like his former teammate, Rigodeaux, Lara is waiting for the more casual fans to catch up with his exploding reputation.
Carlos Molina lacks the kind of flashy, fight-ending power that makes it easier for a fighter to catch on with the fans, but he's the kind of skilled, action fighter who often develops a following among the more hardcore fans.
Molina came up through the sport hard and picked up a number of losses early on. Just 10 fights into his career, in 2005, he was matched up with rising faux-phenom Julio Cesar Chavez Jr. Molina kicked the much larger man's butt but only escaped with a draw.
It wouldn't be the last time he'd get a raw deal with judges and refs. In 2012 he was ridiculously DQd in a fight he was winning against James Kirkland. He had a draw that many felt he should have won against Lara in 2011.
But earlier this year, Molina captured the IBF light middleweight championship from Ishe Smith. It should put him in position to get major fights in 2014.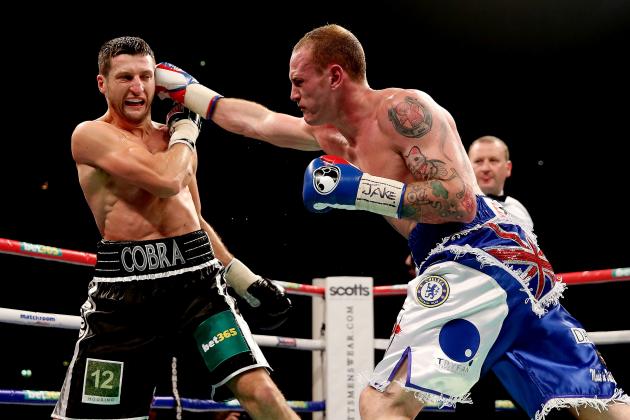 Scott Heavey/Getty Images

Last November George Groves challenged his countryman, Carl Froch, for Froch's WBA and IBF super middleweight titles. Froch has been in with the very best in the world and usually won.
This was regarded as a major step up for the 25-year-old Groves.
But for the first three-quarters of the fight, Groves looked poised to pull off the upset, and he consistently got the better of Froch in the exchanges. When Froch managed to catch up with Grove in Round 9 to win by TKO, a large percentage of viewers were outraged at what they considered a quick stoppage.
I make it a practice not to question referee stoppages, so I will merely comment that Groves looked impressive and like a fighter who will very much be a factor in the division in the coming years. The boxing world should expect to start hearing more about him in 2014.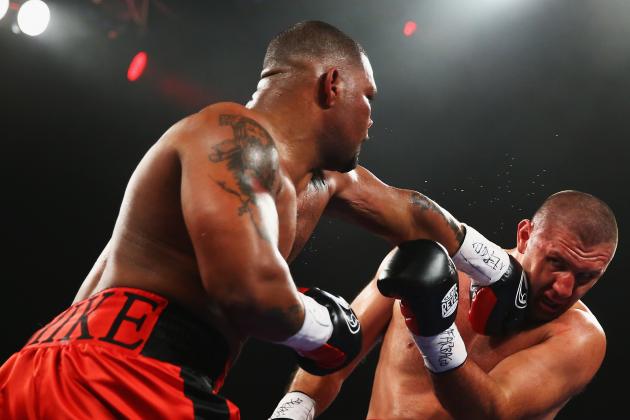 Al Bello/Getty Images

In November Mike Perez faced fellow undefeated heavyweight prospect Magomed Abdusalmov. Perez delivered significant punishment to Mago during the fight and won by a comfortable unanimous decision.
Later, Abdusalamov had to be placed into a medically induced coma, which he has only recently emerged from. It has been one of the boxing year's truly sobering events.
But if not for the resultant tragedy, fans would be raving about Perez's performance. The former Cuban amateur star demonstrated heavy-punching ability and virtuoso defensive movement.
Perez now fights out of County Cork, Ireland, where he has been enthusiastically adopted by the local fans. He's positioned to become a central player in the heavyweight landscape as it begins to emerge from the Klitschko era.