It is rare to see a six-inch height advantage in the lower weight classes of boxing. However, that's exactly what we'll have when IBF super bantamweight champion, Kiko "La Sensacion" Martinez (29-4, 21 KO) takes on former champion, Jeffery "The Mongoose" Mathebula (27-4-2, 14 KO) on Saturday night in Spain.
Martinez stands 5'5" and Mathebula is a freakishly tall 5'11" 122-pounder. This should make for an interesting sight and fight at Pabellon Esperanza Lag, Elche in Comunidad Valenciana.
Massive height deference in height between Kiko Martinez and Mathebula pic.twitter.com/hegx8aIpuk

— First Class Boxing (@firstclassbox) December 20, 2013
Not only are the men near complete opposites in height, they also fight entirely different styles. The fight could be awkward or classic. Though there is no television coverage announced for the bout, here's the official date and time.
When: Saturday, Dec. 21 at 1 p.m. EST
Where: Pabellon Esperanza Lag, Elche, Comunidad Valenciana in Spain
The Book on Martinez and Mathebula
In Maravilla's Hands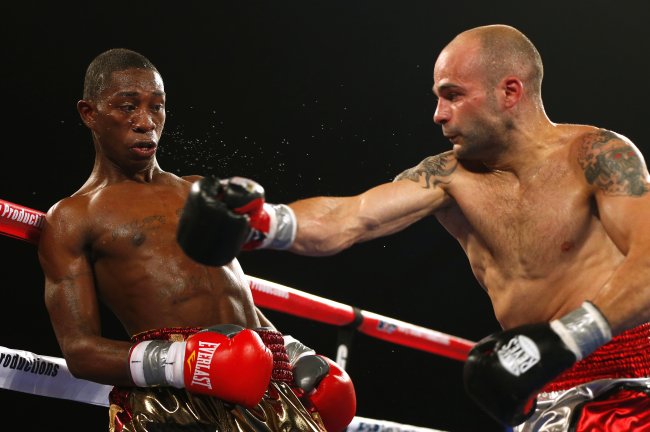 Rich Schultz/Getty Images
The 27-year-old, hard-charging Spaniard champion is promoted by current WBC middleweight title holder, Sergio "Maravilla" Martinez. Kiko has 100 percent trust in the abilities of his promoter to steer his career in the right direction.
In an interview with Ryan Songalia of Ring Magazine, Kiko was asked if he wanted to face WBA and WBO champion Guillermo Rigondeaux or WBC title holder, Leo Santa Cruz next. Kiko said:
I only look at Mathebula. When he gets knocked out my team will say who I'm fighting next. That's their choice. I own inside the ring and Sergio Martinez owns below the ring. I will fight whomever Sergio says, with no opinion on my part. My career is in good hands.
That's a ton of trust, but up to this point, Sergio has not led his fighter in the wrong direction. He's a world champion and has a number of options ahead of him if he defeats Mathebula.
Aside from potential scraps with Rigondeaux or Santa Cruz, Kiko could look for a rematch with Carl Frampton. The young Irish star became the only man to stop him when the two met in February. Despite the loss, Kiko has rebounded with two straight wins. The most recent victory came in August over previously undefeated champion, Jhonatan Romero.
The win captured the title for Kiko and he is now set for his first defense against a very tough challenger. I don't blame him for not looking ahead.
Long, Lean and Tough as Nails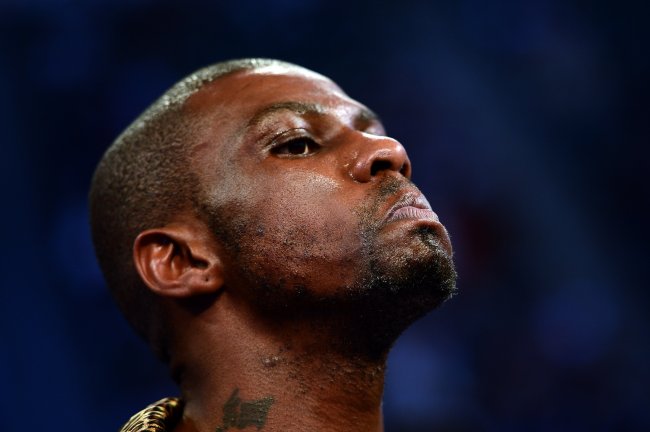 Harry How/Getty Images
When you look at Mathebula, the first word that comes to mind probably isn't toughness. He's so thin and somewhat awkward, you wouldn't think he's a fighter. If you judged this book by its cover, you'd be wrong.
Mathebula has 27 wins, but he impressed me the most in one of his four losses. In July 2012, Mathebula gave Nonito Donaire all he could handle. His length and jab were problematic for Donaire. I actually had him winning, though I acknowledge many of the rounds were close.
Max Kellerman even expressed during the 12th round that he thought the fight could have been "hanging in the balance." The margins of victories on the official scorecards were ludicrous, but this is boxing, that sort of thing is known to happen.
In the fourth round, Donaire caught Mathebula with a thunderous left hook. The shot broke Mathebula's jaw, but the rugged South African rose to his feet. The Mongoose absorbed another crushing shot in the 11th round, but he didn't quit.
Don't let the slender frame fool you, this guy comes to battle every time he steps into the ring.
Who wins Martinez-Mathebula and how?
Prediction
Mathebula's length and jab will give just about any super bantamweight problems. In addition to the six-inch edge in height, Mathebula will also have the same advantage in reach.
The question is, can Martinez do enough body work to close the distance between he and Mathebula? He'll almost certainly have to eat a plethora of jabs in the process. Quite honestly, he has the power, but not the explosiveness that Donaire possesses.
In addition to that, his reach is two inches shorter. I think Martinez will find it far more difficult to evade the Mongoose's jab. That punch will be the story of the fight.
Martinez is fighting in his homeland, so it is possible things could get screwy with the scorecards. Assuming the fight is called without bias, Mathebula should win a unanimous decision.
Follow me because I love boxing and you do too.