His seat might be a blazing inferno, but give New York Knicks coach Mike Woodson credit for one thing—he definitely knows his franchise.
He knows his city, too, and the all-too-inviting temptations it holds.
So Woodson's doing what he can to protect his players from the potential pitfalls that line the New York City streets. After seeing his team get torn apart in its last two noon home games, he's reportedly going to keep his players holed up in an area hotel on Friday night before Saturday's noon tipoff with the Memphis Grizzlies, via Peter Botte of the New York Daily News.

"Yeah, we've had those troubles and you know, we're going to all get together tonight and huddle together," Woodson said, via Botte. "I'm not going to let them hang out. We're going to all get together, ourselves, as a team."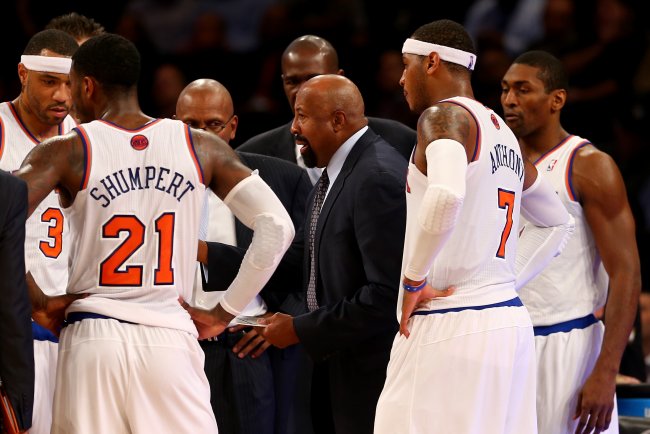 Elsa/Getty Images
Because obviously crowding a room with Metta World Peace, the Smith Bros. (J.R. and Chris) and Kenyon Martin sounds like a fantastic idea.
What are they going to do all night? A movie marathon? Maybe break out a few board games, or even tell a few ghost stories.
Clearly, that's what this team has been missing. That's the best explanation for New York's woeful 8-17 start. If only Woodson had gone to the Stratego board a few weeks sooner, the Knicks would be making the championship run that owner James Dolan demands.
Right.
Well, here's a(nother) sad truth for the league's laughingstock—this card has been played before.
"We've done that plenty of times where we stayed at a hotel together, the night before a game," Carmelo Anthony said, via Botte. "Sometimes it helps, sometimes it works. We'll see about that tomorrow."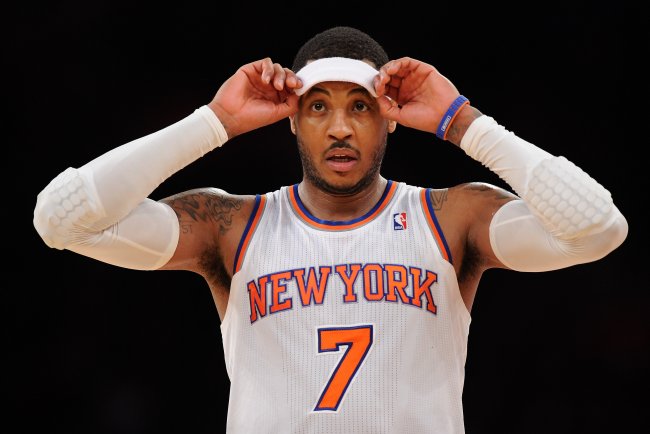 Maddie Meyer/Getty Images
New York even tried this team bonding thing before the Boston Celtics stopped by for an early visit on Dec. 8. Guess how well that went. The rebuilding Celtics entered Madison Square Garden with a 9-12 mark and left with a 114-73 blowout victory.
Maybe Woodson's movie choice was off the previous night. Maybe he tried to rally the troops with Braveheart but ended up scaring World Peace, losing half his roster to the Sandman before the message kicked in and left the nocturnal J.R. Smith with a warped view of what it means to be a hero:
Lol 17 threes tho! Had to say damn my self!

— JR Smith (@TheRealJRSmith) December 19, 2013
I guess Woodson is trying at least. It's not like keeping tabs on this group of players sounds like the worst strategy in the world:
Know what's even sadder than the fact that the Knicks have a curfew tonight? The Knicks have shown they NEED a curfew.

— Mr. Green Christmas (@charliezegers) December 20, 2013
Only in New York. A place where the basketball is atrocious, the nightlife is dangerously delightful and the truth is always wonderfully stranger than fiction.